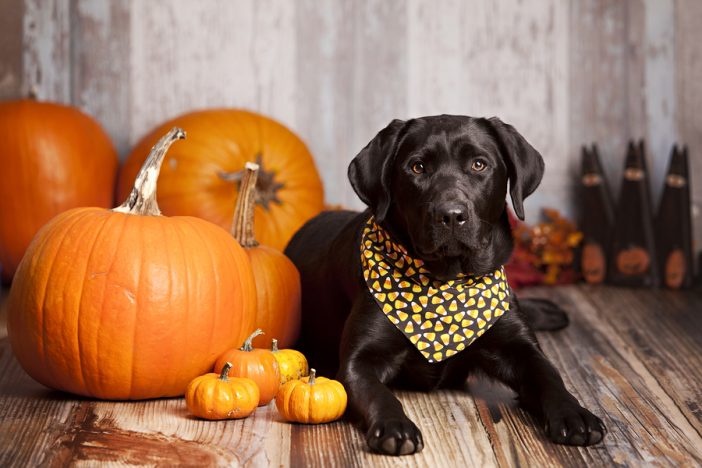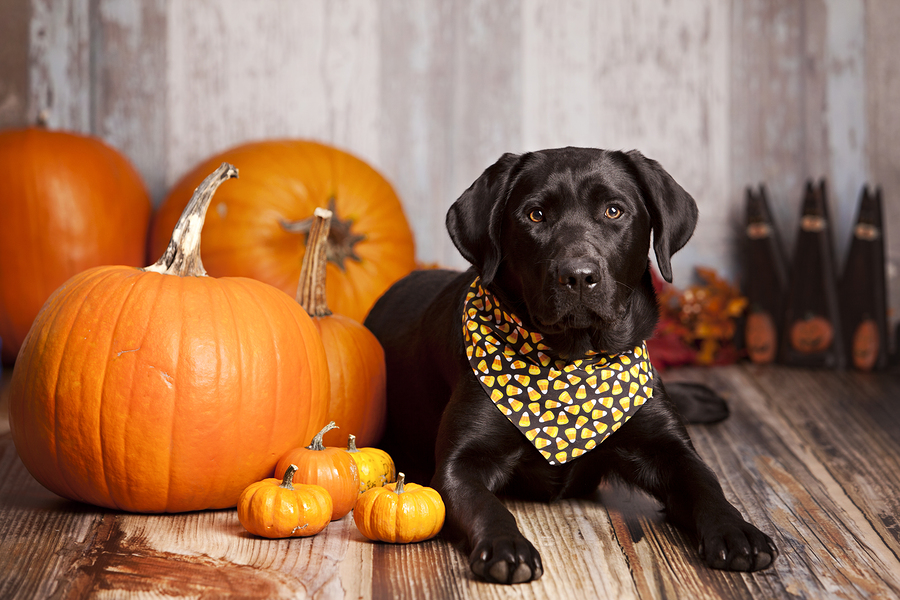 It's a wonderful time of year! The air is crisp, the leaves are starting to change color, and you can get a PSL (a pumpkin spice latte for those of you not on the band wagon) wherever you go! So, what better time to discuss pumpkin for pets.
For years, canned pumpkin has been recommended by veterinarians and technicians as an excellent source of fiber. Unfortunately, canned pumpkin just isn't a concentrated source of fiber. And to set the record straight, the purpose of this article isn't to make anyone feel bad about prior pumpkin recommendations. We have all, "Been there. Done that." However, we do need to make a shift toward recommendations based on nutrition facts.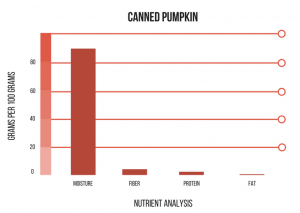 So let's start right now and focus on some nutrition facts about canned pumpkin. In 100 grams of canned pumpkin there are:
Less than 3 grams of fiber!!!
Slightly more than 3 grams of sugar
About 1 gram of protein
Negligible amounts of fat
And a whole lot of moisture (water)!
Now you are probably wondering, if canned pumpkin is so low in fiber, why does it help some constipated pets? Constipation (i.e. dry, hard, feces that are hard to pass) often responds to increased moisture, so because pumpkin is 90% water, this may be why a particular pet's feces have slightly improved with the addition of pumpkin.
However, if a pet truly needs more fiber, there are some better options to consider than adding canned pumpkin on top of the diet:
Canned foods: If the pet will benefit from both increased moisture and increased fiber, canned foods are a great option. A complete and balanced canned diet typically provides 70-75% moisture, and variable levels of soluble and insoluble fibers, depending on the product. Check the company's product guide or contact the company directly to find out how much fiber is in their canned products. Be sure you know how much fiber the pet is currently eating so that you can ensure the diet you recommend is truly an increase in fiber.
Dry foods: If the pet requires a fiber trial, but does not need increased water intake, you can select a complete and balanced dry food with variable levels of soluble and insoluble fibers. Again, check the company's product guide or contact the company directly to find out how much fiber is in their dry products. Keep the pet's current fiber consumption in mind so that you can ensure the diet you recommend is truly an increase in fiber.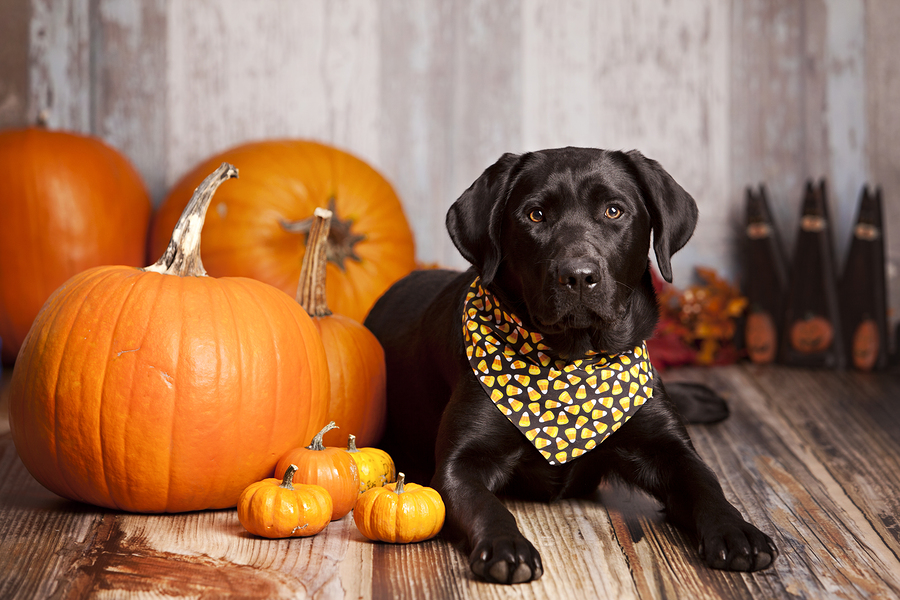 IMPORTANT POINTS:
Nutritional Assessment: To figure out what diet to select for your patient, it's imperative that the veterinary team performs a nutritional assessment. This should be performed on every patient, at every single visit.
Trial and Error Process: It's incredibly important to explain to the pet owner that a fiber trial is exactly that, a trial and error process. It may take several trials on different foods, with different fiber sources, and different amounts of fiber, to determine which diet the pet does best on. Set this expectation early on!
Poop calendar: Give the pet owner a fecal scoring system (several scales exist) and have them document the number of bowel movements per day and the corresponding 'poop scores' on a small calendar. This helps you see trends over time when you recheck the patient. It also prevents your inbox from being filled with poop photos!
Hydration: Ensure pets always have access to fresh, clean water when adding fiber to the diet and ensure that the pet is able to maintain normal hydration.
Review the product guide: Remember some veterinary diets have contraindications that need to be taken seriously. Always review the most up to date product guide or contact the company before making a nutritional recommendation.
Adding fiber with human foods/supplements: This option may be used if there is not a complete and balanced diet available that works for the patient and therefore human foods/supplements are added on top of a complete and balanced diet.
The 10% rule: The challenge here is ensuring less than 10% of the pet's daily calories come from human foods/supplements and any other unbalanced foods the pet is receiving (e.g. treats, cookies, bones, chews, table scraps, pill administration treats, fat supplements, etc.)! Feeding more than 10% of calories from unbalanced foods, actually risks unbalancing the complete and balanced pet food the pet is eating!
Slow titration: Too much fiber, especially soluble fiber, can lead to bloating, flatulence, and soft stools. Basically the micobiome throws a "fiber fermentation party" when there is too much soluble fiber provided all of a sudden! Slowly increase the amount of fiber added on top of the diet to ensure the pet tolerates the addition of fiber. Increase the amount every two weeks until the stools respond (up to 10% of caloric intake).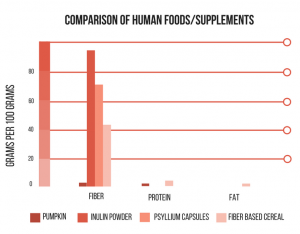 Legend:
Of note, these ingredients/supplements have been compared based on the amount of fiber provided per 100 grams to show you that there are much more concentrated sources of fiber available than canned pumpkin. Below you will find information on the calories provided from these supplements.
Key Parameters
Fiber Based Cereal
Inulin Powder
Psyllium Capsules
Form
Dry Cereal
Powder (3.2 g/tsp.)
Capsules (2 g each)
Energy (kcal/100 g)
207
156
76
Total Dietary Fiber (g/1000 kcal)
223
600
1000
Feeding Instructions
-Dry food: mix the cereal well with the kibble to prevent the pet from picking out either the kibble or cereal

-Canned food: mix either whole cereal pieces or crushed cereal powder well with the canned food

-Dry food: gently mist the kibble with water and then add the powder to ensure it sticks to the kibble

-Canned foods: powder can be given easily mixed with canned food

-Dry food: a few pets will eat capsules on top of canned food

-Canned foods: capsules can be given in a small 'meatball' of canned food
The views and opinions expressed in this article are those of the author and do not necessarily reflect the position of the

DrAndyRoark.com

editorial team.
---
ABOUT THE AUTHOR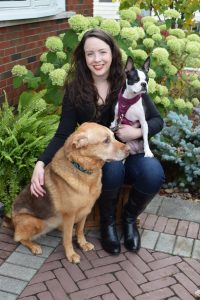 Dr. Jackie Parr (aka the "Kibble Queen") is a 2009 graduate of the Ontario Veterinary College (OVC) and is a board certified veterinary clinical nutritionist. Dr. Parr completed a rotating internship and a residency in clinical nutrition at Angell Animal Medical Centre in Boston, MA. During her internship, Dr. Parr was awarded the Dr. Sharon Drellich Memorial Award for professionalism, collegiality, and compassion. During her four years in Boston, she also completed a Masters in biochemical and molecular nutrition at Tufts University.
Dr. Parr returned to OVC in 2013 to complete her post-doctoral fellowship and spent the majority of her time seeing appointments and consulting on cases for the OVC Health Sciences Centre. She completed her post-doctoral work and became a diplomate of the American College of Veterinary Nutrition in July 2015. She was awarded the OVC Young Alumnus Award in June 2016 and she is currently adjunct faculty at OVC. Additionally, Dr. Parr is the secretary for the American Academy of Veterinary Nutrition. Dr. Parr's passion is teaching and she has given numerous continuing education lectures at conferences and veterinary schools across Canada. She is a proud Canadian and shares her apartment in Hamilton, Ontario, Canada with two wonderful, loving dogs.