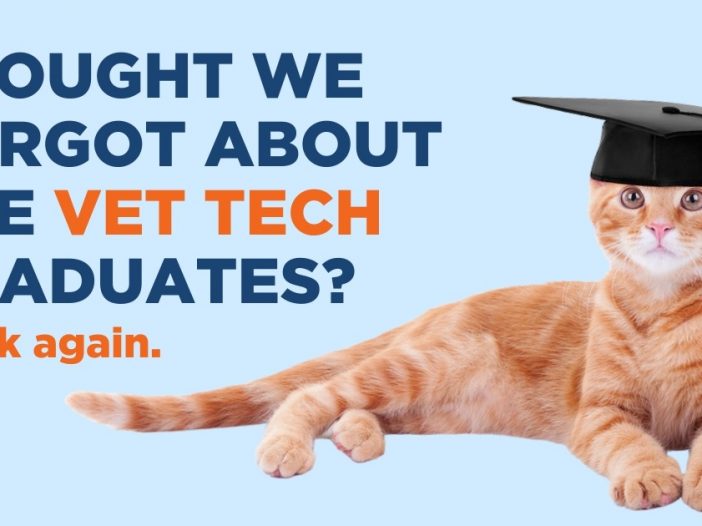 Date: Sunday, May 24th, 5 pm EDT / 2 pm PDT
Cost: There is no fee to graduates, schools, or guests
Register as a Graduate or Guest at: tinyurl.com/2020VetTechGrad
Dear Friends,
A few days ago, my team and I hosted an International virtual veterinary school graduation. More than 8,000 veterinary school graduates and their families and friends have watched the ceremony in the 48 hours since it became available. Almost 2,000 people attended live.
Looking back, I was deeply impacted by the comments I saw during the live event. Parents were crying in pride, graduates were rejoicing together, and veterinarians were sharing their best advice for new doctors entering our profession. It was truly amazing.
Now that we have given our full attention to help celebrate the new veterinarians entering our profession, it is time for us to do the same for our new technicians. The technician graduates who are finishing their programs have dedicated 2-4 years in pursuit of their degrees, and they deserve to be congratulated, inspired and welcomed into veterinary medicine.
My friends and colleagues, please join me Sunday, May 24th at 5 pm EDT/2 PM PDT for the first-ever Virtual Veterinary Technician School Graduation! This will be an online event taking place with music, photos, commencement speakers and an outpouring of encouragement and love.
If you are graduating with a degree in Veterinary Technology this year, please register for our virtual ceremony as a graduate, and come to be celebrated. Also, feel free to share the link with your friends, family, and colleagues so that they can attend as well.
If you are a guest of a graduate, or if you simply want to be there to support and welcome our new technicians (and possibly to get re-inspired yourself), then please register as a guest.
All are welcome, and the ceremony is free to all those who wish to attend.
Commencement speakers will include:
Kelsey Beth Carpenter RVT, BA – Veterinary Technician, social media manager for DrAndyRoark.com, and the creative personality behind "Vet Tech Kelsey"
Senani Ratnayake RVT, BSc – Owner/Founder of Motivatum Consulting, past President of the Ontario Association of Veterinary Technicians, and Director of Learning and Engagement at P3 Veterinary Partners
Andy Roark DVM, MS – Veterinarian and Founder of DrAndyRoark.com and the Uncharted Veterinary Community
Kenichiro Yagi RVT, VTS (ECC), VTS (SAIM), MS – Current President of the National Association of Veterinary Technicians in America (NAVTA), Cornell Simulation Lab Manager, RECOVER Program Director, and Veterinary Technician and Nurse Advocate
Graduates, I am so excited to congratulate you on your upcoming completion of your technician programs and take the time to celebrate all you have accomplished. Even if the future appears uncertain, please know you have so much to be proud of.
I hope to "see" you there!
Best wishes,
Dr. Andy Roark