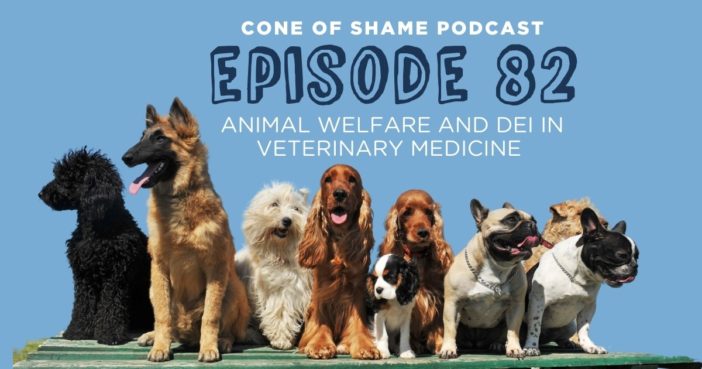 Dr. Andy Roark sits down with Dr. Tierra Price (Founder and CEO of BlackDVM Network) and James Evans (Founder and CEO of CARE) to discuss diversity, equity and inclusion in the field of animal welfare.
CARE (Companions and Animals for Reform and Equity) believes in the inherent goodness and dignity of all people. Ex-offenders, People without Homes, Seniors, Renters, Families with Small Children, and Yes, People of Color. To that end, CARE's mission is to bring diverse voices to the Animal Welfare industry while also advocating for a more inclusive path to pet adoption. CARE is using evidence-based tools and narratives to inspire organizations to be more inclusive and less biased. All in an effort to save more companion animal lives and elevate the value of all human life.
BlackDVM Network is a community for Black veterinary professionals to grow, connect, and advance veterinary medicine. Their members embrace their culture and realize the value their uniqueness brings to our profession.
LINKS
CARE – Companions & Animals for Reform & Equity: careawo.org/
BlackDVM Network: www.blackdvmnetwork.com/
WORKSHOP: Motivating People Who Don't Want To Be Motivated w/ Dr. Andy Roark: unchartedvet.com/product/motivating-people/
Dr. Andy Roark Swag: drandyroark.com/swag
All Links: linktr.ee/UnchartedVet
ABOUT OUR GUESTS
James Evans is a multi-awarding winning creative strategist and leader with 25+ years of experience developing relationships between organizations and their constituents. His expertise has been utilized across a diverse group of brands, both non for profit, and for profit.
James is currently the founder and CEO of CARE, Companions and Animals for Reform and Equity, a non-profit that is using unique tools to help change the animal welfare field by addressing implicit bias using research, workforce development and narratives to help change the bias behaviors that prevent the full potential of lifesaving inside the field. James also serves on the board of NACA and has recently spoken at events such as The Animal Grantmakers Conference, Best Friends National Conference and will be a plenary speaker at the upcoming National Animal Welfare Conference.
Dr. Tierra Price is a recent graduate of Virginia-Maryland College of Veterinary Medicine, where she served as Vice President of her class and President of the Women's Veterinary Development Leadership Initiative. She is currently a Community Medicine veterinarian in Los Angeles, California, but has a wide variety of veterinary interests including emergency/critical care, surgery, public health and lab animal medicine. As a veterinary student, in 2018, Dr. Price founded BlackDVM Network, a community that connects Black veterinary professionals for mentorship and advancing veterinary medicine. This safe space provides educational and networking opportunities for its members as well as a sense of belonging. Dr. Price's commitment to highlighting Black veterinary professionals is directly related to her desire for a mentor she could identify with.In her free time, she loves dancing, yoga, reading and soaking up the sun. Most importantly, Dr. Price believes we should be able to show up as our entire selves in our career. She hopes to inspire others with her drive, authenticity and confidence to boldly take on challenges in veterinary medicine.
Editor: Dustin Bays
www.baysbrass.com
@Bays4Bays Twitter/Instagram