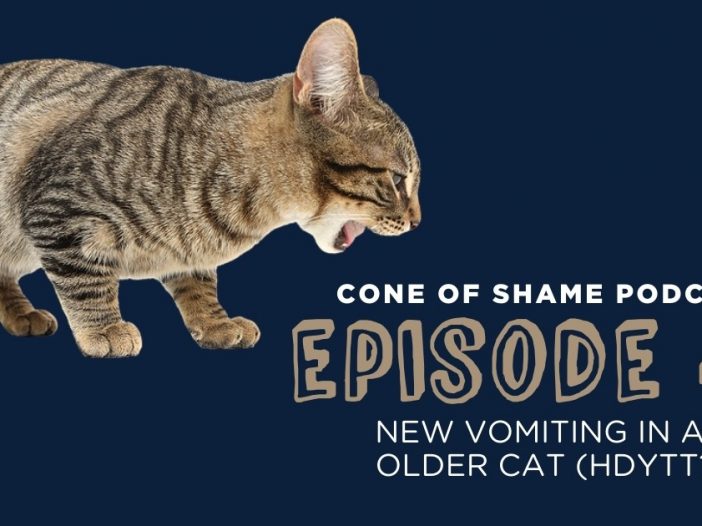 This week on the Cone…
Dr. Andy Roark sits down with the Kibble Queen Dr. Jackie Parr to discuss new vomiting in a 6-year-old cat. How do you treat that?
The views and opinions expressed in this article are those of the author and do not necessarily reflect the position of the DrAndyRoark.com editorial team.
---
ABOUT OUR GUEST:
Dr. Jackie Parr BScH, DVM, MSc, Dip ACVN
When Bruno the chocolate lab was found after 27 days in the bottom of an abandoned well, Dr. Jackie Parr was one of the people he desperately needed.
Refeeding syndrome, muscle loss, dangerously fluctuating electrolyte levels and more were all part of a language Dr. Parr intimately understood. After 14 years of specialized veterinary nutritional study, Bruno was exactly the kind of patient she had been preparing for.
And that's how it's always been for Dr. Jackie Parr: complete emersion in the science of veterinary nutrition as a means to an important end – for all the Bruno's of the world.
A Board Certified Veterinary Nutritionist TM, and festooned with veterinary and academic designations that speak to a passion for science and animal care that borders on obsession, Dr. Parr is among the elite where animal nutrition is concerned. A natural educator, Dr. Parr is widely sought after in professional veterinarian circles as both a public speaker, and as a specialist for consults on the most unique and emergent nutritional cases. She is a passionate nutrition advocate and an accessible expert with feet planted firmly in both the academic and practical worlds of specialized nutritional medicine.
For more information: www.kibblequeen.com