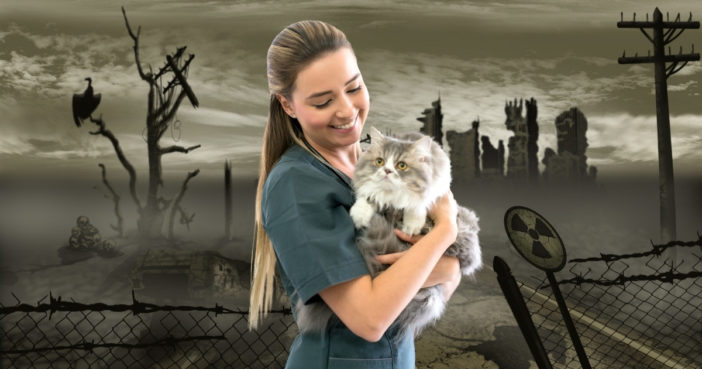 Ever since the portal to hell opened in downtown Manhattan six weeks ago, veterinary medicine has been on its heels. Many of us feel frightened, overwhelmed by the changes, and completely exhausted. Surviving a global pandemic was tough, but to go from that right into a soul-obliterating apocalypse has been especially challenging. At first, the dramatic decrease in caseload was a welcome thing, but now… I suspect most of us are having a hard time staying upbeat.
As civilization crumbles and the living are dragged to hell by spirits of the damned, I'd like to share three quick positivity tools that I am finding really helpful. Here goes:
Look at the bright side. Sure, no one likes to see their friends and co-workers possessed and manipulated like meat puppets to do the bidding of an unholy force. Still, I think we can all admit that Carol wasn't exactly crushing it at the front desk before a malevolent soul entered her body. She let the phones ring, took forever to check people out and was a total pushover when clients demanded special exceptions. Well, the phones aren't ringing, there's no line to check out, and nobody makes demands of a CSR who vomits and spins her head around 360 degrees whenever she gets stressed.
Assume good intent. It's easy to see our demonic attackers as "the bad guys," but do we really know that's true? Has anyone gotten their perspective? I've heard as much as everyone else about how terrible hell is and about how none of us want to go there… but what do we really know? Maybe these dark spirits are trying to show us a neat place that has an undeserved bad reputation (like Des Moines)!
Lean into Community. Have you joined up with a local survivor group yet? Before the apocalypse, many of us were lonely and looking for a sense of purpose. Now, it's not hard to become part of a tight knit group of interdependent people who have a clear and common focus: survival. Whether it's a team of demon slayers, survivalists, or cultists who have thrown in with hopes of appeasing the demonic horde, opportunities to make new friends are everywhere!
With these three powerful tools, I know you'll be able to keep your chin up as long as your soul remains intact! Good luck everybody!