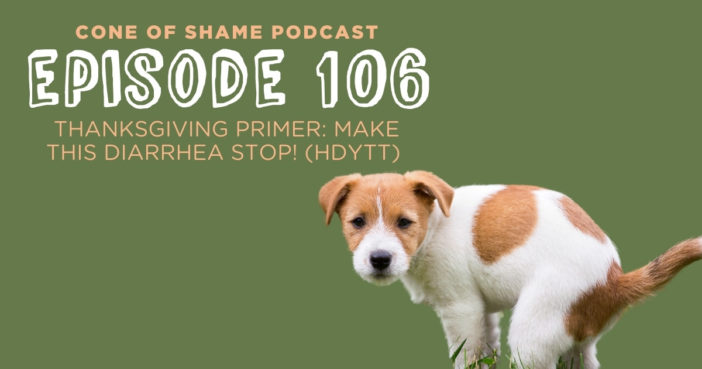 This week on the Cone of Shame Veterinary Podcast, Dr. Andy Roark talks with his dear friend, the dynamic and shining star that is veterinary nutritionist Dr. Jackie Parr. They discuss that young dog diarrhea that just. wont. resolve. How do YOU treat that???
LINKS
PRACTICE OWNER SUMMIT: www.unchartedvet.com/pos2021
It's All Fun & Games Workshop: unchartedvet.com/upcoming-events/
Uncharted Podcast on iTunes: podcasts.apple.com/us/podcast/the-…st/id1449897688
Charming the Angry Client On-Demand Staff Training: drandyroark.com/on-demand-staff-training/
What's on my Scrubs?! Card Game: drandyroark.com/training-tools/
Dr. Andy Roark Swag: drandyroark.com/shop
All Links: linktr.ee/DrAndyRoark
ABOUT OUR GUEST
Dr. Jackie Parr BScH, DVM, MSc, Dip ACVN
When Bruno the chocolate lab was found after 27 days in the bottom of an abandoned well, Dr. Jackie Parr was one of the people he desperately needed.
Refeeding syndrome, muscle loss, dangerously fluctuating electrolyte levels and more were all part of a language Dr. Parr intimately understood. After 14 years of specialized veterinary nutritional study, Bruno was exactly the kind of patient she had been preparing for.
And that's how it's always been for Dr. Jackie Parr: complete emersion in the science of veterinary nutrition as a means to an important end – for all the Bruno's of the world.
A Board Certified Veterinary Nutritionist TM, and festooned with veterinary and academic designations that speak to a passion for science and animal care that borders on obsession, Dr. Parr is among the elite where animal nutrition is concerned. A natural educator, Dr. Parr is widely sought after in professional veterinarian circles as both a public speaker, and as a specialist for consults on the most unique and emergent nutritional cases. She is a passionate nutrition advocate and an accessible expert with feet planted firmly in both the academic and practical worlds of specialized nutritional medicine.
For more information: www.kibblequeen.com
Editor: Dustin Bays
www.baysbrass.com
@Bays4Bays Twitter/Instagram
SHOW TRANSCRIPT
Dr. Andy Roark:
Welcome. Welcome. Welcome to the Cone of Shame Veterinary Podcast. Guys, Thanksgiving season is upon us regardless of what the radio station might tell you. I have a radio station I wake up to in the morning and I kid you not, the day after Halloween, I woke up to Mariah Carey singing, All I want for Christmas is you. I love the holidays. I got to tell you, it was not a pleasant morning experience. I have changed radio stations and first of all, I feel it's disrespectful to my favorite holiday, which is American Thanksgiving. I have to say American because Canadians have some other date that they do. If you're Canadian and you have an extra seat at your table, just saying, it's my favorite holiday, if I could hit it twice in a year, I would do that.
Dr. Andy Roark:
Just putting it out there, there's a hole in my schedule. It's true. All right. The other thing is it makes me feel like I'm immediately behind [inaudible 00:01:08]. And I wonder if other people feel that way. I'm like, I woke up. It's like, "All I want for Christmas.", and I was like "I have done nothing to prepare for the holidays." It's two months away. I shouldn't have to have that anxiety in my life. I don't need that stress. Anyway, we're doing Thanksgiving here in the Cone of Shame podcast. We're going to do one of the Hall of fame episodes, Make this diarrhea stop. And let's be honest. There's going to be a lot of calls in the next 30 days and beyond, about upset tummies in pets. A quick reminder, quick refresher, quick piece of advice, this is great for paraprofessionals, your front desk people can definitely just get some tools in their pockets that they can have in case they get those phone calls. So, anyway, guys, without further ado, let's get into this episode.
Kelsey Beth Carpenter:
This is your show. We're glad you're here. We want to help you and your veterinary career. Welcome to The Cone of Shame with Dr. Andy Rourke.
Dr. Andy Roark:
Hey guys. I am here today with my good friend, Dr. Jackie Parr. Jackie, thanks for being with me today.
Dr. Jackie Parr:
I am so excited to be here today. We're going to chat about one of my favorite topics.
Dr. Andy Roark:
Yeah, well, I love talking to you. You and I have done a lot of work together. We lectured a lot together on increasing nutritional recommendations and clients listening to our nutritional recommendations, all over North America you and I have talked. So I love working with you. I will never forget our trip to the hockey game in Winnipeg and [crosstalk 00:02:57] I forgot my coat and I had to run. I had to physically run from the cab to the hockey stadium and sprint back out after it was over.
Dr. Jackie Parr:
And I think one of the best things is, we had done nutrition all day. We had given this great bootcamp and then we ate hockey arena food for dinner. And so we had pizza and French fries. We were like, "Okay, well this is just our moderation. We're good. We're good.".
Dr. Andy Roark:
Yeah. That's exactly it. We did everything that we recommended not to let a pet do.
Dr. Jackie Parr:
Not to do. Not to do.
Dr. Andy Roark:
So great. All right. I got a case and I'm wondering if you can help me out with it.
Dr. Jackie Parr:
I would love to.
Dr. Andy Roark:
All right, cool. So I have a puppy, a Labrador retriever puppy. He's six months old and intact, and he has been having liquid diarrhea for the last three days. Now I've seen this dog a couple of times before. He's bad about just eating things he shouldn't, socks, underwear, raw hides. He always throws them back up and then he has diarrhea for a couple of days and it gets better and the owners want to pull their hair out. But this is not getting better and the owners are here and I'm getting ready to go into this room. I don't know. I'm thinking, do I treat this, do I need to antibiotic for this dog? You know what I mean? Can I treat this conservatively? Jackie Parr, how do you treat that?
Dr. Jackie Parr:
This is a great one and the perfect breed, right? You're going to see a Labrador in here that's had this history of eating all these wonderful things, but now there's this issue where this is just lasting a little bit longer than it should. So we've always thought that his dog had a bit of a steel stomach, it just sort of got through it on its own. How are we going to approach this, given that the owners are getting a bit worried? I love to take it back to basics.
Dr. Jackie Parr:
These clients, you've probably coached them in the past about putting stuff up so that we're not getting these dietary indiscretions, but let's just go back to basics and let's just get a really good history, because I would hate to miss something that can point us in the right direction here, taking a few minutes for them to, one, let's just get a good diet history and then, two, I want to get a good poop history. And I know that may sound really funny, we know its liquid diarrhea, but you can actually get some really good information, really delving into the poop. And I tell you, the owners then feel hurt. Because they've been picking it up or trying to wash it away with a bucket and they want to to tell you what's going on. So I, I think that's where it starts.
Dr. Andy Roark:
I picture them talking to a sketch artist and I'm drawing and then I turn it around and go, "Does this look like the poop?".
Dr. Jackie Parr:
Is this the poop?
Dr. Andy Roark:
So, all right, let's start at the other end of the pet. What constitutes a good history for you? So for my technicians that are going in the room, they're going to set me up for success. What questions are they asking? What are they looking for specifically?
Dr. Jackie Parr:
Absolutely. And as a nutritionist, diet history comes to mind first for me in general practice, you guys are so good about asking about dewormings, potential for some sort of infectious disease, those sorts of things. So I think, GPs, you are experts there. For me, when I look at that diet history, it's really about trying to figure out what does a day in the life of this dog look like. And has there been any changes recently? One of my colleagues at the university of Guelph has done some really amazing work, talking about how an open-ended question can get you a whole bunch of diet history really quickly, versus sort of starting with what food are you feeding? What treats are you feeding? And then you have to keep funneling in and you just feel like you're asking questions for 15 minutes and we don't have that kind of time. So how can we be efficient? And so the question he developed through his research was, "Tell me everything that this pup is eating, starting first thing in the morning, up until it goes to bed.". Just get a day in the life of this pup, just to start with. That could give us some really good info.
Dr. Andy Roark:
Great.
Dr. Jackie Parr:
Great place to start.
Dr. Andy Roark:
Perfect. And then let's go to the other end, what are you asking them about poop?
Dr. Jackie Parr:
Poop. Excellent. So for this particular case, one of the things that I love to have ready in an exam room would be my dog and cat fecal score charts, affectionately known as poop charts.
Dr. Andy Roark:
Gotcha.
Dr. Jackie Parr:
I love these tools because a picture literally does say a thousand words. How you were joking about the sketch artist earlier, literally we just want to give them a realistic photo and have them say, "It's been in this range.". That can give us so much information. It also avoids the inevitable, them describing the poop as food before your lunch break type of thing. So super helpful because there's always certain foods that they just start throwing out there and we just don't want to be a part of that.
Dr. Andy Roark:
Right.
Dr. Jackie Parr:
So I think this is a really great tool to get everybody on the same page.
Dr. Andy Roark:
Hey guys, just going to jump in real fast with a couple quick announcements. December 2nd, through the 4th in Greenville, South Carolina, in person, the uncharted practice owner summit. If you are a practice owner, you do not want to miss this. This is about coming together with only other veterinary practice owners and working on your business. It is going to be collaborative. It is going to be inspiring. It is going to be fun. It's going to be motivational. If you're like, "I feel like my work is kind of a drag right now and I'm feeling heavy shoulders from carrying the load.", it's time for you to get reconnected, reignited, re inspired. Come down to Greenville, South Carolina, work with other vet practice owners. We are going to be doing all sorts of stuff. We are going to be building the conference for you at the conference.
Dr. Andy Roark:
It is a summit, which means it is going to be very much about what you want and what you are struggling with and what you want to talk about. I'm going to be doing a couple of different workshops there. I've got one on your leadership stories. The stories you tell as a leader. And man, I got to say I did this back at our culture conference and I really liked it. And I think it's going to be even better in person. So I'm excited to talk about stories and using stories to motivate and inspire and lead your team. And then also I'm going to be talking about leading tired teams and I some of you have tired teams. That's what we're going to be talking about. So anyway, that's what I'm talking about. There's Stephanie Goss going to be there doing some stuff. We're going to be doing a lot of discussions, that round tables things like that. It's going to be super engaging.
Dr. Andy Roark:
I'd love to have you there. So anyway, registration closes on November the 15th. You need to get on the horse and grab it. I'll put the link in the show notes for everybody else, guys, I am super pumped about this. On December the 12th, we have an online workshop. It is all fun and games, how to play, engage, and reward your team. Doesn't that sound fun? Isn't it awesome to have a workshop about, "Hey, here's how to play with your team. Here's how to make your practice fun. Here's how to get people to stop being grumpy, and just to feel like there's something worth smiling about at their job again. How do you play? We need to, we need to do more play in practice.". And so guys, that's what it's all about is from 4:00 to 6:00 PM Eastern time, 1:00 to 3:00 PM Pacific time, that is free to uncharted members. It is $99 to the public. And man, I would love to see you guys there. All right, without further ado, let's get into this episode again, back into it. Yes. We're going back. All right. That's it. We're going back.
Dr. Andy Roark:
So we go through the food history. There's no obvious dietary and discretion that they are telling me about, right?
Dr. Jackie Parr:
Yes.
Dr. Andy Roark:
We know this dog is trolling. He's he's going to be a wonderful dog, right now he is a naughty Labrador retriever. You know, he is the Labrador phase that everyone forgets about when they think about Labrador retrievers.
Dr. Jackie Parr:
Yeah.
Dr. Andy Roark:
So he's that guy. They don't know of anything that he's eaten. I'm not picking up a whole lot of obvious dietary indiscretion. He's just got diarrhea and it's not going away. They point to liquid to slightly chunky on the chart.
Dr. Jackie Parr:
Yeah.
Dr. Andy Roark:
I'm going to put a disclaimer on this episode, if poop descriptions gross you out, skip on over to [crosstalk 00:11:20] my favorite murder podcast.
Dr. Jackie Parr:
That's awesome. So we've got that information. The other thing that I would really pay attention to here when I'm looking at diet history is a few of my physical exam findings. So I want to make sure this isn't the start of something else that's going to be a challenge. So can I just verify that this puppy is growing properly? So we've had a couple of episodes of intermittent diarrhea that have gone away. I don't want to miss something that's a bit more concerning, so can I just quickly validate I'm happy with the growth of this puppy. So a good way to do that is to do a body condition score. Labradors of course, we're often worried they're going to get a bit too chunky. And if they do start to pack on the pounds, that sets them up for lifelong obesity. And so we want to make sure that we're in the right plane of nutrition here.
Dr. Jackie Parr:
The other thing is that there's some really amazing tools out there for tracking growth that I would love to tell people about because sometimes a diarrhea case that starts off, just being a few times here and there linked to dietary and discretion, you eventually do find a medical problem down the road, right? And if they're not growing properly, that can be a sign that something else is going on and you can go looking further. So we'll give people the link. There are puppy growth curves that have been created by the Waltham center. And literally all you need to do is take the puppy's age and their weight and you start plotting them. So this like when your girls went to the pediatrician, they probably got plotted on growth curves, right? You would know what percentile your girls were growing on when they were little and it's the exact same thing with a puppy.
Dr. Jackie Parr:
So you just track them on that and make sure they're not falling down a growth curve, because that would mean this puppy's probably not growing properly. Or if they grow up a growth curve that I'm thinking about maybe this puppy's getting way too many calories and it's growing too quickly. So that would be my third check for this case, is can I just verify that I think this puppy is growing appropriately at six months of age? It's in peak growth. We should be seeing a good, straightforward growth curve. It shouldn't be jumping around a whole bunch.
Dr. Andy Roark:
If this puppy's falling off the growth curve, what are the top things that pop into your mind?
Dr. Jackie Parr:
So if they're starting to fall off the growth curve, I'm at least doing basic blood work to look for any sort of organ dysfunctions, those sorts of things. I'm making sure that I'm doing x-rays, making sure there's no sort of foreign body that he's ingested in the past that's really been lingering in there if he hasn't had x-rays done before and then based on some of that preliminary workup, if necessary, I'm going to go to the next step, with things, further workup if I start to notice some things on my initial blood work.
Dr. Andy Roark:
Gotcha. That's beautiful. So jumping back to it, let's say this guy seems to be growing fairly normally he's just got diarrhea.
Dr. Jackie Parr:
Yes. Given it's a Lab puppy, sometimes we're really quick to say let's change the diet, let's change the diet and let's put them on something for like GI. But what I like to start with, is I really look at the treat and the human food history, because especially in a Lab puppy, we know at this stage, this guy is busy, right? He is getting into everything, as you said, this is the stage people block out when they start to think about the history of their puppy. He's probably been getting cogs, he's been getting things to chew on, they've been doing training classes, he's probably been getting a lot of stuff there. I want to see how much of his diet is really being made up of all these extra goodies that he's been getting.
Dr. Jackie Parr:
And if I can just take him back to basics and just get him back to his large breed puppy diet, I may actually be able to calm things down. This may be one of those situations where he has just been overloaded just to keep him busy, that his system can't handle it. Right? He just can't handle it. And so if we're noticing that type of history, that's why the good diet history is so important. Because if you start saying, we need to cut out treats because he's got diarrhea and you didn't get the diet history up front, you often are met with a little bit of reluctance, like, "Oh, we're not feeding him that many treats.". But if you have the history ahead of time, you can say, look, this is still too much for a puppy this age. This is just too much. Can we talk about what we can do to just try to quiet things down?
Dr. Andy Roark:
Yeah. Lovely. Cool.
Dr. Jackie Parr:
That would be sort of first stage there.
Dr. Andy Roark:
Okay. Sweet. So maybe set them up. Talk about the diet history.
Dr. Jackie Parr:
Yeah.
Dr. Andy Roark:
How do we get them back on track to send them out the door?
Dr. Jackie Parr:
Absolutely. So what I would say to them is I really want them to feel confident that we're going to support them through this. And so what I would say to them is I'm going to send you home with this poop chart. And one of my great technicians or client customer service staff is going to touch base with you in the next 24 to 48 hours to get another poop score. If you're concerned, you contact us in the meantime, but if things are going well, we're just going to reach out. We're going to put a reminder in touch base with you. We just want to make sure we're moving in the right direction. And the reason I love the poop charts is there is the whole description from liquid to sort of liquidy and chunky to sort of getting cow patty like, and as long as they're moving in the right direction, we're starting to make some progress.
Dr. Jackie Parr:
And so I find this can help prevent frustration because you don't want them thinking it's going to be a normal sport tomorrow, right? Like this is going maybe take a few days for it to calm down, but we want to be there. We want to be checking in to make sure it's not getting worse. Cause we don't want this puppy getting dehydrated and then he needs to be hospitalized. Right?
Dr. Andy Roark:
Right. Yeah.
Dr. Jackie Parr:
So that check in, I think is important.
Dr. Andy Roark:
Perfect.
Dr. Jackie Parr:
And say to them, if it worsens on the chart, then you need to come see us again. Cause we're going to have to do some more work. Yeah.
Dr. Andy Roark:
Yeah. I like it. I like talking to them about getting a long term solution. I feel like that helps buy us some time in some patience, as opposed to saying, I'm just going to medicate this and I'll see you back in four to six weeks when this happens again. I think people are willing to walk with us if we explain that we're trying to address the underlying cause.
Dr. Jackie Parr:
Exactly.
Dr. Andy Roark:
Perfect.
Dr. Jackie Parr:
Exactly.
Dr. Andy Roark:
Well, Jackie, I think this has been great. This is good. Giving me what I need to go in there and get started and get going. We will put a link to the growth curves that you like down in the description for the podcast. So people can click there if they don't have a ready supply of poop charts.
Dr. Jackie Parr:
Yes.
Dr. Andy Roark:
Do you have a source?
Dr. Jackie Parr:
Yes. Royal Canin can absolutely supply you with poop charts. So they've got some great charts for both dogs and cats, because obviously they're a little bit different, right? Fecal consistency's a bit different, so great opportunity to get some resources there.
Dr. Andy Roark:
Perfect. And so they'll go to website Royal Canin .com .ca.?
Dr. Jackie Parr:
I'll send you a link so they can just download them.
Dr. Andy Roark:
Just straight to it. Oh.
Dr. Jackie Parr:
You can just straight download off of this podcast, your very own poop chart.
Dr. Andy Roark:
I love it so much. Perfect. So I will put that link in the description. Jackie Parr, where can people find you? You are the Kibble Queen on social media. What's the best place for them to reach out to you?
Dr. Jackie Parr:
They should definitely check out my website. So www.kibblequeen.com. I have tons of resources up there for people. So follow me there. And I would say I'm most frequently on Instagram these days. I just really enjoy Instagram. It just fills my feed with lots of great animal photos. So I'm the Kibble Queen on Instagram as well.
Dr. Andy Roark:
Awesome. Guys, thanks so much for tuning in. We will see you soon. Thanks again, Jackie.
Dr. Jackie Parr:
Thank you.
Dr. Andy Roark:
And that is our episode. Guys, I hope you enjoyed it. I hope you got something out of it. I love the episode. It's just good, good stuff from the vault. Anyway, guys, if you got some out of the episode, write me an honest review on iTunes or wherever get your podcast. It really does help. It's how people find the podcast. Anyway, gang, take care of yourselves, have a great month of November and beyond, whenever you're listening to this and I'll talk to you next week.