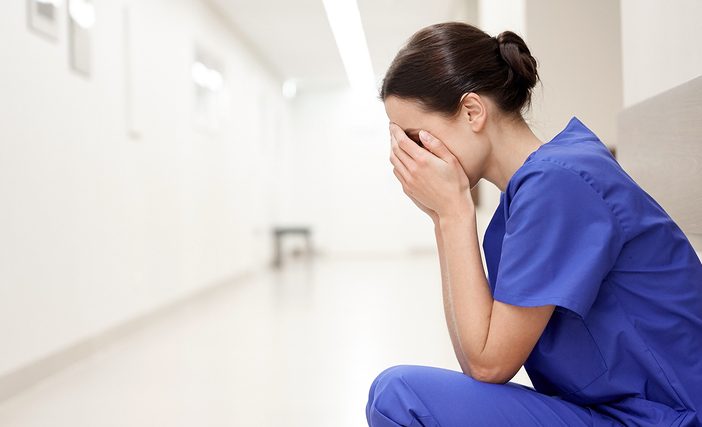 Last week I worked with a freshly-minted veterinary nurse who recently joined our practice. Anna has all the skills she needs and an attitude and work ethic that I admire. I'm thrilled she joined our clinic.
At 5:30 p.m. on Friday, a woman in tears walked into the building. Her dog, Maggie, had been diagnosed with an aggressive cancer months earlier. Surgery at the time had removed the primary tumor and made Maggie feel much better.
Unfortunately, now it was back. I could feel a mass in her abdomen and knew why she had recently given up eating. As Maggie trembled in fits, her owner and I decided to put her to sleep. Anna did skillful and compassionate work in her assistance.
When it was over, I found Anna gathering supplies to make a clay paw impression of Maggie's foot, noticeably avoiding the rest of the team in the treatment room. She looked up when I asked if she was okay, and I saw the tears. She hurriedly wiped them away.
In that moment, everyone in the room wanted to make her feel better. There was a chorus of encouraging comments like, "It's okay," "We've all been there," and "You did a great job." Finally, one of the senior nurses said, "In no time, you'll be dead inside like the rest of us." We all chuckled, even Anna.
It was past closing time by this point, and another nurse who was already staying late shooed Anna out the door with promises of finishing up for her. I know Anna was still upset when she left. I think it was more about embarrassment over showing her grief than the actual grief itself.
I've thought about that afternoon a lot since then, and about what it means when young doctors and nurses weep while the veterans work on.
If you're new to veterinary medicine and you're worried that the sadness you feel or the emotions you show when animals suffer or die are somehow a signal that you're not cut out for this work, I'd like to put your mind at ease. Listen: there is nothing wrong with feeling sorrow or crying.
Tears — or lack thereof — have nothing to do with your levels of strength, maturity, toughness, or resilience. Honestly, I might worry about you if you didn't have these struggles as you enter this career.
The truth is, you will always have cases that bring you to tears. After a whole career in veterinary medicine, you will probably still choke up when you euthanize someone's especially beloved pet when you see the dying animal that looks just like the pet you loved and lost, or when you say goodbye to pets you've known since they were kittens or puppies or foals. We all have our soft spots, and we always will.
When the sorrow comes, I find it helpful not to resist it. Fighting the urge to cry is frustrating and futile. (I do, however, have a general rule about not showing more emotion that the pet owner in front of that pet owner.) Instead, take a few minutes to reflect and understand why you feel so strongly. Facing and acknowledging your pain is the only way to move past it.
It's perfectly normal to feel the pain of cases that poke into our own vulnerabilities. For example: when I see young families losing a pet, my heart absolutely breaks. I'm not ashamed of that, and I know I feel this way because I remember the pain my own family recently went through when we lost our faithful dog. I also know I'll get past this pain as my family moves on, and I remind myself that my clients will, too. As I focus on that, these cases will get much easier.
Thankfully, the more time we spend in veterinary medicine, the more we come to understand that death is rarely the worst outcome. When I began in practice, I deeply mourned the passing of every one of my patients. No matter their age and condition, I felt their passing as my own loss.
What changed is that over time I gained a lot of experience with pets who didn't die. In those cases, I saw what suffering truly looks like. Later, I went through experiences where I prayed every night that a pet would peacefully pass, only to sigh in the morning when I looked into that pet's lucid, sorrowful eyes. I came to know pets whose quality of life ended many days before they got the peace they were waiting for. You will, unfortunately, know these pets too, and it will change how you see death.
This is why the young doctors and nurses cry while the others keep working. It's experience, simple as that. We will always hurt when pets pass before they should. We will feel for the families they have left behind, and we will remember pain from our own lives in their loss. These emotions should be celebrated as a mark of our enduring humanity. Blessedly, for most of us, sorrow will eventually become tempered by perspective and familiarity with both death and its alternatives.
I wish for everyone working with pets to feel sorrow because this means they have not run out of compassion. Let us never forget that pets were not meant to be on this earth for very long, and losing the best pet in the world is only sad because we once had the gift of knowing that blessed soul.