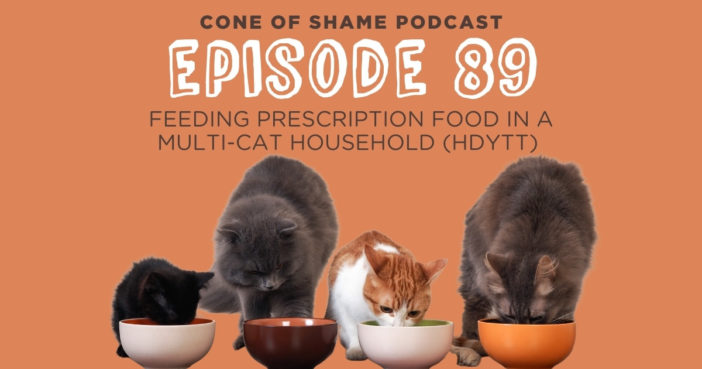 What do you do when you have a young cat that eats the senior cat's prescription diet and leaves nothing for the cat who needs it? What about when there's a whole herd of cats and only one needs therapeutic food?
Dr. Andy Roark and feline behavior consultant Ingrid Johnson talk about the power of foraging when it comes to reducing stress and also limiting and controlling food intake in cat households. They get into microchip-reading cat feeders and the wisdom of always feeding cats separately.
LINKS
Secret Sauce to Optimizing workflow: unchartedvet.com/upcoming-events/
Charming the Angry Client On-Demand Team Training: drandyroark.com/courses/charming-the-angry-client/
Dr. Andy Roark Swag: drandyroark.com/shop
All Links: linktr.ee/DrAndyRoark
ABOUT OUR GUEST
Ingrid Johnson is a Certified Cat Behavior Consultant (CCBC) through The International Association of Animal Behavior Consultants (IAABC).
Ingrid owns and operates Fundamentally Feline, providing in home consults for locals and virtual consultations worldwide for clients experiencing behavior challenges with their cat(s).
In addition to behavior consults, Ingrid also offers medicating consultations to help clients overcome, or get ahead of, medicating challenges. Prevention and training, the best medicine! She makes her own line of feline foraging toys, scratching posts, vertical space, and litter boxes. She lectures nationwide on cat behavior at veterinary conferences such as AAFP, VMX, ACVC and the like. She is employed at Paws Whiskers and Claws, a feline only veterinary hospital, as a tech, groomer, and office manager and has been working exclusively with cats since 1999.
In the Fall of 2016 a paper she co-authored, Food puzzles for cats: Feeding for physical and emotional well-being, was published in the JFMS (Journal of Feline Medicine and Surgery) and to compliment it she co-developed FoodPuzzlesforCats.com. To date it is the most popular and widely downloaded paper in the history of the journal! Ingrid's home, cats, and environmental enrichment expertise has been featured on Animal Planet's Cats101 show
and featured in numerous publications including the website WebMD. She has created a series of educational How-To videos of her own, viewable on Fundamentally Feline's website and YouTube channel. Ingrid regularly interviews and offers her expertise for various media outlets. She is Co-Director of Paw Project-Georgia, working towards ending the cruel practice of de-clawing cats.
Cat Fancy magazine's 2008 "Home Issue" showcased her feline friendly accommodations and the aesthetically pleasing ways you can provide for your cats innate basic needs while still having a home the humans can enjoy. Ingrid is a huge advocate for enrichment and is determined to thwart the belief that one's home will look unsightly in efforts to provide it.
Ingrid shares her home with husband Jake, five rescue cats, and Sebastian, a rescued Great Pyrenees Dog. Follow Fundamentally Feline on Facebook, Twitter, Instagram and YouTube!
Editor: Dustin Bays
www.baysbrass.com
@Bays4Bays Twitter/Instagram