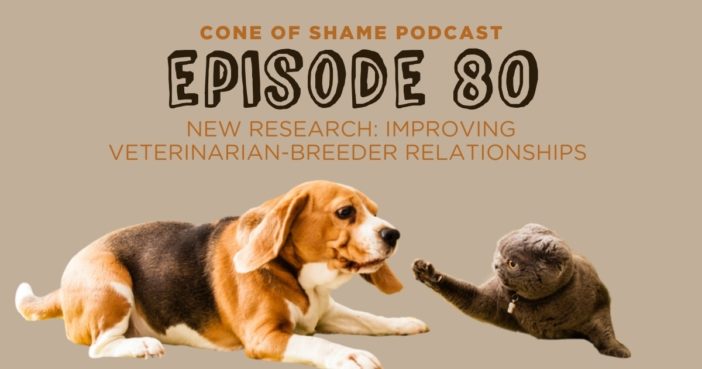 This week on the Cone….Dr. Andy Roark sits down with Dr. Ryane to discuss her research on communication challenges between veterinarians and dog/cat breeders. They get into the oddities of these relationships, the points of friction, and steps that can be taken to improve communication and build more effective relationships.
ORIGINAL ARTICLE:
Survey of communication challenges that impact relationships between veterinarians and dog or cat breeders and proposed solutions for retaining breeders as clients
avmajournals.avma.org/doi/abs/10.246…avma.258.4.407
ABOUT OUR GUEST
Ryane E. Englar, DVM, DABVP (Canine and Feline Practice) graduated from Cornell University College of Veterinary Medicine in 2008. She practiced as an associate veterinarian in companion animal practice before transitioning into the educational circuit as an advocate for pre-clinical training in primary care. She debuted in academia as a Clinical Instructor of the Community Practice Service at Cornell University's Hospital for Animals. She then transitioned into the role of Assistant Professor as founding faculty at Midwestern University College of Veterinary Medicine. While at Midwestern University, she had the opportunity to teach the inaugural Class of 2018, the Class of 2019, and the Class of 2020. While training these remarkable young professionals, Dr. Englar became a Diplomat of the American Board of Veterinary Practitioners (ABVP). She then joined the faculty at Kansas State University between May 2017 and January 2020 to launch the Clinical Skills curriculum.
In February 2020, Dr. Englar reprised her role of founding faculty when she returned "home" to Tucson to join the University of Arizona College of Veterinary Medicine. As a dual appointment Associate Professor and the Director of Veterinary Skills Development, Dr. Englar currently leads the Clinical and Professional Skills curriculum. In her current role, she can design and debut a novel series of standardized client encounters for student training in clinical communication. She can also further her research as to how clinical communication drives relationship-centered care.
Dr. Englar is passionate about advancing education for generalists by thinking outside of the box to develop new course materials for the hands-on learner. This labor of love is preceded by four texts that collectively provide students and clinicians alike with functional, relatable, and practice-friendly tools for success:
Performing the Small Animal Physical Examination (John Wiley & Sons, Inc., 2017)
Writing Skills for Veterinarians (5M Publishing, Ltd., 2019)
Common Clinical Presentations in Dogs and Cats (John Wiley & Sons, Inc., 2019)
A Guide to Oral Communication in Veterinary Medicine (5M Publishing, Ltd., 2020)
Dr. Englar's students fuel her desire to create. They inspire her to develop the tools that they need to succeed in clinical practice. If the goal of educators, as they are tasked by the accrediting bodies, is to create "Day-One", so-called "Practice-Ready" veterinarians, then this text and her others complement the mission.
When Dr. Englar is not teaching or advancing primary care, she trains in the art of ballroom dancing and competes nationally with her instructor, Lowell E. Fox.
ABOUT OUR HOST
Dr. Andy Roark is a practicing veterinarian in Greenville SC and the founder of the Uncharted Veterinary Conference. He has received the NAVC Practice Management Speaker of the Year Award three times, the WVC Practice Management Educator of the Year Award, the Outstanding Young Alumni Award from the University of Florida's College of Veterinary Medicine, and the Veterinarian of the Year Award from the South Carolina Association of Veterinarians.
Editor: Dustin Bays
www.baysbrass.com
@Bays4Bays Twitter/Instagram