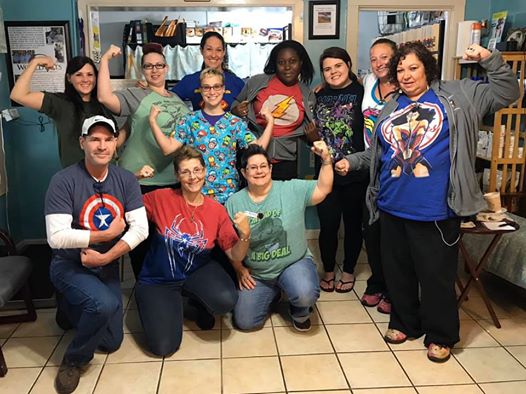 Vet Tech Week is arguably one of the best weeks of the year. It competes only with that one week in February where I trialed the "pizza for breakfast" diet. So what are YOU doing to celebrate the superheroes of your clinic?
Ok, let's address reality here: Some of you are procrastinators. Or – to quote the infamous Stephanie Goss – maybe your lives resemble a "dumpster fire" at the moment. That's ok. This week can sneak up on you sometimes. So, we took to the Dr. Andy Roark Facebook page to ask Veterinary Technicians this important question: What is the best gift you've ever received for Vet Tech Week? Here, we'll highlight some of their answers so that you can get them what they REALLY want this week.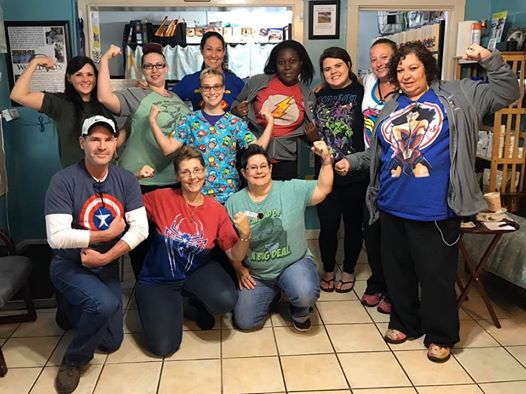 Make it personal!
When it comes to gifts, the more personal you make them, the more meaningful they become. Recognizing your Technician's personal goals, interests, and hobbies is a great way to make them feel valued on a whole new level.
"I recieved a cat tree from my employers. It was super thoughtful and very much appreciated with my 5 cats!" – Erinn K.
"Personalized stickers to mark your favorite pens with." – Katie H.
"Last year our management hand made to go cups with our names on them and pawprints. Filled with candy." – Krista B.
Get your reps involved.
Did you know you can reach out to your drug/food reps for help? We heard lots of stories of reps getting involved and making some great celebrations possible! Remember, they appreciate Vet Techs, too!
"My all time favorite was last year our rep did a mani/pedi on our day off with a full mimosa/Bloody Mary bar!" – Lynette K.
"My hospital spoiled the crap out of us all week. They organized with different reps to provide us with buffett style Breakfast and Lunch every day." – Katie H.
Food. Always food.
Lauren A. summed this one up perfectly when she said "I've never known a vet clinic to turn down free food, especially on busy days when we just need something to shove in our mouth between tasks." One of the many ways to a Veterinary Professional's heart is definitely through the stomach, so don't skimp on the food this week!
"We get a full breakfast of sausages, eggs, bacon, french toast, fruit etc made bright and early in the morning by one of doctors. It is so nice!" – Magda J.
"The best " present" I ever got were the doctors making us breakfast. Homemade breakfast was the best." – Adria B.
Include the clients and coworkers!
Vet Tech Week doesn't all have to come from management. Remember that appreciation from clients and coworkers is a fantastic gift, as well! Use your lobby, your website, and your social media to help involve clients in the Tech Week celebrations, and make sure the rest of your staff has the opportunity to say thank you, too!
"We…do a special feature on Facebook so clients can leave mushy sweet comments and let the techs now how appreciated they are!" – Maria P.
"We had an associate vet that was sooooo incredibly thoughtful and kind. She…made signs about loving the techs and put them in the lobby. Each one was one of our names." – Amanda M.
"Client here for what I consider the best vet hospital ever! Every year I bake for the entire staff & I try to do this a few times during the year – the entire staff deserves to be acknowledged & appreciated – love them all!!" – Cynthia G.
"My favorite has been having everyone write a compliment for every other coworker and then compiling all of the compliments for each person into one document (often inside one of their gifts)." – Susan S.
"Cards from coworkers of props for all I do. I know I shouldn't need it but it feels so good to know you are recognized." – Mandi T.
Massages. All the massages!
Being a Veterinary Technician is a back-breaking job (both literally and figuratively). Massages was BY FAR the most popular gift mentioned by our Vet Tech community! These can come in the form of group outings, gift cards, or – quite possibly best of all – bringing a masseuse in to the clinic for massages on site!
"The last two years we've gotten 15 minute chair massages. It's awesome!" – Lisa L.
"Last year we got chair massages from a massage therapist and it felt great!" – Vickie H.
"Massages would also help the achy ouch's days that build up." – Amy F.
So much room for activities!
It doesn't all have to be food and goodies. Sometimes activities and experiences are just as great a gift, and a great bonding experience as well. Here are just a few ideas: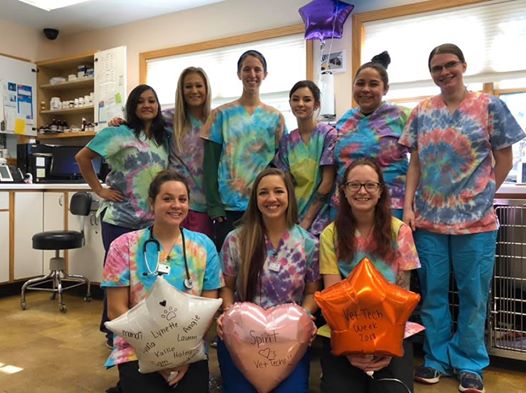 "I…have made tye dye scrub tops for my staff – that's something fun for them (and fun to make as well)! Any white scrub top will work, some fabric soaks it in better. But it's really easy! Get dye on amazon or local craft store!" – Lynette K.
"Our associate veterinarian, who also happens to be our friend, has treated us to a Broadway show almost every year the past few years. It has been SO much fun and it's great that we get to hang out with one another outside of work." – Robbyn M.
"I think my crew/me would appreciate getting out early one night planned and concrete and going out to appreciate each other and relax!" – Amy F.
Assorted goodies.
There were so many great gift ideas listed in the Facebook thread (click that link to check it out for yourself!) Here are just a few highlights:
"Doctor treated LVT to a cooking class to cook the own meal and dessert. It was awesome!" – Stacy B.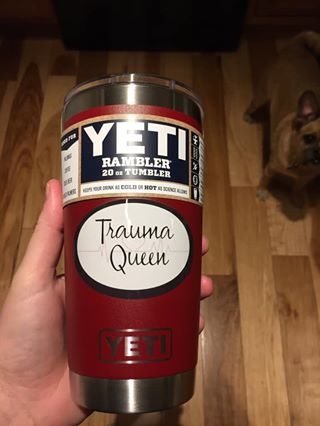 "We are also giving out "coupons" as prizes this year – get off 1 your early, I don't have to clean that kennel, t shirt day, etc." – Kassie N.
"Highlighters to coordinate my anesthetic charts!" – Hailey C.
"Money goes a long way in making me feel appreciated." – Erin M.
"Snarky vet tech coloring book. 😂 and movie passes. ♥️" – Angel P.
"$50 Amazon gift card and a tumbler with my name on it!" – Heather G.
Good old-fashioned gratitude.
Sometimes, the easiest gift is also the one that means the most. Remember that when it comes down to it, this week is about appreciating Veterinary Technicians for their skill, compassion, and grit. It's a tough job, and it takes some really special individuals to fill it! And while no one does it for the purpose of being thanked, acknowledgement can still mean the world.
"A sincere note from a supervisor or coworker also goes a long way." – Mary M.
"Sincere respect and appreciation goes a long way Techs who feel appreciated are great employees who shine." – Keri W.
"Topped it off with a hand written card with how much I appreciated every single one of them. Gratitude goes so far and it was my honor to dedicate my time to such an awesome staff." – Daniele I.
"I stepped into Heaven when I took this job 7 yrs ago. I have never once left the building without the Dr or management looking me in the eye and saying "thank you for your help today." – Krista B.