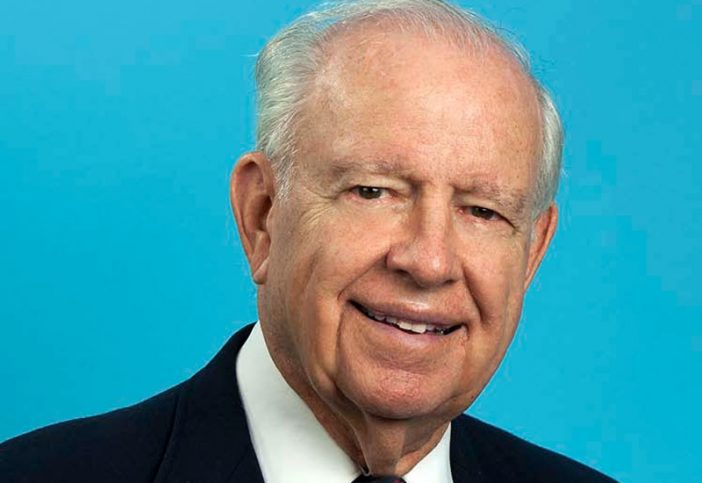 Last month I was at a veterinary conference in Orlando when I ran into Paul Nicoletti, DVM. His hair was thinner than I remember and he moved a little more slowly, but he still had his warm, magnetic smile. When he saw me, he cut across some heavy foot traffic with a spryness that was impressive for someone in his mid-80s.
Dr. Nicoletti looked me in the eye, shook my hand, and asked how I've been. We talked for a few moments and then parted ways. The last thing he said was, "I enjoy your Facebook and I think other people do, too. I hope you'll keep it up." I loved that: "your Facebook." It made me smile.
I heard last week that Dr. Nicoletti passed away.
For those who didn't know him, Dr. Nicoletti was a professor at the University of Florida's College of Veterinary medicine (which is where I met him). At different points in his career he served as the president of:
The American Veterinary Medical Association (AVMA)

The American College of Veterinary Preventive Medicine

The Florida Veterinary Medical Association

The Animal Disease Research Workers in the Southern States

The Alachua County Veterinary Medical Association
He was recognized by the Florida Veterinary Medical Association as their Veterinarian of the Year in 1994 and presented with the Distinguished Service Award by the University of Florida's College of Veterinary Medicine in 2003. He played a significant role in eradicating brucellosis in Florida, was inducted into the Florida Agriculture Hall of Fame (yes, it's a thing), and created the Paul Nicoletti Public Health scholarship at the University of Florida.
What I'm saying is, the man's resume was absolutely amazing. 
But I was totally unaware of that. 
To be honest, I knew very little of Dr. Nicoletti's accomplishments, because he never talked to me about them. In all the times I visited with him as a veterinary student, I only remember him showing me one award. It was the National Teaching Excellence Award from The Student American Veterinary Medical Association, and he was proud of that one. 
This is an award that is given by veterinary students across the country to one teacher each year. It comes from student nominations and is intended to recognize those who both educate and inspire. The fact that this is the only award Dr. Nicoletti told me about exemplifies what I'll always remember about him. 
Dr. Nicoletti was the first person in veterinary medicine to make me think deeply about what success really is. He was already retired when I started veterinary school, but there he was in the anatomy lab almost daily. He laughed, joked, and asked students how they were getting along. Faculty and staff came up to hug him.
He had a gift for being able to give advice without ever coming off as pushy or intrusive. You could tell people really appreciated his insight. If you met him once, you walked away feeling that he genuinely cared about you and wanted you to thrive and be happy.
Dr. Nicoletti made my experience in vet school better. He picked me up when he saw I felt beaten down. He reminded me that it's great to be a veterinarian. I remember thinking, as I watched him enjoy the sunshine and eat lunch at a picnic table in the courtyard one day, "That's what success looks like."
Think about it: Here was a man in his 80s, long past official retirement, still going to work every day because he wanted to. And when he got to work, people were glad to see him. He had people to care about, and they cared about him. He showed up to support the individuals who could really use his encouragement and advice. 
It might sound like Dr. Nicoletti and I had a special bond or relationship, but we didn't. He was like that with everyone. Lifting future vets up is just what he did — I think he saw it as one of his most important roles.
If I could go back to that conference last month and say one thing to Dr. Nicoletti, it would be this: "Thank you for all the times you picked me and a thousand other veterinary students back up. Thank you for so obviously caring about us and about veterinary medicine. Most of all, thank you for showing us all what a life with purpose and meaning looks like. I hope I can be like you."