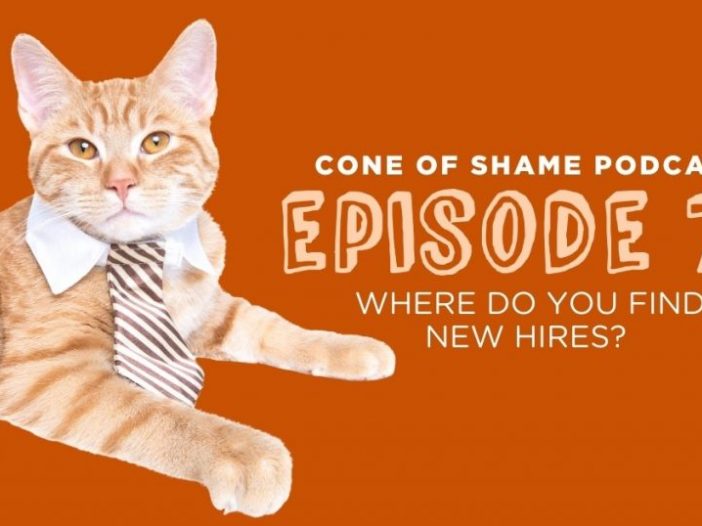 Gang! Is your clinic understaffed? Stretched too thin?? Freaking out about the upcoming summer insanity??? Well Stephanie Goss and I have got you covered with this episode that originally aired as part of my other baby, the Uncharted Veterinary Podcast. Let's tackle the question too many of us are asking right now: How do I find new hires for my veterinary practice?
For this episode, Andy and Stephanie went to the mailbag. Time and time again, we see the same question in different forms:
"We are short staffed and getting shorter by the minute. Where do you find good people? We need to hire at least 1 person in every role. Our morale is at an all time low and people are burnt out. We need to save the ship before it goes down."
"Alrighty!! I'm in a pickle! I canNOT seem to get Veterinary Technician applicants. I have posted on Indeed, Facebook and LinkdIn. We are so short staffed and it's starting to take its toll on everyone. How do I find a Vet Tech worth hiring?!"
This is not changing, this is not going away, and the summer crazies will be here soon. So let's figure this out!
HEADSPACE: Some Things To Keep In Mind
Everyone is short staffed and struggling to find doctors and vet techs. You are not alone, this is not fault.
There has been a huge surge in work load across the industry and there is a shortage in doctors and technicians.
There is not an easy answer to this, not some magic website that you haven't heard of.
The biggest danger in not being able to hire is refusing to change how you run your clinic.
If you are unable to hire for an extended period of time you need to adapt to accommodate that change.
You and your team have a limit. You can push past it bust something will suffer. That can work in the short term but it is not a sustainable business practice.
If your team gets burnout and leave you can end up in a worse place than you started.
This is a hard one for everybody. Stephanie and Andy tackle this from a perspective of not just how do I make my clinic more attractive but how do I adapt who and what I already have? Check out the episode to hear them go through all of this and lay down some action steps. Episode is below or wherever you get your podcast from.
---
LINKS
Personal Branding w/Dr. Andy Roark:
https://unchartedvet.com/personal-branding/
April Uncharted Veterinary Conference:
https://unchartedvet.com/uvvc2021
RELATED MATERIAL
UVP 041: Help! I'm Totally Overwhelmed!
https://soundcloud.com/unchartedpodcast/uvp-041

UVP 064: Keeping Morale Up During COVID-19
https://soundcloud.com/unchartedpodcast/uvp-064
UVP 094 NEW RESEARCH – What Really Keeps Techs Engaged & Satisfied
https://soundcloud.com/unchartedpodcast/uvp-094
Editor: Dustin Bays
www.baysbrass.com
@Bays4Bays Twitter/Instagram