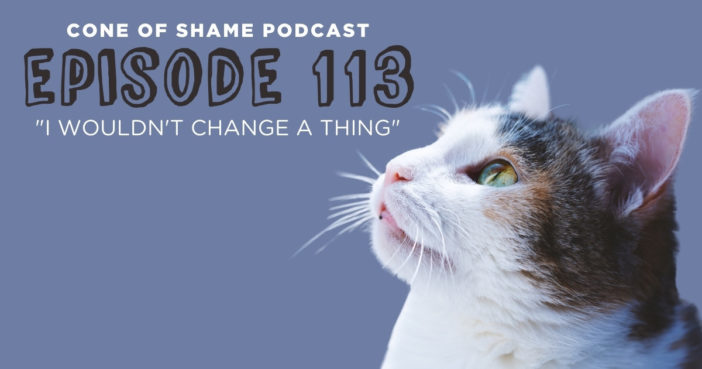 From Angell Memorial Animal Hospital in Boston to the Los Angeles Zoo, Dr. Mark Goldstein has had a fascinating career. Today he joins Dr. Andy Roark to reflect on his life as a veterinary professional, his fight against pancreatic cancer, and the lessons he has learned from people and pets.
***TW: There is a brief but graphic mention of suicide in this podcast.***
LINKS
Lions and Tigers and Hamsters: What Animals Large and Small Taught Me About Life, Love, and Humanity (Amazon.com): www.amazon.com/Lions-Tigers-Hams…ooks%2C252&sr=1-1
Strategic Planning Workshop Series: unchartedvet.com/upcoming-events/
Uncharted Veterinary Conference April 21-23, 2022: unchartedvet.com/uncharted-april-2022/
Uncharted Podcast on iTunes: podcasts.apple.com/us/podcast/the-…st/id1449897688
Charming the Angry Client On-Demand Staff Training: drandyroark.com/on-demand-staff-training/
What's on my Scrubs?! Card Game: drandyroark.com/training-tools/
Dr. Andy Roark Swag: drandyroark.com/shop
All Links: linktr.ee/DrAndyRoark
ABOUT OUR GUEST
Mark Goldstein, DVM, has spent over 40 years caring, advocating, and fighting for the welfare of animals. The institutions he worked at are all recognized leaders in their respective fields and the variety of animals he worked with and the varied responsibilities he has had are unique. He was a senior staff clinician in the medicine department at Angell Memorial Animal Hospital in Boston. After being hired to head the Boston Zoos, he led a turnaround for the failing inner city Franklin Park Zoo. "Dr. Mark" then moved west with his wife Kristine and their two daughters when he was appointed to lead the Los Angeles Zoo. During his tenure at the Los Angeles Zoo he was involved with one of the most successful release programs, the reintroduction of the California Condor back into the wild. He vividly remembers watching the first bird being re-released into the Los Padres National Forest soar free one misty beautiful morning. He followed his heart to shine a light on the importance of the human-animal bond and took the helm at the San Diego Humane Society and SPCA where he oversaw the design, development, and completion of the "San Diego Campus for Animal Care." Many aspects of the campus, its programs and its unique partnership with the municipal animal care department have been copied numerous times both nationally and internationally. He has a BS in Animal Science and a DVM degree from Cornell University. Health Communications Inc. (HCI) recently published his book "Lions and Tigers and Hamsters" What large and small animals taught me about life, love and humanity.
Dr. Mark enjoys giving presentations that are both educational and entertaining. His talks not only draw upon stories from his book "Lions and Tigers and Hamsters" but also from his 40 years of experience caring for animals and their welfare along with supporting the people who care for them. He has vast experience talking to a variety of groups from book clubs, service organizations, and at professional conferences as the keynote speaker. He was also the UCSD OSHER visiting author during the 2020 spring semester. He imparts to his audience the importance of the human-animal bond and how it helps create the fabric of a healthy community. He calls upon his experiences to share with colleagues how he feels honored to
have been able to serve in what he sees as a sacred profession, the practice of veterinary medicine. He enjoys making his presentations interactive and encourages Q/A when the program allows.
SHOW TRANSCRIPT
Dr. Andy Roark:
Welcome, everybody, to The Cone of Shame Veterinary Podcast. I am your host, Dr. Andy Roark. Guys, I've got a good one today. I'm sitting down with Dr. Mark Goldstein. Dr. Goldstein has had a rich career in veterinary medicine. He has been a senior staff clinician at Angel Memorial Animal Hospital in Austin. He has been the director of the LA Zoo. He's been director of the San Diego Humane Society and SPCA. He is just a fascinating person who has done a ton of stuff. Unfortunately, right now, Dr. Goldstein is battling pancreatic adenocarcinoma, as we talk about a bit in the podcast, and it's led him to reflect a bit on his career.
Dr. Andy Roark:
And I saw that he was doing a keynote presentation at the Fetch Conference, talking about his life and lessons that he learned in practice and what he sees as important in this space of his life, and I wasn't at that conference, and I wanted to hear what he had to say. It seemed very important to me, and it just… I don't know. I wanted to soak up his knowledge. And so, I invited him on the podcast, and he came along, and he shared a lot of great stuff that you're going to get to hear.
Dr. Andy Roark:
And so, without further ado, I'm going to jump into it after one quick thing. I do need to mention, there is a brief but slightly graphic mention of suicide in this episode. If that does bother you, you may want to pass. But it is there, and I just wanted to give people a heads up. So, anyway, without further ado, let's get into this episode.
Kelsey Beth Carpenter:
(singing) This is your show, we're glad you're here, we want to help you in your veterinary career, welcome to the Cone of Shame with Dr. Andy Roark.
Dr. Andy Roark:
Welcome to the podcast, Dr. Mark Goldstein. Thanks for being here.
Dr. Mark Goldstein:
It's just an honor to be here, Andy. You've been such an inspiration to this profession. It's really nice to do this with you.
Dr. Andy Roark:
Well, thank you for saying that first of all, but you as well. I first became aware of you and your work back in 2019. You had a book, Lions and Tigers and Hamsters, that came out. And it came across my desk. I didn't know you at all. And so, I looked into your background. You were at Cornell. You've had a leadership position at Angel Animal Medical Center. You were the director of the LA Zoo. You're the director of San Diego SPCA. You have had a rich and robust career, a fascinating career. And so, I was looking at that, and I was aware of your book, and then you did the keynote address at the Fetch Conference in San Diego, just as we're recording this, so it was just a couple of days ago. And it was called I Wouldn't Change a Thing. And you talked about your career, and you reflected on a life well lived.
Dr. Andy Roark:
And I thought, that's the conversation I want to have. I want to talk to Dr. Goldstein. You have done so much, and you have seen so much, and I know that I have a ton of things that I can learn from you, and so I wanted you to come on and just have you talk a bit about your keynote and mostly just talk a bit about your career, and as you reflect on it, what are your takeaways? What are your words of advice, I guess, for the next generation?
Dr. Mark Goldstein:
Talking to our colleagues, and even to animal vet techs, and all the people that are in animal welfare, I think one of the tools that I talked about on Saturday to do when it gets dark, and we all know we have some very dark days in our profession… an irate client, somebody's complaining about the bill, things that are unrelated to why we got into this in the first place. When those things happen, one of the things I always went back to was the fact that 80% plus of the world has a job to put food on the table and take care of their family. It's not necessarily what they love doing. We are in the 20%. We got to choose, and we got to do what our calling was and what our passion was. We're really wealthy for that, that we're able to do what we wanted to do as opposed to do what we had to do. And it also offers us ways of changing. If you get into small animal medicine, it's not what you thought it would be, you can change. You can go into a different field. You can go into all the various aspects that veterinary medicine touches.
Dr. Mark Goldstein:
The next message I guess I'd share is that the reason I say I wouldn't change a thing, I really consider our profession a sacred profession. I Googled the other day what the public things of veterinarians, and what came up was, it said, and I'm paraphrasing here, that people think that veterinarians are passionate, trusting. They really feel like they can go to them in a time of need. It was all positive. Versus physicians, who most people think are arrogant, and it had some negative words.
Dr. Andy Roark:
Yeah.
Dr. Mark Goldstein:
And I basically said to the people in the room, and there were about 600 people in the room, "Hey, folks, if the public thinks that of us, why can't we?"
Dr. Andy Roark:
Yeah.
Dr. Mark Goldstein:
We are in a profession that affects animals and people. Maybe in a little bit we can talk about taking a tumor off a goldfish. Now, I want to watch your eyes, because most people do that. And they go, "Mark, I think you've gone over the line here." We can talk about it when you want here in a bit, but we really do affect not just animals, but people's lives.
Dr. Mark Goldstein:
And I also made another point, which we can go into more if you'd like, but I put up this slide that said, "There's roadblocks that we create. An example…" When I was in charge of the Angel Internship Program, with picking new interns, it was like chalk on a board when I would ask someone, "Why did you become a veterinarian and not a physician?" And they said, "Because I like animals more than people." Don't hire that person. Really.
Dr. Andy Roark:
Yeah. I agree.
Dr. Mark Goldstein:
You're in the people profession. We're not just in the animal profession. And I say that because if you're sick and you go to a physician, you may not like them, but you're going to take their advice because you're hurting. When someone comes into our office as veterinarians, if I don't get their respect, they're not going to listen and treat their animal the way I'm asking. So, I need to realize that we're people… Then someone says, "Well, I don't know, I'm not in clinics. I'm in lab medicine, or I'm in zoos," or whatever. There's always something that you're working with, with that animal. It's a keeper, a farmer. There's always a person involved. So, I think we have to be careful about taking people… And if I'm talking to someone that thinks that way, that might be part of the issue that you've struggled with. But we are a people profession.
Dr. Mark Goldstein:
So, those are some of the points I made. There were a couple others, and it was just to inspire them, and to get them to laugh. And I guess I was successful because I heard later that… Well, we can talk about it at the end, but I got a standing ovation twice at the end. I've never seen that happen at a medical convention. I'm very humble about it. I know it almost sounds like I'm bragging. I'm not. It was just a terrific opportunity. And I said to Marty on the stage, "This is the happiest I've been in a couple of months now," because I'm dealing with this issue we'll talk about maybe at the end.
Dr. Andy Roark:
Yeah. So, Marty Becker is who you were talking to, correct?
Dr. Mark Goldstein:
I was talking to the whole group when I said that. He was up on the stage, and I just told him that, after I was done… Yes, after I was done, he gave me a hug, and I whispered in his ear, "This is the happiest I've been in months." I really was honored when Adam called me and said… Adam's the person that puts together the 360 DVM conferences, and Marty arranged after I told him the day before about the problem I'm challenged with, and they got online and said, "We'd like you to do the keynote." This was a couple of months ago. And they even said, "We know, you can tell us 30 seconds before you have to go on that you can't do it," because my life changes every day a little bit, and they said, "Marty will step in for you." It was just really an honor for them to take that risk. It was just a great feeling, to talk to my colleagues and connect. And I got to speak to about 150 of them, because that's how many books I sold right after the talk in two hours, which I had never done.
Dr. Andy Roark:
Wow.
Dr. Mark Goldstein:
So, it was a great experience for me, and I hope I stimulated some people, because… I'll stop here in a second. I said to my wife, "If I can touch one person that comes up and says, 'Hey, you reignited my spark,' I'm going to feel successful." I had a couple of dozen people when I was signing books come up and say, "I was that 65% of veterinarians that would tell a 16 year old today not to go into veterinary medicine. There's too many problems." And they said, "You just changed my mind." Wow. That's just… It's so rewarding. I hope you've experienced that, too, because you're very inspirational.
Dr. Andy Roark:
Oh, yeah.
Dr. Mark Goldstein:
I mean that. Yeah. You feel good about the fact that you can do something positive like that.
Dr. Andy Roark:
Oh, absolutely. Are you comfortable talking a little bit about the challenges that you reference and what's going on?
Dr. Mark Goldstein:
Sure. Yep. Very well. Let me go to the talk I did on Saturday. One of the last slides I showed was first, my last point was don't give up. Follow your dreams. Don't let somebody take them from you because they have expectations. So, what I did was show a slide of the rejection letter I got from Cornell my junior year applying. And the last paragraph said, and I blew that paragraph up, "You're welcome to apply after you graduate next year, but we don't expect the competition to get any better, any easier. So, we strongly suggest that you find a new career."
Dr. Andy Roark:
Wow.
Dr. Mark Goldstein:
I put that up, and everybody in the room laughed like… because I do have an impact, I think. And then I said, "Folks, this is just not theory. Don't give up. I applied, and I think I did okay. What do you think?" And they stood up and applauded. It was like, wait a second, come on. And then I went on to just explain that a lot of us listen to people who talk theory, don't live it, really. So, for me, I want to tell you, when I say don't give up, I'm really going through it right now. I was diagnosed with pancreatic adenocarcinoma. When I was a veterinarian in clinical medicine, I was an oncologist and hematologist. That was my area of interest. So, I know enough to be dangerous now. But I know what I'm facing.
Dr. Mark Goldstein:
I put that up, and I said, "I'm not giving up. I've talked to Adam, and he said, 'If you're around next year, you have the stage again, and I plan to be here next year to talk to you." And they stood up again and applauded. It was just crazy at the end, but I mean that. I'm going to fight this. I've got a lot to live for. It is a tough diagnosis. I've gone through three months of chemotherapy. I'm probably looking at a surgery the end of January. But I'm not trying to be morbid here. Everybody gets a problem in their life. I'm a little bit… gone through those stages of grieving because it happened… I'm 69, and I expected something like this to be 20 more years down the road.
Dr. Andy Roark:
Yeah.
Dr. Mark Goldstein:
But, it is what it is. And why I say I wouldn't change a thing is because I'm actually facing this, being able to say, it's okay. My wife and I have had so many adventures in our life that could fill three or four lifetimes. It's okay. I have no regrets. How many people can say that at my age? So, I feel very lucky even though I'm facing the hardest battle of my life, for my life. We'll see where it takes us.
Dr. Andy Roark:
You say you have no regrets, and I look at your career, and you've done so many things. What were some of the challenges professionally that you remember facing that seemed insurmountable at the time that you grew past or that you overcame? I don't know, I have no doubt that you have faced down some monumental challenges, and I always like to try to learn from people who have been through those things and excelled.
Dr. Mark Goldstein:
The greatest challenge is because of the nature of the jobs that I had, for instance, as director first at the Boston Zoos, and then I went to Los Angeles, was the politics. When I was at that level, in Massachusetts, it was the commissioner [inaudible 00:12:31] and then the governor, Mike Dukakis, who hired me, and it was a Friends Of organization, and they made sort of a mistake by not bringing them into the fold picking me to do this. And, because of that, I opened up a newspaper once. I was shaving, actually. I was holding a blade, and I went out to the front, got my newspaper, put it down. I had just been appointed. And on the front page of the paper, it was, "A new director for the metropolitan zoos. Some people are really happy, and some don't like it." I was like, "What?" And I was holding the shaver at the time, a blade, and I did have this thought of, "Oh, come on. Let's just end it here." I never have been in a public… At Angel, I did do some live television slots, but nothing like this.
Dr. Andy Roark:
Yeah.
Dr. Mark Goldstein:
And what it was, is that the volunteer organization, which raises half the money for our budget there, was not pulled into the decision making to appoint me. That taught me something: bring a lot of people into the tent. Try and do it before you make decisions if you can, if they should be there, and look for consensus. This was a tough start at first. Ironically, I right away called the board chair and asked if I could just meet with the board, just myself and them, and he said sure, and he set up a meeting for an evening, I remember. And I went to dinner first by myself, just to think, and it hit me. We've all been taught to SOAP things: subjective, objective, assessment, and plan. Approaching a medical case. You know what? For the veterinarians listening here, use the same thing when it comes to business practices. Use the same process when it comes to personnel issues. Subjectively look what you see. Objectively look at what the findings are. What's the bottom line? P&L sheet, whatever.
Dr. Mark Goldstein:
But we are talented, and we can take that thought process, and when I explained that to them and they said, "Why do you think you can run the zoo?" And I went into the SOAP thing, and I said, "I'm ready to do that. This is my passion." And we reached consensus, then became good friends. It worked. Now, I laugh because Governor Dukakis left office, a Republican came in, and I really believe… We had two zoos at the time. They cut the budget, and when it comes to that, I made a decision, we've got to close one of the zoos. I'm not going to stand by and… Zoos are wonderful things to educate people, but if you can't educate them properly, they shouldn't be there. That tiger behind a cage now. No. You have to naturalize the exhibit so that you get to see what they really are like. And education's a big part of that, whether it's in clinical medicine, whether it's in zoo medicine, whether it's in animal welfare.
Dr. Mark Goldstein:
There's usually three legs. One of them is conservation, for instance, and whatever that means in the zoo world, it's easy. Conservation of animals. Education, and entertainment, or interacting with the public. If one of those legs gets pulled out, the stool falls over. We've got to keep connecting with people. We've got to make sure that we're educating them. My biggest complaint in clinics from chief of staff [Gus Thornton 00:15:48] was, "Mark, you're terrific. You're the third biggest producer. The other two stayed there till 2:00 in the morning, were great clinicians, but I wasn't going to do that." But the third best out of 60 veterinarians. "But Mark, a 15-minute appointment is not 45 minutes."
Dr. Andy Roark:
Yeah.
Dr. Mark Goldstein:
I said, "Gus, I'm sorry. I stay late. I never complain about it. But nobody leaves my office without having their questions answered." And that's important to me. I really thought it was very important. And I don't find that in human medicine today. It's gotten much worse. There's 10-minute and 20-minute appointments.
Dr. Andy Roark:
How do you balance that? You and I sat down to record this podcast, and we talked for 35 minutes before I got to hit record and start the podcast because you tell stories and you draw it and you explain, you expand. How do you balance that? Because you also seem to have a rich home life, and you say, "I'm not willing to stay late. I go home." Looking back at your career, how do you balance that desire, obviously, to build these relationships and to explain, and then still to be able to put your work down and go home? Did you ever wrestle with that?
Dr. Mark Goldstein:
I did. You commit yourself to both, and I think it's important. In my case, I'm very fortunate, I really am. I've been married for 41 years to this wonderful person. I have two wonderful children and a great son-in-law. Two grandchildren. Three grand-dogs. That was important to me. I really understood that you've got to balance those two. Was it difficult sometimes? Sure. But, I just worked at it. Some people were critical. There are veterinarians who think you should be working 24/7. Nope. I was always available to my clients, don't get me wrong.
Dr. Mark Goldstein:
In fact, the only time once that I had to tell them, "Find another doctor," was a dog that was crashing, a patient, and they called me. I wasn't in clinics at the time, but they called me, and I always knew I wanted to know that. And I had to say to her, because I was in the children's hospital. My daughter was having a medical problem, and my wife actually had a problem right then, too. And, I had to say… I called them up and I said, "Nancy," that was her name, "find another doctor to take this." I had never done that before. I never did it after that.
Dr. Mark Goldstein:
And, I was always available, but I made sure that there was time for me to get home, whether it was at breakfast or dinner, to spend time with my kids and my wife. Was it challenging? Yes. But if you commit yourself to do it, and you approach it with an open mind, you can make it work. But I wouldn't say it wasn't difficult sometimes.
Dr. Andy Roark:
Hey, guys. I just want to jump in here real fast with a couple updates from the Uncharted Veterinary Conference side of the house. I am running my strategic planning workshop series with my wing man, the one and only practice management goddess Stephanie Goss. We have four different strategic planning workshops: January 26th, February 9th, February 23rd, and March 9th. Information coming soon on those. I'll put a link so you can watch for when registration opens up. You can come to one of them. They all stand alone. They all do very different things. They are $99 to attend a workshop, or $299 for all four workshops, or if you're an Uncharted member, you can come for free. They're all included. And also, you can get replays through our online school.
Dr. Andy Roark:
So, guys, don't sleep on that. If you're like, "Hey, man, we really need to plan," I've got your back, and I'm happy to work with you. Come on and be a part of this workshop, because it's going to be great, and I enjoy working with people and where their business and where their careers are going. It's something I get a lot out of. So, I would love for you to be there and to work with me.
Dr. Andy Roark:
Also, big one. In April, April 21st through the 23rd, the Uncharted Veterinary Conference is back together live and in person. Guys, we're going to keep this small. It's going to be probably under 100 people. And we're just doing that for COVID precautions, but at the same time, we need to get back together. It's time for people to come together and get recharged and get refocused and work together, and just rebuild those connections, those face-to-face connections.
Dr. Andy Roark:
Guys, we did our practice owner summit in December, and it was so great, and it was so powerful, and it was so meaningful. I know I got so much out of it, and I think our attendees did as well. So, yeah, it's time for us to get back together. This conference is all about running smoother, simpler, more efficient practices that are enjoyable. It's not about getting more people in the building. I don't think we need that. It's not about finding new things to do. I don't think we need that. It is very much about clear communication, building systems, training staff to get more done with less. And also, just to shake off the stress. If you feel like you're just running from one fire to another fire to another fire, this conference is for you.
Dr. Andy Roark:
You can register now. It is in Greenville, South Carolina. As I said, it will be in person. It is only for our Uncharted members, so grab yourself an Uncharted membership and head on down to see us in Greenville, South Carolina, the 21st through the 23rd. Links to both of these things in the show notes. Guys, without further ado, let's get back into this episode.
Dr. Andy Roark:
How did you know when it was time to make a change? So, I think about you leaving clinical practice and going to be the director at the zoo. That's a massive change. And you've moved from place to place. And at the very beginning, one of the first things you said when we sat down was you talked about vet medicine gives you options, and I always loved the idea that vet medicine is a house with a million rooms. That is a very attractive thing about the profession to me as well, is you can bend and you can mold and you can do different things. What was your decision process when you said, "It's time for me to try something new or to go to something else?" How do you make those decisions?
Dr. Mark Goldstein:
It's great. In that case, Governor Dukakis running for president at the time in Massachusetts back in 1987, '88, and it took a year for me… because I was actually offered a very prestigious position at Angel if I would stay. I said to them, "Hey, guys, I've been offered the job, director of the Boston Zoos," and I had worked with captive wildlife before. I had took them in clinical medicine. The decision was when I was sitting on a beach up in Massachusetts. We really do have them, but they're not like beaches in the south. But, we were sitting there with my wife, and I finally just looked at her and I said, "I can probably, if this doesn't work, go back into medicine," because I was practicing at a fairly high level with people that were incredible. "I could probably go back to that if this doesn't work. But if I don't try this, it's like somebody just put a mountain in front of me and said, 'I dare you.'"
Dr. Mark Goldstein:
I said, "I've got to give it a try." And to put my clinical medicine on the shelf… I loved being a doctor. I loved being a clinician, I mean. But the decision was because here I was, presented with a great challenge, and I saw the opportunity to now affect the populations of animals versus individual animals like we do in clinical medicine. That got my interest. And, when somebody's running for president of the United States and asks you something like that, and they're willing to put the money into it, and I knew I was going to be able to complete the $26 million tropical forest exhibit, it was, how can I turn this down? Let's give it a try. And so, I made that change.
Dr. Mark Goldstein:
It was hard, because I loved what I did in clinics, but it was a good decision. I have no regrets. I went from that to being a director of zoos, and then politics played a part. Like I said, there was a change in administration, and they wanted to change things, and when I wanted to close one zoo, the state senator from there went after me with a vengeance. That's another lesson. My wife never understood why these people could be pretty nasty publicly, saying things, and yet when I would go to a meeting and a state senator or a state rep was there that I knew was thinking that, I'd still shake their hand, say, "Hi, Senator." My dad taught me something. He said, "If you don't like a teacher, get an A in their class. Don't complain. Don't let their problems direct you in a different way."
Dr. Mark Goldstein:
And the same goes for veterinary medicine. We have this whole list of things that we talk about depression and suicide. Years ago, when I gave this talk, kind of, I would talk about them and say, "Folks, this is what we're facing." Today, I feel differently, because of people like you, Steve [Dale 00:24:22], Marty. It's, "Hey, folks, these are the challenges that we have. Now let's take them on ourself." Nobody else is going to help us with them.
Dr. Andy Roark:
Yeah.
Dr. Mark Goldstein:
So, for instance, one of them is that we struggle with the fact that people's expectations… They want to do everything for their animal, and then they ask, "But it's going to cost that much?" Nope. Our job, then, is to educate them, to let them know that, "Hey, wait a second, we have the same training that a physician has, and if you went in with the same problem to your doctor, it would cost you five times the amount I'm charging. But the skill's the same. The equipment we use is the same. And all the other things that make it very similar." And you know what? If it's a person who's willing to listen, you change their mind, but we have to be proactive.
Dr. Mark Goldstein:
I would love… and maybe you could give this talk. I'd love to see a poster made which says, "This is a physician's training. This is a veterinarian's training." Wow, it's the same. But we have to be proactive. We have to look at that list and start to chip away with it, the cost, the debt we incur, the euthanasia serum being right on the shelf so it's readily available, all of these things that we say contribute to this depression and suicide and everything. Well, let's stop just saying them, and accepting they're there, and change them, because nobody else, like I said, is going to do it for us.
Dr. Andy Roark:
Yeah.
Dr. Mark Goldstein:
I've tried to do that.
Dr. Andy Roark:
We have to believe it ourselves. I think that's a big part of it as well. When the clients come in and say, "Why do you charge this for your time?" Or whatever, I think a lot of us, we need pet owners to believe our value so that we can believe our value. I think that's misguided. I think we have to believe ourselves. We know what training we did, and we know what our time is worth, and we know how many things we're juggling, and we know what we put up with and how hard we work. I think we should work to explain ourselves and educate people, and at the same time, I think it's more important that we ourselves believe it, and live that.
Dr. Mark Goldstein:
You really just hit a point that I made. I looked up on Google about a week before the talk, and I put in, "What does the public think of veterinarians?" I kid you not, I got this statement that said, "The public believes in veterinarians. They trust them. They think they're compassionate. They think they're caring." It was all these positive words that the public feels about veterinarians, versus physicians, who they think are arrogant, stubborn, and it was negatives. And, what I said to them is, "Folks, if the public thinks of us like that, why can't we think of ourselves like that? We are. We are compassionate. We are caring. We got into this profession most likely because we weren't going to make six figure plus salaries," though I would suggest that we deserve it, but there's got to be a balance there. "We got into it for the right reasons, and we've got to remember that. And if the public thinks that way, we certain should."
Dr. Andy Roark:
What are the things in your career that you didn't think that you would enjoy, that you ended up finding reward and enjoyment in?
Dr. Mark Goldstein:
Interesting question. That's a new one for me, Andy. Thanks. Tough question.
Dr. Andy Roark:
I think about, you're going into these positions, and you're at the SPCA, and you know the politics are coming and things like that. Are there things like that, that you said, "Oh, what am I doing here?" And then you got into it and found that you were adept at it, or that you enjoyed it?
Dr. Mark Goldstein:
Well, let me talk about clinically first. When I started practice, I sort of dreaded ever telling a seven or eight year old it was time to say goodbye, and I found out very quickly that age bounces back very quickly. You tell them, and they cry maybe, or whatever, and then 15 minutes later, it's, "Mom, can we go get ice cream?" I was a bit surprised, but I learned that the second hardest population to tell that to, and I'll get to the first in a second, is… I still remember the first time it happened, an 18-year-old young lady came in with a 16-year-old Cocker Spaniel. It was time to say goodbye. Now, I realize that she had probably told this animal things, this dog things that she never told anyone else in the privacy of her room. She never had a death in her life. She went to counseling for six months.
Dr. Mark Goldstein:
So, for people listening here, if you've got a 15 to 25 year old, someone who is just learning, really, the finality of death, and all the things that go with it, be careful. They will hold… It's natural for those people to hold it inside and not let you know. But, if they've had a dog most of their life, or a cat, or a pet, don't dismiss it. Now, the hardest population I found, which I was surprised, I didn't think of this, senior citizens. That person who gets unconditional love, and it may be the only source of unconditional love. I had three people come to my office threatening suicide. One of them did after we put her animal down.
Dr. Andy Roark:
Oh, no.
Dr. Mark Goldstein:
She started the conversation with she had a 19-year-old dog, and she said, "My husband loved him like, I'm not sure, maybe more than me, before he passed away last year." And I realized she had transferred her love for her husband to this dog. And, a month or two later, she said goodbye. So, telling a senior citizen… And again, for people who are listening, if Grandma or Grandpa or your uncle or your aunt, and they're 75, more, be aware that if they have to put down their animal, it's going to tear their heart out possibly, and you've got to be there to support them.
Dr. Mark Goldstein:
Please avoid those terms, even though I tell people when they're going to go through it, "Hey, don't be upset when someone says to you, 'Let's go down to the shelter or the campus and get a new animal.'" Who would ever say that to someone who just lost a spouse? Well, maybe my wife. They might tell her, "Hey, go get a new husband. You're doing better now." No, I'm kidding. Sorry, I make jokes like that. But you wouldn't tell someone if they lost a child, so why would you say that if they've lost a dog? They've got to go through that grieving and mourning process. But, I try and tell people, they mean well. They're trying to get you off center and get you smiling. Then it's, "Oh, come on, it's just an animal. Come back to work." Or maybe their work doesn't even give them grieving time off. When you lose an animal that's been in your life for 10 years plus, you deserve to take a day or two off work to grieve it, just like a person.
Dr. Mark Goldstein:
So, those challenges… Again, like my talk, instead of just accepting that it exists, you look for solutions. One of them for me is to maybe hopefully educate others to be aware, be cognizant. Don't tell Grandma or Grandpa, "Hey, come on, you need to go into assisted living, and we'll just give the dog to the shelter. They'll find a new home." We have to work and advocate maybe for more assisted living facilities that allow people and animals who have been together, because there are a lot of people who avoid going into assisted living because they're not going to give up their pets and they should go into assisted living. They need that care. Those are the challenges I've seen.
Dr. Mark Goldstein:
Another one that I faced, and I work hard at, I showed slides, that's the terms and words that we use in veterinary medicine. For instance… I'm sorry, Andy. I get this chemo brain from being in therapy, and I lose my track here.
Dr. Andy Roark:
Yeah, no, take your time.
Dr. Mark Goldstein:
But, was the words that we use. And I put up a slide, for instance. This would be the external force that come to play. Years ago, there was a headline in the LA Times, "The governor has cut the budget, allowing shelter workers to kill animals sooner." Come on, folks. What it should have said is, "The governor has cut the budget forcing," or making it for shelter workers to have to euthanize the animal sooner.
Dr. Andy Roark:
Yeah.
Dr. Mark Goldstein:
Those two words, kill and allowing them to do it, they don't belong there.
Dr. Andy Roark:
Oh, yeah.
Dr. Mark Goldstein:
We ourselves accept those things. Another example is low-cost spay and neuter. I may surprise you with this. We should get rid of that term. I always ask, and I did this time, I said, "Anybody in this room take low-cost parachute lessons?" This time, for the first time in 10 years, two people raised their hand, and I said, "I think you need counseling." But most people go, "No, no way," because low cost implies you cut corners. Okay. But as veterinarians, we even allow that term to be used. It should be subsidized or affordable, or someone's paying that bill. And by doing that, veterinarians don't even realize they're hurting themself, because if the shelter has low-cost spay and neuter, the public thinks, "What's my veterinarian doing? He's trying to just get me to spend more money. A spay and neuter for him is $200, and the shelter's doing it for $25. How come?" Because somebody else is paying the $175 or whatever.
Dr. Mark Goldstein:
So, we should be vigilant about terms. Kill. We don't kill animals in animal welfare. We euthanize them. The difference is kill implies the intention to do harm. That's not our reason. So, these no-kill/kill shelter terms… People watch me in meetings, when I went to them nationally, and if somebody used low-cost or kill, my hand went wait up. "Wait a second." We've got to think of the impact of those words. So, those have been some of the challenges I didn't expect.
Dr. Andy Roark:
You are 69 years old now. Are there things that if you could go back and talk to yourself at age 35, you would try to get young Mark to understand?
Dr. Mark Goldstein:
Pretty interesting question. You weren't at my talk, but you're hitting every piece of it.
Dr. Andy Roark:
Well, I think that there are things that are fundamentally important for a lot of us. And so, yeah, I didn't get to hear your keynote. I didn't know anything about it coming in. But, these are the questions I rustle with, is, "What am I going to wish that I knew?"
Dr. Mark Goldstein:
Well, I was asked, and I put this up also, is a slide, it's exactly what you were asking here. Someone who was turning 50, and I wasn't sure if it was a compliment or not, but he said… He called me and he said, "I'm searching out people that I respect, that have been very successful in their fields, who are older than I am, and what would you tell yourself at 50 that you've learned since?" So, I actually put this slide up because I thought about it. I gave it some time, then I wrote to him, and I had four points, because I can never… As you can tell today, I'm not very good at being brief. So, I had four points. I'll try and remember them here.
Dr. Mark Goldstein:
It was, first of all, celebrate the fact that you have good health. At the time that I put that, I didn't realize how impactful or important that was. Keep your friends and family close. Follow your dreams. And, don't give up. These were the things I put on there. I asked my wife the same question. She was much more brief. She said celebrate your accomplishments and realize that you still have a lot to learn. Never stop learning. That's what I would've told myself. And I actually followed that path. But, think about that. You never know it all. You need to be challenged, because if you become complacent and you don't continue to challenge yourself, you're going to go backwards, as we said.
Dr. Mark Goldstein:
So, that really guided me, and that's the words I gave him. And that's what I would say to the 30 year old, is celebrate your health, protect it, friends and family are important. I will say, I'm a little bit different. We've all heard that thing when you're on your last days, whatever, you're not going to even think about your work. For me, I think about my family first with what I'm going through, by far, but I also will celebrate my work, and I feel like I had still more to contribute, and I may or may not get that opportunity. So, I've had to deal with that, but I'm going to fight it. I'm not going to give up. That's what I would say to a 30 year old. Just follow your dreams, don't give up, and look at it with an optimistic attitude. That's why I love when you talk, Andy. You're always optimistic.
Dr. Andy Roark:
Well, thank you.
Dr. Mark Goldstein:
That's a really important thing. I put up the fish philosophy, if people are familiar with the Seattle Fish Market. I suspect you are. I don't know, have you ever heard of that term?
Dr. Andy Roark:
I don't know this. I'm familiar with the fish market. I know they throw the fish in Seattle.
Dr. Mark Goldstein:
Right, throw the fish. That's what I'm talking about. These guys got together a couple of decades ago and said, "We're going to have fun and we're going to make money." And they have a hell of a time. Excuse me. I hope that's okay. But, like you said, you walk up to this guy and you say, "I want a two-pound salmon," and a two-pound salmon comes flying across the room. They have four points that they make to do that, the fish philosophy. First of all, when you're in a situation, be there. When I say be there, I'm not just talking physically. Emotionally. Mentally. Turn that phone onto focus, which iPhones have where you get the important calls but not all the other stuff. But be there, if you're working by yourself or even with a group of people.
Dr. Mark Goldstein:
The second is play. If people don't know the story of Endeavor, it was Captain Shackleton in 1916, took 26 to the Antarctic. They got stuck there for… Their boat got caught in the ice, got smashed. 26 men survived two yeas in the Antarctic in 1916. They didn't have REI equipment, they didn't have GPS equipment, they didn't have computers. It was his leadership that played that part, and part of his leadership was as hard as they were trying to survive, every day they had an hour to play. He took an ice ball and made it into a soccer ball, and they played with it. Or, he came up with ways to have games. When somebody was really, "Hey, leave me alone, I'm going off into the snow. I'm going," that's the person he slept next to that night and talked to.
Dr. Mark Goldstein:
So, I just lost my train of thought. Sorry.
Dr. Andy Roark:
Oh, yeah. No, no.
Dr. Mark Goldstein:
This stuff just affects it. But anyway, what was the question again? So, yeah. Yeah, no, I got you also because I rattle on, but the four points. So, it's play. And the next is basically, make their day. By that, I mean say something good. Find people that are doing something good. Doug Myers, who is the zoo director at San Diego for, gosh, 45 years, he said, "Mark, when I'm having a tough time, I go out there and I find somebody doing something good, and I thank them, and I recognize it. And I walk away feeling better myself." I've told people, especially after this pandemic, try it. Next time you go through the checkout line on your supermarket, look at the person's name. Use it. Thank them for what they do. Talk to them as a person, not just someone sitting there checking out your food. You will be shocked. You'll get a smile from ear to ear. Servers in restaurants, when they come over, "This is what we've got." "Hey, what's your name?" "Steve." "Steve, thanks for being here." Boom.
Dr. Mark Goldstein:
And then the last, basically, is just be thankful for what you've got, and you get to choose what your day's like. One of the gentleman from the fish market looks in the camera and he says, "Folks, you get up in the morning, look in the mirror, and you get to decide if it's a good day or bad day, no matter what you face," including what I'm facing. You can put a smile on your face, or you can let it pull you down. You get to choose that. Nobody else does. So, be there, play, find someone doing something good, and look in that mirror and decide, "I'm going to have a good day no matter what I'm doing. I'm going to smile, I'm going to laugh, and I'm going to make it work." It works.
Dr. Andy Roark:
Yeah. The stories that we tell ourselves matter, is an idea that I've been holding onto a lot recently. The stories that we tell ourselves become the truth for us, and I really like that. You decide if you have a good day or not. Thank you so much for being here. I know when we first talked, you had mentioned you wanted to touch on some of the points you made at the very end of your keynote. And so, are there any final points you want to make sure to pass on?
Dr. Mark Goldstein:
No. Actually, we touched on it, and that was my diagnosis and putting up that slide from Cornell that said find a new career. I put that up on the screen, like I said, and people just laughed when they saw that, and I said, "I think I've done okay," and that's when they stood up and clapped. And yeah, it was the example of that. I guess I'd leave it with the fact that if you put the effort in, like I just said, to bring these points to an individual or a group or your local Kiwanis, or a large group of colleagues… Wow, it was gratifying. As I mentioned earlier, and it's a good one to end on, I told my wife if somebody comes up and says, "You made a difference for me…" When I signed those books after my talk, I must've had a couple of dozen people say, "I'm going to be here next year. I want you to be on that stage."
Dr. Andy Roark:
Yeah.
Dr. Mark Goldstein:
Or, one woman came up and she said, "My daughter just got a rejection letter from vet school, and she's a junior also, and she's just devastated. She doesn't want to apply again. Wouldn't you talk to her?" And I spent a couple of minutes with her. And her mom came back with her and she said, "You changed her mind. She's like a different person." Man, that's so gratifying. It just doesn't really happen often. And these people just said, "You just reminded me of why I got into this." So, I hope people here listening, even if you're just listening and you're in different professions, and you're a volunteer in animal welfare, first of all, thank you. We both know we can't do our work without some volunteers in many positions. Remember why you got into it. Don't let somebody let you go down a rabbit hole. Control your life. Be optimistic and laugh. Laughter's a wonderful thing.
Dr. Andy Roark:
Yeah, I agree. Oh, man. Well, thank you so much for being here. I really appreciate your time. I really appreciate you coming on.
Dr. Mark Goldstein:
Well, I appreciate you, Andy. I meant what I said at the beginning. I'll say it again. If people haven't seen you in person, boy, you light up a room. I did the same thing, I hope, with this talk, but really, you're an inspiration to this profession, so thanks.
Dr. Andy Roark:
Thank you. I appreciate it.
Dr. Mark Goldstein:
All right, sir.
Dr. Andy Roark:
Take care.
Dr. Mark Goldstein:
Have a great day. Thank you, folks, for listening.
Dr. Andy Roark:
Guys, that is the episode. That's what I got for you. I hope you enjoyed it. I hope you got something out of it. I enjoyed this episode. I enjoyed hearing these stories and thoughts and perspective, and I just… Yeah, I really soaked this up. Anyway, I hope you found things that made you think and reflect on your own career and where you are, and what medicine means, and the opportunities that it offers us, and the responsibilities that it puts on us. So, anyway, if you get any of those things, then this was a win for me. And so, that's my only hope going into it. Guys, that's it. Thank you so much for being here, and for listening.
Dr. Andy Roark:
If you enjoyed the podcast, please take a moment and write me an honest review wherever you get your podcast. It means a lot. It's how people find the show, and it's just a nice word of encouragement for me and for my team who are putting these episodes out. So, anyway, that's it. Take care. Be well. Talk to you later. Bye.
Editor: Dustin Bays
www.baysbrass.com
@Bays4Bays Twitter/Instagram