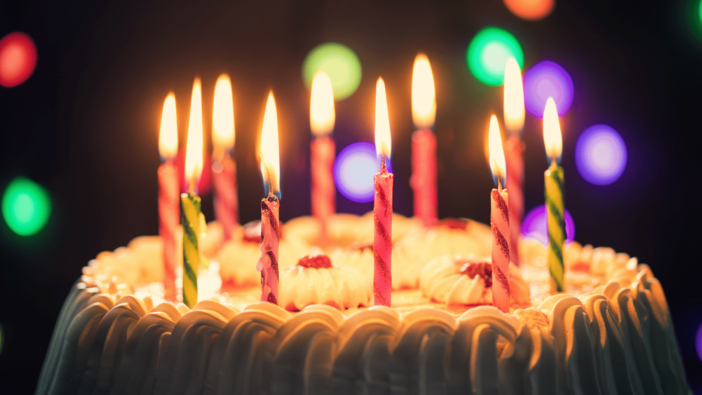 My friend was recently mortified when she took her young son to see his grandparents for Thanksgiving. On arrival, my friend released her little boy from his carseat, allowing him to sprint to his grandmother's waiting arms. As he reached her, the boy said excitedly, "Grandmother! You've gotten older!"
The little boy meant this as the highest compliment because nothing makes him happier than when people tell him he looks older. I asked my friend how her mother received the compliment and she said "Exactly as it was intended! She showed him how the skin under her arms jiggles now when she flaps her arms."
Another Birthday, Another Lesson-Learned
Getting older is not for the faint of heart. Last week I turned 46 and it dawned on me that 50 is hurtling toward me. My right foot now hurts when I run. I have to peek out of the bottom of my glasses to look at my cell phone. And last week I even secretly took a photo of a medicine bottle at the clinic just so I could zoom in and read part of the label.
But you know what? I'm pretty happy.
Life got a lot easier for me when I recognized that nothing in this world is constant except change. My friends, my kids, my career, my body… they're all in a state of flux, and they always will be.
Accept Change And Find Happiness
What if we could skip the pain that comes with fighting against the inconvenience of change? Does that open us up to find joy in the here and now? As I think more about it, I feel that the key to smiling and finding happiness as time passes is to have realistic expectations.
Expectations that things won't always be what they once were or how we imagined them. Easier said than done. But not impossible. Setting goals that give us space to embrace change and where we are in life can be helpful.
My goal for when I turn 50 is to truly be at home in the skin of a 50 year-old person. It's to enjoy the perks of experience, without raging against loss of physical youth. It's to be fully engaged with my friends and family as they are, and not how they were 10 or 20 or 30 years ago. It's to pick up new hobbies and interests, and not feel guilty as I put down some of those I enjoyed in the past.
As I enter my 46th trip around the sun, I hope to enjoy the ride as it is. Not as what it once was or how I have imagined it. Because in the end, time will march on and our only options are to find happiness in what comes our way or to not.