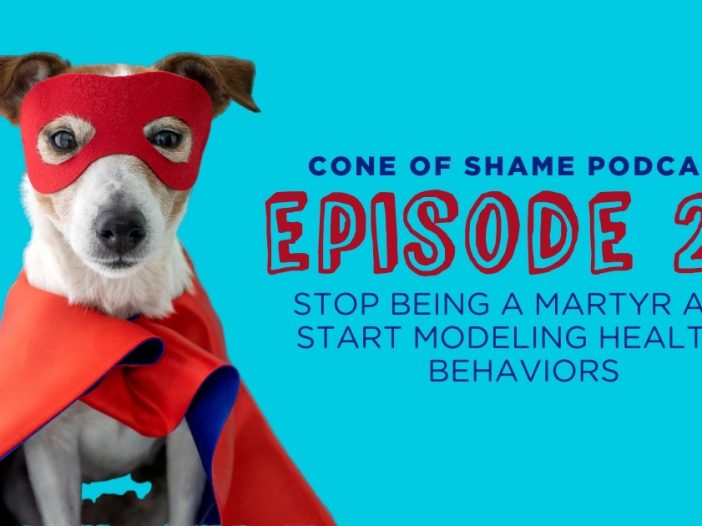 This week on the Cone…
The amazing Dr. Marie Holowaychuk and Dr. Andy Roark discuss martyr status in vet medicine and how we need to stop competing to be the most burned out.
Original article: marieholowaychuk.com/2019/10/16/sto…lthy-behavior/

We are supported by PSIvet!
The PSIvet Healthcare Initiative hopes to introduce new ways to ensure all Veterinary Professionals get the healthcare coverage they need. Learn more at www.psihealthcareinitiative.com/
ABOUT OUR GUEST: marieholowaychuk.com/
Dr. Marie Holowaychuk is a specialist in small animal emergency and critical care and a passionate advocate for wellbeing in the veterinary profession. She lives in Calgary and travels worldwide as a speaker and locum. Marie received her DVM from the Western College of Veterinary Medicine in 2004 and then completed a year-long rotating internship in small animal medicine and surgery at Washington State University, followed by a 3-year small animal emergency and critical care residency at North Carolina State University. After becoming board certified in 2008, she accepted a faculty position at the Ontario Veterinary College, where she was Assistant Professor of Emergency and Critical Care Medicine until 2013.
Dr. Holowaychuk has been primary or co-author of more than 30 manuscripts published in peer-reviewed journals and is an Assistant Editor for the Journal of Veterinary Emergency and Critical Care. She has spoken at conferences across Canada, Europe, and the USA, in addition to various general practitioner and veterinary technician continuing education programs. She helped train ten emergency and critical care residents and mentored interns, graduate students, and veterinary students in clinical research, facilitating their co-authorship on veterinary publications. She is also co-editor of the Manual of Veterinary Transfusion Medicine and Blood Banking.
Marie has a diversity of experiences in veterinary medicine including time spent in general, specialty, and academic practice. One thing that Marie feels is consistent no matter the veterinary setting is that all members of the profession are susceptible to compassion fatigue and burnout. As such, Marie facilitates Veterinary Wellness Workshops and Retreats for veterinary care providers that include lectures, yoga, and meditation practices. She is a certified yoga and meditation teacher and has completed a mindfulness-based stress reduction course for professionals. She also has Compassion Fatigue Training from the University of Tennessee School of Social Work, Mental Health First Aid Training from the Mental Health Commission of Canada, Applied Suicide Intervention Skills Training from the Centre for Suicide Prevention, and a Life Coaching certificate.
Marie's favorite self-care activities include strength training, practicing yoga, rollerblading, watching movies, and hiking in the Rocky Mountains.
The views and opinions expressed in this podcast are those of the author and do not necessarily reflect the position of the DrAndyRoark.com editorial team.