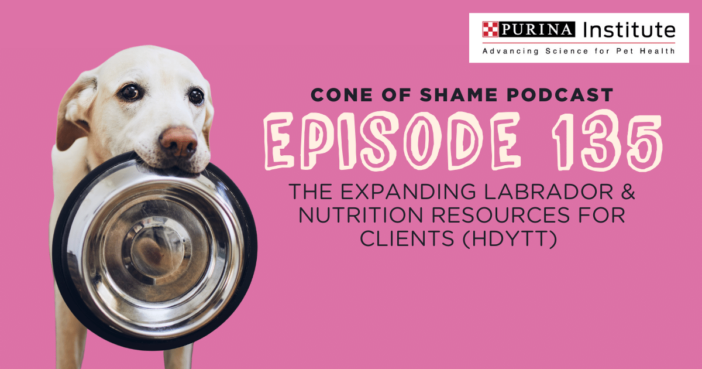 This episode is made possible ad-free with the support of the Purina Institute!
Charlie, the 2 year-old labrador has crept from 76 lbs to 84 lbs over the last 6 months. We need to do something about this, and Charlie's owners don't seem super motivated to intervene. They're good people, and they will listen if we can just communicate the right message in the right way.
Dr. Shelly Adrian, US Ambassador for the Purina Institute, joins Dr. Andy Roark to discuss this oh-so-common case and some resources that veterinary teams can use to have these conversations more effectively. Let's get into this episode!

This podcast was brought to you ad-free by the Purina Institute.
LINKS
Purina Institute CentreSquare: www.purinainstitute.com/centresquare
Purina Institute: www.purinainstitute.com/
What's on my Scrubs?! Card Game: drandyroark.com/product/card-game/
Dr. Andy Roark Swag: drandyroark.com/shop
All Links: linktr.ee/DrAndyRoark
ABOUT OUR GUEST
Dr Shelly Adrian received her DVM from Kansas State University College of Veterinary Medicine in 2007. She went on to a rigorous one-year private practice internship, mainly focused on Emergency Medicine, at the Pet Emergency & Specialty Center in San Diego, CA.
Dr Adrian remained with that clinic for an additional 2 years as an emergency veterinarian. In 2010, she entered general practice in San Diego, and continues to practice in coastal San Diego. Shelly's areas of interest include nutrition, internal medicine, and emergency medicine. In 2015, Shelly joined Nestle Purina Pet Care as a Veterinary Communications Manager and was named a Senior Veterinary Communications Manager in 2019. Her current responsibilities include supporting several veterinary schools as well as providing education on behalf of the veterinary sales team. Shelly also took on the role of US Ambassador for the Purina Institute in 2021 and works to further communication to the veterinary community regarding the science behind nutrition.
Shelly resides with her physicist husband in San Diego and has three dogs: a 77-pound "greyhound-lookin' thing" named Nutmeg, a young "Monkey" golden retriever mix, who she found on Petfinder.com, and their newest puppy "Walnut".
---
EPISODE TRANSCRIPT
Dr. Andy Roark:
Welcome everybody to The Cone of Shame Veterinary Podcast. I am your host, Dr. Andy Roark. Guys, I got a good one for you today. I am here with my friend, Dr. Shelly Adrian. She is a veterinarian, a member of Uncharted, which is how I got to know her. She is also the U.S. Ambassador for the Purina Institute and I am talking to her about a case that you have seen, yes, you have.
Dr. Andy Roark:
It's the young Labrador who is not wildly overweight yet, but we're seeing it creep up. In this case, we're talking about Charlie, the two-year-old Labrador retriever whose weight has crept from 76 to 84 pounds. And whose owners don't seem super motivated to get involved with it. They're like, "Oh, Charlie loves food."
Dr. Andy Roark:
Listen, this is about team training is what it is. It's about communicating effectively, it is about supporting our team as they have these conversations, it's about veterinarians getting the same story and resources to back that story up from multiple team members. And so guys, Shelly is amazing at this really good conversation about how to approach this super common case. And let's be honest, super important, right? We know that we expand pet's lifespans when we manage their weight.
Dr. Andy Roark:
How do we do it? And the resources that Shelly brings to the table really fantastic. If you want your team to do better jobs, talking about nutrition, this is a great episode to get into and to share with them. Guys without further ado, we're going to jump into this episode, which has been brought to you ad free by the Purina Institute. Let's get into it.
Kelsey Beth Carpenter:
(Singing) This is your show. We're glad you're here. We want to help you in your veterinary career. Welcome to the Cone of Shame with Dr. Andy Roark.
Dr. Andy Roark:
Welcome to the podcast, Dr. Shelly Adrian. Thank you so much for being here.
Dr. Shelly Adrian:
Thanks for having me, Andy.
Dr. Andy Roark:
It's my pleasure. You and I have known each other for years. You are an Uncharted member and so that's where we met back in the day, hanging out at those conferences and I've always enjoyed you very much. And I love to see you at our gatherings and our get together. You are a practicing vet in San Diego, and you are also the U.S. Ambassador for the Purina Institute. And I bring that up because it's central to the conversation that I want to have with you today.
Dr. Andy Roark:
When we last spoke, you were telling me about one of your cases and we were talking about the hard conversation of getting pets to actually lose weight. I had a case yesterday and it was a 10 year old Yorkshire Terrier with collapsing trachea. And it came in and the owners were super nice. They were really great people, but they came in and they're like the medications aren't working anymore.
Dr. Andy Roark:
"I've been trying to medically manage this case and the medications aren't working anymore." And he's just coughing all the time and whatever. And that little booger had gained a pound since the last time I saw him. And he's only 10 pounds now. So even from nine to 10 pounds and they're like, "He's coughing all the time." And I'm like, "Yeah, I suspect."
Dr. Andy Roark:
And I know I talked with them about weight management and stuff before, and I went through like, "What are you feeding?" And it was this again, they're wonderful people. And they clearly love this dog, but the list of things that they feed to this dog just kept going and it kept going. And there were pates and there were extra things that they were cooking and there were just these things.
Dr. Andy Roark:
And I'm like, this is a hard conversation. And it was a hard conversation, even though I'm like, here's this glaring medical issue, right? It's not like, Hey, it would be good if he lost weight. He's like, no, you came here because he's coughing and this is getting worse. And I'm like, we've got a pressing medical reason for him to lose weight and that's still a hard conversation. And so that was just yesterday that I had that happen.
Dr. Andy Roark:
And then I step back and I really look at what we do for pets and what matters for pets. And when we think about the things that really affect the life of our patients, the two biggest ones in my mind are weight management, nutrition, and dental health, right? If you think about the goal for me is to increase the life span of the patients that I see, those are the ones I want to get right.
Dr. Andy Roark:
And then the last thing I'll pull into this is the classic golden retriever study of dogs that are of an ideal body weight, or slightly thinner, live on average two years longer than those that are even slightly overweight. And so we know the importance of this conversation, but it is really hard to get traction on this conversation.
Dr. Andy Roark:
I know that people have a lot of frustration with this. So anyway, go back to our conversation and you and I were talking and you brought up, you were talking about resources that were there and then you had a case of how you would put those resources into use. And I want to unpack that with you today, if you're okay with that.
Dr. Shelly Adrian:
Yeah, absolutely. And that nutrition conversation is vital, right? Nutrition is considered the fifth vital assessment. We know we have to have that conversation. We know our owners want to have that conversation with us, but…
Dr. Andy Roark:
Yeah.
Dr. Shelly Adrian:
Regardless of whether it's a weight topic or what they're currently feeding topic, it can feel very difficult and delicate and uncomfortable for us to have that conversation.
Dr. Andy Roark:
Well, there's a couple pieces to it, right? There's the denial piece when they… I never forget. I saw the most morbidly obese pet I've ever seen in my entire career. And I showed the pet owners, the body condition score chart, and I was like, which one do you think your dog is? And they pointed right at five out of nine. And I was like, which dog are you looking at?
Dr. Shelly Adrian:
I would say it by nine plus.
Dr. Andy Roark:
Yeah. But it was just like, there is that denial part of it and then there's the food is love part of it. They have to believe that this is worth it, or it's just so easy to fall off the wagon so it's such a struggle.
Dr. Andy Roark:
But let me go ahead and open this up for you a little bit. Why don't you just tell the story? Why don't you tell the story that you were telling me before about the two-year-old Labrador?
Dr. Shelly Adrian:
Luckily, I saw this patient before it was in the situation that your York, he was in the other day, but…
Dr. Andy Roark:
Yeah.
Dr. Shelly Adrian:
Very classic patient that we see, I saw her in June 2021, for the one moment we were allowing clients in the exam rooms, Charlie, two-year-old female sped, Labrador was just there for healthy pet, no concerns, vaccines, except I had a concern when she came in, she weighed 84 pounds and previously she had weighed 76 pounds and the owner again, the denial part, right? The owner didn't realize that those extra pounds can slip on you over six months. I think you've all experienced that. So I had to bring up a topic that the owner wasn't prepared to talk about and draw her attention to a problem that she wasn't aware Charlie had.
Dr. Andy Roark:
Yeah.
Dr. Shelly Adrian:
So I was able to use this new resource, this online toolkit that's available to us from the Purina Institute and I had some secret knowledge of this toolkit. And what I was able to do was pull up a video for the owner on how to conduct a body condition assessment on your own pet.
Dr. Shelly Adrian:
And while I went to go get Charlie's vaccines and vaccinate her, I was able to play that video in the exam room for Charlie's owner to watch. And then when I came back, we talked about, what did she think Charlie's body condition score was now being a typical owner after watching the video, she thought Charlie was a five out of nine.
Dr. Andy Roark:
Yeah.
Dr. Shelly Adrian:
Difficult. Right?
Dr. Andy Roark:
Yeah.
Dr. Shelly Adrian:
But on that same website, instead of having to open up a completely new tab and go to a new resource, I was able to pull up the body condition, score chart, and talk with her about what I was looking at when I'm judging Charlie's body condition and showed her why instead of a five, I would actually grade Charlie at a six. And you're right, I was able then very quickly to link to a resource that talks about that retriever study.
Dr. Shelly Adrian:
And it was perfect because Charlie is a retriever. And what they found was that paired litter mates who were just slightly heavier, typically those dogs were six and a half out of nine versus four and a half out of nine lived two years shorter than they're lean lit made. So we have that conversation, we talked about Charlie's ideal body, weight and body condition.
Dr. Shelly Adrian:
And I was able to print out a body condition score chart to send home with Charlie's mom was able to print out a brief, or actually I emailed it to her after the exam. And it went through those key bullet points of why it's important to have my pet at an ideal body condition. And most importantly, to help me feel comfortable having this conversation, it links published data.
Dr. Shelly Adrian:
So this is not just Dr. Shelly Adrian saying this isn't just random veterinarian saying this. This is based on scientific data, not mentioning any type of specific product or biased in any way. It's just based on scientific data. And then the cool part is, I just saw Charlie again, six months later, and guess who's back down to her original body weight. So, how often does it happen and where that weight conversation works the first time?
Dr. Andy Roark:
Yeah. You won. You actually did the thing and got the pounds back off, as opposed to, all the other cases where you see the two-year-old and they've gained six pounds, and then next time you see them, they've gained another pound and then three more pounds. And now they're 93 pounds and that's where they're just going to live for a while. You actually move the needle.
Dr. Andy Roark:
I want to unpack with you a little bit workflow, right? And one of the things that I think a lot about these days is how we do education in a way that actually reaches people. Some of the pushback that I get because I teach a lot about exam room communication, how we build relationship and how we build trust.
Dr. Andy Roark:
And people are always talking to me about time. Andy, we're super busy, we've got people waiting, we've got all of these things and it's so easy to push nutrition off of your plate and just say, this is not the most pressing thing. They didn't ask me about nutrition. We can talk about it next time because the dog is still going to be a little bit heavy then and we can do it then.
Dr. Andy Roark:
And I want to be gentle and kind to my colleagues and stand in the exam room. I run behind schedule as well. I know how it goes at the same time when people press me on it and say, well, what do we do?
Dr. Andy Roark:
I really love the idea of using videos and using resources and things that we have in the clinic to let clients work or educate or to support the things that we're saying when we're not in the exam room. And so as you say, Hey, I ducked off to do these other things and I showed them this video, and when I came back, we talked more.
Dr. Andy Roark:
That is multitasking, right? That's an efficient use of time. I'm going to hand you this while I go get these other things going and you're going to stay engaged and we're going to advance conversation while I'm in the back, drawing up, setting up [inaudible 00:11:20] getting my next appointment, ready, whatever the things that I'm doing, walk me through that workflow.
Dr. Andy Roark:
Like what exactly does that look like? Are you using tablet computers? I just want to start at the base level. I think I know other people really just want to visualize what this system looks like to get this education into the sessions.
Dr. Shelly Adrian:
That's a great question and I'm just like you, I'm almost always running behind in the clinic. There's so much information I want to convey to the owners and we have such a short period of time with them and it's all critical, right? And I would argue you're absolutely right that some of the most overlooked conversations are some of the most important and dental disease and nutrition are the top two because all of our patients have to eat.
Dr. Shelly Adrian:
And all of our patients at one time had teeth. So it's really important that we never leave those pieces out. As far as workflow goes, it can vary from clinic to clinic the way my clinic works, we do have computers in the exam room that I can use. We could use a tablet if we chose to on that same resource, that online toolkit, I can email things.
Dr. Shelly Adrian:
And I did email something after the fact, it was really easy to just click a link and send that email to the owner. There are even additional resources that I could use to train my staff with videos or with reading. So the workflow, again, idea to save us time, to get us quick information, when we're in the exam room too, what I find is a big area sometimes with nutrition conversations is when we look up good science backed conversation, we pull up some 12 page document that might take us an hour to read, right? And sometimes I just need the quick key messages.
Dr. Shelly Adrian:
I just want the bullet points. What do I need to say? What is the most important information to convey in less than five minutes? And so the nice addition to this tool is every piece of content has a reader watch time, so I can even filter. If I've got less than five minutes, what can I use to convey this information and go.
Dr. Andy Roark:
That's super cool. Yeah. We need to be realistic about what people are going to actually do. Like sending them home with a multi chapter reading assignment is wishful thinking. And it's just… I liken what we do to auto mechanic sometimes. And not in all cases I know people don't like that, but for me, it's the easiest thing that I can imagine that is expensive. It can get expensive real fast.
Dr. Andy Roark:
And personally, I'm not a car guy. I don't know all that much. I want to be a good car owner. Obviously I want to have a car that works and have a nice long life from a car and I don't know what I need and I don't know what I don't know.
Dr. Andy Roark:
And so when I think about education, I think a lot about my experience with an auto mechanic and stuff like that. And if I go to the auto mechanic and they give me a 10 page document to read with the specs of engine care, it's not going to happen and you know what's not going to happen. You and I were talking before, as we were making this COVID pandemic spike, my kids have been doing virtual school for a while.
Dr. Andy Roark:
Everybody around me is sick. Yeah. And it's like, we are all busy and we're all stressed. And so just meeting people where they are and being realistic and just giving them the actual information that they're going to use to make a decision and then giving the pathway to where they can go deeper if they want, right?
Dr. Andy Roark:
I think that's probably the key with a lot of the clients and trying to educate us. We all have those clients who are sponges. They want to read all the things, they want the 12 page document, and they want to see the original sources. It's a beautiful thing to be able to give people the executive summary and then have it link deeper, have the ability to go deeper to what they want.
Dr. Andy Roark:
But I think a lot of times we jump to the full Monty and people are not ready for that. And it just goes into their email and it just sits in their inbox for a long time because they didn't delete it because they mean to read it. They just never do.
Dr. Andy Roark:
And so that's super interest to me just short my time and have stuff that's top level. And what… Can I ask you some more questions about the training stuff because that's really intriguing. I'm a super big advocate for tech training for helping people grow and develop inside the practices.
Dr. Andy Roark:
I like people to be learning new things. I want to learn new things and so I'm always interested in what training resources and stuff are there, can you lay out what's there and what might be beneficial to practices?
Dr. Shelly Adrian:
I thought that might pique your interest. Yeah.
Dr. Andy Roark:
Yeah. I love it.
Dr. Shelly Adrian:
And that's the neat thing like you said, some folks want those key bullet points, those key messages and that's all they need to know. I don't know what a carburetor is. I'm never going to read further about what a carburetor is, I just hope that it works. Sometimes I really do want to read deeper into what makes a large breed puppy food different than a regular puppy food, right?
Dr. Shelly Adrian:
And so do my technicians because let's be honest, they might be the ones having the conversation about large breed puppy food versus regular puppy food. So what we can utilize on that center square toolkit, there are videos, there are right ups again with those key bullet points, but then linking to deeper, more science getting into that nitty gritty, that nerdy part.
Dr. Shelly Adrian:
And again, always based on published data, the videos are really cool though and I pull those up frequently just for myself. If I have a few minutes to inhale my lunch, most of the videos are less than five minutes long and they're recorded by board certified veterinary nutritionists. These are nutritionist that do not work for Purina.
Dr. Shelly Adrian:
So this is not Purina centric at all, and they have really helpful videos about how to fit that nutrition conversation into a short exam. How to have a conversation with an owner who comes in with recommendations for foods, perhaps from a breeder or a shelter that maybe we don't agree with those recommendations for that pet, the importance of a nutrition conversation.
Dr. Shelly Adrian:
They hit all of those difficult topics and give their pearls and their best practices because they're having those conversations too, right? So listening to their perspective on it just while I'm inhaling my food, watching that quick video is not only helpful for me, but for my staff as well. And then if they want to dig deeper, they can look below the video and it will link them to some of the deeper information on that same topic.
Dr. Andy Roark:
That's awesome. I really like it a lot. Can you help me with… So the last part of this for me, that I find is a hurdle to really leveraging resources effectively is what I say in the exam room. Can you help me with some conversation stuff just to set this up to then refer them to some resources and things like that?
Dr. Andy Roark:
You have a lot of experience with this. How do you broach the conversation of either, Hey, I'm going to leave you with this video or I want to send you with more information and I'm going to send this as a link or I'm going to print this off.
Dr. Andy Roark:
What strategically do you do to set up the conversation so it doesn't sound like, Hey, I know we didn't talk about this, but here's bunch of links because that's not going to go anywhere either way, so you're naturally a very warm and charismatic person.
Dr. Andy Roark:
How do you lead into this conversation to get people to actually click the links and to feel like, yes, this is not homework for me, this is a value add to my exam.
Dr. Shelly Adrian:
That's a good question and you're right. We don't want to information dump or sometimes we do want information dump, but we know that's not effective.
Dr. Andy Roark:
Right. Always want to information dump.
Dr. Shelly Adrian:
But yeah. So, I think a part of it is going back to the idea that we're on the same team.
Dr. Andy Roark:
Yeah.
Dr. Shelly Adrian:
We both want what's best for their pets health and going back to the idea that food is love, I almost by nutrition to be a topic that usually does peak owner's interests and as opposed to my car's carburetor…
Dr. Andy Roark:
Yeah.
Dr. Shelly Adrian:
That the nutrition piece is something they want to eat. So, when I bring up the nutrition conversation, which I always at least mention a piece of nutrition in the exam room, we always talk about what food they're currently eating the body condition score. So as I go back to that, Hey, remember we talked about, your dog is eating X, Y, Z. The reason I like X, Y, Z food for fluffy is, and then if you want to read more up on that, say, for example, I'm seeing a geriatric cat, this is another true life example, geriatric cat named Angelina 17 years old.
Dr. Shelly Adrian:
It was healthy but she was getting to that where she's getting leaner and thinner and losing that lean body mass. So we talked about the food she was eating, which was good. But what I said for her is, Hey, I want to focus a little bit more on getting more water into her, help with her kidney function and just for geriatric cat in general, and getting some extra protein into her for that lean body mass.
Dr. Shelly Adrian:
So, if you want to read further on why I'm making that recommendation, I have this link for you. In the meantime, here are some solutions as far as getting more water into her and getting more protein into her. Does that make sense?
Dr. Andy Roark:
Yeah, I like that a lot of, Hey, if you want to get deeper into why I'm making this recommendation, that's the words that I like, I'm going to put that into my little quiver of arrows for the exam room, because that makes sense for me as well.
Dr. Andy Roark:
So no, I like that a lot. That really makes sense. One of the things I think is true with nutrition, right? I think it is true of people in general, but I think it's also especially true of people with pets. I think we also want to have control in our lives. I think we all want to believe that we have some control and we want believe that we can keep ourselves.
Dr. Andy Roark:
And I think this is obviously COVID thoughts with Andy. We all want to believe that we can keep ourselves and our family safe, including our pets and nutrition is a thing that we have great control over for our pets. It is a thing where we can make this purchase and we can decide what they get. And this is an aspect of their life that we can control, which is why people talk to us about their pets stool all the time.
Dr. Andy Roark:
Because they're like, they can see it and it's there and I can adjust what's going in, the front side and effect what's going on the backside and this is control I definitely have. And so I do think that in that mindset, nutrition is really easy to talk about and I do find that pet owners are generally psyched to get a recommendation, to start to Wade into it.
Dr. Andy Roark:
There's also some research that came out and I'm not going to try to quote the staff because they'll be off, but I was actually surprised by the high percentage of pet owners who say that they want nutritional recommendations from the doctors and they want to talk about nutrition. I think a lot of us go, they made a choice and this is bringing up old stuff but the research doesn't, that's not true.
Dr. Shelly Adrian:
You're right. And I'm super nerd. I actually do know this stuff.
Dr. Andy Roark:
So I thought, I'm going to toss this out there at half date and I'm going to let Shelly just finish cooking it for me.
Dr. Shelly Adrian:
And I think it's really important for us to keep this in mind because again, I'm in San Diego. I have had the challenging nutrition conversations and I know what it's like…
Dr. Andy Roark:
Oh, I'm sure yeah.
Dr. Shelly Adrian:
Talking and you feel like you're talking to Rick wall, but they hear you. 83% of owners trust their veterinary professional when it comes to nutrition advice, however, less than 25% perceive that they're getting that nutrition conversation when they go to the vet.
Dr. Shelly Adrian:
So it's a real… That's why I think it's important to have those additional resources say, Hey, if you want to read more, because if they have those, whether it's an email or a video, we showed them or a printout that we leave them going home with, now they know they've had that nutrition conversation, right?
Dr. Shelly Adrian:
So now they're going to see, yes, I got this recommendation from my vet, whether it was about body condition, score, specific diet, hydration, and whatever, the aspect of nutrition that conversation you've had, they know they had that conversation with you and that just builds to a better relationship overall, right?
Dr. Andy Roark:
Yeah. I agree. I want to leave you with a bonus round here and you can take either of these two questions. You can either leave me with your favorite Pearl for getting nutritional compliance, getting people on board, getting people to make changes that you think that most GPS or technicians miss, or you can give me the biggest pitfall that you see in these conversations that most of us fall into. Which one do you want to do? You can take either one yeah, I know.
Dr. Shelly Adrian:
I think the biggest pitfall that I see from my colleagues is shying away from the nutrition conversation. And there are lots of reasons why we might not feel comfortable having it. We might not be fully up on the science ourselves, right? So if we get questioned, we're not sure that we can justify the recommendation we're giving, or we don't know how to have that conversation.
Dr. Shelly Adrian:
But I challenge you to take the conversation back because as we already discussed, the owners want it. If they don't get the information from their vet professional, they're going to get it from somewhere. And we have tools available to us that are backed by science. So if you take a step back and you just approach it as a teammate with the owner, right, we're part of a team to keep this pet healthy.
Dr. Shelly Adrian:
And what does the published data say about this pet's nutrition? And if we just go back to what our resources and our published data give us, it can take some of the emotion out of it and it makes it less difficult. So I challenge you, especially those times where you really don't want to have the conversation, do it.
Dr. Shelly Adrian:
Have the conversation backed by science, give a specific diet recommendation every time whether it's stay on this food, it's great, I love it. Or I recommend X diet because this is Y.
Dr. Andy Roark:
Yeah.
Dr. Shelly Adrian:
And back up, site your source back up your reasoning.
Dr. Andy Roark:
Yeah. What's the easiest way or the best way for people to engage with Purina Institute and Center Square? I'm going to put links in the show notes for everybody who wants to click through. But yeah, if people are out there and they're listen to, as they drive in and they're like, Hey, I want to look around, I want to see this thing. How would you advise them to get started?
Dr. Shelly Adrian:
Perfect. Yeah. The Purina Institute is the scientific arm of Purina, and the goal of the Purina Institute is twofold. In general, is to generate and communicate scientific content on companion animal nutrition, but also to help us take that conversation back to help us have these difficult nutrition conversations. So if you just go to the website, Purina institute.com, there's a wealth of information there.
Dr. Shelly Adrian:
If you want to get real nerdy on it, you can, whatever the topic may be. The nerdy shell, you had to come out but there's a label at the top called Center Square and if you just tap on that, you can search the wealth of resources. I encourage you to play with it, whether it's veterinarian, technician, receptionist, there's content there that can help you have those nutrition conversations because we all do.
Dr. Andy Roark:
Yeah. Awesome. Thanks so much for being here. I really appreciate you. Appreciate your time.
Dr. Shelly Adrian:
Thanks for the Sandy.
Dr. Andy Roark:
And that is our episode. Thanks again to the Purina Institute for making this possible guys, thank you for tuning in and checking it out as always, if you like the episode and you feel like leaving us an honest review, wherever you get your podcast, that means the world to me.
Dr. Andy Roark:
I really do appreciate it. Also, remember that we are now on YouTube. So if you like watching podcasts or watching the conversation, check us out there. Anyway, gang take care of yourselves. Be well, talk to you later. Bye.
Editor: Dustin Bays
www.baysbrass.com
@Bays4Bays Twitter/Instagram