I love Facebook, but lately it's been a touch frustrating. Facebook doesn't show all my posts to the people who like my page, and honestly, I feel like people are seeing less and less. Don't let this happen to you!
I'm finding, publishing and sharing more fun, funny and insightful articles and videos on veterinary medicine every day. The chance of you missing something that will crack you up, make your day, or even open your eyes to a better way of life are just too great.
I'm going to continue searching for humor, happiness, and wisdom in the practice of veterinary medicine, and I'd like to keep you posted on what I find. All you need to do is sign up for my weekly updates. You'll get everything in one convenient email. You'll never miss a beat, and I won't worry there's something on my site that would have really helped you but you never got a chance to see it. Deal?
Also, just to give you something that will make you smile right away, you'll get a FREE copy of my hilarious eBook, What Did the Vet Say? I'll email it to you when you sign up.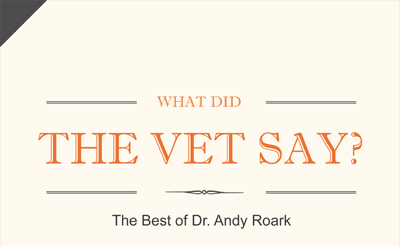 As soon as you register, check your email to confirm that you want to be added to my update list. You may have to look in your spam folder or promotions tab, but make sure to track it down! When you confirm, I'll send the eBook right away.
Talk soon,
  Dr. Andy Roark
Sign up now so you don't miss another week!