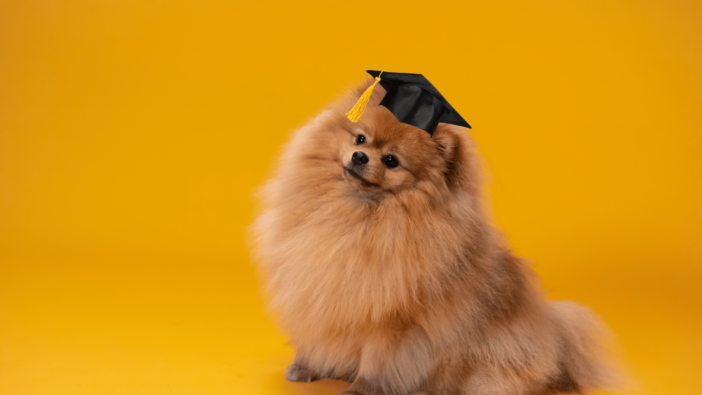 It's that time of the year again. The time to turn a new page, wrap up an important chapter, and start a new one. It's graduation season.
A year ago I wrote about why I think graduations are important, and why we should have more of them. I still believe this strongly. Our lives are defined by impermanence, even if we seem dead set on convincing ourselves that they are not. Change is inevitable. We are not the same people we were four years ago (that was pre-pandemic!) and we will not be the same person four years from now. Graduations help us handle that change gracefully and with intention. They are an opportunity to reflect on where we have been, and to actively re-invent ourselves to meet the changes around us.
As this email arrives in your inbox, I will be driving through the beautiful Appalachian Mountains. I have been invited to share advice or words of encouragement at the graduation ceremony for the College of Veterinary Medicine class of 2023 at Lincoln Memorial University.
I have been asked to do a number of these in the past, and I always take them seriously. I try to think of what I could say that would actually be useful to someone who is just starting out. I definitely don't want to lecture, because the path that I've taken in my career will not be the one any of them take. The world is a different place than it used to be, and the rate of change in our society seems to only be accelerating.
I also want to stay away from talking too much about what to expect in the coming years. As I said, the world is changing quickly and my track record for predicting what medicine will be like years in the future is pretty abysmal.
Basically that leaves some thoughts about human nature. After all, people really don't change. The clients that James Herriot wrote about in All Creatures Great and Small in 1972 are the same clients we see today. They just have different jobs, different commitments, and Apple watches. Underneath it all, they're wired the exact same way.
Today, the things I wish I'd known about people when I left veterinary school include the following:
Almost everyone is trying their best – It took me a long time to give people that grace and to allow them to simply be flawed human beings.
You don't have the power to make other people happy – You'd better figure out what YOU need to be happy and how you'll know that you are doing a good job, because getting that validation from others is a path to frustration.
You choose how you struggle – You can have a job that no one cares about, or you can have one that really matters. Remember there are headaches that come with either choice. As graduates of veterinary school, these students have clearly chosen the latter. I hope they'll own their choice.
I know these ideas seem really simple. I think most things in life that last are just that. I'll find a way to dress the ideas up and maybe tell some stories of when I finally internalized these lessons, and then I'll wish the students all the best luck in the world.
I'll tell them that our profession is a great one. I'll remind them to enjoy doing the mundane work of veterinary medicine, not just achieving an outcome. I'll encourage them to remember that veterinary medicine is what they do, and not who they are. They should get comfortable taking off their white coats and being proud of who they are without stethoscopes.
Finally, before I go, I will share with them some bad news. I will try to shield them from a pain so many of us have felt in our profession. I will say to them, "I know that you are excited to get out into the world and help the people you care the most about… but know this: no matter how many degrees, honors or accolades you acquire… your family is not going to take your medical advice seriously. Just get ready for that."
And with that, I will depart.