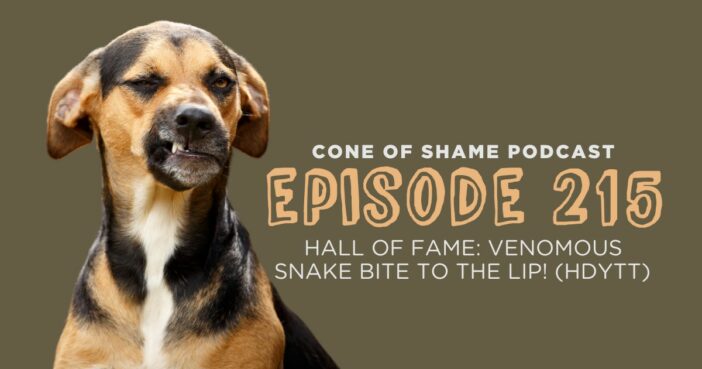 In this Hall of Fame Episode: Join Dr. Roark and the wizard, the legend "Uncle Mickey Schaer" as they talk about that case that terrifies us all – the venomous snake bite!
You can also listen to this episode on Apple Podcasts, Google Podcasts, Amazon Music, Soundcloud, YouTube or wherever you get your podcasts!
LINKS
Uncharted Practice Leader Summit: https://unchartedvet.com/practice-leaders-summit-2023/
Dr. Andy Roark Exam Room Communication Tool Box Team Training Course: https://drandyroark.com/on-demand-staff-training/
Dr. Andy Roark Charming the Angry Client Team Training Course: https://drandyroark.com/charming-the-angry-client/
Dr. Andy Roark Swag: drandyroark.com/shop
All Links: linktr.ee/DrAndyRoark
ABOUT OUR GUEST
Dr. Michael Schaer received his D.V.M. degree from the University of Illinois in 1970. He then went to the Animal Medical Center (AMC) in New York City where he served as an intern and then as a medicine resident between1970-73. After the residency, he remained at the AMC as a staff member in the Department of Medicine until 1977. He then joined a private small animal practice in New Jersey until late 1978 at which time he joined the faculty at the University of Florida, College of Veterinary Medicine where he has remained until the present time. He has published several papers and book chapters and he has lectured nationally and internationally. Dr Schaer is also the author of five textbooks: Clinical Medicine of the Dog and Cat – 1st, 2nd, and 3rd editions and Clinical Signs in Small Animal Medicine, 1st and 2nd editions. At the U of F, Dr. Schaer functions mainly as a clinician and a teacher. His previous UF professional duties included: Professor and Associate Chairman-Department of Small Animal Clinical Sciences, Associate Chief of Staff-Small Animal Hospital, and Service Chief-Small Animal Medicine. Dr. Schaer served as Interim Chair, Department of Comparative, Diagnostic, and Population Medicine from February 2017-September 2018. He is currently Professor Emeritus and Adjunct Professor in Emergency and Critical Care Medicine, while still doing active teaching in the classroom and in the critical care unit. Dr. Schaer is board certified in internal medicine (ACVIM) and emergency and critical care (ACVECC).
---
EPISODE TRANSCRIPT
Dr. Andy Roark:
Welcome everybody to the Cone of Shame Veterinary Podcast. I am your host, Dr. Andy Roark. I am back for you. It's summertime, and that means the snakes are moving around. That's right. This is the time of year where if you go out in the evening, you'll see them on the road there. There's a lot of snakey activity right now, and I recently came upon a copperhead walking my dog and it scared me and it scared the copperhead and my dog was super into it, but that was not helpful. And so anyway, these things happened.
Guys, I did an episode a couple years ago with someone that I just think the world of. He was that guy when I was in vet school, he was the mentor. I think every vet school has got this clinician that is just the clinician that everyone kind of looks up to. And at the University of Florida for a couple of decades, Dr. Mikey Scher was that guy. And so Uncle Mikey, as he's known to us, Florida grads, came onto the podcast and talked about dealing with venomous snake bites and canine patients. And guys, it's a great episode, super timely. Let's get into it.
Kelsey Beth Carpenter:
(singing) This is your show. We're glad you're here. We want to help you in your veterinary career. Welcome to the Cone of Shame with Dr. Andy Roark.
Dr. Andy Roark:
Welcome Dr. Michael Scher. Thank you for being here, sir. Really appreciate it.
Dr. Michael Schaer:
Oh, you're welcome, Andy. It's a pleasure to be here.
Dr. Andy Roark:
I have a case for you from my … Some of our cases that we like to make are theoretical. This is not. One that I had recently and I want to go with it with you if you don't mind. I sure have. And I know this is something that you do a lot of in Florida. I had a two-year old Boykin Spaniel, which I never saw in Florida. I never saw it in Gainesville. It's the state dog of South Carolina, and now I see them all the time.
Dr. Michael Schaer:
Really?
Dr. Andy Roark:
But yeah, very similar to Cocker Spaniel for people who are listening who don't see a lot of those, but the Boykin Spaniel I see a lot of, and this is a young Boykin Spaniel stuck his nose underneath the deck at the house, barking, head down, tail wagging. Mom brings me the dog and says he got bitten by a snake. And of course, I wait until presentation to decide how excited I'm going to get about this. Mom said on the phone she says a copperhead bit him in the face. It was a small copperhead. And the dog shows up and sure enough, this is, it's probably been about 30, 45 minutes by the time I see the dog from the time of the bite and the left side of his lip, I can see those two small little draining tracks. I see the punctures and his lip is swollen. Not whole face, but you know what I mean? It's probably the size of a large grape is the swelling. And I'm getting some ooze out of there.
And so I'm looking at this dog and this copperhead bite and a million things are going through my mind and I'm hearing don't give him NSAIDs. And then other voices are like, "We've got to do something for pain control." And what is my risk of tissue necrosis here? And then it's on the lip. And so I'm worried about tissue death there, because it's a fairly small area. And so I just want to put this to you and say, Dr. "Scher, where do I go from here?" Like I'm looking at this dog, it just happened. I'm thoroughly convinced it was a copperhead based on, I didn't see the snake, didn't bring it in. Dad killed it, but it didn't come along. Well, let me ask this, how do you treat that? Where should I go from here?
Dr. Michael Schaer:
The fact that this is occurring in South Carolina, copperhead is certainly one to consider, but the water moccasin can sometimes extend that far up as well. And even the eastern diamondback in some areas as well. But as far as the frequency of encounter, I would say copperhead is probably the majority up there. The one thing that I try to teach all the time about snake bites, Andy, is that no two cases are the same, okay Because the victim is different and the snake might be different than another copperhead a mile away. Their venom composition might vary, okay? And depending on the pressures of the ecosystem as these animals evolve in nature, but the copperhead in general, it is a pit viper and it contains a venom that is necrogenic. It might not necessarily be toxic, it's not neurotoxic. So with the copperhead, we worry more about local damage.
Now whether this is going to turn into something that's just simple edema or some focal hemorrhage with edema, it might stop there. If necrogenesis is going to occur, what I have found here in Gainesville with the other types of pit vipers that I deal with, the signs of necrosis usually don't occur 'til the end of day until around day three. So as long as that lip is spongy and it looks well vascularized, there's not any change to brownish or blackish or black, there is a chance that the swelling's going to go away. And as far as the timing of the disappearance of that, it usually starts by day three as well. Where it starts resorting. It might drop a little bit more dependently and then it will disappear. Now, the thing about tissue necrosis, especially with a snake like the copperhead, the tissue necrosis occurs very soon after the bite.
So during that 40 minute car ride, the collagenases and the hyaluronidase contained in that venom allowed that venom to spread, and get a fairly good seating as to whether or not, as far as into the surrounding soft tissues. So what you don't know when you're looking at that dog is will this go on to necros? The answer is you don't know.
Dr. Andy Roark:
Okay.
Dr. Michael Schaer:
I don't know. And you say that to the owner. So the next thing is, well what about treatment? So when you look at the spectrum of severity for the copperhead, at least in people in that part of the country, they're usually more local wounds. They get their swelling and they're out of the ER in maybe three hours. But there are some people who can actually go on to become coagulopathic and they're the ones who are in harm's way, and that's when they start having to take in a whole bunch of anti-venom. Now, it is going to be up to you to decide whether or not you want to give anti-venom, and a lot of that is going to be dependent on the cost, whether or not the owner can afford it. My philosophy is that if there's the possibility that this invemination can go beyond a minimal localized invemination, I'd rather be proactive and head it off.
Dr. Andy Roark:
Okay. I see.
Dr. Michael Schaer:
And I would suggest one vial of anti-venom.
Dr. Andy Roark:
All right.
Dr. Michael Schaer:
Now something like VenomVet'll be fine. Or even the Boehringer Ingelheim, the one we used to call Fort Dodge.
Dr. Andy Roark:
Yeah.
Dr. Michael Schaer:
Okay, that'll work as well.
Dr. Andy Roark:
Okay.
Dr. Michael Schaer:
And the chances at one vial causing anaphylaxis, I would say would be less than 10%. But the chances of that invemination getting worse is probably more than 10%.
Dr. Andy Roark:
Okay. Hey guys, I just want to step in real quick and let you know that on August 19th, my good friend Jen Galvin, who is a practice manager in Arizona and just an amazing, super fun, super funny person, is hosting a virtual workshop at the Uncharted Veterinary Conference. She's doing her workshop called How to Have Fun and Engaging Meetings. Let me tell you Jen Galvin, I have seen Jen Galvin have Nerf gun fights at her practice. She has game shows for staff meetings. She does education in the most fun ways possible. She is so fun. And this is a workshop, which means you're going to actually get ideas and you're going to get to work on your own practice and come away with some tangible things that you can take back and do with your team to have fun and engaging meetings.
Guys, this is a great workshop. It is on August the 19th, so that's coming up next week, from noon to 2:00 PM Eastern Time. That's 9:00 AM to 11:00 AM Pacific time. So anyway, noon to two eastern time workshop. I'll put links in the show note for you to register, check it out. It's also a great way to see what the Uncharted virtual events are like, Uncharted Vet Conference is the conference that I started, I love it. I think that there's … I don't know that there's a better, more fun engaging way to learn than things like this. So anyway, guys, I hope you'll try it out. I hope you'll take something back for your practice. That's it. Let's get back into this episode.
Can you unpack a little bit about anti-venom for me as far as, is it species dependent, snake species dependent? Because I had sort of thought that obviously I'm in the south, the eastern diamondback rattlesnake is what we really worry about the neurotoxin, as opposed to your more locally destructive bites of your water moccasins and your copperhead, things like that. Does the species of snake play into your choice to use anti-venom or not? And then also you say, go with a single vial. Is that size dependent on the patient at all? So if you could unpack a high level of anti-venom thought right now, I think that would be so helpful.
Dr. Michael Schaer:
Okay. There are a few types of anti-venoms available to us in the United States. We have VenomVet that's made in Argentina that's made from the South American, and I think the Central American pit vipers. VenomVet two is coming out, and when it gets cleared, it'll be made from the venom of local snakes and then in North America. But the VenomVet that we use now comes from pit vipers from south of the border. The reason that it works for our snakes is because the pit viper venoms in this part of the world, in the Western hemisphere, share antigens. So using an anti-venom that's against [inaudible 00:11:26] or one of the other pit vipers, that might very well still be effective against the eastern diamondback and the water moccasin and the copperhead.
So that's good. Now the VenomVet is, and it's called an Fab2, where the most primitive anti-venom that they used to use in people from [inaudible 00:11:49] has an FAB, an FAB, and an FC component. Remember the stuff is made in horses. So you've got the specific ground to air missile, the FAB, but they're linked together with this FC, which is extra protein from the horse serum.
Dr. Andy Roark:
Okay.
Dr. Michael Schaer:
And that's what contributes to its anaphylactic genicity.
Dr. Andy Roark:
Gotcha.
Dr. Michael Schaer:
Okay. Now BI or the Fort Dodge product has the FC component RTLR, the new anti-venom that comes in those plasma bags, that's a large molecule as well. They have a tendency to load more extra antigen and to make the animal perhaps more hypersensitive to it. CroFab we don't use because of the expense. So what veterinarians are going to use is RTLR, the Ford Dodge product, and the [inaudible 00:12:43]. As far as I'm concerned, they all work. The RTLR might have some extra antigen to it and some people might not want to get involved with that, but it's still effective against venom.
As far as duration of the anti-venom in the blood, this is where you want your grout to air missile to get into the bloodstream, nuke out the venom protein and hang around for a while. The problem with CroFab, it's out of there in six hours. The VenomVet hangs around for around 24 to 36 hours. The Fort Dodge product can hang around for as long as 48 hours. So that comes to an advantage to you because when the dog gets bitten by the snake, some of the venom will go into the system fairly acutely while the other amount of venom is deposited at the bite site and then it slowly infuses over the next several hours. Well, if you use a fast acting anti-venom like CroFab, those ground to air missiles will already be out of the sky. But if you use the longer-acting anti-venoms, they're still there to intercept.
So that's where VenomVet and the Fort Dodge products will work to your advantage. Now, as far as the dosage of anti-venom is concerned, it's impossible to specify, for the reason being that we don't know how much venom is inoculated. So I go by clinical science. The other question that goes along with the choice of the anti-venom is what snakes contribute to the manufacturer of that particular product. The Fort Dodge product is going to use several North American snakes. The VenomVet one, which is what's available now, uses the South American snakes, but it's still effective against the North American snakes. So I take advantage of the cross antigenicity.
The RTLR is made from North American snakes. Now the question you asked me, when there are several snakes in one geographic locale, how do you know which snake bit the dog? We can squeeze out of that predicament by using the polyvalent anti-venom. Now in Australia they might use monovalent, in other words, an anti-venom against the brown snake or the tiger snake or the Taipan snake. But they're getting smarter now in Australia because some of their antigen detection kits might be inaccurate and they're switching over to polyvalent and just covering the victim with all of them in that area. So here in the US we have traditionally always used the polyvalent vaccine. So like I said before, they all work, they differ in their molecular size, and the choice is going to be up to you as to which product you want to use.
Dr. Andy Roark:
Gotcha. Yeah, let's go on from there. So anti-venom, your recommendation is much stronger than, I guess what I sort of gave [inaudible 00:15:45]. So I really love that we laid this out. So at least a single vial of anti-venom, I think that makes sense. What other sort of supportive care are we talking about? If it's three days until I'm going to see signs of necrosis, do I need to have this dog on fluids for 72 hours? I mean, help me with that part.
Dr. Michael Schaer:
As far as the dosage of the anti-venom, that's going to depend on a scale that we call the snake bite severity score. And that goes from one to 20 and it encompasses various pathophysiological things that we see clinically, whether there's coagulopathy, neurotoxicity, cardiac arrhythmias, hemolysis. If we see all of those in that one victim, I'm going to start off with several vials.
And I'm going to make it simple. If the animal comes in walking wagging its tail, I might give one vial. If it comes in walking very slowly and it doesn't look right and it looks like it's going to get sick, I might start off with two or three vials. Now behind those guesstimates is the snake bite severity score going on in my head. If an animal comes in recumbent and trying to die on me, he's hypotensive, he's bleeding, he's hemolyzing. That dog will probably start off with four to six vials, and then if they're really severe, we will run an ACT, where normally the ACT is less than 120. If the ACT doesn't normalize, I might repeat a couple more vials of anti-venom at hour six.
Dr. Andy Roark:
Okay.
Dr. Michael Schaer:
You see what I mean?
Dr. Andy Roark:
Yep.
Dr. Michael Schaer:
Okay. And it just goes on to assess and reassess, assess and reassess until the patient is stabilized. Now with the copperhead, I know a lot of times the animals get better without the anti-venom. You might just give them some fluids and they might get off real cheap and go home and everything's going to be okay. A lot of practitioners will also use antihistamines and steroids. There's no evidence-based medicine to show the efficacy of steroids and antihistamines. The only time I use them is when there's a hypersensitivity reaction to the anti-venom. But if the blood pressure is kind of borderline when it comes in, I'll give them [inaudible 00:18:08]. We don't use anti-venom in every case here in Florida either. If I have a pygmy rattler and an animal comes in walking wagging its tail, but it hurts because it got bitten on the paw, we'll watch it for 24 hours. That's important.
We keep them in the hospital. If the people have absolutely no ability to pay the bill or anything like that, that's the only time they will walk out on the same day. But they're told to come back of course, if there is further decompensation. But I know that close to eight out of 10 practitioners want to use the antihistamine and the steroid. And I'll give you some clarification on that. It depends on where you are in the world and whose country anti-venom using. If you're in Pakistan or if you're in India and you're dealing with the snake bites out there, a lot of times they're vipers or cobras. Their products might not be as pure as those products that we use here. And the incidence of allergic reactions are very high.
In those situations, they'll give the patient antihistamines and steroids initially and then give the anti-venom, but in the western hemisphere, it's not recommended in human medicine and I've convinced everybody here at the school on now hundreds of cases that you don't have to use steroids and antihistamines, that my cases will get better just as fast as yours if those two drugs are being used. So I leave it, of course, to the individual colleague. If they're using something that works for them, I don't want to upset their apple cart. But if they were to ask me for, is there anything to document the efficacious of this, I would answer it in the way I just told you. Okay?
Dr. Andy Roark:
Perfect.
Dr. Michael Schaer:
Okay. Now as far as waiting for necrosis, there are times when dogs will be discharged from here at the end of the second day and it hasn't actually been long enough for necrosis to make itself known. So we tell the people, look for any signs of discoloration and change in texture of the skin. If the skin changes from pliable to feeling like leather, there is a likelihood that that's going to necrose. So they could tell, or they could send you a picture on their cell phone or a video and you could make a decision whether or not they should bring it back for debridement.
Dr. Andy Roark:
That makes sense. What is your pain control plan with these patients?
Dr. Michael Schaer:
All right, pain control initially on a severe case is minimal.
Dr. Andy Roark:
All right.
Dr. Michael Schaer:
Because I don't want to knock them out with drugs when their level of consciousness is helping me decide on whether they're trying to die or not. And we will use methadone and extend that for maybe the first two days on those who aren't severe. Or we might, if the severe case comes in, we'll hold off on the pain control until we get the patient stabilized and then we can monitor them better. But if you have a copperhead doggie that comes in after barking at something under the porch and the paw is swollen and then it's obviously not weight-bearing and it hurts like crazy, then gabapentin works, methadone works as an injectable. Or you might start off with methadone and send them home on a few days of gabapentin, something like that.
Dr. Andy Roark:
That's wonderful. Thank you. Thank you for doing this. I really appreciate. This has been so enlightening. Do you have any parting pearls, any last words of wisdom from me as I head off to take care of my snake bitten dog? Anything I should look out for? Anything like that?
Dr. Michael Schaer:
I know this is go going to sound silly, but I say to the residents, look at the patients and only the patients, so help you God. In other words, don't walk in there. Oh, I know all about this. I'm going to do this, this, this, and this. It's like driving your car on the road. You're going to drive according to the speed limit and the safety conditions, and I'm going to assess that patient according to what that patient is telling me. And don't be presumptuous. Interpret everything that you see with as open mind as you can, and I think that'll get you out of trouble. And always remember Uncle Mikey's maxims because they're always out there to save you.
Dr. Andy Roark:
Thank you, sir. Awesome. Thanks a lot for being here. I really appreciate your time.
Dr. Michael Schaer:
It's a pleasure indeed. You take care.
Dr. Andy Roark:
And that's it. That's the episode. That's what I got for you guys. I hope you enjoyed it. I hope you got something out of it. Special thanks to Uncle Mikey for coming and sharing his wisdom. Guys, take care of yourselves. Enjoy the rest of your summer. Be well. Bye.