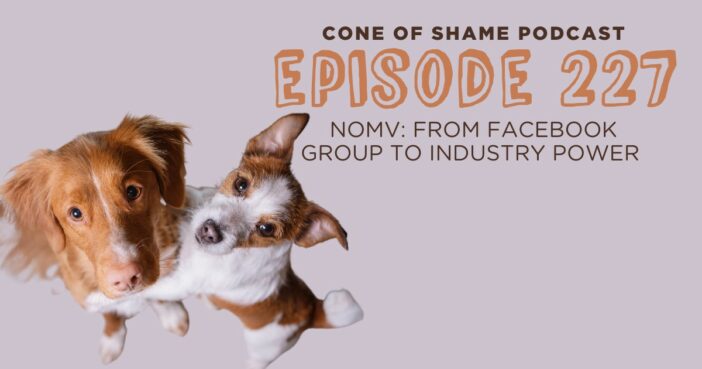 Dr. Shannon Emmons, practice owner and member of the NOMV board of directors, joins Dr. Andy Roark to discuss the rapid growth of Not One More Vet (NOMV) and the mental health and wellness programs they have been developing.

This episode is brought to you ad-free by CEVA Animal Health!
LINKS
Dr. Andy Roark Exam Room Communication Tool Box Team Training Course
Dr. Andy Roark Charming the Angry Client Team Training Course
ABOUT OUR GUEST
Shannon Emmons DVM is a graduate of Atlantic Veterinary Class of 2017. She is a small animal veterinarian practicing in southern Maine and the owner of Eliot Veterinary Hospital.
Shannon first got involved with NOMV after her own mental health struggles and worked to start the NOMV Ambassadors Committee. She is the Education Committee Co-Chair and a member of NOMV Seacoast. Shannon joined the NOMV Board of Directors in 2023.
---
EPISODE TRANSCRIPT
Dr. Andy Roark:
Welcome everybody to the Cone of Shame Veterinarinary podcast. I am your host, Dr. Andy Roark. Guys, I got a good one today. I am here with Dr. Shannon Emon. Shannon is a, she is a practice owner and a practicing veterinarian in Maine and she is a member of the board of directors for Not One More Vet or NOMV as they're commonly known. She's here today talking about and all of the initiatives they have rolling out and boy, they have a lot of 'em. If you are still thinking of NOMV as a Facebook group, this is going to be a big fun episode for you because they have a ton of initiatives that are coming out and we hit some of the highlights, not nearly all the stuff they have going on, but I'm really interested in what do we do about supporting mental health and wellness in the vet profession?
And they are putting their money where their mouth is, they are doing the work. They have a lot of programs coming out, is a really interesting download on all things non being what they have going on. Guys, this episode is made possible and brought to you ad free by my friends at Ceva Animal Health. They are partnering with NOMV on their Healing Broken Hearts Initiative. This is a joint wellness program they have with where they are giving 5% of Cardis sales to NOMV Card is a drug for heart failure. If you're unfamiliar with it, I'll put a link in the show notes to a previous episode that we've done on Cardis and what it is. But yeah, it's thanks to them for one, for doing the work and supporting NOMV and thanks to them for supporting this episode and making it possible. Guys, let's get into this.
Kelsey Beth Carpenter:
(singing) This is your show. We're glad you're here. We want to help you in your veterinary career. Welcome to The Cone of Shame with Dr. Andy Roark.
Dr. Andy Roark:
Welcome to the podcast, Dr. Shannon Emmons. How are you?
Dr. Shannon Emmons:
I am good, Andy. How are you?
Dr. Andy Roark:
I am so good. I feel like we almost could have done this podcast in person. For those who don't know you, you are a practice owner in Maine. What part of Maine do you live in?
Dr. Shannon Emmons:
Southern Maine. Yeah, let's… you won't know where I'm from.
Dr. Andy Roark:
It's not Bar Harbor in Maine. I that's, that's where I was. I just got back last night. I did the family vacation. We went to Bangor and then a Bar Harbor and then up to Nova Scotia and PEI, which is where you went to vet school.
Dr. Shannon Emmons:
That's where I went to vet school!
Dr. Andy Roark:
School. I know. And so I was just like, I was looking at your bio and I'm like, gosh, Shannon, she's like Visa. She's everywhere I want to be. And so anyway, it's a joy and a pleasure to have you on the podcast. You are a practicing vet. As I said before, you're on the board of directors at NOMV, which is Not One More Veterinarian. And I wanted to get you on today to talk a bit about NOMV, there's not many organizations that I have seen that have grown as fast or has branched out as much as Novi has. And I don't know that a lot of people understand what all Novi is doing right now. And so just to kind of set the scene, my first interaction with the, Not One More Vet group was a Facebook group, which was great, but it was a very big, very raucous Facebook group about mental health and wellness in veterinarians. And that's kind of how it imprinted in my mind. And I was just kind of shocked recently at how inaccurate that is as far as the depiction of NOMV. So lemme just pause here and ask you, why don't you give us a little bit of background about NOMV and your path to the board of directors?
Dr. Shannon Emmons:
Sounds good. So NOMV started in 2014 after the death of Dr. Sophia Yin. Nicole MacArthur, who is a vet, was really blown away that we as a profession have such a high rate of suicide. And she said, if I don't know about this, I'm sure there are other people who don't, and how can we get resources to everyone or just check in on everybody. So the Facebook forum started and I graduated in 2017 and it was cool to watch because as I joined the Facebook forum, I was seeing the need for, we were doing GoFundMe for fellow vets to try and raise money for their inpatient therapy or they needed help and then it got nonprofit status and it just blew up. And even since I've been involved, I started working with Novi in 2021. We've put on a couple of huge new programs in addition to a lot of already existing programs that we've been able to continue to grow.
So I started after my own mental health crisis, I had a friend reach out and say, Hey, I want to figure out how we can get NOMV locally. And I was like, that's great. I could have used someone locally. And so I talked to Carrie Journey and she said, Hey, we're already working on that. So I joined as part of what's called the ambassadors program, and we started making local chapters. So there are NOMVa chapters popping up all over the us. We have one in Canada now and we have one in Brazil. So that was kind of my baby for a while, was getting that up and running. And it then led me to the education committee,
Dr. Andy Roark:
Which I want to jump in here. So tell me more about that. What does a local Novi chapter actually look like? So I'm a veterinarian. I'm here in South Carolina. If there was a local Novi chapter, what does that mean? Do they have meetings? Is it a meetup? Help me get my head around what practically is that?
Dr. Shannon Emmons:
So it's whatever the community needs really. We have guidelines for what you can and can't do in terms of you can't talk badly about people or something like that. But we have groups that do. Texas is our definitely by far biggest chapter. Mallory Preston, who's in charge of that, has really done a lot of webinars and Texas is a huge state, so they're not meeting in person a lot though they have, they're doing a lot of webinars, meetings with local people and whether that's educational or whether that's walking through a guided meditation, our chapter, so I helped formed NOMV New England. We are helping with the NOMV Gala, which is going to be in Boston in October. So we're doing some CE there. We're going to be doing an outreach event there. And we're also helping with the five K in. And we did a veterinary appreciation event. And all of the chapters have really made their own takes with it, which is really great to see because it could be as simple as just getting people together for coffee or going for a walk, or it can be a big organization, however people want to do it, what the need is in their community. But the big thing is that there are people available locally if somebody needs help.
Dr. Andy Roark:
Yeah, I love that. I've always felt like when you're trying to run something that's a national program, getting people who are inspired on the ground and giving them the autonomy to do the things that they're excited about or they see a need for, I think that's wildly underrated as far as how to set up an organization. I've always seen it be very successful and it just for something like nabe where you obviously have people who care a lot about mental health and wellness, giving them a platform and just sort of saying, Hey, figure out what's going to be helpful for the people in your area and make it happen. I think I love that flexibility. I think a lot of times you can come up with things that are prescribed that don't really meet the needs of individuals. They might work in one place, but it's not what other people are really looking for.
Dr. Shannon Emmons:
It's been great to see people be able to do what their community needs and get the help into their communities, whatever that may be. And they're at local conferences, meeting vets in their area, they're doing local events, and it's been great to just build that community from an organization that was largely virtual. And that's like what you said, people know Novi for the forums, but they don't realize just how much else there is to Novi and the help that's available rather than just the Facebook groups, which are great. And we've expanded off of them. There's the support staff group as well. And I think one thing I would love for everyone to know is we are not just for vets, we're for everyone in the vet profession.
Dr. Andy Roark:
That was a big point of growth for you guys for a long time. It was just veterinarians and it was kind of a pain point. There was support staff and paraprofessionals and things. Yeah. So when did you guys start having groups for the support staff?
Dr. Shannon Emmons:
I will be honest, I'm not sure exactly the year on that, but I believe it was just a couple of years after everything got going because we really needed support staff to have help too. I mean, everyone in this profession has a hard time. We all have our different battles we have to deal with on a day-to-day basis. So making sure, and then students too, we branched out to vet students because and vet tech students, it's not easy to go through vet school or tech school and to make sure those people have support as well was something that we decided also needed to be taken care of.
Dr. Andy Roark:
About how many chapters are there now? So switching back to the ambassadors, what are we talking about?
Dr. Shannon Emmons:
I believe there are nine now. So it's always a little bit of a process just because we have to go through volunteer onboarding just so that we make sure people are adhering to Avi's guidelines in terms of talking about suicide in a healthy way, making sure people are Q P R trained, which is the suicide prevention training. So anybody who gets involved with NABI has to go through that process. So we really just launched the chapters about a year ago and we're excited that, I mean, Brazil is awesome. We've already got an international chapter, which is incredible and we keep having people apply too. It's just a little bit to get them up and running. So I think that's our big pausing point right now. But we keep getting the interest and we keep getting the people who are, like you said, really excited and really want to do things in their
Dr. Andy Roark:
Communities. How can people find out about chapters around them if people are interested in trying to get their own chapter going or getting involved with the Ambassador program? And how would you advise people to get involved?
Dr. Shannon Emmons:
So there's, NOMV.org is going to be our best resource for all things. And there's a list of our chapters and each chapter has a Facebook group, which is not necessarily a private Facebook group, I should say, a Facebook page where they post whatever they want to, whether it's ways to support one another, local events that they're doing. And then each chapter also has their own email address. So right now I'd say go to the page, see if there's anyone local and if there's not, that can be you. Yeah,
Dr. Andy Roark:
I love it. Cool. Talk to me about the things that you guys have started expanded out into. So I talked to Brian Bwin on the podcast not long ago about the non-clear blueprint, which I think is fascinating for workplace wellness. It's a great program I've thought a lot about since I had him on to talk with him. But yeah, lay out some of the other things that you guys are doing.
Dr. Shannon Emmons:
So yeah, clear is amazing and has been really exciting in the past year since we started that. Another one that's newer is called Lifeboat. It's an anonymous peer-to-peer support group. So for the people who don't like the Facebook forums or aren't on social media, it allows them that same one-on-one support and mentorship and can get them in touch with the help that they need. And it's completely anonymous. So that's been a really great new program that we've gotten a lot of use of. And I know one of our former board members just mentioned she was at a conference I think two days ago and someone said Lifeboat saved their life because somebody was able to get the help that they needed.
Dr. Andy Roark:
So is this sort of a standalone webpage as well? I guess
Dr. Shannon Emmons:
It's on the Novi website, but then you get iNOMVted into, we're very careful about anonymity. We're very careful about who gets into veterinary things. You hate to think about it, but the public can hold things against us in ways we don't necessarily always expect. So we're very careful about who can get in and who can be involved. But they get in, they're assigned a person. If you want to be somebody's mentor support, you can also enroll for lifeboat. And there's resources in there on how to talk to people about certain subjects and what to do if this is happening. And it gives you the resources to be able to help. And we know that I'm not a mental health professional, I'm a veterinarian. So there is always that if you don't know what to do, there's always a way to find the help that you need, whatever that may be. And lifeboat gives a lot of opportunities for education in that regard. But again, if you need the help, you can get in there, get matched with somebody, and then start talking.
Dr. Andy Roark:
Okay. You said the public can hold things against us. Tell me a little bit more about what you mean about that, because I'm curious about the challenges that Naves faced. Obviously it's a delicate balance when you're trying to help veterinarians who are in practice facing mental health struggles and things, but beyond that, tell me what you meant when you said that.
Dr. Shannon Emmons:
So I'll talk about another program while I'm talking about this, but we just recently formed the Anti Cyber Harassment Task Force in light of M V M C had the huge cyber bullying attack last year where they took an owner's surrender in and it ended up going all over the world. It ended up being
Dr. Andy Roark:
The huge thing. Yeah, that was a nightmare.
Dr. Shannon Emmons:
So I'm local to them, and so I was really invested and rare breed, who owns M V M C said, what can we do to make sure this never happens again? Or at least if it happens again, we had the resources, how do we get people the resources? So we've had to be careful with that too, because we don't want the general public who could potentially come back and use this stuff against us to have access to the resources. We're trying to offer veterinarians, veterinary practice owners to combat cyber harassment. So there's always and there Facebook groups that are attacking vets and there are always those groups that just have to be the negative in the world and start stuff that is so inappropriate. It's great. You'd be blown away by the stuff that we do with sometimes.
Dr. Andy Roark:
No, I can imagine. I've been around the old social media internet world for a while. I can imagine. So I'm curious, so when you think about the future, do you think about health and wellness in vet medicine? How optimistic or pessimistic are you when you look at this? Do you feel good about the progress we've made in the last 10 years? Do you feel like we have big challenges ahead? Talk to me a little bit about, because you get up every day and you go into practice and you do your stuff and you step up and you're set an ambassador for your region and you're on the board of directors at NOMV. Talk to me a little bit about the headspace that you get in when you think about where things are going as far as mental health and wellness in the vet profession.
Dr. Shannon Emmons:
I think we have dueling pros and cons and it's hard to say just kind of how things are going to go because I think we as a society are starting to value mental health more, which is amazing. People are talking about it. There's less of a stigma. People are asking for mental health days off. People are asking for the time that they need, whatever it may be. But then we get the pushback too from business owners of like, Ugh, they're complaining about having to work 40 hours a week or whatever it may be. So there's that kind of push and pull. And then there's the lack of veterinary professionals. I think the shortages that we're all dealing with. I mean, I've been hiring for an associate for a year and a half, and I know clinics that have been hiring for years. And if you look in our area, everyone's hiring for a vet, everyone's hiring for techs.
And that I think is hard because those of us who are still here are taking on all that extra burden. And as you know with Covid, it didn't get easier. We saw that huge increase in pet adoption rate and where did all of the vet staff go? So that's my biggest concern. But I think that as NOMV continues to grow and we continue to make these programs that make Vet Bed more sustainable, the more we talk about it, the more we make people aware of ways that they can get the help and they don't need to suffer through a bad job or they don't need to worry about cyber harassment if we can take some of the load off. We're trying our best to do that from every angle.
Dr. Andy Roark:
Yeah. What are you most excited about when you look at NBE and you look at all the things that are coming out in the next, say five years, you're looking ahead and you go, this makes me smile, or this makes me happy, or this makes me feel really positive.
Dr. Shannon Emmons:
We're planning a Novi conference. It's in our five year plan to have a Novi conference, and we're going to do a little baby conference at our gala this fall. So it'd be nice to just dip our toes in the water, but I would love for us to have a way to get people the mental health resources, like come to this conference, we're going to make it mental health friendly. We'll probably do half days and then take it easy the rest of the day. It's still very early in the works. We have no concrete plans, but I am really looking forward to that and just meeting the people in our veterinary community. Every time I speak, every time I go to a conference on behalf of nafi, hearing how much we've done for people, it means that what we're doing is important and it's helping and it just definitely makes me want to keep doing what I'm doing.
Dr. Andy Roark:
Yeah, that's fantastic. Real quick, I'm going to let you shout out any other programs you guys have coming up. Anything else that you're working on that you feel like people should know that either has come out recently from NOMV or is in the pipelines that people should be looking for?
Dr. Shannon Emmons:
I think the big thing that's coming up that I would like people to know about is our race around the world, which is virtual, but we also have an in-person option this year. So it's during the month of September and we are just promoting Novi and General Public awareness, making sure people know what we are and do it with exercising, which is good for our mental health. And it's one of our biggest fundraisers for the year too. So you can join as an individual virtually in person. You can start a team. My clinic competes with a clinic up the street every year and we're already trash talking one another, get a little competition going, it's all in good fun, but it's whatever you want it to be. But I'm really excited that we have the in-person race, which is going to be at our gala in Boston on October 7th, and we have Temple Grandin coming to that. So that's very exciting and we'd want to thank everyone who helps our organization on a day-to-day. Siva in particular is currently running Healing Broken Hearts program where they're donating 5% of car Dallas sales, which we super appreciate and we have so many other great sponsors who help us to do our work on a day-to-day basis because without them, we would not be able to do so much of what we do.
Dr. Andy Roark:
That's fantastic. I'm going to put links in the show notes to all the stuff we've talked about. I'll mention the Clear blueprint Brian was on recently talking about it. I'll put links to information on that as well. novi.org where you can find the Ambassador program information, all the things that we talked about, the lifeboat links, I'll put all that stuff in the show notes so everybody has it. Are there any other links, Shannon, or resources that you think people should make sure to check out or be aware of?
Dr. Shannon Emmons:
Novi List is on the website, so basically anything I'm saying to you can get from the website, but Novi List is kind of like Angie's List, but for veterinary professionals. So if somebody has a therapist locally that they've really liked or a lawyer they've locally really liked, it's a great way to find local resources. I'll send you to the link to the Race Around the world, sign up and to our gala registration.
Dr. Andy Roark:
Sounds great. I'll put all that stuff into the show note. Dr. Shannon Emmons, thank you so much for being here, guys. Thanks for tuning in and listening. Take care of yourselves, everybody. And that's it. That's our episode. That's what I got for you guys. I hope you enjoyed it. I hope you got something out of it. Thanks to Shannon for being here. Thanks to Novi for all the work they're doing for our profession. Thanks to Siva Animal Health for making this episode ad free and for their Healing Broken Hearts initiative gang, take care of yourselves. Be well. I'll talk to you soon. Bye.