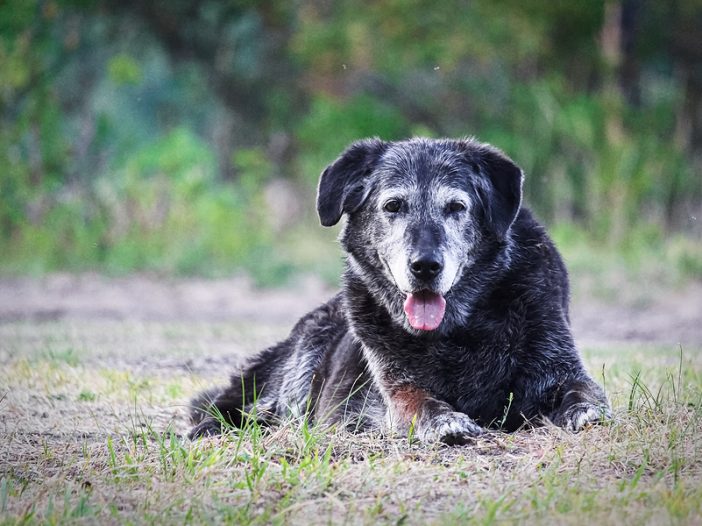 She had been seen wandering around the country roads for at least three days, an old black lab with a graying face. Every day she seemed to get slower and slower and she became weaker and weaker. Finally, one evening, when she couldn't wander anymore, too sick, hungry and dehydrated to go on anymore, she lay down in a ditch to die. Sam was on his way home from a busy day at work when something in the ditch caught his eye. He stopped, stepped out of his car, and was greeted by the sweetest set of brown eyes he had ever seen. He knew he couldn't leave her there, but didn't know what to do so he picked up his phone and called the police department.
Officer Johnson was in the area and the first one to respond. He checked the reports for any missing dogs in the area but did not find one that matched this sweet girl's description. With no collar or identification, he scanned her for a microchip and found nothing. She had been abandoned and left to die. One look in her sad eyes and he was taken back to his childhood, to his best friend and partner in crime, his Lucy dog. But unlike his Lucy, this girl was sick. She needed more help than he could provide.
It was getting late and the only veterinary clinic open at this time was the emergency clinic in Duluth, about thirty miles away. Officer Johnson couldn't take her there, he was still on patrol and the clinic was out of his jurisdiction. Sam wanted to take her but he barely had enough gas to get home and no money to put gas in his tank. Officer Johnson looked at her sad face again, reached in his wallet and pulled out $20 for gas. Sam took the money, then grabbed a blanket from his car, scooped up the sweet girl, and put her in his back seat.
Sam was apprehensive as he entered the emergency clinic. He was worried she was beyond hope and would be euthanized. On any other night, that is what would have happened, but not tonight.
Jodi arrived at the emergency clinic and held the door open for Sam as he carried the sweet stray in. Jodi was a certified veterinary technician at another vet clinic. On any other night, she would have been home with her family, recovering from a stressful day at work. But tonight, Jodi had been asked to bring her dog in to donate blood. Being in the veterinary field, Jodi could see immediately this poor stray was very sick, but one look at her sad face and Jodi knew she had to help her. Dr. Erickson, the emergency doctor confirmed that the stray had a pyometra, a life-threatening infection in her uterus. She would need surgery but first needed to be rehydrated and stabilized. Dr. Erickson said he would do his best to stabilize her so that she could be transferred to another clinic in the morning for surgery.
Jodi's text came through at 5:42 am "I have a huge request! Can you PLEASE help?" Her hospital was booked and couldn't perform the surgery. I had only met Jodi the week before when we helped a mutual friend rescue stray kittens outside an assisted living home. It was only through this little adventure that Jodi had my cell number. It was early, I was tired, and I had a busy day ahead of me with my own patients. I did my best to ignore her. But as the pictures of the sweet gray face started to pop up on my phone, I couldn't say no. I was her last hope. If I couldn't perform the surgery, she would be euthanized.
My day was fully booked and the only time I had to do surgery was over the lunch hour. I asked Jodi to bring her over first thing in the morning so we would have time to do an exam and prepare her for surgery. She was carried into the clinic, even after a night of intravenous fluids and antibiotics, she was too weak to walk. She looked up at me with her sad eyes and my heart melted. This sweet girl had already been through so much and I was her last hope. I knew the odds were against her, but I had to try. Jodi had mentioned that she also had a mammary tumor, but it wasn't until I did my pre-surgical exam, that I realized the extent of the mammary mass. It was the size of a child's football and would have to be removed before I could even get to her abdomen to perform the pyometra surgery. Thankfully another surgery had canceled, giving me more time. The mammary tumor was even more challenging than the pyometra surgery, but everything went better than expected. I was so hopeful she would do well.
She spent the next 24 hours with us recovering from her surgery. She was quiet and sick, but she also seemed grateful for the attention and love. Whenever I checked on her in her kennel, she nuzzled in close begging to be petted. Jodi shared her story on a Facebook page she manages called "Missing Pets in the Northland," a page devoted to reuniting lost pets with their families. It wasn't a surprise that no one claimed her. But she touched the hearts of so many people and donations started pouring in to pay for her care.
Jodi picked her up the next day and said she would take her to her house until she recovered and we had the results of the mammary tumor. She didn't want to adopt out a dog that may have cancer. She also needed to find the right home. We estimated the sweet girl to be about ten to twelve years of age and Jodi wanted to make sure she would live out the rest of her life with all the love she deserved.
The test results came back a week later. I called Jodi with the good news: the mass was benign! Jodi told me how well the dog was doing and how she fits in with her family perfectly. They had decided to adopt her and named her Pixie.
I get regular updates about Pixie, complete with pictures and videos. She went from being shy and sickly to playing fetch, snuggling on the couch with her new family, and enjoying the life she deserves.
When I think about Pixie's story, I am filled with joy and can't help but smile. Whether you call it fate, divine intervention, or just blind luck, Pixie was given a second chance. Along her journey, kind-hearted people helped her, giving a little and expecting nothing in return. She brought out the best of humanity and in return, Pixie gave us hope.
The views and opinions expressed in this article are those of the author and do not necessarily reflect the position of the DrAndyRoark.com editorial team.