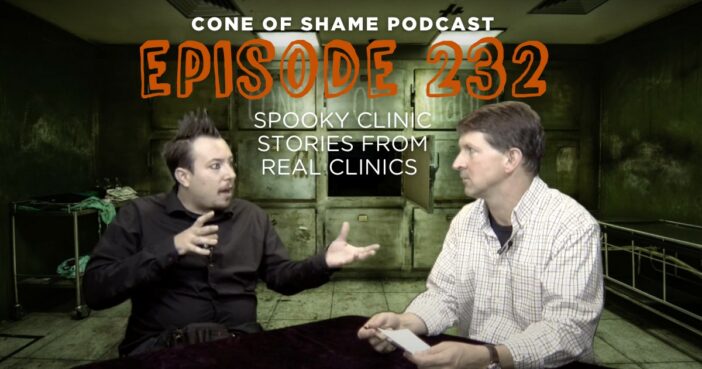 Dr. Andy Roark discusses with Paranormal Investigator, Gabe Matthews, the real Spooky Stories submitted by our listeners.
You can also listen to this episode on Apple Podcasts, Google Podcasts, Amazon Music, Soundcloud, YouTube or wherever you get your podcasts!
LINKS
For more from Gabe: www.youtube.com/watch?v=7ZAnCHLUTrI
ABOUT OUR GUESTS
Gabe Matthews has been fascinated with all things paranormal his entire life. Gabe considers himself a paranormal educator and believes the only thing separating a skeptic from a believer is evidence.
---
EPISODE TRANSCRIPT
Dr. Andy Roark:
Welcome everyone to The Cone of Shame Veterinary Podcast. I am your host, Dr. Andy Roark. Guys, I got a super fun Halloween horror episode. Thanks to everyone who submitted their real life ghost stories for this episode.
I have got Gabe Mathews, a paranormal investigator, leader of the Truth Searchers. He's a handful. This episode, I hope you guys have a lot of fun with it. I'm so looking forward to it. Let's get into it.
This is your show. We're glad you're here. We want to help you in your veterinary career. Welcome to The Cone of Shame with Dr. Andy Roark.
Welcome to the podcast, Gabe Mathews. Thanks for being here.
Gabe Matthews:
Thanks for having me.
Dr. Andy Roark:
It's always a pleasure. I'm a big fan of your work. For those who don't know you, let me just start there, for those who don't know you, you are lead investigator at the Truth Searchers Paranormal Investigators. You are a certified paranormal investigator. You are also the founder of the Greenville Ghost Tours in Greenville, South Carolina.
Gabe Matthews:
Correct, yeah.
Dr. Andy Roark:
Anything-
Gabe Matthews:
I'm a paranormal enthusiast, a paranormal educator, just all around researcher, paranormal researcher.
Dr. Andy Roark:
Perfect. I found you deep in a YouTube viewing hole, a rabbit hole as we call them, and I have been a big fan of your work ever since, so I really appreciate you taking time.
Gabe, I've been thinking a lot about this recently. I always want to try to be a resource for veterinarians and veterinary professionals, and I think we do a lot of good here. It came to my attention recently that we really in our profession do not have resources. We really do not have support for people who are having things like hauntings or possession or a clown in the sewer is doing things or being dragged to hell. None of those things are really supported by the infrastructure that we have in our profession.
Gabe Matthews:
No doubt. The veterinarian community seems to not support these things. Also, believe it or not, the paranormal community does not do enough with animals either. I do a lot of paranormal research on animals as well as humans because it only makes sense that a ghost could be a cat or a dog or a bird or an animal, a fish even. It doesn't always have to be a human, and I don't know why all these paranormal teams and shows always jump to a human ghost.
Dr. Andy Roark:
That never really occurred to me. It was when I had that realization that it's like, hey, animals can be possessed, they can have spirits, things like that as well. Why don't we hear more about hauntings in vet clinics, things like that? You and I are exactly in alignment here. What I want to do, I actually put a call to-
Gabe Matthews:
If you don't mind, before we get started, do you mind just smudging a little bit?
Dr. Andy Roark:
What is-
Gabe Matthews:
Smudging is the act of burning sacred herbs for spiritual cleansing in order to cleanse the air of negative spirits. Because we're indoors, I can't do smoke, so I do have a smudging alternative. This is some Palo Santos Smudge Spray. I smudge regularly, so I just kind of spray, if you don't mind.
Dr. Andy Roark:
You just spray it on your clothing?
Gabe Matthews:
Wherever you might have any dark energy or a dark passenger.
Dr. Andy Roark:
Okay. Is there a dose that you recommend for your smudging? Is it like a-
Gabe Matthews:
I actually believe that the smudging is rare to have it as sprays. I prefer to do a smoke ritual, get some white sage or Palo Santo and kind of burn it and have the smoke kind of fill your home. And do it regularly.
Dr. Andy Roark:
Like a FELIWAY diffuser but for spirits.
Gabe Matthews:
Sure. I'm sure you could have a smudging diffuser in your home as well. It would make a lot of sense.
Dr. Andy Roark:
All right, great. No, I'm here for that. I reached out to the audience and I had asked people, "Have you had paranormal experiences in the vet clinic or veterinary related?" I got a couple of responses, and so I got my team to go ahead and turn those into audio for us. And so I've got a couple of things. I've probably got four or five of them. I have not listened to them, just so you know. So this'll be the first time I'm hearing them as well.
Let's you and I, I'd like to listen to these stories, authentic paranormal stories from veterinary medicine, and then we can kind of break that down, see if there's things that you would recommend, things that we could do differently, best practices. I'm sort of looking for those things. Always trying to support, always trying to help, always trying to make better.
Gabe Matthews:
I also want to state for the record that I don't have any psychic ability or I have very low ESP, so I have not heard these, nor have I used any psychic ability to premeditatedly know them before going into this.
Dr. Andy Roark:
All right, great. We're on equal footing then. That's good. All right, let's go ahead. Let's listen to the first one.
Tyler Grogan:
This is "Late Night Food Order" submitted by Kim Moran, narrated by Tyler Grogan.
One morning we walked into the clinic and there were two small dog food bags on the floor in our reception hall, the one that connects pharmacy to the lobby. We decided to check out the security footage and it looks like those bags had a mind of their own. Instead of gracefully falling off the shelf, they decided to take flight. We even tried to recreate it, but they always hit the counter and bounced down. It's like they had some supernatural assistance.
Now here's the real spine-tingling part. That hallway has motion sensors for the lights and they never blinked to life during this bizarre event. The timestamp, if memory serves me right, was somewhere between 1:15 and 1:30 in the morning. We've all got our suspicions, but it looks like there are some nocturnal ghostly visitors at our hospital.
Dr. Andy Roark:
Well, first of all, wow. I don't know how you hear stories like that and don't get a little bit concerned about your own vet practice. [inaudible 00:06:28]. Gabe, how common is this that we see things moving on camera that it's actually caught recorded? Is that abnormal? Are you surprised by that? Is that normal?
Gabe Matthews:
Not surprised at all. I mean, a lot of paranormal activity comes from security cameras. It's pretty normal, pretty common occurrence. My first thing, I'd want to review the security footage to get a visual on what that happened to kind of see what's going on there. Is it gravity? If it's not, then we're getting into the paranormal realm.
Dr. Andy Roark:
The motion sensors not coming on, the lights not coming on, does that mean anything to you, or is that [inaudible 00:07:05]?
Gabe Matthews:
No. Ghosts have been able to set off motion devices, but they've also been able to not set them off. I believe that ghosts are energy and they can kind of manipulate these devices as they wish kind of.
Dr. Andy Roark:
Okay, okay. That doesn't necessarily mean anything. All right. If you were seeing things like this, moving food bags stuff in the practice, is there any sort of best practices that you would have, things that you would be thinking about doing differently? Do we need to appease spirits, anything like that?
Gabe Matthews:
Yeah, so it does depend if this is a benevolent or a nefarious spirit. If it's benevolent, I usually just let them kind of freely come about. I try to invite all the benevolent spirits into my home. I like to have buddies to hang out with and have parties and such, but if they're nefarious, you do want to kind of rid them off and do a smudging ritual. I think setting up cameras in the active spots would be a good first step.
Dr. Andy Roark:
Okay. I like that lot. That makes total sense to me. There's got to be some nuance here. As you said, nefarious not so much, but benevolent, we don't need to go to the mat to try to get rid of good energy. That all tracks.
Let's go ahead. I think our second story, let's have a listen to this.
Kelsey Beth Carpenter:
This is "Can You See Them?" submitted by Emily Kinney and narrated by Kelsey Beth Carpenter.
It was toward the end of my ER shift around 10:00 PM when a mother and her young daughter, probably around six years old, came in with their critical dog. They were eventually brought back to the treatment area to see their dog and talk to the doctor.
As the mother and doctor were talking, the little girl was looking all around the treatment room and she had this really concerned look on her face. Then at a break in the conversation, the little girl turns to her mom and says, "Can you see them, all the dogs and cats? You can all go to heaven now. It's okay." We all stood there completely silent. She said it like we could all see the ghost dogs and cats she could see. The other tech and I slowly backed out of the room.
Dr. Andy Roark:
That's the first story I've heard of children. Usually the kids are not there late at night, but this is an emergency practice, and so kids are in.
Talk to me about children's awareness of spirits versus adults. Should we have children that we bring in to see if they see anything? If a kid comes into my clinic and they're like, "Hey, do you see them?" should I put a lot of stock in that? Are they better equipped to recognize paranormal signs than I am? Where do I go with this?
Gabe Matthews:
Yeah, it's a known phenomenon that children are able to see and feel spirits more than adults and humans. Also, animals as well have been known to be able to sense or maybe see, I don't know, you might be able to help me with, are they seeing it? Are they feeling it? What is the animal doing? But they're at least able to sense them more than adult humans.
As far as the children versus adult thing, as we get older, people kind of teach you a lot of science and skills, and they also give you reasons to not believe something. But at the end of the day, as an adult, you know what you saw. I don't think that you should let your senses deceive you in any way, but the children have these active imaginations and they're more open-minded.
As an adult it's like, okay, this is the wind or something, whereas the kid thinks it could be the wind, it could be a ghost, it could be a monster, it could be all these things, and their imagination is just much wider. An animal, I don't know, maybe you could help me with this. What are they thinking? What does the animal think?
Dr. Andy Roark:
Well, that's what I was kind of wondering. It's hard to know. I mean, obviously animals react and we don't know what they're reacting. Have you ever seen a cat just take off running out of the room?
Gabe Matthews:
100%.
Dr. Andy Roark:
Maybe. Maybe. I don't know. I'm just saying maybe they see something we don't see. I don't know.
I think this story is interesting too, because she says to the spirits that she sees, "You can go ahead and go." And I'm like, "Why wouldn't they go ahead and go?" Is it because they didn't hear that they were a very good boy enough? What keeps them here?
Gabe Matthews:
That's very possible. I mean, they said it was critical. I imagine it was kind of towards the end of its life cycle anyway, so it might've been going anyway. But that is a good point. Is there something they could have done to make it last longer? The child kind of noticed that this was happening. I think it's just a matter of the child having that feeling, that sense.
Dr. Andy Roark:
Okay. Let's go to our next one.
Maria Pirita:
This is "My Clinic Has a Ghost" submitted by April Moore, narrated by Maria Pirita.
The first time I ever had an experience with a ghost, I was cleaning kennels by myself on Thanksgiving Day. As you can imagine, the kennels were full being that it was a holiday. One of my coworkers said she might stop by while I was there, so when I heard the kennel door slam, a voice talking, and the dogs going crazy barking, I thought it was my coworker.
I walked to the side of the kennel and there was nobody there, but the dogs were still barking. So then I thought maybe my coworker had went somewhere, some other part of the clinic. I went out the door and looked for her, but found nobody. Looked outside and only my vehicle was there. I went back to cleaning as normal with this weird feeling that I was being watched.
Since then, we've had our water fountain turn on by itself, meds fly off the shelves as we walk by, and a lot of those I'm being watched moments. Our ghost is a woman, and so far I'm the only person that has ever heard her actual voice. Where are you?
Gabe Matthews:
There's a lot going on there.
Dr. Andy Roark:
Yeah, there's a lot. A human ghost I think is interesting. We haven't gotten that necessarily from other stories.
Gabe Matthews:
True.
Dr. Andy Roark:
Kind of thinking a lot of animal ghosts but human ghosts. The voice I think is interesting.
Gabe Matthews:
We had what? Four things happen. We had a voice. We had a water ball again. When you have one piece of evidence, it's good to try to corroborate it with other evidence. So when you have all these things, it kind of leads you more towards the paranormal because all these things seem to be like a paranormal event.
I also find it interesting they're talking about Thanksgiving. Holidays I believe are more active for paranormal, especially for human ghosts, because they have a reason, they remember this holiday, so they're going to be more active. They want to be with their friends and family, so they're going to do something on this specific day.
Dr. Andy Roark:
Stepping back here, in this case, we've got slamming doors, we've got barking dogs. I'm assuming we don't know if this is a nefarious or a benevolent spirit.
Gabe Matthews:
It's hard to say, and again, I think doing the documentation now. Again, if you do have a nefarious spirit, you do want to have some removal possibilities. There's different ways of doing this. Smudging is the first step.
Dr. Andy Roark:
Okay. We talked about that.
Gabe Matthews:
But if you smudge and it does not work, you have to resort to other methods, probably calling a professional. I would usually probably start with your local paranormal investigation team and see if they can get rid of it.
There's different devices you can use. You can put off a lot of energy to kind of force it out, but there's many different ways. But I think having a certified paranormal investigator like myself for whatever city you're in, to have them come and see what they can do. And then for me, for instance, if it ends up being demonic, I usually have to call in an expert in that.
Dr. Andy Roark:
Right. So like a priest?
Gabe Matthews:
Yeah. Sometimes it has to do with witches, so you have to get someone who's into witchcraft.
Dr. Andy Roark:
That's a whole different person.
Gabe Matthews:
Right. Well, no, I can do it. Just sometimes I have to call in someone who's a little more expert in that. I'm actually learning a little bit about witchcraft.
Dr. Andy Roark:
A specialist. Yeah, like a referral. We do that.
Gabe Matthews:
Yeah. I mean, so you as a veterinarian, I'm sure there's different levels that you might have to refer it to another veterinarian, right?
Dr. Andy Roark:
Yeah.
Gabe Matthews:
Exactly.
Dr. Andy Roark:
All right, okay, so I'm good with that. So basically some smudging, burning of herbs, incense, extracts, things like that. And then pretty much after that you're looking at a professional to come in.
Gabe Matthews:
I mean, that's what I would recommend. I mean there's books and stuff you can read to try to remove it on yourself, but it's like if you have an issue with your car, are you just going to go fix your engine or are you going to call an auto mechanic?
Dr. Andy Roark:
No. All right, I'm fine with that. Have we got another story?
Ghost:
One more story.
Dr. Andy Roark:
All right, we got one more story. Let's have a listen.
Stephanie Goss:
This is "There Was No One There" submitted by Sema Benavides and narrated by Stephanie Goss.
Rumors have been going around for years that the clinic is haunted. We've had late shift techs confirm this and have even had some overnight techs quit because they've heard footsteps and voices.
A few years ago I saw one of my doctors around the corner in the hallway walking quickly towards his office. I walked towards him and followed because I had a client on the phone with a question. He was about 10 feet in front of me and went into the office and slammed the door. I assumed that he was mad about something and I decided to wait a few minutes outside the door to give him some time to cool off.
After a few minutes, I knocked on the door, but there was no answer. I waited and then I decided to crack open the door and peek inside and just say, "Sorry to interrupt, but…" So I cracked open the door. There was no one in the office. There's only one way in or out, and I was standing outside the door the entire time. I didn't see anyone leave. I don't know who I saw, but I call him Stan.
Dr. Andy Roark:
I don't know about this one, Gabe. I got to tell you, I have hidden from technicians who wanted me to call people back before. I've hidden in boxes, behind doors.
Gabe Matthews:
So you think this is probably not a ghost.
Dr. Andy Roark:
It might not. I'm just saying it would not be the first time that a doctor has recognized they were being followed by a technician or front desk person and hid. I've seen this before.
Gabe Matthews:
She opened the door, saw no one was there. The dude could have just been hiding under the desk.
Dr. Andy Roark:
Right behind the door, in the paneling in the ceiling. I'm not saying no.
Gabe Matthews:
You've done this before.
Dr. Andy Roark:
I am just telling you, when I heard this story, I was like, "Yeah."
Gabe Matthews:
It sounds like you.
Dr. Andy Roark:
Yeah, it could have been. Could have been me earlier in my career. But anyway, I don't know. It's also possible that this was a spirit impersonating a doctor. Do you hear of spirits impersonating people very often? She seemed like she was like, I know that guy. That's the doctor. And then she got there and there was no one there.
Gabe Matthews:
It's certainly a possible that a spirit could try to pretend to be someone else. 100% that could be a thing. Listening to this, I was really disappointed because I was like, "Oh, it's going to be an animal ghost. It's going to be an animal ghost." And immediately we got voices. Unless it's a bark, animals don't really have voices. It was kind of a human one. I was a little disappointed in that. And you're right, it's hard to know. It's interesting.
Dr. Andy Roark:
I appreciate all the stories that we got. I'm going to say right here, first of all, thanks to everybody for sending their stories in. I really appreciate them. This has been something I have been really interested in.
Gabe, thank you for being here and talking through this with us. Do you have favorite resources? Do you have places that people want to learn more that you would send them to start sharpening their skills and knowledge?
Gabe Matthews:
Sure. If you're interested in reading about paranormal investigation, John Keel has some good stuff. Some of the stuff can be kind of boring. Fiona Broome is always good, Hans Holzer.
And then also sometimes I like to listen to the skeptic side as well. A good place to start, probably just Carl Sagan's Demon-Haunted World. You got to know what the people that are against you are thinking. So I think that's always a good place to start.
Dr. Andy Roark:
Right. I'll put some links down in the show notes. Where can people find you online?
Gabe Matthews:
Yeah, ParanormalTSPI is my YouTube channel. That's probably the first place. If you're ever visiting Greenville, South Carolina, greenvilleghosttours.com.
Dr. Andy Roark:
Sounds great. Thanks for being here, guys. Take care of yourselves, everybody. Thanks for tuning in.
Horrifically, that's all that we have. I hope this spine-tingling episode brought a big smile to your face. Yeah, it was just super fun. I love doing goofy fun stuff like this. Let me know if you guys enjoy it. I need just a little bit of encouragement to do weird stuff like this because I just love it. I think it's fun to sit back and to think about the fantastic of our profession and our world and just to have a good time and laugh. So anyway, guys, take care of yourselves. Happy Halloween, everybody. I'll talk to you later.
Gabe Matthews:
I was really disappointed, no fish ghosts.
Dr. Andy Roark:
Yeah, no, I-
Gabe Matthews:
I thought for sure we'd get a fisherman veterinarian steals fish.
Dr. Andy Roark:
It's the first year we've asked. I think people probably need to hear that we're doing good work.
Gabe Matthews:
Maybe lean into, hey, maybe fishes next year. Everyone likes fishies.