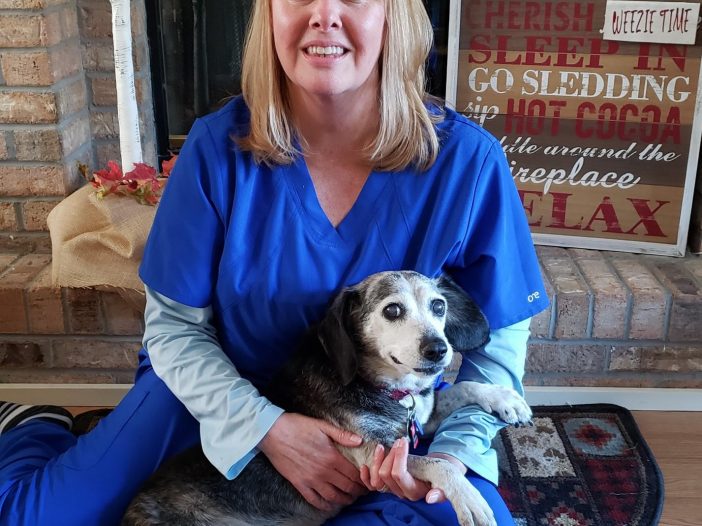 We had been on vacation, the husband and I. It was January. We love snow. So, to Minnesota, we went. It was good to be away from work, the gaggle of dogs and cats we had accumulated (and loved with all of our beings), post-Christmas children and un-decorating, etc. It was just nice and quiet.
The first day back at work came fast and furious. Surgeries, hospitalized cases, cases that had been ongoing when I left ten days earlier, appointments… Back to the everyday. A renal failure cat, an aggressive boxer vaccination appointment, an ACL repair. A beagle had been brought in the night before at close. The owners left to get a deposit to treat but never came back to sign papers to allow us to treat her. So, here she was, essentially a stray, but with someone who claimed ownership.
This one was a mess. She was mauled by the much larger dogs that she was chained to a tree with. They all had their own dog houses, but they were fed together. She had been attacked a week prior. She pulled herself into the back of the dog house that she has grown up in and they just thought she would "pass on her own." Every day they would go out to see if she had died. On the last day, Tuesday, they realized she was still alive, so they let her sleep inside that night. At the end of the day on Wednesday, they brought her in for us to treat. And abandoned her.
She had penetrating abdominal wounds. She was laterally recumbent and in septic shock. A catheter was placed. IV antibiotics and fluids were initiated. Pain medications were given. Over the next few days she was medicated, wounds cleaned, rotated and warmed. She had fleas, in January, and was in heat.
We were not a 24-hour facility. Our doc, the owner, went to the address that was given to us to look for the owner to get permission to keep her. You see, she was responsive but weak. She could make it with treatment, so he could not justify putting her down. But he needed permission to do SOMETHING. She had an owner. We needed permission to move forward. In the meantime, I would come in every morning and hope she had passed peacefully in her sleep. She suffered more than any animal I had seen to that point in my career. We could not euthanize, we could only triage for five days and then make that call.
On Sunday I went with my husband to clean her wounds. She had not even attempted to eat. We brought leftovers, lunch meat and hotdogs. I prepped her cleaning supplies, got her meds together. Ultimately I was preparing myself for the awful, weak whimpers she would make when I cleaned her wounds. I went to get her out of her kennel and my husband was laying on the floor feeding her hotdogs. She was sternal and eating. It was unreal.
Two days later, two weeks after she had been attacked, a young man came in and asked if a young beagle had been brought in deceased. His mom told him his dog was mauled and died and he wanted the truth. The truth was that she was not dead and was actually doing better than when she arrived. I took him back to see if it was her. It was. Other than the hotdogs, it was the happiest I had seen her. She sat up, wagged her tail. I asked what her name was. The woman who dropped her off told us she wasn't sure, maybe "Baby." He agreed. He thinks they call her "Baby Girl." I asked where he intended to keep her because she could not go back to that tree. The tree where she almost died. She had open wounds. She needed reconstructive surgeries. At that moment, that very selfless moment, he realized that the best thing he could do for her was to give her up. To give her a better life. To give her a chance. She was truly loved by this kid. I believe she is still loved by him.
The greatest act of kindness I have ever experienced, in 23 years, is for this young man to sign over the "Baby Girl" that we now call Weezie. And, 16 years later, we are still thankful.
The views and opinions expressed in this article are those of the author and do not necessarily reflect the position of the DrAndyRoark.com editorial team.
---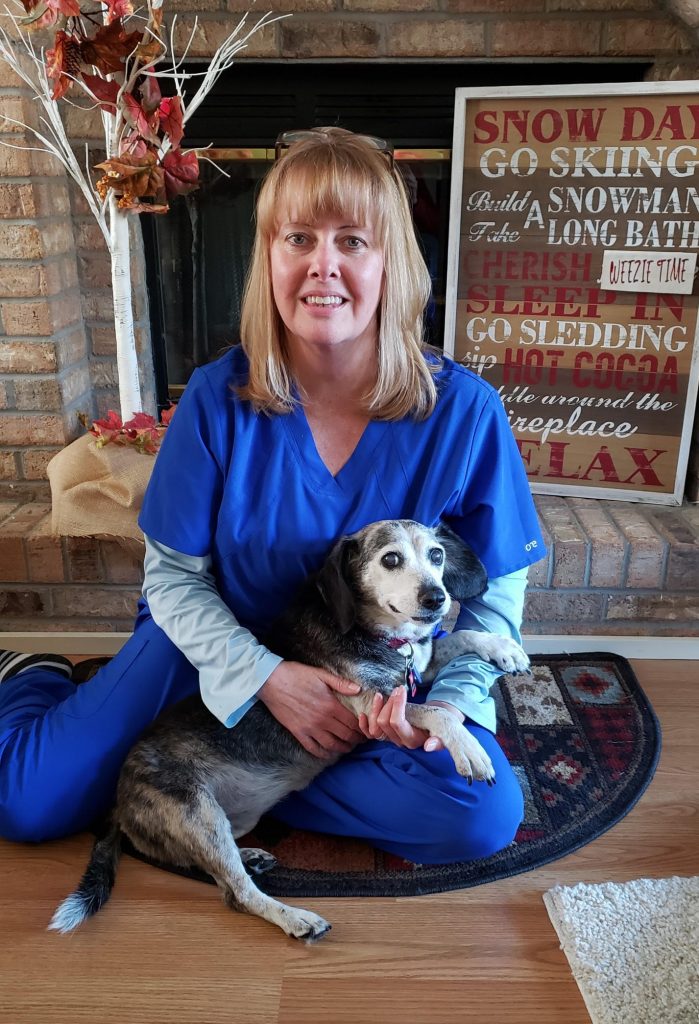 ABOUT THE AUTHOR
Tynette DeLonjay is a Registered Veterinary Technician in St. Louis, Mo. She has been in practice for 20+ years in small animal general practice with a brief stint in specialty neurology. She is thankful for every kindness over the years, but this one, this one is special.