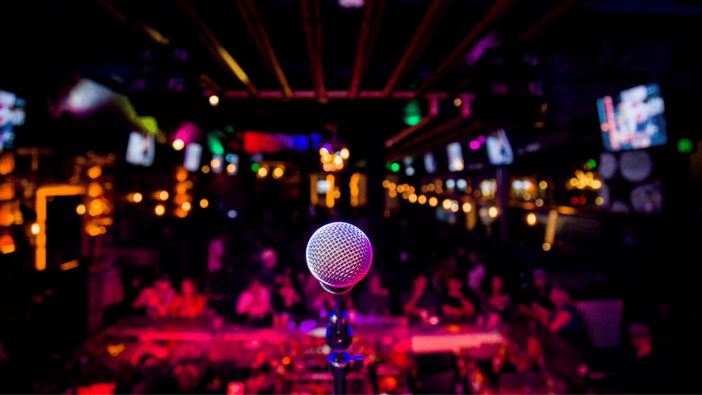 When was the last time you did something that scared you? For me, it was this past weekend.
Six weeks ago, I signed up for a standup comedy class. While I have done improv comedy for about 10 years now, I've never done standup. I thought this class would be an opportunity to pick up some new skills and meet some interesting people. It turns out, standup is not like improv at all.
Standup is more like telling scripted stories while juggling. During a routine, you are attempting to communicate a narrative while inserting punchlines in about every 30 seconds. It's a lot harder than I thought it would be.
Trying something new can be challenging and uncomfortable. But there is a lot that can be gained when you push outside of your comfort zone.
The Open Mic
As part of the standup class, I have to go to and participate in "Open Mics." An Open Mic is where people are given a set amount of time to perform their standup routines. As someone who talks for a living, I didn't think this would be all that intimidating. But, it absolutely was.
Heading into my Open Mic night, I didn't think my jokes were as funny as they could be. I was certain I could improve my set if I only had more time to work on it. And the fact that people paid to hear comedians tell jokes (not some vet telling stories about a pomeranian with one eye) weighed heavy on my mind. It was genuinely nerve-wracking.
I'd like to tell you that the standup set went fantastic… but it didn't. It went fine. I got some laughs and at least one awkward silence after a joke that would have killed with cattle vets. But that's life, isn't it? We don't try new things and find immediate perfection.
As much as I dislike being uncomfortable, I am absolutely certain that being in that state is a good thing.
Finding Growth in the Uncomfortable
It is very easy to live within our comfort zone. To simply be "good enough," and to rely on what we know and have done before to make our way in this world. The problem is that in comfort, there is no growth.
One of my favorite quotes is from French surgeon and biologist, Alexis Carrel, who was awarded the Nobel Prize in Physiology or Medicine in 1912:
"Man cannot remake himself without suffering, for he is both the marble and the sculptor."
I think this is completely true. We try new things, get mixed results, and then try again. That's how we grow and get better. That's how we keep life interesting.
Over the years, there have been a number of studies, including research on the concept of "toughening" conducted by Mark Seery, a psychologist at the University of Buffalo, that found that dealing with adversity can increase our tolerance for it and improve our perspective on it.
Final Thought
What was the last scary thing you did? When did you last try something new that made you nervous? Is it time to pick up a new challenge? Open yourself up to the uncomfortable for the sake of growth, self-improvement, and the chance to experience a piece of the world that has thus far been foreign to you. Yes, it's going to be scary… and yes, it will be totally worth it.