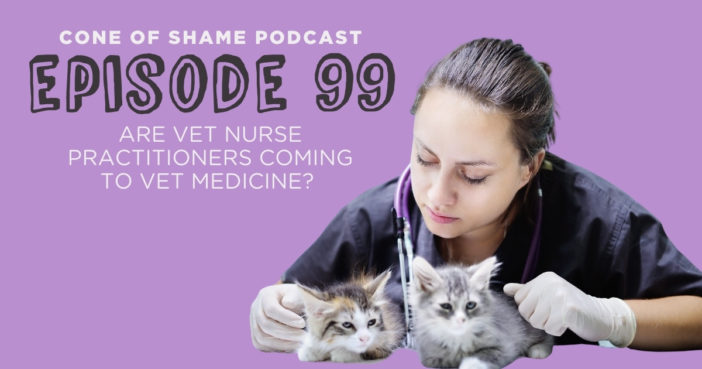 Ken Yagi MS, RVT, VTS (ECC) (SAIM) sits down with Dr. Andy Roarkto discuss a topic that gets people very fired up… Veterinary Nurse Practitioners. As we face an ongoing labor shortage, could the nurse practitioner model be an answer? How would this work given our current credentialing system? What are the dangers and drawbacks of this system? What would have to happen for Vet Nurse Practitioners to come to the profession? Let's get into it!
LINKS
Empowering Your Team to Get Positive and Stay that Way (Workshop): unchartedvet.com/product/empoweri…d-stay-that-way/
Uncharted Culture Conference Oct 21-23: unchartedvet.com/uvc-culture/
Charming the Angry Client On-Demand Staff Training: drandyroark.com/on-demand-staff-training/
What's on my Scrubs?! Card Game: drandyroark.com/training-tools/
Dr. Andy Roark Swag: drandyroark.com/shop
All Links: linktr.ee/DrAndyRoark
ABOUT OUR GUEST
Kenichiro Yagi, MS, RVT, VTS (ECC), (SAIM)
During his 20 years in the field, Ken has discovered and refined his role as a veterinary technician by promoting compassionate and progressive care for patients and their families. He obtained his VTS certification in emergency and critical care as well as small animal internal medicine and achieved his master's degree in Veterinary Science. He is currently the Chief Veterinary Nursing Officer for Veterinary Emergency Group and the Program Director for the RECOVER Initiative.
He has been awarded the NAVTA Veterinary Technician of the Year award in 2016, the California Veterinary Medical Association Veterinary Technician of the Year award in 2016, and the California RVT Association of the Year award in 2017. Ken has co-edited the Manual of Veterinary Transfusion Medicine and Blood Banking and has published various text chapters and articles in various publications. He gives presentations internationally on topics in ECC, transfusion medicine, and the veterinary nursing profession.
Ken works to encourage further recognition of the vital role of the veterinary nurses and technicians through work with organizations such as the National Association of Veterinary Technicians in America co-chairing the Veterinary Nurse Initiative and serving as a board member of the Veterinary Emergency and Critical Care Society, the Academy of Veterinary Emergency and Critical Care Technicians and Nurses, and the Veterinary Innovation Council. He is also an advocate for the Open Hospital Concept, encouraging veterinary practices to invite the pet owners to "the back" as a part of the team.
Ken invites everyone to ask "Why?" to understand the "What" and "How" of our field, and to continually pursue new limits as veterinary professionals and individuals.
Editor: Dustin Bays
www.baysbrass.com
@Bays4Bays Twitter/Instagram
SHOW TRANSCRIPT
Dr. Andy Roark: Welcome, welcome, welcome to The Cone of Shame veterinary podcast. I am your host, Dr. Andy Roark. And, guys, take your blood pressure medicine for this one, but we're just talking. Nobody needs to get super fired up, we're just talking. But, boy, are we talking about a topic that gets people real excited? We're talking about veterinary nurse practitioners. At the Veterinary Innovation Summit recently there was a conversation that happened in a public forum about, hey, what about that nurse practitioners? And people got real feisty, real fast, apparently.
This is something that I've been thinking about, is something that a lot of people post about on social media. And of course they do. And pet owners ask about it because it's what they see in their healthcare and they go, "Well, I don't see a MD when I go and get medical care for wellness stuff and maybe I don't have to see a vet for wellness stuff either." And I get it, I get where the question comes from. I think sticking our head in the sand and not talking about it and thinking about it is probably the worst thing we could do, so here we are.
I get into this with Ken Yagi. He is the Chief Medical Officer at VEG. He's a past president of NAVTA, the North American Vet Tech Association. He is a super technician. He has done all the things and he is generally a very thoughtful, very measured, very introspective person who I respect a lot and I respect his ideas and opinions a lot. And so I was just looking for someone that I could sit down with and say, "Let's talk through this," because I just, I don't know what I don't know. And so, guys, that's the conversation today. And we really get into it and Ken's got great perspective, really interesting, a really interesting guy, really interesting insight. And we talk a vet nurse practitioner. Without further ado, let's get into this episode.
Kelsey Beth Carpenter: (singing).
Dr. Andy Roark: Welcome to The Cone of Shame veterinary podcast. Ken Yagi, thanks for being here.
Ken Yagi: Thanks for having me.
Dr. Andy Roark: Oh man, always a pleasure. Ken, you are, for those who don't know, the Chief Veterinary Nursing Officer at Veterinary Emergency Group or VEG. I met you I think back when you were the President of NAVTA, the North American Veterinary Technician Association. You worked at Adobe Animal Hospital where the one and only Kelsey Beth Carpenter, who is a good friend of mine works and Jamie Holmes worked there as well. And in between Adobe Animal Hospital and VEG you were at Cornell. You have won all of the veterinary technician awards. You were California's VMA's Vet Tech of the Year. You have a number of other awards. I heard that you received a new award last night at the IVECCS conference. Tell me about that real quick.
Ken Yagi: It was the IVECC and the Academy of Veterinary Emergency Critical Care Technicians and Nurses Specialty Technician of the Year award.
Dr. Andy Roark: Very nice. And then you've got to be involved in the veterinary technicians specialists pinning ceremony. Tell me about that. What's it like to be involved with that?
Ken Yagi: It's an amazing experience, for sure, that each year the people who have gone through the VTS certification process and finally pass their exam, they come back and get pinned the next year and that's a milestone for people. And I remember it being such a special experience for myself that made me say, "Wow, this is such a huge accomplishment. I want to do more and more in this profession and in my career." And it's just the closeness that we have of people who have over the course of the years mentored each other, encouraged other people to pursue this area of specialty and help them get there.
Because I can think of many, many names like Nancy Shafran, Harold Davis, Andrea Steele, Amy Newfield, people who have just pushed me one step at a time so that I can get to where I am. And each and every person in that room probably had different names they were thinking about as I was telling my story of how I came to be that they could replace and that circle just keeps growing. It's such an amazing group of people that the pinning ceremony really represents that.
Dr. Andy Roark: Yeah. I think that of any group in vet medicine, the emergency and critical care circle is probably the most tight-knit group. And the reason I say that, I've been to a lot of vet meetings and a lot of vet conferences. And the IVECCS conference and the emergency critical care people always strike me as being a tight-knit group. And I really think, I've thought a lot about this, I really think it's because they have this shared a challenge, almost a shared lifestyle that other people don't necessarily understand or aren't really a part of. They talk about, "We are the night walkers, we fear the sun. We sleep during the day while others live and live their lives." And they bond over the experiences of emergency and critical care and just what it means to live that lifestyle.
But then also just it's a different type of medicine. You don't have necessarily the same relationships with clients because they're coming to you on emergency basis. You see a different type of cases. You're not doing Bordatella vaccines at 3:00 in the morning, generally stuff like that. And so I really do feel like this group has a lot in common more so than they have in common, maybe with the rest of the industry. And so I just feel like that's a really tight-knit group. I think that's always been the most interesting to me about the emergency critical care circles.
I brought you on because you are the most tapped into the veterinary technician world of almost anyone that I know. And I had something that I've been rolling around in my mind and it came to head about two, three weeks ago. There's a conference called the Veterinary Innovation Summit. It happened in Kansas City a couple of weeks ago and I was not there. Apparently at the VIS, there was a discussion of the shortage of veterinarians and how there's not enough veterinarians to get all of the workload done and how cases are up and a lot of people are feeling really overwhelmed. And the obvious follow-up question was something like, "Hey, have we thought about having the equivalent of a nurse practitioner in vet medicine? What if we had a type of technician or what if there was a way that technicians could move farther up and start to do some of the wellness work that veterinarians do?"
Maybe they could start to do some of the things that our veterinarians currently hold the reigns on and they could take some of the workload off of the veterinarians and what would that be like? And at that point, from my understanding, the room exploded and people were throwing chairs and a brawl broke out and the snack table was overturned and the whole place just went to hell in a hand basket. Because people get real excited when you start talking about veterinary nurse practitioners and them doing things that doctors do. And some people were like, "This is great, it'll free doctors up. It's good for capacity. The doctors can work at the top of their degree. The technicians can work at the top of their degree." I think other people say, "Don't, you dare take anything off of my plate," and there's a lot of emotion around the topic.
And I'm hearing this, I'm seeing it more and more online, again, our conversations are online, they immediately get real emotional and just the utility of the conversation falls apart. I don't know as much about what's possible and where we are as I would like to, so I wanted to just to talk to you about that. Can you, first of all, just start off real high level, can you give me a rundown on where we are in credentialing for technicians in general? In technician specialty, what does that let technicians do…. yeah, are we really elevating technicians in a way that is meaningful to their careers? Let me just start with that.
Ken Yagi: Sure. And just to start out I'll say that that conversation has been around, the nurse practitioner conversation has been around since 2005, that there was an article published back then and back then people threw chairs at each other as well. More so now than today maybe but things have changed a little bit. But with that said, with a technician credentialing we do know that there's 40 states that have a licensure within each of those states and there's 10 states that have private credentialing which means there's no requirement for anyone to be credentialed in order to practice as a veterinary technician.
But in all of these states, we basically are able to do things aside from what licensed veterinarians are or what's restricted licensed veterinarians, which are things like providing a diagnosis, providing a prognosis, prescribing treatments and medications and performing surgery. Anything else is under the supervision of the veterinarian done by people who are non-veterinarians. And so in many of those states those people are licensed as, registered as, or certified as veterinary technicians and that's what we tend to take on.
And some of those states would restrict what's called the scope of practice, what veterinary technicians can actually do to those individuals who are licensed State of New York, State of California, those are the ones that stick out in my head just in the sense of where I'd been. And so that's where there are conversations surrounding utilization, how do we divide up the types of activity and tasks that needs to be performed within a veterinary practice and function best as a team? And the topic of utilization obviously is a huge topic right now throughout veterinary medicine but for our profession, and that there are many people who come into this field who go through schooling, get credentialed, finally get out onto the clinic floor, and they feel like they haven't been able to grow in the way that they want to do. They're not serving the role that they imagined they would be because there's a lack of utilization.
If the limit is everything except for those four things that is for now that's restricted to licensed veterinarians, we're not achieving quite that high. Heather Prendergast is a good friend of mine and I have done a good amount of workshopping, talking to people and doing some practice assessments in the level of utilization, for example. And the initial results that we were getting on that was people were utilizing their technicians maybe about 30 to 40% level, which is, there's huge room for growth.
Dr. Andy Roark: Yeah. Talk to me a little bit more about that. When you say practices are using technicians at 30, 40% of their possible level, what do you see? Tell me what that looks like. Give me a contrast between a practice that's at 30% utilization and a practice that's at 75 or 80% utilization, what's the difference in this one?
Ken Yagi: The difference probably has to do with many factors, but some of them that I could think about would be maybe the type of practice and more primarily how busy the practice might be. If there's increased caseload then the veterinarian is not able to take care of everything that needs to be done on the animal and so then I think that's where the technicians start to get utilized more and more out of necessity. If you think about the type of practice, the field that sticks out in the forefront of my mind obviously it's emergency and critical care. In the emergency room there's urgency, there's a need to these people in and seen based on how life-threatening it is. And you need to have all the people available to perform all the tasks that are needed to help the animal in the most efficient way possible, and so out of necessity we utilize our technicians better.
Dr. Andy Roark: I guess, what I'm wondering is I think about my practice and I have no idea what percentage utilization our technicians are at. I guess that's what I'm looking for you is for guidance is what exactly are technicians doing when they're well-utilized compared to the majority of practices where they're not well-utilized? What are the actual things that they do in their job that other people go, "Oh, I can't believe technicians do that," or, "Oh, we don't use our technicians that way."
Ken Yagi: Let me start the other end.
Dr. Andy Roark: Sure, sure.
Ken Yagi: Taking a look at where technicians may not be utilized very well, if veterinary technicians and the clinic is doing a lot of the clerical work, if they are doing reception work, if they're doing a lot of the kennel work, and maybe they're the ones that are, sure, showing people into the rooms and such, but if that's on a regular basis then that's the lowest end of utility that you could think about, that's not what a technician is trained for. Then once you start going up further in that route then the technicians would be the ones that are drawing blood and submitting blood samples and maybe looking at the size and things like that. And then it gets more and more complicated and through placing IV catheters, placing urinary catheters, there's that's maybe the middle level where you're still utilizing technicians to be a task doers, that there's a task to be performed and then the technicians are performing those tasks based off of the doctor giving orders.
And then I think once it gets to the higher and higher end, it turns more into a thinking job in that are they assessing the patients, listening through the heart and lungs in terms of not just the rate but the characteristic of the sounds that they're getting, making an assessment and trying to turn it into recommendations, problem list, and then recommendations on how to correct that. That's one level that I would like to see technicians go further and further into so that they are actually a part of the decision making process of what happens to the patients.
A common example that I can bring up is CPR. How do you perform CPR on an animal and who tends to be the leader of that CPR effort, who's giving the orders? It's often the veterinarian, but at the same time a very well-trained technician who sees arrests more commonly, the person that is more experienced is the one that should be able to lead that code the best way possible. But by default, most people think that the veterinarian is the one that should be doing that. And so that's another level of expertise experience training that veterinary technicians could obtain that puts them actually to be in the better position to lead the code so that the veterinarian can focus on what's going on with this patient? Why has this patient arrested? What are the treatments for that? And then also taking on the direct client communication during that situation so that there's no relaying happening and efficiency loss there.
Dr. Andy Roark: When people talk about the veterinary nurse practitioner idea, how does that look different? What exactly would that be? I know that people, they put that term out and go, "Oh, well, what about this?" Is there any sort of a vision around that about what that job role might look like or what those people might do?
Ken Yagi: When we think about nurse practitioner as taking a look at how the laws currently are set up where those four things are restricted to my sense of veterinarians, we could push technicians up right up to that level. And so some of the things that I think about that are very advanced that technicians could be doing. They should be doing ultrasound exams, they should be doing a thoracic synthesis, could they unblock a cat? Those are the kinds of things that within the law you can do because that's not surgery, it doesn't alter tissue. But at the same time those kinds of things need to happen once the veterinarian has some kind of a diagnosis and has prescribed that treatment.
The nurse practitioner goes beyond that in that now we're talking about changing the laws so that people who are not licensed veterinarians can perform some of those tasks in terms of doing the physical examination process and being able to come up with a diagnosis, which then allows them to formulate plans to prescribe a certain treatment and obviously be able to carry that out too. But then on the human medicine side, nurse practitioners, physicians assistants, they can perform surgery as well.
Dr. Andy Roark: When these conversations come up, the people who are pushing it they generally are pushing towards having decreased workload, increased efficiency, utilizing technicians, probably raising technician salaries, all of these things that are probably really good for our industry. They're probably, they're definitely really good for technicians. What is the push back against this? What are the most common arguments against veterinary nurse practitioner position that you hear?
Ken Yagi: Well, what are you hearing out there?
Dr. Andy Roark: What do I hear about it? Yeah, that's fair question. I guess what I hear is that there's too much of a distance between veterinary technician credentialing and vet school. You talk about say, they'll say a two-year credentialing program for technicians versus four years of undergraduate work and then four years of vet school. And you go, "Man, the difference between two years and what we have now and eight years for veterinarians." You go, "Wow, that's a massive difference." And we would have to have infrastructure to bring nurse practitioners up to a level where they would be in between, truly be in between in their training, in between doctors and technicians.
I do hear some of that of, hey, this is not a small jump that we have from licensed technicians up to doctors now and so bridging that gap to really create something that is in between is going to require some infrastructure and some training that we don't have. I also hear a lot of pushback about just actually changing state licensures to get things done and people are kind of, this fatalistic view and go, "Ah, that's a bridge so far, I just don't know if we can do it."
And I think what they're not saying, and this is just 100% my opinion, I think that veterinarians, I love veterinarians, I see myself as a veterinarian. I think a lot of us do have a scarcity mentality where even when we're drowning in work, we still live in this fear that all of a sudden pet owners are going to stop coming in and we're all going to be out of jobs and unemployed and so the idea of giving this work up. I think there's a lot of reasons for it but I think a lot of people just really truly struggle with handing this work away and then the idea that you're not getting this work back. Once you give it away, the genie is out of the bottle and you're not getting this work back. And so I think those are the big ones I hear.
Ken Yagi: And I think that the last one that you mentioned is probably the one that stands out in the forefront of my mind, is that the history of this conversation and the opposition that it has faced originally was mostly related to the fact that it's also the same in the human medicine field, by the way, as these professionals came out, is that we're impeding on the veterinarian's scope of practice and the human medicine side nurse practitioners largely have independent practice rights, and so then they can open their own practice. Then it turns into competition for veterinarians and that's the historical look at all of that.
But when I said that things have changed that over the course of the year, is that we can't keep up right now. There's not enough veterinarians and all the practices are suffering in terms of trying to find enough people to be able to help all the patients that we're seeing. And so we're starting to see this demand rise up. And so that we're starting to think about potential solutions to meeting that demand and that's where this conversation is pushing more and more over to maybe the individuals or practices that felt like this maybe wasn't a good idea is now starting to consider it more and more because it's going to be helpful and they see that.
Dr. Andy Roark: Yeah. I had Dr. Dave Nicol on the podcast a couple of weeks back, and I love Dave and we generally get along really well and see eye to eye. We did not see eye to eye at the end of the podcast, which is fine. The biggest thing we did not see eye to eye bell on the end of the podcast is it's always been my position that I like the fact that general practitioners in vet medicine do a lot of things. And I think that there's a lot of ways for us to find our path and craft ourselves to the type of medicine that we want to practice and also to what pet owners need.
Dave, I think felt that there was a real danger of specialty medicine carving away at what we do and some local low cost options taking away some wellness care from your traditional vet clinic. And we didn't really get into technician licensure but I can 100% see… I have a little bit of concern sometimes when I look and especially look at human medicine now that we're talking about that. The general practitioner in human health care is pretty much gone. You can find one, you can find your GP but they are rare and they're generally tied to pediatrics and internal medicine outlets.
And so I guess that my thought is when we talk about nurse practitioners, is that a step towards pushing our profession to mirror human medicine where people very quickly come in, they see a base level intake of physician or caregiver, and they quickly get pushed up to a specialist. I don't know if the economics of our profession support that but I have those concerns. Does that mean anything when I say it to you?
Ken Yagi: Probably not something that I've thought about too much on. I could see that concern but when it comes to the nurse practitioner concept on all that I don't know if it would necessarily should.
Dr. Andy Roark: No. I said it isn't to rule it out. I have a hard time imagining a world where pet owners just readily plunk down the kind of cash that it takes to see a specialist, and rightfully so to see a specialist. You know what I mean there? There's not a lot of them there, they're hard to get to. I do have some concerns towards the career of the vet becoming one where, yep, you do a residency, that's just what you do. And I go, "Man, the economics profession really don't work that well right now and if the norm becomes doing four more years of the low wage work to get to a specialty place, I'm not sold on that being a good thing for doctors."
And the other thing is we look at affordability and accessibility of vet care for the general population now and I go, "I don't know that… I know that that's not good for pet owners." We already are hitting points where we get a lot of pushback about price and what medicine costs as a profession and I think we're trying to address that. To me, but I hear that concern from other people and saying when you've got specialists and then if you have nurse practitioners, where does the general practitioner lie? And so as I think about pushback, I think it's probably unstated but I think that that question, that question of identity is probably going to be the biggest driver of pushback, is who am I? If I'm no longer doing this work, if other people can do this work, I don't know that I feel safe. And so I could see that just, I think a feeling of safety is going to have to come from somewhere and I don't know what's going to make that happen.
Ken Yagi: Right. And I think that when we talk about it in broad terms saying nurse practitioners are going to be able to diagnose, prognose, and prescribe and do surgery, it makes it feel like we're just replacing veterinarians but that's not what we're talking about. That it would be the types of things that are going to require less training because I knew though that, I mean, the veterinarians have gone through their schooling and they have this expansive level of knowledge that they obtain. And then when we talk about nurse practitioners we're talking about a master's level degree is what it's likely to be. I'm not saying that's the only way to do it but that's likely. And so they're going to get some clinical decision-making skills. They're going to have training in critical thinking and some of the medical aspect that that technicians don't receive currently.
And so then if you can think about some of the lighter case, the types of cases that we see who have maybe it's like the ear infection that we need to be taken care of, or some of the, well, skin conditions could get really horrible, but some of the less intensive cases are the ones that these nurse practitioner-type professionals would be taking care of, at least initially as the profession progresses. And then the veterinarian could be focusing on the more involved cases and then it's maybe that the veterinarians are focusing on the more involved surgery cases, and so then they don't have to be having their time taken up by some of the cases that require less attention and they can focus on the ones that are more and more involved. I hope that does.
Dr. Andy Roark: Yeah, now, it definitely does. I mean, we've talked a lot about practicing at the top of your licensure, meaning veterinarians are using the diagnostic and treatment skills that they were trained to use. Well, technicians get to practice at the top of their licensure as well and the thought being, if this is going to break out well for everyone as far as feeling like you're doing rewarding work and then also financial compensation, let's have more time to do surgeries or do advanced cases, then they'll probably financially do just fine even if they're not doing all of the lower level cases or the wellness work that they used to do.
Ken Yagi: If I can give an example in the emergency because I think it gives me a little bit more of a concrete examples to give. If we're thinking about a situation where it's an emergency room, the doctor is seeing a hemo abdomen case and performing a splenectomy and surgery and a patient comes in that just ate somebody's underwear and they need to get that taken out, something like that. This nurse practitioner-type role could probably either do an endoscopy procedure in order to try to get that out or maybe it's not that we go ahead and give it morphine to make the animal bond it out initially before that point and if they can't get it out they move on to the endoscopy.
But that process of making that decision and going through those processes while the doctor is unavailable, those are the kinds of places where these nurse practitioners can be very functional and may not necessarily require the doctor to have to scrub out and then come in and come back out although it's black days are pretty urgent emergency cases. That's probably not the best example that I gave there. But that's something else that they're working on so that those patients still can be seen and we can continue to see the incoming patients without having to create bottlenecks.
Dr. Andy Roark: Yeah. That totally makes sense. Real quick, as we look to the future, because this is not imminent. So anyone whose blood is boiling, anyone who's having to knock back some blood pressure medications, this is not immediately on the horizon. Ken, when you look ahead and look at the future, what are the things that would have to happen in order for something like this to move forward? Because we're not there, this is definitely not upon us but it's just looking down the road. What are the things that would have to happen to create a system like this?
Ken Yagi: I think it goes back to what you mentioned regarding the education of veterinary technicians. You said that there is associates. Most of the people that are out there as credentialed technicians are people who have gone through an associates degree and so then we need to move towards people having bachelor's degrees of some kind that qualify for the next level. There is a need for an educational process, likely to be a master's degree that teaches people the clinical judgment skills, the critical thinking abilities, coordination of care, different kinds of topics that technicians don't currently get in their veterinary technology or nursing programs.
And then once we have people who are qualified to function at this type of level, there probably needs to be a certification process at sometime. Is an application process, is the examination process and who again it's all of these, the educational process as well as the certification process. And then that's where we have individuals that are able to show that they have additional skill sets that then will probably lead to the legislative changes that will allow states to say, "People with these credentials are able to have this type of scope of practice because they have higher qualifications."
Dr. Andy Roark: Yeah, it sounds like a process.
Ken Yagi: Pretty, pretty huge process. But the process that the physician's assistant profession has gone through, various practitioners have and most recently I've seen an article coming out saying that the respiratory therapists have recently graduated their first class of people who have obtained a master's degree aimed towards advanced practice respiratory therapists. And so that's the pathway that these professions are taking and we can definitely look at this for the veterinary profession as a whole as well.
And I think going to back to maybe the counter point of, or the opposition from people saying that we need to focus on other things first, standardizing the profession itself and that working on the utilization level of existing technicians, absolutely. Those are all important things that we need to be working on now but once we fix that and we still have this issue of credential technicians not having a further career pathway once they get there, then we're going to run into the same thing where people are seeing ceilings, that practices are not willing to pay more for technicians because of a certain level of utility that they cap out at.
And so this is more… I see this as a solution for the future. That while we're working on the things that we need to work on today, we need to be working on what's going to be solutions for us in the future as well. And so that's probably part of the reason why even though there might be some opposing voices to this, I see that there's more and more supportive voices to it and it's worth exploring so that our professionals can continue to grow.
Dr. Andy Roark: Hey guys, I just want to jump in real quick with a couple super awesome announcements over on the Uncharted Veterinary Podcast, came out yesterday. How do you teach accountability? We got a question in the mailbag about what do you do with the person who works for you who makes a ton of excuses, and it's always somebody else's fault and it's always something that couldn't be controlled and mistakes get made but it's never my fault? How do you teach that person some accountability. That's what Stephanie Goss and I get into. Free wherever you get your podcasts, Unchartered Veterinary Podcast, how do you teach accountability?
And that is out now over on the Uncharted side of the house because we have a new workshop. It is coming out on October the 9th. It is from 3:00 to 5:00 PM Eastern, 12:00 to 2:00 Pacific. This is Dr. Tracy Sands teaching empowering your team to get positive and stay that way. Guys, do you have a team that is tired? That is burned out, that is worn down that has slipped slowly into negativity and just being bummed, or being down, or being down on the clients, or being down on the work? Because it's understandable, it's been a hard time for a lot of us and people have felt that and your team may be feeling that. If they are feeling that don't throw your hands up, don't just let it go, it's time to put that work in and push those guys back towards being positive, get them back to enjoying their job and feeling good about what they're doing.
That's what this workshop is about. It is two hours, it is hands-on. Dr. Tracy Sands is amazing, she's a good friend of mine, I highly recommend. This workshop is free to Uncharted members. It is $99 to the public, you do not want to miss it. Also the Uncharted Culture Conference is coming at you October 21st through the 23rd, that is also virtual. It is going to be all about building culture in your practice. It is a three-day online event all about culture and you're going to hear from a large variety of speakers. They're going to be all sorts of sessions on all sorts of things.
If you're a culture junkie, if you want your practice to run smoothly and be a great place to work, guys, the Uncharted Culture Conference is for you. Check it out, links in the show notes. Head over to unchartedvet.com as always to learn about what we have going on there. Gang, without further ado, let's get back into this episode. I heard recently about a new technician program associated with LMU. Are you familiar with that? Does that ring any bells?
Ken Yagi: You're probably talking about the master's program that LMU is proposing. Yep.
Dr. Andy Roark: Can you tell me a little bit about… I just recently heard about LMU, Lincoln Memorial University's College of Vet Medicine is doing a masters program for technicians and it's integrated in with the training of veterinarians. It was the first time I heard about the program. Are you familiar and how does that fit in with our conversation?
Ken Yagi: Yeah, I am familiar with that being put in place, that there's work being done on it. I don't know too much about the content of it and what the courses look like and all those kinds of things. But I think that those types of degrees being put forward by schools is going to be one of the first steps in which we move towards this nurse practitioner role. We do need people with additional training. We know that there's a certain curriculum standard that the AVMA-accredited programs follow and they are not going to take veterinary technicians to be able to function in the way that we want nurse practitioners to function unless those standards change in that drastic manner. And so this is the master's degree that we're looking for to be on top of our current education for creating the individuals that are able to have the skillset that they need to function the way that we want them to.
Dr. Andy Roark: As we wrap up our conversation, I want to go back to one thing that you said that was a new idea to me. Independent practice ownership, the idea that if there were veterinary nurse practitioners they might have their own locations or their own clinical practices. Do you see that? And I know that that's something in humans that was not uncommon. Yeah. How does that fit into the future of medicine? Do you think that something like that is possible?
Ken Yagi: Possible is a tricky word. That's possible? Sure. But at the same time I don't think that's what we're looking for right now. But I think talking about independent practice rights for veterinary technicians or veterinary nurse practitioners, that's something that scares a lot of people out there. And that's not what we're looking for, we just want a way to find more people to come into this field that can serve different functions so that we can make up a team. Serving under the license of the veterinarian is totally fine, that we just want to find ways to help more patients and bring in more and more professionals that are able to serve the functions that we need on the floor so that they can take on the workload because we're struggling and we need solutions and that's why we're talking about this today.
Dr. Andy Roark: Yeah. I think when people start to talk about things like radical changes, a vet nurse practitioner, things like that, a lot of people catastrophize. They go to, "Oh my God. If we do this then suddenly vet technicians will have their own hospitals and there'll be half the price of regular hospitals. And they'll do all the things that we do even if they're not supposed to because who's going to catch them? And, my, I'll be living in the forest in an abandoned minivan and eating dirt and squirrels that I catch." And they just goes down this road of, if we do this then it will lead to this and this and this will be a complete overhaul of our system and the poor general practice doctor is going to be obliterated. And I think that's human nature, is to catastrophize that way.
And then the pushback is, if we don't do this then we will be overwhelmed to the point that burnout will go to 100% and no one will be… the old timers in our profession will have worked for seven years and those will be the most senior people because no one else will last more than a year before they're toast. And again, both of these are completely ludicrous situations. I think the answer is clearly in the middle. I think that we're going to compromise and there'll be a lot of pushing back and forth and ultimately I think it's from, to kill a Mockingbird, they talk about there is a compromise to the point that no one was happy and that was probably the best outcome. And it's I suspect that's 100% where we'll be in 10 years from now looking back, we will make something work.
And I do think looking at the constraints that we have, the manpower that we have, the rising caseload that we have, the problem with burnout that we have, I do think we've got to build in efficiencies. The AVMA published that study a couple of weeks ago saying that inefficiency was a much bigger problem than increasing caseload and, boy, that hacked some people off. But I think that there… I don't know how much truth there is to that because I don't want people sending me angry emails, but I believe that there is at least some truth to that.
We really do have to figure out some efficiencies because in some way we have to accept the situation and go, "We have the people that we have and we have the educational system that we have and we have the caseload that we have." And what we're doing, I'm not convinced it's working, I think we need to make some changes. That may not be radically overhauling the system, I don't think it is, but I do think that there are a number of probably smaller measures that we need to make.
Ken Yagi: And I think that one of the reasons why I'm so invested in this idea is because over the course of my time seeing people out there, one of the common things that I hear is, "I've hit a ceiling. I don't have room for growth." Or, "I don't see future growth in this profession and so I'm going to look elsewhere." Then those are the people that go to human medicine, they become nurse practitioners in the human medicine field. And this is one of those solutions that we can put in place that allows people who are the most ambitious, who are the brightest, they are most driven that want to continue growing and expand on how they can help animals better to stay in the field. And that's why I think this is hugely important for our profession.
Dr. Andy Roark: Well, you and I have both seen some well-known veterinary technician specialists leave and go into research, leave clinical practicing and go into research, and that's been in the last year or two. And some of the people who lecture and who are just brilliant and wonderful for our profession have gone other places and I think it's really sad. I don't like that, I think a lot about that. I had a technician talk to me one time, it was a conversation I always remember, but she was just so disheartened and despondent. And this is someone I worked with. I liked this person and she did good job. And she was just talking about leaving and I basically pinned her down on why? What is the thing that's making this an issue?
And she pointed to another technician who had been in the practice for 30 years, doing the exact same job and she was like, "I cannot be here in 30 years doing the exact same job I'm doing now." And that's always stuck with me when I think about technicians. And I get it, in that moment it very much made sense to me. I think we should all be learning and we should all be growing and we should all be moving forward and I feel like that, I feel that ceiling for technicians is something that we as a profession have to figure out.
And if we don't figure it out then the technicians will figure out their own path and that will be leaving practices and going into industry and going into research or going into other things and that's not what I want from my practice. I don't want to lose my best people that way, I got to figure out how to figure out how to keep them growing and keep them engaged, and I think that that is a worthy challenge for us veterinarians to keep our people.
Ken Yagi: And I'll also add that when you think about people leaving the field or changing their specialty area because they feel they don't have anywhere else to go, I also see it even within the single clinical setting or the practice setting, I should say. There are three different pathways that people could take as they grow as a veterinary technician. Some of them, and many of them go into management, the leadership-type side, and so they have the ability to become practice managers or hospital managers or something like that, and then they actually deviate from what they wanted to do which is take care of the animals.
And then there's the education pathway. They become trainers. They go out and conduct CE, things like that, because that's the next place that they can feel like they're growing. But when you think about the clinical pathway, the pure clinical pathway, there's a very low ceiling and early cap to that. And so we need to continue growing the clinical pathway and this is the nurse practitioner role is exactly that.
Dr. Andy Roark: Yeah, now, I think that that is a really good point. And I think, yeah, it's… Thanks for having this conversation with me. It's a lot to think about, it's definitely something I'm going to continue to think on and digest but I really appreciate you taking time to talk through with me. Where can people find you or learn more about your exploit?
Ken Yagi: First place that you could probably go is the Veterinary Emergency Group website. There's a nursing section that details a lot of the things that we are doing to change the field out there. And you can always find me at kenyagi@gmail.com. Email me there if you want to talk further about anything that I'm doing.
Dr. Andy Roark: Cool. Thanks a lot, Ken.
Ken Yagi: Take care.
Dr. Andy Roark: And that is our episode. Guys, I hope you enjoyed it. I hope you got something out of it. I really enjoyed my conversation with Ken and it had its ups and downs and there were some places that definitely stressed me out just thinking about the future. But the future is scary and change is scary and I just I think that starting to have these conversations and think about what's possible, I think that's so much more healthy than just putting our head in the sand and not investigating possibilities. I just, I don't know, a just a key piece in my life and philosophy is we should look at this, we should talk this, but we should see what's possible.
Anyway, guys, that's it. I hope you enjoyed it. If you did, please write me an honest review on iTunes or wherever you get your podcast, it means the world to me. If you didn't, just you can send me an email, I guess. It's podcast@drandyroark.com. But you don't need to share that with the world, that can just be between you and me. I'm fine with that. Anyway, guys, take care of yourselves. Be well, I'll talk to you soon. Bye.