One of the big questions that veterinary teams have been getting from pet parents during the COVID-19 pandemic is, "How much pet food should I have on hand?" Given the current state of this global pandemic, this is definitely not a question that we should take lightly. We have all seen what happens when people panic buy essential items like toilet paper. Although I'll admit, the onslaught of memes with cats destroying financial investments (aka toilet paper) did provide a bit of humor during these trying times.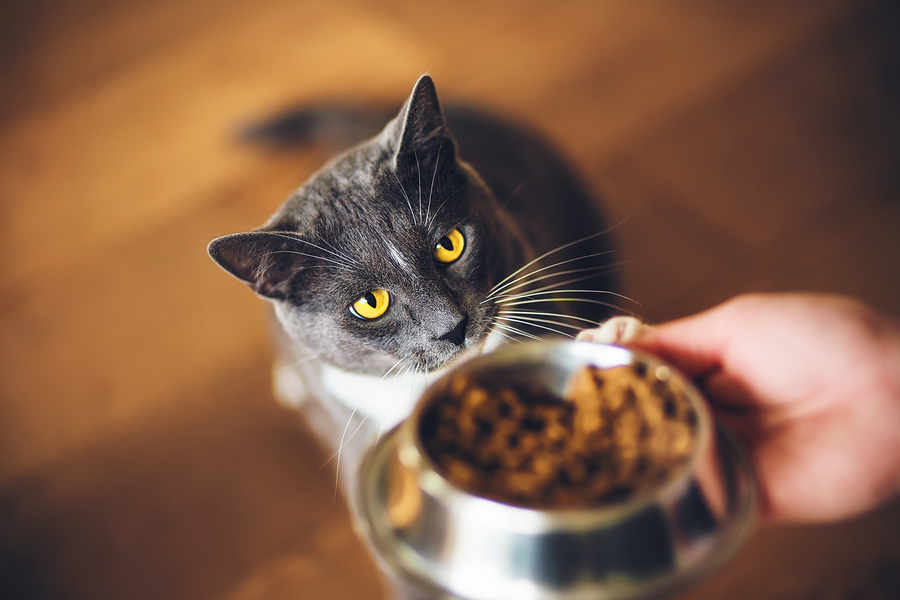 What drives panic buying?
Panic buying is defined by the Oxford English Dictionary as the act of buying large quantities of a particular product due to the sudden fear of a forthcoming shortage (1). The keyword here being fear. I get that people are panic buying because they are scared and I realize there is a lot of uncertainty right now that is driving people's fear. My goal is to provide some common-sense information to help calm this fear.
Has panic buying of pet food been occurring in the United States?
The short answer is "yes." In fact, Dr. Tim Schell, Director of the Food and Drug Administration's (FDA) Center of Veterinary Medicine (CVM) Office of Surveillance and Compliance, has urged pet parents not to panic-buy pet food, reminding pet parents that most bags of dry pet food last at least a few weeks (2). This critical story was reported by PetFoodIndustry.com and quotes Dr. Schell as stating, "There are no actual pet food shortages due to the COVID-19 crisis, just current unprecedented demand" (2).
Second, Pet Food Processing® conducted a survey of pet food manufacturers at the beginning of April and 63% of the manufacturers surveyed had experienced an increase in sales (3). It is unclear how many manufacturers were surveyed and if the survey was conducted across the US or if a smaller geographical area was surveyed; however, there is a least a trend that pet food sales increased with the COVID-19 pandemic.
Third, Forbes covered a story in early April on Chewy, one of the largest online pet product retailers, stating Chewy expects first-quarter sales to be up 35% over the first quarter of 2019 (4), keeping in mind that Chewy sells much more than just pet food.
How much pet food should you have on hand?
Pet parents should have a minimum of 14-days of pet food on hand for each one of their pets during this time. The reason for recommending 14-days minimum is that the Centers for Disease Control and Prevention (CDC) recommend individuals with symptoms of COVID-19 who have not been able to be tested remain isolated at home (i.e. self-isolation) until at least 7-days have passed since symptoms first appeared AND no fever has been detected for at least 72-hours (i.e. a full 3-days of no fever without the use of medicine that reduces fevers) (5). Having 14-days of pet food on hand will provide sufficient buffer if pet parents become ill from COVID-19.
For more information please visit the Centers for Disease Control and Prevention website: https://www.cdc.gov/coronavirus/2019-nCoV/index.html.
[Canadian veterinary teams: Please check out Dr. Parr's video with recommendations for Canadian pet parents based on the Canadian Government's recommendations.]
Why should pet parents avoid panic buying pet food?
There are a couple of really good reasons to avoid panic buying large amounts of pet food:
Best-Before-Dates: Pet parents run the risk that pet foods pass the best-before-date prior to having a chance to feed it to their pets. Pet stores and veterinary clinics will not be able to accept returns if the product is past its best-before-date. Additionally, pet foods that have passed the best-before-date are not ideal for donation. The last thing we want during this time is food waste.
Nutrient Losses: Some vitamins that are essential for pets to get from their diet(s) every day degrade overtime. Pet food manufacturers must account for this vitamin loss when they formulate diets to ensure there will still be appropriate levels of vitamins in the diet if the food is fed right at the best-before-date. For example, a study showed more than 20% of the thiamine (Vitamin B1), riboflavin (Vitamin B2), and niacin (Vitamin B3) were lost from dry dog and cat foods after 18-months, which coincides to the standard best-before-date for many dry pet foods (6). Similarly, more than 30% of the riboflavin and niacin from canned cat foods and 18% of the niacin from canned dog foods was lost after 18-months of storage (6).
Other nutrients start to degrade the longer the bag of food is open and exposed to oxygen. As an example, essential fatty acids (aka polyunsaturated fatty acids) become oxidized when they are exposed to oxygen, which results in these fats becoming rancid (7). This process is slowed down greatly when pet food manufacturers add antioxidants, such as mixed tocopherols (i.e. a mixture of vitamin E in different forms), and oxygen scavengers, like ascorbic acid (i.e. Vitamin C) to pet foods (8). In general, avoid feeding pet food past the best-before-date as amounts of different nutrients in the diet could be lower than needed.
Freshness and Palatability: If you have a cat or a small- or medium-sized dog, these pets do not need huge amounts of food, so stick with the smallest available bags of food for these smaller pets, instead of stockpiling large bags of food. If you buy a bag of food that is intended for a large dog for a Yorkie or Chihuahua, the bag of food will likely become stale before these small dogs finish it.
Many of us have experienced a pet running to check out a new bag of food when it is first opened. This is because the food is fresh and the aromas are the strongest when the bag is first opened. Aroma (i.e. smell) is one of the most important factors for dogs and cats when it comes to how appealing their food is (9, 10). This is not surprising given that a dog's sense of smell is extremely sensitive (i.e. a million times more sensitive for some compounds) compared to a human's sense of smell (9). Likewise, a cat's sense of smell is much more sensitive than a human's even if it is not quite as sensitive as a dog's sense of smell (10). As a rule of thumb, a bag of pet food should last about a month once it has been opened and air should be pushed out of the bag before sealing the bag after each use.
The Most Important Reason: And the most important reason to avoid panic buying pet food is that we are all in this together. As a society, we want to ensure all cats and dogs have access to pet food during this difficult time. This doesn't just apply to cats and dogs living with families. It also applies to cats and dogs living in shelters or rescues and even working animals (e.g. police dogs).
Our call to action to all pet parents should be to make sure they have 14-days of pet food on hand for each of their pets and to avoid purchasing excessive amounts of pet food. We all need to support each other during this difficult time.
Sincerely, The Kibble QueenTM
The views and opinions expressed in this article are those of the author and do not necessarily reflect the position of the DrAndyRoark.com editorial team.
---