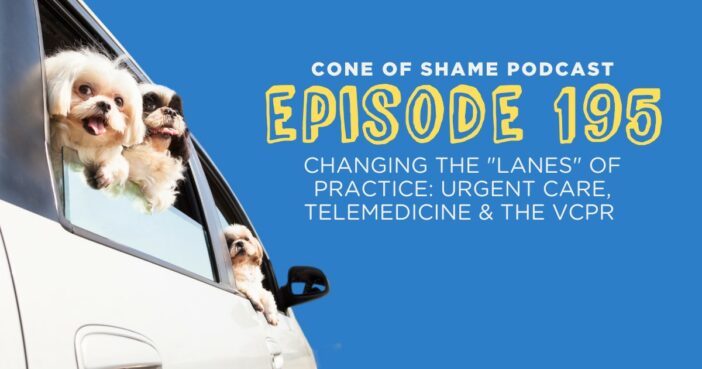 Neurologist and Neurosurgeon Dr. Sean Sanders joins the podcast to talk about how General Practice is changing and must continue to change to both reduce veterinarian burnout and increase access to care. Dr. Sanders and Dr. Roark discuss how fragmenting general practice into "wellness" and "urgent care" could potentially benefit doctors, techs and pet owners. They then begin to unpack how innovation is currently being affected by requirements from states around the establishment of VCPRs.
You can also listen to this episode on Apple Podcasts, Google Podcasts, Amazon Music, Soundcloud, YouTube or wherever you get your podcasts!
LINKS
Booster Pet: https://boosterpet.com/
Dr. Andy Roark Exam Room Communication Tool Box Team Training Course: https://drandyroark.com/on-demand-staff-training/
Dr. Andy Roark Charming the Angry Client Team Training Course: https://drandyroark.com/charming-the-angry-client/
Dr. Andy Roark Swag: drandyroark.com/shop
All Links: linktr.ee/DrAndyRoark
ABOUT OUR GUEST
Dr. Sean Sanders is a Veterinary Neurologist and Neurosurgeon in Seattle, Washington, USA. Dr. Sanders is also involved with development, recruitment and operations of BoosterPet in the Greater Seattle area. He received his DVM degree from Washington State University and completed a residency in Neurology and Neurosurgery along with a PhD in Neuroscience relating to the study of Parkinson's Disease. Dr. Sanders was a founding partner of Seattle Veterinary Specialists and author of "Seizures in Dogs and Cats" published by Wiley Blackwell. Dr. Sanders lectures nationally and internationally on topics related to Veterinary Neurology and Neurosurgery. In his spare time, he spends time with his wife and their pets, builds wooden boats and classical guitars, restores classic cars and enjoys, sailing, mountain biking, hiking and snowboarding.
---
EPISODE TRANSCRIPT
Dr. Andy Roark:
Welcome everybody to the Cone of Shame Veterinary Podcast. I am your host, Dr. Andy Roark. Guys, I'm here with my friend Dr. Sean Sanders. He is a neurologist and neurosurgeon. He is got a laundry list of accolades. He works with a company BoosterPet who I talked to Dr. Katie Cutter a while ago about some innovative things that they are doing with technicians and man Sean Scott ideas about ways of working with pet owners and using technicians in those ways of working that are pretty groundbreaking. This is not a sponsored episode, just so you know. I've never worked with BoosterPet, anything like that. We do talk a fair amount about BoosterPet in this episode just because that's the platform that Sean's working on and where he's bringing ideas to life. And so you'll hear us talk a lot about BoosterPet, but just know that this is not sponsored or anything.
I'm just, I am a hundred percent just really interested in what he and Dr. Cutter are doing as far as how they're running their practice. And you're going to hear a ton about that. You're going to hear a lot about a different vision for general practice and what it looks like. You're going to hear a lot about using technicians in ways that we haven't used them before. And then Sean and I really get rolling talking about regulations around establishing a veterinarian client patient relationship and what that means for the way that we practice medicine. Sean has strong feelings, and so we get into that. It's really interesting guys.
So anyway, we'll run out of time on this episode. I think I'm going to get Sean back pretty soon because I have a list of questions I didn't get to pose to him that I want to put to him. So anyway, guys, I hope you enjoy this episode. It is really a fun, interesting episode about what the future of medicine might look like. Let's get into this episode.
Kelsey Beth Carpenter:
(Singing) This is your show. We're glad you're here. We want to help you in your veterinary career. Welcome to the Cone of Shame with Dr. Andy Roark.
Dr. Andy Roark:
Welcome to the podcast, Dr. Sean Sanders. Thanks for being here.
Dr. Sean Sanders:
Thanks for having me. I'm really happy to be here today.
Dr. Andy Roark:
Oh man, I'm so thrilled to have you here. You are fascinating. You are a boarded veterinary neurologist. You do a lot of neurosurgery in Seattle. It sounds like that's most of what you're doing these days. You have a PhD in neuroscience. You have a book called Seizures in Dogs and Cats that's published by Wiley Blackwell. You are a lecturer. Yeah, that's sort of your academic background. I met you when I had, so I had Dr. Katie Cutter on the podcast a couple of months ago talking about BoosterPet and what they're doing with technicians and veterinarians coming in and doing wellness appointments virtually. The technician is there with the pet owner, and I thought that was fascinating. And I was talking to Katie and I talked to her about my interest in understanding the regulations across the states that are limiting what technicians can do and also thinking about what's possible as far as using virtual medicine, telemedicine, things like that to increase access to care.
And she was like, "Oh, well, you got to talk to Sean." And so that's how I got to meet you. So yeah, let me just pause there and say, did I characterize you correctly in that regard?
Dr. Sean Sanders:
Pretty much, yes. I'd say a jack of all trades and a master of none you might say, as far as my wife-
Dr. Andy Roark:
Except you have a PhD and you're boarded in neurology. I mean, that's not master of none.
Dr. Sean Sanders:
Well, I'm more like a confused squirrel. I see something shiny and I go after it. Yeah, I got very interested in neurology and neuroscience, very on in my veterinary career. I went to vet school thinking I was going to come out as an ambulatory equine vet. That was my aspirations. And I quickly got tracked into the research program at Washington State University, which introduced me to neuroscience, and I got involved with a lab and started getting interested in a particular disease of the brain and how that affected horses and I guess you you'd call it similarities to Parkinson's disease in humans. And so I went down that route and at the end of my residency and in neurology, I decided clinical practice was where I wanted to go. So I settled in the Seattle area and I've never left.
Dr. Andy Roark:
And then talk to me a little bit about your relationship with Katie and then why this technician utilization is interesting to you.
Dr. Sean Sanders:
So I think primarily everyone knows what's out there. There's a shortage of veterinarians. There's people who live in rural areas who don't have access to care. My own father can't drive his dog to the vet, so he has to rely on family members to get him to take his dog to the vet. There are untold reasons why people don't have access to care, let alone the global pandemic, which just shook us all by the callers and made us realize that we are in a situation where we're standing on the edge of the cliff and it doesn't take much to push us over that cliff.
About two years ago, I was looking for a way that I could try to help some of the situations in the Seattle area, just talking to some of my former colleagues and specialists in the area and learning about the cases that were going out weeks and weeks and weeks before they could be seen by a specialist.
And I was actually at my own doctor. I was getting a blood draw and the phlebotomist was talking to me about how her… She found out I was a vet of course, and talking to me about how her dog was lame and had to go to this emergency hospital and wait in the lobby or actually wait in the parking lot for eight hours and before she could get seen. And I asked her what was wrong with the dog and she said it was a cruciate rupture. And I just thought, that's wrong that somebody should have to wait eight hours just to get a non-emergency problem evaluated. And I felt we needed some type of a pop-off valve for the general practices and the emergency specialty hospitals. And in Seattle urgent care wasn't really a big thing. It's coming around the rest of the United States, but Seattle, it's wasn't very much going on.
So I looked, called a friend and was talking about maybe establishing an urgent care facility. And then he put me in contact with Katie who had just recently opened up the first BoosterPet. And we had a quick conversation. I happened to know Katie's husband who's also a neurologist, and so we connected that way. She's married to a neuro-nerd and I guess I'm a neuro-nerd. And we quickly found out that the models would mesh together quite well, where you'd have a nurse-led or technician-led wellness clinic where a veterinarian is virtually brought into the exam room to have case discussions with the nurse and with the client at the same time. And realizing these are primarily wellness cases. So these are the walking well patients is what they're referred to in human medicine. And a lot of that low hanging fruit or that wellness lane of veterinary medicine can be taken care of with the nurse using their license to its maximum capacity, being overseen by the veterinarian on cases like vaccinations and skincare and parasite control.
And by installing an urgent care doctor at these clinics, we found that there's some percentage of the cases that come in, they're just there for vaccinations, but then you find out that they got a bad ear or a hotspot, and maybe this is a case that you would like a veterinarian to take a peak at, and maybe it's something just beyond a topical antibiotic. And so having a veterinarian in the clinic naturally provided that little backstop to the, made it a little bit more, I guess, bulletproof from the standpoint of doing what's best for the patient and being able to decide what's best for the patient. So we installed our first urgent care almost a year ago, and then our second one about a half a year ago. And we're looking to do the next two here in the next year and expanding the business in the Seattle area, building more clinics.
And what's really exciting about it is just what BoosterPet does for the technician, for the technician population, for the nurses that are out there, Washington State has one of the highest attrition rates of veterinary technicians in the country with fewer than 50% making it to five years after they entered the field. And we need to ask ourselves why that is. I think we all know the answer, years and years of not being paid very well, not being respected, not being allowed to do what they thought they were going to be doing when they finished tech school. And coming from a specialty background, I relied on my nurses daily to get me through the day. If it wasn't for them, I would be nowhere. They did everything for me and I used them to a maximum of their abilities. And you look back and you say, "Yeah, I had these people with me for 8, 9, 10, 12 years, the same people, and watch them grow. Watch some of them go on to vet school and come back and work with me in the practice."
So I have a lot of respect for the profession. I think it's important that we pay them a professional living wage and we treat them as colleagues. We allow them to grow in the field and we utilize them to the fullest of their potential. And that's what BoosterPet's all about. It's about elevating the technician. It's about creating a space where veterinarians can determine what lane of practice is best for them, whether that's telemedicine working from home or being an urgent care veterinarian. Or you might have a general practitioner who wants to spice up their day a little bit, and so they want to do an urgent care shift. Or you might have an ER doctor who is getting a little tired of the overnights and they want to scale back and just do some daytime practice, but maybe see non-well patients.
And so we are creating… In a way, we're deconstructing general practice and creating different lanes of a MultiCare practice where you have wellness in one lane, primarily taken care of by telemedicine. You might have the non-well patients that come in through the door that day, what we would refer to as urgent care. And then you can have your chronic sick patients, the 16-year-old cat that needs blood work. You can have your elective surgeries and whatnot. And we like to ask the veterinarians what they want out of their practice life. And then we can focus them into one of those lanes, create a model where they can pick the schedule they want. They can work from home if they want. They can work half a shift if they want. They can work relief, you name it. It's all about creating choices for veterinarians and for the staff that supports them.
Dr. Andy Roark:
Hey guys, I just want to jump in here with a quick update. Have you seen the Dr. Andy Roark team training courses yet, guys over@drandyroark.com. I have got resources for people who want to work with their team. I have my Angry Client course and I have my Exam Room Toolbox course. These are great little modules that are made to be broken up and popped into staff meetings so that you can cover a quick topic about either dealing with angry clients, complaining clients, or to talk about different tools or in working with clients in the exam room. Guys, this is fantastic. I've got discussion questions to ask your team so they can talk about what they do and just is a great way for everybody to see the same thing together, to talk about what works in the practice and what they think is important. And just to get on the same page. Anyway, I hope you guys will check it out. It's over@drandyroark.com. I'll put a link in the show notes. Let's get back into this episode.
Do you find that people generally understand the lanes pretty intuitively, or do you have to go through with the staff and say, "Well, this will be in the general practice lane, this is in the urgent care lane." I think I've encountered a decent amount of confusion, I guess, about what constitutes urgent care versus traditional general practice. And so can you splice that a little bit more finely for me?
Dr. Sean Sanders:
I think general practice is urgent care. Traditionally, we would think of two main lanes. You'd have a general practice and then you'd have emergency and specialty. 20 years ago when I came to Seattle, there were a couple small emergency clinics, but emergency specialty didn't really exist. We created mega specialty hospitals. We convinced all the veterinarians in general practice that they can't do anything anymore, that they need to send everything to the specialist because we're better trained to do everything. And unfortunately, I think what that created was a fear-based system where general practitioners who were quite able to do routine surgeries, gastropexy and [inaudible 00:13:46] and stone removals, all of these things that I was trained to do in vet school. Granted my fourth year of vet school, I remember surgeries, I remember junior surgery doing those procedures, but specialists, we came out and I was one of them, and we told veterinarians that they couldn't do this stuff anymore.
Maybe not so much neurology, but the splenectomy, the cystostomy, things of that nature. And all of a sudden we found that veterinarians were doing less and less of these procedures. And now we get to a point where we have a shortage of specialists that can't do them, and we have a bunch of veterinarians that don't feel comfortable doing them. So I think that general practice has been, I guess I'd say come down to a level where we need to expand it. Again, we need to allow the general practitioner to expand their offerings so that we can take care of this burden of care that we're all facing. And so I think of general practice as, let's dissect it out and ask what cases you see during the day, the scheduled new patient exam or the scheduled vaccination, we would just generally refer to as wellness.
These are cases that… you go in and you put your hands on them and you look at them and you make sure that they're healthy and they don't have a cleft palate, they don't have a PDA or anything like that, and you give them your vaccination, then you see them in a couple of weeks. And then you've got your cases that are maybe scheduled for a wellness check, the five-year-old dog that's coming in for its routine blood work and urinalysis, nothing's wrong, just a routine wellness, preventative care type of thing. But then you have in general practice, we'd have those cases where a client calls that day, woke up the dog's vomiting and doesn't want to eat, they want to get seen. And so we would call that urgent care. Is it urgent? It's urgent to the client. So it should be urgent to us.
And generally, I think that our goal is to solve problems. We're there to either alleviate your concerns or to fix the problem or to get the patient stabilized. Until they can go say maybe they do need to go to emergency. And that's where urgent care has basically followed lockstep with human medicine where you've got urgent care clinics popping up all over the place to take care of the burden of care from hospitals. We don't think about going to a hospital anymore when we get a cut on our finger, we go to urgent care, but yet, if you break your arm, you're not going to go to urgent care, you're going to go to a hospital. So I think that as our practices defined themselves over… As veterinarians figure out what we want to do with our lives, we can now look at practice and say, I want to focus on this element of my practice, or I want to focus on that element of my practice.
I was talking to a young veterinarian a couple of months ago at a convention, and she was very interested in small ruminant care. And when she got out of that school, she joined a practice, a rural practice, and she stated that unfortunately now that's all she does. So she's the go-to person for the practice for small animal ruminant. And she was interested in our practice because she wanted to do some space and neuters, and she just wanted to get her hands on dogs and cats again. So I think that it's important for us as we face these problems of what, I hate the term burnout. I don't think it accurately describes what's going on. I think it puts the burden on the person who's suffering. I like to think of it more as a moral fatigue and as veterinarians, we face these decisions every day where we have to make a choice and we are going to be the loser. It's a double bind.
We're going to choose either to stay at the clinic and help the pet, in which case our family suffers, or we're going to decide to go home, in which case the pet suffers. So we're faced with that every day, and we need to make systemic changes to the practice of medicine that put up guardrails that prevent those moral dilemmas from having to be chose by us. And I think one of the big things we can do is deciding for yourself what lane of practice you want to be in. So going back to your question about the difference between general practice and urgent care. There's really no difference. It's just a way of looking at it a little closer and deciding what you want to focus on. Primarily, I look at it from a perspective of an emergency doctor who might be "burned out", but yet they don't want to go into general practice. They want to still have their hands on the sick patients, but maybe they don't want to do overnights anymore. So that's a perfect situation where urgent care may come into play for them.
Dr. Andy Roark:
I really like this idea of expanding general practice and then reshuffling lanes. That makes sense to me. I see a lot of opportunity there. And so I had not thought about, definitely thought about lanes in general practice and you see things split up into wellness care and into urgent care and thing, the hospice care. And I go, "Oh, are we just taking general practice and splitting it up?" I like your idea that there's more that general practice doctors can be doing. And that opens us up to make your career more flexible in what you want to do and what you want to specialize. The number one piece of career advice that I give to doctors and always have… This sort of fell in this early on just for what is worth my advice, figure out what you like doing and figure out how to do more of it and figure out what you don't like doing and figure out how to do less of it and repeat it and repeat it. And that's been a pretty good career for me. I haven't found a lot of downsides to having that as your guiding star.
So I like this idea of expanding general practice and then reshuffling the lanes. And I think also innately, that creates a ton of opportunities for your technicians as well, because as we recreate these lanes, the way that we're going to use technicians, the way that technicians make sense, the way that we leverage technicians, that changes. And so I really feel we set the problem I think for technicians over the last couple generations has been that the role of technician was defined back in the James Harriet Day when it was someone who rode around with the doctor and handed them stuff. And it's been really slow to evolve that. And so if we can reshuffle the deck a bit and pick some new pass and just hit the reset button or reboot the way that doctors kind of work, I think that that really opens doors of opportunity for technicians for them to get what they want to have more fulfilling careers to get compensated in a way that's fair. So I really like that a lot.
Can you talk to me about how this idea of expanding and reshuffling the lanes, how that interfaces with state practice acts? So this is a great idea, but whenever we start talking about shifting around the way that doctors work and thus the way that technicians work, we run into this problem of one, a hodgepodge problem of licensing across states and what that lets people do and what it doesn't let them do. And then what does the State Practice Act allow to have happen? So can you comment on that, what that looks like from your perspective?
Dr. Sean Sanders:
Well, primarily I'll look at it from the perspective of Washington State, because that's what I'm most familiar with. Every state has its own definition or basically the State Practice Act. And those have been basically modified and reshuffled since, in Washington State, let's go back to the early forties. And there's been amendments and it's evolved to where it is now and it's going other places. It's doing a lot of focus now as the Board of Governors is focusing on things like suicide prevention and then continuing education around the telemedicine space. But I think that where it has the biggest impact, there's nothing in the State Practice Act that basically tells you what you can or can't do as a veterinarian other than in Washington State specifically telling you that you cannot establish a veterinary client patient relationship using telephonic or electronic means.
So Washington State is one of only eight states that has that limitation and the states vary, but most states say the definition of a VCPR needs to be formed by exam at a medically appropriate time. And there's a lot of interpretation into even just the term exam or the veterinarian has seen the patient. There's only actually one state that specifically says a physical exam must be undertaken by the veterinarian. So I think what we get caught into this trap, and this has happened with technicians, is there's quite a lot of guidance as to what a technician can do in Washington State, whether that's by direct supervision of a veterinarian, indirect supervision of a veterinarian, but you really don't have that in our state defined as to what a veterinarian can do with the exception of the establishment of a VCPR.
So there's nothing in our Practice Act that says a veterinarian must use a stethoscope to listen to the heart. It's, I think we trust that veterinarians are going to use the tools that are going to be the best medical decision for the patient. And so we don't have a long list of guidelines. There's nothing that says you must do an otoscope exam of every patient that you see. You must do a rectal exam or a complete neurological exam, an orthopedic exam. We just allow the veterinarian to use their best medical judgment, except when it comes to the decision of whether or not they can utilize telemedicine as a tool in their practice to establish a vendor-client patient relationship. That to me is in Washington state. And I'll only speak from my state because I had served on the Board of Veterinary Governors. So I think that from that perspective, I think I'm qualified enough to at least have an opinion, I suppose.
But I feel like that's a double standard. That is probably one of the most egregious things that veterinarians have allowed to happen to them. And we are basically saying, veterinarians are telling other veterinarians that we do not trust you to do what's best for the patient. Therefore, we're going to tell you what you cannot do. And again, we trust you in all other elements. We trust you to make the right decision regarding an antibiotic or a scheduled drug, but we're not going to allow you to determine whether or not you can establish a relationship using using electronic means. And we all do it. I mean, I've violated the State Practice Act three times in the last couple of months. I'll admit that. I went into the exam room two weeks ago and I had a French bulldog that was at the end of its leash, and it wanted me to be out of that room.
Fortunately, it was quasi-paralyzed, so I could get very far, but I could not lay my hands on that dog. I could not examine it. I could tell visually that the dog had no voluntary movement in its rear legs, but there was no way I could physically examine that dog. So at that moment, I told the owner, "I think based on your dog, its problem is localized behind the shoulder blades. That's about as accurate as I can get for its neurological localization." I said, "The next step is for me to maybe be able to try to check its reflexes and then probably we're going to go to the point where we're do an MRI, but in order to do that, I'm going to have to get some blood, make sure he is behaved healthy for anesthesia." So we made the decision, we gave the dog a little IM injection of DEX to him, and 20 minutes later I could examine the dog.
So in that instance, I had violated the Veterinary Practice Act, or at least the spirit of the act. Could I have done that exact same advice and treatment over the phone? In a sense, I could. I could have given the exact same advice. I couldn't have given an injection, but I basically was doing what the Washington State is saying, I cannot do or I'm not allowed to do. We've all done that. I would challenge anybody to say that they've examined every dog physically in every situation. So I think that's a double standard that I believe is one of the worst things that's happened to the profession in the last few years. This rule in Washington State didn't exist until 2016.
So up until 2016, veterinarians were able to do whatever they wanted, when it came to establishing the VCPR. In 2016, something changed and this was a rule that had been actually first proposed, I think in 2008. So it took a few years to actually get to the point where it became policy enacted by the Board of Governors. And we have to ask ourselves, what was happening that led to this? Was there an insane amount of complaints? Were there veterinarians that were bad actors on the stage? There's actually no data that supports why these VCPR rules became such a big deal. What we could turn to is logically assume that it was because there was the incipient rise of telemedicine companies and there was a lot of fear from veterinary organizations that foreign actors were going to descend upon our great country and take all our clients away from us. And somebody in Seattle was going to be getting veterinarian advice for somebody who in Argentina, they may not even be a veterinarian. We don't know. And so we had to protect the public from these bad veterinarians out there.
Well, there's no evidence of that. There's no data that supports any of the arguments that the naysayers of telemedicine have promoted. In fact, there's quite a bit of evidence to suggest that telemedicine is safe and telemedicine does not destroy the economy of local practice. We all know that telemedicine increases accessibility to those who live in a veterinary desert to people of different demographics who may not have access to transportation. And so instead of coming at this from a point of what you can't do, let's, what I believe we should do is say yes and then put up the guardrails that are necessary to protect the public. There's a lot of fear-based rhetoric. One of the most egregious ones I come across quite commonly is the notion that's promoted by the State Association and the AVMA that, well, the VCPRs have to be lockstep in the state with the federal government.
If your state doesn't have a VCPR that's exactly the same as the FDA, then you're going to be violating some federal code, some federal law. It's just simply not true unless you're a food animal practitioner. Title 21 and Title 9 are specifically directed at protecting the food supply in the United States, not about companion animal practice. So these laws are very necessary, but they have nothing to do with companion mental medicine. And furthermore, they only refer to extra labeled drug use in food animal medicine. So I think there's a lot of fear out there. There's a lot of misinformation. But most of all that's been argued over and over again, the data is out there that shows there's not a limit, there's not a harm to the public, there's not a limit to economic gain. There's seven years or five years of data from Ontario from their relationship with telemedicine showing no complaints.
The Royal College of Veterinary Surgeons just announced that it's going to go nearly full telemedicine VCPR this summer. I surveyed myself, I surveyed the seven telemedicine companies just asking the CEOs if they had had any complaints, and over 750,000 cases seen in the last five years and not a single complaint. In Washington State, the rules were relaxed in 2020 when the governor issued a proclamation essentially saying, "Hey, we need to open up essential services and I'm going to leave it to the state agencies to decide what's the best way to do that." So the Board of Governors then issued its own proclamation, relaxing the rules that are guidelines to establish VCPR basically saying that, "Hey, if you're a veterinarian and you think that this case may benefit from a virtual VCPR, then we're going to allow you to do that because of the COVID pandemic."
So a company like BoosterPet, we came in, opened up shortly thereafter, a couple of months after, and for a year and a half practiced, under that relaxed rules, saw nearly 10,000 cases with not a single complaint lodged to the Board of Governors on harm to animal or any complaint at all for telemedicine. Yet at that same time, there were 349 complaints lodged against traditional veterinary practices. Not a single one of them had to do with telemedicine. So I think the data is out there that supports telemedicine, but again, my biggest complaint is the fact that veterinarians are not trusting veterinarians to do what's best for the patient. And I just think that's wrong. These rules changed in human medicine. Oh, in Washington State in 2014, human physicians were finally enabled to establish a practitioner patient relationship using virtual means. Yet we have a double standard in our state, many others where we allow physicians to do things with their own patients that we don't allow veterinarians to do with our patients.
And there's the classic argument, "Well, our patients can't talk to us." That one we've heard over and over again, but neither can a two-year-old baby. They can't talk to the physician. So again, it's not a matter of you have to use telemedicine, it's a choice. If you're looking at your patient and you decided that fear anxious dog that just needs maybe a Trazodone to get through the 4th of July doesn't need to come into your practice and make its problem worse, you can prescribe that. Or maybe you can actually prescribe something like a chill protocol so that they can come into their exam to get a blood draw. Right now, we're just not allowing veterinarians to use their best medical practice, and I think that's wrong.
Dr. Andy Roark:
Scott, we are out of time, but this has been fascinating. Where can people find you online? Where can they learn more about BoosterPet? Where can they learn more about you?
Dr. Sean Sanders:
So I'm basically just on LinkedIn. If somebody wants to connect with me on LinkedIn, the next person can be my 38th connection. So that will be quite exciting. I just recently joined. So that's pretty much it. Yeah, my contact is through there. Be happy to talk to anybody about this. I could debate it all day, as you can tell.
Dr. Andy Roark:
I love it. No, it's fantastic. Well, thank you so much for being here. I really appreciate your time. Gang, thanks for tuning in and listening.
Dr. Sean Sanders:
All right, thanks a lot.
Dr. Andy Roark:
And that is it, guys. That's what we got. I hope you enjoyed it. I hope you got something out of it. I hope you got something that made you think about what the future might be like. If you enjoy the episode, share with your friends, write me an honest review wherever you get your podcast. It really does help people find the show. But yeah, that's all that you can do for me. Otherwise, gang, that's all I got. Take care of yourselves. Be well. I think the future is bright. I think there's so much opportunity for our profession. I'm super pro vet medicine guys. I think one way or another we're going to make something that's really great and it's great to be a part of. So anyway, all right. I'm just waxing optimistic as I do sometimes. Man, these exciting times. Anyway, take care of yourselves, everybody. I'll talk to you later. Bye.