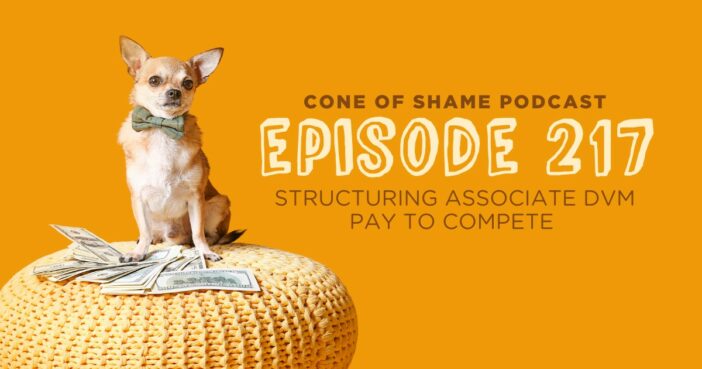 Dr. Karen Felsted DVM, CPA joins Dr. Andy Roark to talk about how practices can structure veterinarian compensation to better compete for new hires. They discuss salaries, production, split rate production, new graduate compensation and what the future of pay for veterinarians may look like.
You can also listen to this episode on Apple Podcasts, Google Podcasts, Amazon Music, Soundcloud, YouTube or wherever you get your podcasts!
LINKS
PantheraT Management Consulting: https://www.pantherat.com/
Dr. Andy Roark Exam Room Communication Tool Box Team Training Course: https://drandyroark.com/on-demand-staff-training/
Dr. Andy Roark Charming the Angry Client Team Training Course: https://drandyroark.com/charming-the-angry-client/
Dr. Andy Roark Swag: drandyroark.com/shop
All Links: linktr.ee/DrAndyRoark
ABOUT OUR GUEST
Dr. Karen Felsted is a CPA as well as a veterinarian and has spent the last 20 years working as a financial and operational consultant to veterinary practices and the animal health industry. She is active in multiple veterinary organizations, has written an extensive number of articles for a wide range of veterinary publications and speaks regularly at national and international veterinary meetings. In 2011 and 2017, she was awarded the Western Veterinary Conference Practice Management Continuing Educator of the Year and in 2014, the VetPartners Distinguished Life Member Award.
---
EPISODE TRANSCRIPT
Dr. Andy Roark:
Welcome everybody to the Cone of Shame Veterinary Podcast. I am your host, Dr. Andy Roark. Guys, I am here with a one and only Dr. Karen Felsted. She's done the podcast before. She's amazing, she is a veterinarian and a CPA and we are talking about doctor compensation. We're talking about how to structure associate veterinarian pay. We talk a lot about the competitive landscape of hiring and concerns that people have about, am I paying enough? And how can I structure this so that the doctor wants to work here and also we can afford it? And what are the tips and tricks to make that happen?
And so if you like conversations about money, this is a really good one and a fun one and we kind of weave all over the place. We talk about new graduates coming out of Vet school and the salaries they're making and how are they going to justify those and no shame to new graduates, but just kind of like what is the landscape and how are these things happening because I get questions all the time about why are doctors getting paid this and are they really getting paid this? And what does that look like and how does that make sense for a business?
Karen talks through all that stuff. This is a really, really great interview. I do have to tell you, Karen has cats and they are very into talking about veterinarian compensation. And so if you hear things clank and pop and crash down, it's the boys. They're just going to town. But I was not about to tell Karen to put them out because I was like, "No, this is wonderful." And so anyway, if you hear any chaos, it's the boys and they're having fun. So anyway, guys, let's get into this episode.
Kelsey Beth Carpenter:
(Singing) This is your show. We're glad you're here. We want to help you in your veterinary career. Welcome to the Cone of Shame with Dr. Andy Roark.
Dr. Andy Roark:
Welcome to the podcast, Dr. Karen Felsted. How are you?
Dr. Karen Felsted:
I'm good, Andy. How are you doing?
Dr. Andy Roark:
Oh man, I am so great. I love having you here. I've had you on the podcast before. I always enjoy our talks. You are a veterinarian as well as a CPA. You are an industry mogul. I see you everywhere. You're writing for the Fountain Report, which is a neat little business sort of newsletter. If you're really a business geek about that medicine, you should check out the Fountain Report. You're running for today's Veterinary Business Magazine. You're speaking and just, I don't know, I always love talking with you. I get so much out of our conversations.
You are just a wealth of information and so I wanted to have you back. I saw a piece that you wrote not long ago about structuring Associate DVM pay. And I was looking at it. It's always insightful as always. And one of the things that I have been asked repeatedly in the last couple of months, probably the last year, there's a lot of questions as people are trying to hire and they're trying to hire specifically doctors about how to set up compensation for veterinarians. But then also sort of how to, let's just say, so I'm going to give us sort of a scenario here that I'm interested in.
Let's say that I have a small practice, say a three vet practice, maybe a two veterinarian practice. And I really want to attract that third veterinarian. I'm trying to grow the practice. I know it's a very competitive landscape. I think I heard recently it's something like 17 job openings for every veterinarian that's out there, it's ridiculous. So I think that there's a sense of despair, in some cases, where people go, we're never ever hiring a veterinarian. And my thoughts are, of course, money is important but it's not the only thing.
And the way that we start to put together a compensation package, I think that matters. And so I wanted to kind of give you that at the very beginning and saying, all right, Karen, I'm going to go with this scenario. Two vet practice. I want to expand to three vets. I want to be competitive. I know that there are some companies out there that are paying big money or practices that are able to make big money. What are my options as far as trying to put together a compensation package that will at least make me feel competitive as I reach out and I try to talk about my culture and try to convince someone that they could make a home in this special little place that I've built. So let me open up to you like that.
Dr. Karen Felsted:
So I think I totally agree with you. Money is not everything. Culture, flexibility, hours, schedules, whatever, all part of it. However, if you don't get the money right, some of the rest of that isn't going to matter. If you're paying well, maybe not at the hundredth percentile but at the 60th percentile, you probably don't have to move to the hundredth if you have a great culture. But if you're trying to pay the 30 or 40th percentile, culture isn't going to make up for that at some point.
So, I mean, I had Stacy Purcell, who's probably one of the best known recruiters out there, said she hasn't seen a veterinarian get hired in two years that doesn't have a base salary of $100,000. And that's production pay on top of that, so they're ending up making 150 more depending on their production. New grads are getting between 100 and 150. So if you're still paying 70,000 or 80,000, that may work for a while because the veterinarian you have in place is either getting something else out of the relationship so it fits their child-rearing or their hours or whatever or they just don't realize it.
But one day they're going to because this information about doctors salaries is everywhere. So there's got to be a minimum competitive salary that every practice is offering to get people. And you may have to go above that minimum competitive salary but then you also have to build the schedule. People would rather work four days instead of five. They don't want to work Saturdays. They want flexibility in their hours. They want a good culture. So you've really got to focus on both.
Dr. Andy Roark:
So I know that people immediately have the question of, what is the minimum competitive salary? And, of course, it's going to be regional. But let me pitch you that question because I've seen that recently where people will say, "How do I know what veterinarians in my area are getting or where I should even be?" What are your tricks there?
Dr. Karen Felsted:
Yeah, I think it's a great question. I do think it's regional to some extent. I think one way you can look at it is you can look at whatever the doctor's production is and take it times 21%, 22%, something like that. So if they produce 500,000, then they're going to make more than 100. But the problem you get with some of that, particularly in smaller practices, is maybe they're not producing that much but they're an essential member of the team because they cover some hours, the owner does that.
You can't say, "Well, you're only producing 350,000, I'm only going to pay you 70." Because they're like, "I can get 100 and they'll make it possible for me to produce 600,000 at a practice down the street." So I think the minimum is 100 right now. And that's a minimum, right? That's not what people want. They want 130, they want 150, they want more depending on the coast that you're on.
Dr. Andy Roark:
So I'm really glad that you said that. That whole, like, this person is an essential part of the practice. I've seen that a bajillion times and I've never really been able to wrap my head around philosophically how to explain it. But I have seen people absolutely blast their own feet right off, because they'll go and they'll say, "You're not producing this number," which is honestly probably fairly arbitrary. It's a best practice number but they say, "You're not doing this, so I'm going to decrease your salary." And the person goes, "Well, screw you and leaves." And the fallout is catastrophic. And I'm like, "Well, if she had stayed you would've saved 20 grand. So you got that going for you."
Dr. Karen Felsted:
Right. Well, so I think this brings up a couple of things. One, decreasing salary never works, right? Never, never, never. And the second thing is, I think sometimes people say, "Well, the doctor's on production pay, so this is all in their court. If they want to make more money, they just need to work harder."
And what we don't recognize is that half of making a doctor have the ability to be productive is on the practice owner and the practice management team. So it's the marketing of the practice, it's the hiring of appropriate staff, it's the training of the staff, it's the pricing of the services. So you can't just shove it all off on the doctor and say, "You're not producing them much, you're clearly lazy." Because half of what makes them productive is what the practice does. So got to look at all aspects of it.
Dr. Andy Roark:
Talk to me a little bit about the vet student starting pay. I'm really curious, just on your perspective. Because I have heard this, too, that the starting veterinarians … And we're seeing it in the AVMA numbers they put out recently like starting pay for veterinarians is going up. So we've got the veterinarians coming out of vet school and I want to be really respectful of those guys, obviously.
You and I are both veterinarians. We've been there and you got to come out and you got to cut your teeth and you got to have a first year. But I can tell you I couldn't generate 150K worth of business and I was in a really busy practice. I went to a place in Washington, DC and it rocked and rolled and had great support and I did very well my first year. But across the board, no way. Like I said, I was in a really massive well set up hospital to generate revenue.
Is that the expectation on new graduates coming out? Is Karen, they're going to come in and they're going to be that effective. Is that sort of a write off that a lot of practices are saying, "We don't expect them to make that and we're playing the longer game here and we're going to take this sort of financial hit upfront to retain them. What's the play there?
Dr. Karen Felsted:
Yeah. No, really great questions. I think the practices that do well are taking the longer game. And I think just taking a new veterinarian and saying, "We're paying you 150,000, so we expect you to produce 750 in the first year." One, probably not realistic but also that kind of attitude means the practice is probably not making it possible for that veterinarian to do well. So part of it is you got to mentor these new graduates, you got to integrate them into the practice. You know, you have to make sure they get the help and support they need. Because I don't know, I don't about you, but it took me hours to do a spay when I first graduated from vet school. You know? You too, right?
Dr. Andy Roark:
Yeah. Oh, yeah.
Dr. Karen Felsted:
And so it's the practices that do well are the ones that mentor their people and give them the training and the support they need to produce well and to recognize they may not produce 750 in the first year. They should be at least breaking even. The practice should at least be making some money on them, even if they're paying more than 20% of their production or 22% of their production. But it's really focusing less on numbers. You got to focus some on numbers, but on making it possible for them to do well.
Dr. Andy Roark:
Okay. So I really like that point, too, the idea of being, if you're pushing a new graduate to generate that type of revenue, then they're not taking their time, they're not getting mentored because they're pushing to produce, produce, produce and ultimately that's negative. I think that that's insightful. Talk to me a little bit about how we set up compensation for veterinarians. What are the different strategies? I think a lot of times people act like there's one way to pay a doctor. And so I'm going to talk to you a little bit, lay out for me some of the different strategies you've seen. And then I want to kind of talk to you about your personal preferences.
Dr. Karen Felsted:
So right now, and it depends on what data you see, but maybe 60% of practices are paying some kind of production pay. The rest are either paying salary, hourly, daily rates, but let's say the greater majority is doing production pay. And historically we just did one production percentage, so 20% of all of your production. I do think percentages are going up somewhat. So now maybe it's 21% or 22% and you're also seeing some split rate production. So they get less percentage if they do product production and they get more for services.
The biggest thing that I would say here, though, is you can have this most perfectly designed pay system production or any other kind, but if it doesn't come out to a competitive salary, it doesn't matter how philosophically perfect it is, you're not going to be able to keep those people because they can go down the street and make more money.
So yes, I mean, you can design your production system so it encourages veterinarians to do the kinds of things that you want and to be fair to the practice as well, don't get me wrong. Except unfortunately, right now, it's a seller's market, meaning the veterinarians looking for jobs and so they have more ability to influence what happens. It kind of doesn't matter what a practice owner thinks about it.
Dr. Andy Roark:
That's hard, hard truth.
Dr. Karen Felsted:
If you want to hire somebody. You can always not hire somebody.
Dr. Andy Roark:
But it's true. It's true. It is. But it's hard truth. And I work with medical directors all the time who … It's managing people. Managing people when they're like, "I don't like what you're saying. I might go work somewhere else." Yeah, it's just like, "Oh, it is so …" And again, props to the veterinarians. Not trying to throw shame, but boy, it really does make it challenging for either side to have that much leverage. Now I remember times when the hospital had all the leverage and so that was not any better. It was just a different-
Dr. Karen Felsted:
That's not good … No, no.
Dr. Andy Roark:
A different thing, exactly.
Dr. Karen Felsted:
It needs to be a balance.
Dr. Andy Roark:
It needs to be a balance. And whenever it gets out of balance, it becomes challenging. And so I think it's just interesting that way. But boy, I see a lot of medical directors who wrestle with that. Let me ask you, can you give me because you mentioned split rate pay. I thought this was going to be more common than it is now, Karen. I remember about eight, nine years ago, pay for veterinarians … There's more and more products that were coming out that were sort of high-end products and they were fairly low margin products, meaning practices would carry these things but they didn't seem to make a ton of money on them.
But they were very important to have or they really tried to keep the price down on them or they were highly shopped and veterinarians were like, "We're going to try to price match here. We know people can order these products online." And so paying the veterinarian their standard 21% or whatever is not going to be feasible. That practice has not grown like I thought it was going to. What did I get wrong or did I get it wrong?
Dr. Karen Felsted:
Well, no, I think that's an interesting comment. I don't think split rate production is the be all and end all of everything. Conceptually, I mean, I more or less get it. You can say that the margins on products are not what they used to be, so we're going to give less of a production pay on that. But most of the practices, in fact, all of the ones that I've seen that do lower on product production, do higher on service production.
And I think that comes back to my point is that it has to balance out. If the going rate for a veterinarian in your community is 150, you got to get to 150. I don't care if you do 20% of the whole doctor production or you do 10% and 22% or whatever, you still got to get to 150. I'm not sure that we know what the best split rate production number is.
I'm not even sure there is a best number out there. And I think if you have a doctor who is slacking off on services and selling more products, which means bringing in less profits for the practice as a whole, I think there's a conversation to be had there about the quality of medical care. And I'm not sure you deal with that with a compensation model.
Dr. Andy Roark:
Well, it's funny you say that. There is a tendency in certain types of people in our profession where, I think, there's a lot of people who don't want to manage other people. They don't want to have the heart or the uncomfortable conversation. They'd rather restructure the compensation package.
Dr. Karen Felsted:
And not have to talk to anybody ever.
Dr. Andy Roark:
And not have to say, "Hey, look man, what you're doing, this is not in the best interest of the pet."
Dr. Karen Felsted:
That's right, of the pet.
Kelsey Beth Carpenter:
Hey friends, don't miss out on your chance for an hour of free RACE accredited CE thanks to our friends at Hills Pet Nutrition. That's right. On August 24th at 10:30 AM Pacific, that's 1:30 PM Eastern time. Dr. Andy Roark is going to be joined by Dr. Valerie Parker, who is a DACVIMSAIM in nutrition. And she is going to be diving into a comprehensive overlook on chronic kidney disease, how it develops, the consequences on the body and clinical symptoms.
And then her and Dr. Andy Roark are going to dive into the components of therapeutic renal food and talk about the benefits that it can offer for patients with chronic kidney disease. They're also going to talk about current CKD management recommendations. Now's your chance. Don't miss out on your opportunity to enhance your knowledge of chronic kidney disease management. Again, head over to the website at drandyroark.com. That's drandyroark.com/backtoschool. Can't wait to see you there.
Dr. Karen Felsted:
Well, that's the whole production pay is like that, right? Because I think owners were like, if I'll just put them on production pay that I have no responsibility for how well they do. It's all on them. No, sorry, that's not how it works.
Dr. Andy Roark:
Yeah. I've seen that. I've seen that so many times. But yeah, I think that's why production pay was so popular in that … It's still very popular, it's still popular.
Dr. Karen Felsted:
It's still popular.
Dr. Andy Roark:
But it was like, for a long time, we had less emphasis on management in our training and stuff than we do now. But that is kind of the idea of is if I set this production model up the right way, then I don't have to manage performance like they're self to me. I did an externship with this guy and he was in Tampa, Florida and he had a great practice. I really liked him. He is just an interesting guy. And I remember as a vet student, I was there and I said, "Do you pay the doctors on production or only on salary?" And he said, "Well, they're on production." He said, "But we've done it both ways." And I said, "Okay."
And he said, "Here's the difference. When I pay them on salary at the end of the day and there's appointments waiting to be seen, I have to go chase them out of the doctor's office to get them to see the last appointment because all trying to lay low and not get the last …" "They all want to go home. But when I pay them on production, I don't have to chase them out of the doctor's office at the end of the day." And that's the answer.
And it's a silly story, but it actually really spoke to me as far as that seems about right. But ultimately you still have to … I really like this point of, you still have to get there. I think you answered my question of what did I get wrong? What I got wrong was, Andy, if you do split pay and you reduce payments on products, you're going to increase them on services. And I always imagine that, too. And it's just ultimately, it's probably just a more complicated way to get to the exact same point and so just do it.
Dr. Karen Felsted:
I'm not opposed to split rate production, but yeah, I'm not sure there's all these magical benefits and it's definitely more complicated in how you administer it.
Dr. Andy Roark:
I have definitely, as I've gone on in my career and run a growing business, simplicity is underrated.
Dr. Karen Felsted:
Agree, totally.
Dr. Andy Roark:
Simplicity is underrated. So when we get in these conversations and we start talking about compensation, production, things like that, I always think of … One of the ideas we always have to bring back around is we need to talk about compensation holistically. And so we say, "Oh, this is sort of a base and we've got production on top of it and it's this percentage and blah, blah, blah."
But there's a suite of other pieces that come along with this. How do you look at things like medical, like the 401k, like vacation time? How does that stuff factor in? Do you have rules of thumb where you say, "I look at this when we start doing time off." Or do those things … I mean, surely those things factor into the package when you're putting together. I think a lot of people say, "I don't know how those things square up." Help me see the bigger picture of the conversations [inaudible 00:21:05].
Dr. Karen Felsted:
Yeah. So there's been a rule of thumb out there forever. I've honestly, personally, never really used this rule of thumb but I'll throw it out there because people talk about it. And they've said that the total of W-2 compensation plus the cost of benefits should be about 25% of production. And some people throw workers' comp costs in there, others don't. It's not a perfect rule of thumb. I don't really do that. I think you have to look at the cash W-2 compensation separately and then benefits cost what they cost.
And sometimes employees take advantage of benefits, sometimes they don't. It's like sometimes people are on their spouse's healthcare, so they don't do the practices, whatever. So I don't tend to look at that 25%. I look at, okay, what do I have to pay to be competitive in a cash standpoint? And then what are the typical benefits in the market? And that's going to be health insurance and it's going to be 401ks. But I think the one you have to focus on the most is, one, it's the schedule that the veterinarians work.
So I've seen more practices being closed on Saturdays so people don't have to work Saturdays and that's attractive. And then people are getting more vacation or they're working three or four days a week, 35 hours is now a full-time job instead of 45 hours a week as a full-time job and that's very attractive as well. Or they're getting more days off, whether it's how do it as PTO or do it as separate vacation or whatever. So I think you have to focus on the scheduling, the day-to-day scheduling of what days a week people are going to work but you also have to look at that that time off as well.
Dr. Andy Roark:
Karen, this has been great. Are there any last thoughts? Like when you look into your crystal ball, do you see changes coming in the future? Do you think that there's going to be shifts in the way that veterinarians are compensated?
Dr. Karen Felsted:
You know, this is really interesting. So I heard Matt Salois, who used to be the Chief Economist at the AVMA, he gave a webinar maybe a year ago and he said he thought this difficulty in hiring was going to be a 10-year problem. And I'm like, "Oh my God, that's awful." 10 years is a really long time, right? And of course, obviously, as long as it's hard to hire people that's going to push salaries up. Are we over the hump of it? I don't know that we're over the hump. Are we at the height of it? Maybe.
Practice owners are going to have to pay what it takes if they want to have another veterinarian. But what they need to think about is that, one, if you can improve productivity and efficiency in a practice, you may be able to have growth even with the same number of veterinarians and team members that you have. And there are also other ways of improving profitability.
So better marketing to bring in more clients or the productivity and efficiency or controlling your expenses better. And so we also need, bottom line, what we care about is the amount of profits in the practice, not just the total revenue. So the practice needs to be looking at how can I make revenue be as strong as … Or excuse me, make profits be as strong as possible. And some of that, a lot of it, is about doctor productivity but not all of it.
Dr. Andy Roark:
That makes sense. Over the last five years, we've had an influx of private equity money into the profession. We've had outside investors coming in and a lot of these companies that have taken private equity money have been focused on buying practices and growing and just growth, growth, growth.
And it's been my perception as I've looked at, first of all, we saw multiples that were being paid to buy practices that just seemed unhinged from reality as far as what was being paid in order to have [inaudible 00:24:55].
Dr. Karen Felsted:
Agree.
Dr. Andy Roark:
And I think there was a microcosm of that in doctor pay to some degree. There was always these stories that you hear about doctors being paid exorbitant amounts of money to go … And again, no shame on them.
Dr. Karen Felsted:
Right.
Dr. Andy Roark:
But yeah, hey, if you can get it-
Dr. Karen Felsted:
It depends on your viewpoint.
Dr. Andy Roark:
Yeah, exactly. No criticism. But it's doctors salaries and, of course, we heard that and we say, "Well, this group was paying," or these people were paying this amount for paraprofessionals as well as doctor. And owners would say, "I can't get anywhere close to that. Things like that." And I've always sort of comforted myself when I looked at business and I looked at medicine to say, the numbers got to work. And really in that way, we're all kind of playing the same game where you've got to make the numbers ultimately work.
And different people have different advantages because of where they are, their geography, their corporate structure, the amount of money they have behind them. But ultimately, you're still playing the same game of we've got to set it up so that the numbers have got to work. But Karen, it felt to me in the last couple of years like there have been groups where the numbers didn't have to work. The idea was we are going to grow, grow, grow and actually putting people into place and paying them a salary that they would ultimately earn back or that we expect them to earn back. That just didn't seem to actually be the plan. Does that resonate with you at all, when I say that? Have you had thoughts like that?
Dr. Karen Felsted:
Corporate groups that were not expecting as much in production from their doctors? Is that what you're saying?
Dr. Andy Roark:
I think so. I think basically what I'm sort of trying to say and not the established groups. But my perception was that there were groups that had a significant amount of money behind them and they wanted to grow. And part of growing was, I don't care what it costs.
Dr. Karen Felsted:
Oh, yeah.
Dr. Andy Roark:
Get practices, get doctors, get support staff. And a lot of other practices would pull their hair out and say, "How are they paying these numbers? How does this come back around and make financial sense in the end?" And it was a very convoluted way that to sort of try to get your head around it. But to me, I felt like this is … It almost felt detached. It was definitely detached from any sort of short-term.
Dr. Karen Felsted:
I totally agree. Long-term reality, absolutely.
Dr. Andy Roark:
Exactly. So I looked at that and then go, it felt strange to me. I feel like I'm seeing less of it now. Do you think that's a fad, that kind of came and went?
Dr. Karen Felsted:
Yeah, I do. I think it was up there with those multiples that we probably hit a peak on, multiples a year ago. I mean, it's still a strong market if you want to sell your practice but it's not the multiples that were there a year ago. But yeah, I think corporate groups are paying less because the multiples before were not realistic, not sustainable. And I do think there's definitely higher expectations. I think they're willing to pay high salaries and there's evidence out there that.
I mean, they're not just anecdotal evidence, but some numbers the AVMA pulled together that shows on average corporate salaries are higher than individual practice salaries. But I think there's definitely a higher level of expectations now than for those higher salaries, you're going to have to produce more. I think all of the corporate groups are focusing or being forced to focus more on operations as well. And part, sorry, my cat is just driving me crazy. They're recognizing they've got to focus on operations more than they did before.
Dr. Andy Roark:
I'm starting to see that as well. That absolutely lines up with what I'm seeing. All right, excellent. Karen, thank you so much for coming on and talking through this stuff with me. I always love our time together.
Dr. Karen Felsted:
I do, too.
Dr. Andy Roark:
Where can people find you? First of all, do you have any resources on this topic that you really like? You've mentioned a couple of different things but anything that you're reading or you'd point someone to who wanted to understand compensation better?
Dr. Karen Felsted:
You know, I'm not sure there's any one great resource out there. You'll certainly see webinars, conferences will have sessions on compensation articles in say, Today's Veterinary Business. You mentioned that and I've written some of those. Other people have written some of those. So I think a Google search will unearth some of that. Right now, a lot of it though, is about paying attention to what's going on in your community because hiring is local. And it kind of doesn't matter what the average across the United States is.
It matters in Richardson, Texas, where I live, what's being paid for, whether it's staff or doctors. And if they want to find me, my company name is PantheraT, which is P-A-N-T-H-E-R-A-T . It's Pan the Rat, which was an unfortunate … That was a unintended consequence of the name that I picked. PantheraT is actually short for Panthera Tigris, which is the genus and species of tigris. But pantherat.com is the website for my company. And I'm Karen at pantherat.com. So happy to answer any questions on this. Love talking with you, Andy, we could talk about this for another hour, you know?
Dr. Andy Roark:
Oh, I know. Yeah. I always have to rein it in. That's awesome. I'll put a link to Karen's website in the show notes so they can find you. Guys, thanks for being here today. Take care of yourselves, everybody. And that's it. That's what we got for you. Guys, I hope you enjoyed it. Thanks to Karen for being here. As always, if you got something out of the episode, please leave me an honest review wherever you get your podcast or share the podcast with your friends. Gang, take care of yourselves. Be well. Talk to you later. Bye.