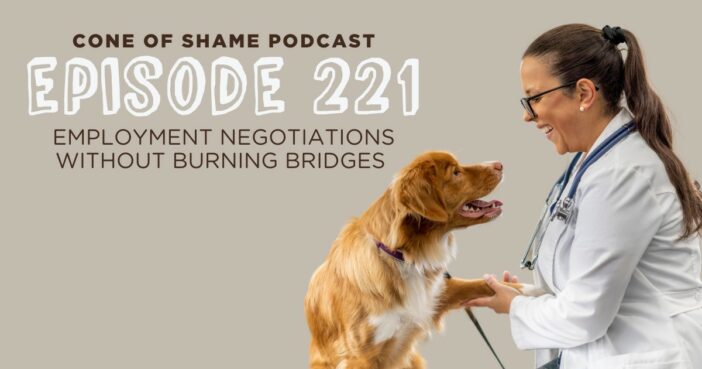 Stacy Pursell, founder of the Vet Recruiter, joins Dr. Andy Roark to talk about common pitfalls in negotiating for a new job.
You can also listen to this episode on Apple Podcasts, Google Podcasts, Amazon Music, Soundcloud, YouTube or wherever you get your podcasts!
LINKS
The Vet Recruiter: https://thevetrecruiter.com/
Dr. Andy Roark Exam Room Communication Tool Box Team Training Course: https://drandyroark.com/on-demand-staff-training/
Dr. Andy Roark Charming the Angry Client Team Training Course: https://drandyroark.com/charming-the-angry-client/
Dr. Andy Roark Swag: drandyroark.com/shop
All Links: linktr.ee/DrAndyRoark
ABOUT OUR GUEST
Stacy Pursell is an executive search consultant or executive recruiter serving the Animal Health industry and Veterinary profession for 25+ years. She is a workplace/workforce expert and a Certified Employee Retention Specialist. She is hired by the world's leading Animal Health and Veterinary employers to find top talent while at the same time helping Animal Health and Veterinary professional take the next strategic move in their career. Stacy is also the host of The People of Animal Health Podcast.
---
EPISODE TRANSCRIPT
Dr. Andy Roark:
Welcome everybody to the Cone of Shame Veterinary Podcast. I am your host, Dr. Andy Roark. Guys, I'm here with Stacy Pursell, The Vet Recruiter. Stacy has been a friend of mine for a long time. I don't know that anybody in our profession has been involved in more hiring of employees than Stacy has. She is a recruiter, so she has worked for employers who are trying to hire new people, and she has also worked with people who are looking for jobs. As you can tell in this episode, she is a wealth of information. I really enjoy her. I love hearing her anecdotes about different people in their employment search and things like that.
Anyway, I want to talk to Stacy today because I have heard a lot of stories recently about job interviews gone bad. And what I mean by job interviews gone bad is not that the person didn't get hired or didn't choose to be there, but that bridges were burned or people left having hard feelings about how the interview went. And I thought about that and I asked Stacy and she said, "Oh, my gosh, you have no idea. Yes, it has never been as common as it is now for things to just absolutely burn down."
And so anyway, I brought Stacy on to talk about how to avoid that. What should a job interview look like? And I took the position of someone who was seeking a job, but then I ended up switching sides at some point and asking questions about the employer. And it was just a fascinating conversation and she really played both sides very well.
And so, anyway, if you are thinking that you might be looking for a job, if you're thinking you might be hiring somebody who's looking for a job, if you know vet students that would be looking for a job in the future, this is a great episode just to hear. Because, man, it was full of little pearls and just really great reminders about how to be successful. So anyway, guys, that's enough for me. Let's get into this episode.
Kelsey Beth Carpenter:
(singing) This is your show. We're glad you're here. We want to help you in your veterinary career. Welcome to The Cone of Shame with Dr. Andy Roark.
Dr. Andy Roark:
Welcome to the podcast, Stacy Pursell. How are you?
Stacy Pursell:
I'm doing great, Andy. How are you?
Dr. Andy Roark:
I am so great. It is so great to have you here. I enjoy you so much. I love when our paths cross and we get to talk. I have known you for a long time, probably since I was in vet school, I think, was when we met. But you are a dynamo. You do so many things. I enjoy your columns. You write for a number of different magazines and things like that. You are a speaker.
But the things that you're mostly known for is you are the founder of The Vet Recruiter. You were the first executive search, I don't know, service in vet medicine. Like I said, I don't think anybody knows more about hiring and getting hired in our industry than you do. And so I always like to reach out to you when I have questions about employment and the process of getting jobs and hiring people. And so anyway, that's how I know you, and that's what I want to talk to you about today. Does that sound okay?
Stacy Pursell:
That sounds great. I'm so honored to be here. It makes me feel old though. What year were you in vet school?
Dr. Andy Roark:
I know, as soon as I said that I was like, "Oh, no, that's not…" So 2008 is when I graduated from vet school. I can't remember if I knew you in vet school or shortly thereafter. But you're such a star in our industry and you're so well known. It did not take long until I became aware of your writing and started to see you speak and things like that.
Stacy Pursell:
Well, you're only as old as you feel and I feel like I'm about 30. So even though I've-
Dr. Andy Roark:
There you go.
Stacy Pursell:
… been doing this for 26 years, I wake up every day just loving what I do.
Dr. Andy Roark:
That's so great. Oh, I love it. I absolutely love it. Okay, well, the reason I wanted to have you on today is this. So I've heard a number of stories that kind of feel the same to me. And what happens is, usually, I hear it from a practice manager or a medical director or something like that, and they'll talk about interviewing a veterinarian or a paraprofessional for a job. And what they'll say to me is, "This person came in and they had these unrealistic salary expectations. They came in and they wanted some amount of money or they wanted a benefit package that's just, holy moly, astronomical." And when I said that we're nowhere close to that, they sort of said, "Well, that's just sort of what it is."
And what happens ultimately is these people don't get hired and they leave a bad taste in the potential employer's mouth. And I'm hearing this story, and I'm only hearing one side of the story. And I suspect that the person coming in has probably had conversations in the salary realm that they're asking for or things like that, or they have reasons to believe that that is a worthwhile salary or a salary that is justifiable. And so I'm not getting to hear their side of it.
I do not think that these people are coming in… My impression is they're probably not completely off base here. There's just a radical difference in expectations. And so I think my interest is not what is the going salary rate? My interest very much is, if you are looking for a job and you're interviewing, what are the best practices and what are the pitfalls we want to avoid when we go in and we're going to advocate for ourselves? So we are going to negotiate and we are going to ask for the salary that we need to have or that we want to have.
And so we're not going to be timid; however, we want to present ourselves professionally in a way that's not going to have this kind of, the whole conversation melts down right on this point, and then there's no back and forth, or the bridges are burned as we leave. So first of all, let me just ask, does that story resonate with you all at all?
Stacy Pursell:
It all makes sense. Yes. And that story resonates with me. We're in unique times in veterinary medicine. I've been in the space, like I said, 26 years, and right now we're having a supply and demand issue. There's more demand for veterinarians than there is supply. So what that means is that, unfortunately, it causes some people to think that, "I'm in so much demand, I can behave any way I want, or I can ask for whatever it is that I want," but they don't think that the tables turn.
We're not always going to be in the situation, in this type of economy, where we're in a job seekers market, at some point the tables will turn. And so those things that people do now that are unprofessional, or if they burn bridges, that'll come back to haunt them in the future.
Dr. Andy Roark:
Yeah, absolutely. So knowing that, let me go ahead and start to… Let's just set the table here. So say that you've got, we can say a veterinarian, just to give an example to work with, we've got a veterinarian that you're coaching and they're going to go in and they're going talk to a practice that's interested in hiring a veterinarian. The salary area is just sort of opaque right now, we'll say. We'll say that they haven't really gotten into that, but our veterinarian going in, they have salary expectations or they have needs, or they just want to put themselves in the strongest position possible. What kind of advice do you give them, Stacy, to set the table to have a productive conversation about salary with a potential employer?
Stacy Pursell:
Well, the first step I would say there, Andy, is not to lead with the salary. That should be the very last thing that should be discussed in an interview situation. So the number one piece of advice that I'd give that person is everything they do from the start to the finish of that process, number one, be professional, and number two, good communication skills.
I have countless stories about things people have done, especially in this market, that are unprofessional, could give you some stories we can laugh about today, and then poor communication skills. But salary should be the thing that should be discussed the very last, the very end of the interview process.
Dr. Andy Roark:
When you say good communication skills, everybody thinks they have good communication skills. The worst communicators are like, "No, I'm pretty solid." What do you mean when you say good communication skills? So when you say, "Hey, have good communication skills," and the wide-eyed veterinary looks at you and says, "How do I know? What are the good skills?" What specifically are you advocating for for people to follow?
Stacy Pursell:
Well, let's talk about the bad first. So those that don't have good communication skills, number one, they don't communicate at all. They might think they're communicating, but I call them a client, but from the candidate's perspective, an employer, the employer is reaching out to them in whatever communication method, whether that be LinkedIn or a text message or email or phone call, and that person's not responding. And then sometimes that employer is reaching out two and three times over days, weeks, and the person's not getting back. And they might think that they're responding. But from the employer's perspective, if you're a candidate interviewing, you want to respond that same day or at the very least within 24 hours. You don't want to go days or weeks without responding.
Dr. Andy Roark:
Yeah. It's amazing how much it means to people. But everybody wants to feel wanted. I feel like that's really true is everybody wants to feel wanted. I have a 100% looked at different clinics that I was going to go work at, and I got the impression that one of them was like, "You need to be here. We want you to be here at our practice." And that means a lot to feel like you're important.
And so I could absolutely understand how somebody would say, "I'm really busy." And I get messages, especially to things like LinkedIn. They go, "I'll check it when I get a chance or I'll get back to it," and I get it. But that sort of sense of sending the message, "This is important to me and so I'm responding." I think that that makes a lot of sense.
Stacy Pursell:
I've had candidates, Andy, that I sent a LinkedIn message to and two years later they'll respond. And they'll go, "I'm interested," or, "I'm not interested." And I go, "Well, it's good you're not interested, because that job was filled two years ago." It's like it took them two years to look at a message.
Dr. Andy Roark:
Oh, that's funny. All right, so just be communicative and open coming in, and step one is be professional. All right, so we start to come in. And we like the idea of, obviously, coming into the salary last. Do people have concerns coming in? So what I'm looking at, I'm looking at new graduates from vet school are getting the highest salaries they've ever gotten. So I talked to a mutual friend of ours, Dr. Karen Felsted-
Stacy Pursell:
Yes.
Dr. Andy Roark:
… recently, and it's funny she mentioned you on the podcast. But I was like, "Oh, I'm going to talk to Stacy very soon." So it was great.
Stacy Pursell:
I love Karen Felsted.
Dr. Andy Roark:
She's awesome. So she was saying that new graduates were getting salaries right now between a 100 and 150,000 for new graduates.
Stacy Pursell:
Yes.
Dr. Andy Roark:
And that's got to be a shocking number for a lot of veterinarians who maybe haven't been keeping up with the employment market. They've been head down, working shorthanded, trying to keep their head above water. And then a new graduate veterinarian comes in, and I'm not trying to make this just about a new graduates, but a new graduate veterinarian comes in and says, "I'm looking for $150,000 starting salary," which is in that range. And I could see them absolutely seeing it as an opening bargaining position.
And I can also see that veterinarian employer just going, "We're so far apart. There's no way this is going to happen." So given that, I guess my thought in this is just, are there things that can avoid us going through an extended song and dance and sort of courtship, if you will, only to find out at the very end that we are not in the same ballpark? Do you say, "No, you go through the whole process"? Or are there things where you can try to check that out earlier on? Just so we don't spend… I would hate to go through a working interview and everything just to find out this was never going to happen.
Stacy Pursell:
Yes. So how I would answer that is, like I said before, salaries should be the last thing that should be discussed. And there's a number of reasons why I'll say that, which I'll go into, but every new grad's not getting 150,000.
Dr. Andy Roark:
Sure.
Stacy Pursell:
We've seen new grads get in the range of a 100 to 150,000. We've seen new grads get 150,000, but I would say the majority of them that I've seen in the last year are getting anywhere from a 100 to 135, with the average probably somewhere between 110 and 120. But I've had new grads turn down offers for 135 or 140 because they could get 150 offer somewhere.
But the problem with coming right out of the gate with the salary discussion is that you haven't seen the whole package yet. And it's like you're using your leverage too early or you're losing leverage in this situation. Because what's happening is they don't know how good you are. If you bring the compensation discussion up on the front end, they don't know if they want to hire you, and they might have other candidates that they're looking at too. And you're interviewing with multiple practices, probably. The practice is interviewing multiple candidates. And at the end of the process, the practice is making a comparison between all of their options. You're making a comparison between all of your options. And it really comes down to which position do you want.
Somebody could get paid the highest salary out there… What was that movie that Tom Cruise was in back in the '80s or the '90s where he goes to work for the mafia, and they offer him the highest salary and he is miserable and he is trying to figure out how to get out of there? Somebody might offer you the highest salary, but it might be a miserable situation. It might be a place where you don't want to work.
So salary shouldn't be the number one priority. It should be where am I going to fit in the best? What am I going to learn here? Where is this going to help me get to in my career? What are your goals? And those other factors. So I still say wait till the end to discuss salary.
Dr. Andy Roark:
Yeah, no, that absolutely makes sense.
Hey, guys, I just want to jump in real quick and let you know that my back to school webinar series is winding to a close. I've had a bunch of webinars on recently. They're done by me. They're done by guests of mine. I've got one more live one coming up. It is on Tuesday, September the 19th. That is at noon Eastern Time, 9:00 AM Pacific. It is a one-hour presentation. It has one hour of RACE CE. It is a presentation by me.
I will be getting the team on board with a spectrum of care approach. If you listen to the podcast very much, you know that I'm big on spectrum of care. I think it's important to balance the quality of care that we put with affordability and accessibility to pet owners. This is about talking to the team about those concepts and getting everybody in the same place so we feel good about providing quality care and striving to meet pet owners where they are. So anyway, like I said, that'll be one hour RACE CE. It's me doing the presentation. Getting the team on board with a spectrum of care approach. It is Tuesday, September the 19th at noon Eastern Time. It is sponsored by Nationwide.
Also, I have got a webinar on demand for you. It is from Ceva Animal Health. It is called Updates in Canine Pancreatitis Treatment Innovation with Fuzapladib Sodium for Injection. If you haven't seen this presentation before, it is a great presentation. It's super, super action oriented on dealing with pancreatitis, and it talks all about the new drug on the market Panoquell-CA1. So anyway, that is on demand. You can watch that webinar right now. I'll put links to all this in the show notes. Okay, let's get back into this episode, but I hope to see you on the webinar on September the 19th. All right, bye.
So let's say that we've gone through this, that this feels like a good fit that, yeah, it feels like a good fit. I can see myself in this practice. It seems like it's got a good culture. I've got a couple of other offers out there, but I think this is a very potential hospital or high potential for me to fit in here and do well. How do job candidates open those conversations up? Or do they wait and allow the potential employer to open the conversation up?
Stacy Pursell:
So they should wait and let the employer bring the compensation discussion first? That's always been my recommendation, based on my experience is let the employer bring it up first. Because at the end of the day, either the employer's going to want you or they're not. And anything that you do or say in the interview process in saying it too early could be a deterrent from getting an offer. Your goal when you go to interview for a position is to get an offer.
The first step is to get an offer. Once you get the offer, then you have leverage, because you're the candidate of choice. So then if you don't want to take the first offer that's on the table, you can negotiate that offer. But if you don't even get an offer because of something that you said and did early on, then you don't have any leverage to negotiate. So first step, see if it's a good fit. If the employer wants to hire you, because the candidate of choice, let them bring up compensation first. If they're going to make you an offer, let them make you their best offer. And then if you want the position, negotiate.
Dr. Andy Roark:
Yeah. So you've played both sides of the table. And as a recruiter you have helped people get positions and then you have also helped employers find people who get positions. One of the sentiments that I hear a lot in practices is they're optimistic about getting a veterinarian. And I heard something, I think it was Karen had mentioned something like the average veterinarian now seeking a job has something like 17 potential offers, or there's 17 open jobs for every one veterinarian that's looking for them. It's ridiculous numbers.
And so I know a lot of practices that they're working shorthanded, they dream about getting another doctor in just to help with the workload. And they feel like they've possibly found someone who would be a good fit, and they want it so much, and they're terrified that they're going to give an offer that's going to be dismissed out of hand. And they say, "Well, this is kind of what I can offer and this is what we feel is a good offer that we can make, but we don't want to get dismissed out of hand."
How do you present an offer as the employer, Stacy? Are there ways that you put it forward so that you say, "This is what we think we can do?" Obviously, I want to turn this into a discussion, not into a, "This is what we have," and the person goes, "No, I'm sorry." How do I open that conversation up if the employer is the one who should bring the offer?
Stacy Pursell:
Yeah, I'm so glad you asked that question. And before I answer it, yesterday I was talking to my LinkedIn rep and she was showing me to a new analytics tool on LinkedIn. And we pulled up veterinarian jobs on there, and there are, it was like 10,352 or something, open veterinarian-
Dr. Andy Roark:
Wow.
Stacy Pursell:
… jobs on LinkedIn. That was just yesterday. And then the last time I checked the AVMA site, which was a few weeks back, it was close to 5,000. It was just under 5,000 open positions. And then one of my clients just today, she sent me an article, I haven't had a chance to read it yet, but I skimmed it, and she was telling me what it was about. This article she sent me said, "It takes 16 months to hire a veterinarian on average in the US right now." And so you're an employer, you've got a candidate, you want to hire this person, you want to make an offer, what do you do?
Well, my recommendation is not just to make the offer that you're thinking about right out of the gate, first ask the candidate what they want. Like you said, you've been on job interviews where you felt wanted. Everybody wants to feel that way. They want to feel this employer wants me. So the employer should express to that candidate, "We think you'd be a great fit here. We want to hire you. We'd love to make you an offer. But before I make you an offer, I'd love to know what offer would you accept?"
Dr. Andy Roark:
I like that.
Stacy Pursell:
"What would it take for you to come here? Let's talk about that." And then open up that discussion where the candidate can speak to that, and the candidate can let the employer know what it'll take to get them hired.
Dr. Andy Roark:
I like that. That's really good wording. I very much like that. That's letting them know that you're interested and you would like to move forward, and then ask them about their expectations. I like it a lot. All right, great.
So this all feels like a good sort of setup here. We've got some good communication. It sounds like we're sort of opening this up in sort of a low stakes setting to talk about what everybody wants to get out of it. I like that very much. When you are the job seeker and you're starting to talk about what's important to you, are there tips about communicating what you care about? Or are there pitfalls that you have seen where people really drop the ball or turn people off as they're communicating what's important to them? So let's move on to this conversation.
Stacy Pursell:
So just the other day, there was a candidate that was going to talk to one of our clients and she was going to receive her offer. So the client had set up a Zoom call and the candidate was supposed to show up on the Zoom call to receive her offer. Well, the candidate failed to show up to receive her offer because she forgot.
Dr. Andy Roark:
Oh, no.
Stacy Pursell:
First step is show up for that conversation. Don't forget. So a funny story that just happened in the last week is there was a candidate that showed up for a conversation in her pajamas sitting in her bed.
Dr. Andy Roark:
Wow. Really?
Stacy Pursell:
Really. A different candidate, not the one that didn't show up. This one showed up for a conversation with the employer in her pajamas, sitting-
Dr. Andy Roark:
In her pajamas.
Stacy Pursell:
… in bed.
Dr. Andy Roark:
Yeah. It's like, "I couldn't get going a little any earlier. This is my nap time."
Stacy Pursell:
It shows that it's not that important, right?
Dr. Andy Roark:
Yeah.
Stacy Pursell:
Because if it was an-
Dr. Andy Roark:
It sends that message.
Stacy Pursell:
… important conversation, you'd get up, you'd get dressed, you'd not have your bed as your backdrop. And now I've forgotten the question.
Dr. Andy Roark:
Well, no, I was asking for tips, but you're setting the bar real low, Stacy. You're like, "Well, you should show up and wear clothes." And I'm like, "Okay, check and check. I got those." But, yeah, so starting to communicate what we're looking for in the job in a way that continues that conversation, so best tips and tricks.
Stacy Pursell:
So the first step is do your research, from the candidate perspective. Do your research, go to sites like AVMA, salary.com, ask recruiters. Recruiters know what candidates are getting in the job market, so ask a trusted recruiter. If anybody wants salary data, we've got that. We can provide that here. But you want to do your research, so you know what's reasonable. You want to get what you can get, but you don't want to be greedy. So you don't want to ask for things that are over-the-top, unreasonable, unrealistic.
Especially for a new grad, because new graduates coming out, they don't have any experience yet. It's their first position. It has to be a give and take. And any employment situation has to be a give and take. You're probably not going to get everything that you want. So rank the things that you want in the order of priority, what's most important to you? And then when the employer opens up that conversation, let them know, "This is what I would like."
But remember that it is a give and take. You're probably not going to get everything. Focus on what's most important. And don't keep coming back with one more thing, one more thing, one more thing. And I've seen candidates do this all the way at the point where they've accepted an offer, "Oh, by the way, can I have one more thing?" That comes across as being greedy.
Dr. Andy Roark:
Yeah, it makes you feel nickel and dimed. You know what I mean? If you had even presented it all at the beginning, that would've been different from the just sort of continuing to tag on little asks, on and on and on. Yeah, that makes a lot of sense.
Okay, so we've come into the conversation. We're wearing clothes. We're trying to lay out… I really like the idea of prioritizing what is important to you. I had a friend in vet school and time off was what she cared about. She was very flexible in salary, but she wanted at least three weeks off during the year, because travel was her thing. That was why she was working, so she could travel. And so she ended up taking a very modest salary, but she was off, I think, four weeks, something like that. Which our European listeners are like, "That's normal." It's like in the states, not so much.
Stacy Pursell:
We just had a candidate last week that was going to interview with our client. So we were in the process of setting this veterinarian up for an interview and he went back to his current employer. I don't know why people do this sometimes when they go back to their employer and tell them they're interviewing. But he went back to his current employer and told him he was interviewing and they said, "What would it take to keep you?" And he said, "More paid time off." They gave him two months of paid time off.
Dr. Andy Roark:
Wow.
Stacy Pursell:
And so he decided to stay and renew his contract there, and ended up not going to interview with our client.
Dr. Andy Roark:
Oh, wow. So, yeah, everybody's got a thing. And so it just makes sense to know what do you really want? I think a lot of people, I've been thinking a lot about this recently in other contexts, but we all have this idea of what we should do or what applicants should do or what your employment contract should be. And none of that stuff really matters. It's not about what it should be. It's what do you need? Or what makes sense for you in the world? So I don't know, do you agree with that?
Stacy Pursell:
Every situation is unique. We have clients that do this, I recommend it, it's not a one size fits all package. So when you're an employer and you're hiring, don't have a one size fits all package for every one of your employees. Find out what's important to each one of them. For somebody, it might be a higher salary. For some person, they want to work on straight salary. Somebody else might want to work on ProSal. Somebody else might want more time off. Somebody else might want more continuing education. Somebody else might want to negotiate a new piece of equipment or new training. So find out what's most important to that person. Try to cater to what they need and that's going to help you retain that person longer.
Dr. Andy Roark:
That makes sense. All right, so coming to the end of the discussion here. So hopefully, we've had to go back and forth and everybody's started to talk about what's important to them in a way that doesn't feel threatening or doesn't make the other person feel judged. And so we're coming to that conversation now. We're sort of moving towards an agreement. Any words of advice on actually reaching an agreement?
We've talked about what's important to me. We've talked about what's important to the potential employer. Any advice that you can give on helping people actually get over the hump and come together and shake hands on the other side?
Stacy Pursell:
Yeah. So like I said, wait for the employer to bring up the discussion, let them know what you want, try to give it to them all at once, so you're not doing the back and forth thing like we talked about. And then, I would say, don't necessarily accept the first offer. There is usually some room to negotiate. But make sure that you're getting the things that are the highest priority to you. And then if it's not what you want, let them know that. If they're not able to offer and you've got some other options, you don't have to accept the offer. But if it's a place that you want to work and you feel good about the offer, feel… I would say one thing too, don't take too long to make a decision on the offer, because I have seen veterinary practices, they make someone an offer and they take two months to decide.
They'll keep interviewing, and they'll make other offers. And so if they extend the offer and you're sitting on it, and then you decide… somebody else might take the offer, and then they might have to take it off the table. But once you get to the point where you feel good about it, and most of your concerns have been addressed and you feel like even though it's not everything, it's still a good offer and it's the place you want to work, don't turn down a good offer just because it's not everything you want. Because it is a two-way street, you don't want to appear greedy.
Dr. Andy Roark:
No, that totally makes sense. Stacy Pursell, thank you so much for being here and talking me through everything. This has been really awesome. I always love having you on the podcast. Where can people find you? Where can they learn more about you and The VET Recruiter?
Stacy Pursell:
So my website is www.thevetrecruiter.com. You can email me, my email address and phone number are on the website. I'm also on LinkedIn and my last name is P-U-R-S-E-L-L. Some people put a C in there, but it's an S.
Dr. Andy Roark:
I could see that. Perfect. Well, thank you so much for being here. Gang, thanks for tuning in. I hope everybody enjoyed this. I'll talk to you soon.
Stacy Pursell:
Thank you Andy.
Dr. Andy Roark:
And that's it. That's what I got. Thanks for being here guys. Thanks to Stacy Pursell, The VET Recruiter for sharing her knowledge. I enjoy her.
Anyway, gang, if you enjoyed the podcast, leave me an honest review wherever you get your podcasts, or share it with your friends. That's how people find the show. I love making this stuff. I love it when people get something out of it. So help me find people who could benefit. Anyway, take care of yourselves. Be well. Talk to you soon. Bye.