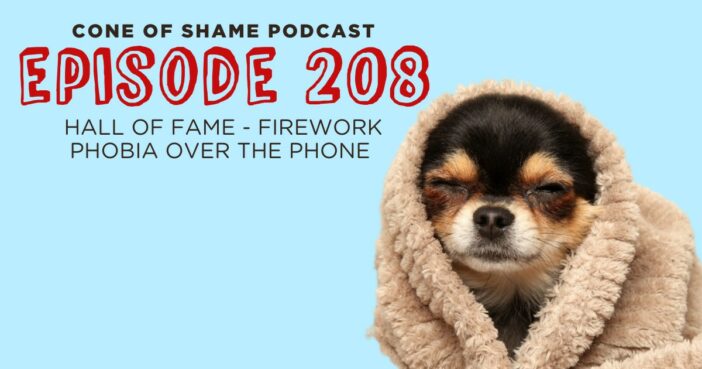 This week on the Cone….. We have a Hall of Fame episode for you! Dr. Andy Roark talks to Dr. Lisa Radosta about firework phobia and what we can do when clients call right before the bangs start. Let's get into it!
You can also listen to this episode on Apple Podcasts, Google Podcasts, Amazon Music, Soundcloud, YouTube or wherever you get your podcasts!
LINKS
Dr. Andy Roark Exam Room Communication Tool Box Team Training Course: https://drandyroark.com/on-demand-staff-training/
Dr. Andy Roark Charming the Angry Client Team Training Course: https://drandyroark.com/charming-the-angry-client/
Dr. Andy Roark Swag: drandyroark.com/shop
All Links: linktr.ee/DrAndyRoark
ABOUT OUR GUEST
Dr. Lisa Radosta graduated from the University of Florida College of Veterinary Medicine in 2000. She completed a residency in Behavioral Medicine at the University of Pennsylvania. During her residency, she was awarded the American College of Veterinary Behaviorists Resident research award two years in a row.
Dr. Radosta is the owner of Florida Veterinary Behavior Service, a specialty behavior practice in southeast Florida and co-owns Dog Nerds, an online educational resource for owners whose pets have behavior disorders.
She is a sought after speaker nationally and internationally. She is a coauthor of several books including: Behavior Problems of the Dog and Cat, 4th edition and From Fearful to Fear Free. She is a contributing author for Blackwell's Five Minute Veterinary Consult, Blackwell's Five-Minute Veterinary Consult Clinical Companion: Canine and Feline Behavior, Decoding your Cat, Canine and Feline Behavior for Veterinary Technicians and Nurses and Feline and Small Animal Pediatrics. Her new textbook, Handbook of Behavior Problems of the Dog and Cat, 4th Edition is due out May, 2023.
She has published research articles in the Journal of Applied Animal Behavior Science, Journal of Veterinary Behavior and The Veterinary Journal and written review articles for Advances in Small Animal Medicine and Surgery, Compendium, NAVC, Veterinary Team Brief, Clinician's Brief and AAHA Newstat. She has served on the Fear Free Executive Council and the AAHA Behavior Management Task Force.
She has been interviewed for many publications including Cat Fancy, Dog Fancy, Palm Beach Post, NAVC Clinician's Brief, Sun Sentinel, WebMD, AAHA trends, Real Simple, Good News for Pets, Catster, DVM 360 and AAHA News Stat. She has appeared on Lifetime television, Laurie Live, local news in southeast Florida, Mitch Wilder's Amazing Pet Discoveries, Nat Geo Wild, Animal Planet, Steve Dale's Pet Talk and Dogs, CNBC and Cats and Scapegoats.
---
EPISODE TRANSCRIPT
Dr. Andy Roark:
Welcome everybody to the Cone of Shame Veterinary podcast. I'm your host, Dr. Andy Roark. Guys, I am here with a Hall of Fame episode. That's right. One of my episode favorites that I love so much that I wanted to bring back. Dr. Lisa Radosta is amazing and this was a great conversation with her about what we can do when pet owners call on the phone and they're freaking out because their pet, they just remembered their pet is afraid of fireworks and the 4th of July is right on top of them. What do we do with these people and how do we best help them and help their pets? Gang, great episode here. Let's get into it.
Kelsey Carpenter:
(Singing) This is your show. We're glad you're here. We want to help you in your veterinary career welcome to the Cone of Shame with Dr. Andy Roark.
Dr. Andy Roark:
Welcome. Welcome. Dr. Lisa Radosta. Thank you so much for being
Dr. Lisa Radosta:
Thank you for having me.
Dr. Andy Roark:
Oh my pleasure. You, first of all, you are a busy doctor and you're making time. I really do appreciate it. I just got the podcast episode you did with Dr. Dave Nichol on his blunt dissection. It is wonderful. I encourage people to check it out. First of all, Dave does a wonderful job, so his Blunt Dissection podcast is something that vet people should listen to and you are wonderful on it. So thanks for jumping on and doing this with me. Thanks. Okay, well actually, so let's give a little bit about your background. You are a board certified veterinary behaviorist and you're in Florida?
Dr. Lisa Radosta:
I am. I'm in southeast Florida. It's 103 degrees today, so that's pretty cool and 1000% humidity. Yeah, and I practiced down here. I've been down here since I got boarded in, which was 2006.
Dr. Andy Roark:
Where did you get boarded? Were you a gator?
Dr. Lisa Radosta:
I was a gator for vet school, but I went to Penn, so I'm a Penn we for my residency.
Dr. Andy Roark:
Very good. Well, a fellow Florida alum. I'm glad to have you here. Let's, let's get into this time is of the essence because we're going to play, how do you treat that? I have a pet owner on the phone. It is the day before the 4th of July, commonly known as the 3rd of July, and you know what she's calling about? She is calling because she has her three year old female spayed, German Shepherd and some of the neighborhood kids have started popping off a couple of fireworks in the days leading up to the fourth, and her poor German Shepherd is pasted to the roof. She is calling me. She says, this hasn't happened before. What can I do right now the day before the 4th of July? Are there natural supplements that I can give? What about CBD oil? And so that is the phone call that I'm getting right now, and so I've gotten that much information. She's on hold. I'm going to need to go back and I want to make sure that I'm telling her the right things. How do you treat that? Where do you start with this case?
Dr. Lisa Radosta:
So I'm going to pretend like I'm on the phone with one of my primary care vets because I get these calls at the office. On my cell phone or text number one – I want you to go back on that phone and explain to her that this is really common. Okay. Normalize it for her. Okay. Take her stress down. Number two, you're going to tell her next year, let's make a mental note to get together about a week in advance because we are so close to the time period where I need to have this medication work. I'm going to tell you a couple things, Ms. Jones. Number one, I'm going to go a little higher on the dose and your dog might be sleepy. It's going to be okay. This medication's very safe. I'm not maxing your dog out, but I'm concerned that I don't have enough time to really try these medications because psychotropic medications, they're not very reliable. Right. Sometimes dogs get very sedated, sometimes not sedated at all. Next, I need you to go to Dr. Radosta's website. No lie. I have a handout there at flvetbehavior.com.
Dr. Andy Roark:
Right? I'll put that link down in the show notes as well. So perfect.
Dr. Lisa Radosta:
Perfect. So really I tell my primary care, send 'em to the website. There's a handout that they can look at that tell them what to do for fireworks. So in that moment, you have given her verbiage that decreases her stress. Super, super important. You've warned her that her dog will be sedated super important because she's writing a negative Google review on Monday morning because you've made her dog sedated and you've explained to her that these are unreliable meds. Her dog might not be sedated at all. You've prepped her for next year. You've sent her to a website that can give her the information she needs to tackle this. Yeah.
Dr. Andy Roark:
Okay. You kind of blew my mind there for a second. The phrase unreliable meds I know feels so counterintuitive. I don't want, do I want to tell her that? And it's when you say it, you're exactly right. Yeah. All of us with clinical experience are going, yeah, they are wildly individualistic in what they do and they are, they're unreliable you. The idea of articulating that the pet owner is kind of mind-boggling. Can you unpack that for me?
Dr. Lisa Radosta:
Yeah. So when I talk to my clients, it's different than when I would talk to you or one or one of my residents or one of my primary cares. I use analogies. So I tell her, do you have that unreliable friend that you helped her shop for her wedding dress, but she can't help you and she says she's going to come and then she never shows up and you're standing there in the dress by yourself. Do I ever? Yeah. Do I ever, that is Trazodone. Sometimes Trazodone works really well at three mg per kilo. Sometimes I give the dog 18 mg per kilo and he's cruising our room chasing a ball. That's why you have to test them out. So I always use analogies with my clients and I wouldn't use the wedding dress analogy with you. I might use another analogy.
Dr. Andy Roark:
Perfect I love it. I love that analogy. It's so great. What a wonderful analogy. Golly its so real. Let me just say I love analogies. The more analogies we use the pet owners, the better off we are. It just helps them understand the concepts. I think if I had the choice between speaking with medical accuracy versus using an analogy the pet owners really going to get and understand, I'm going with the analogy because that's what's going to affect them and change behavior. Okay. Is it odd to you, this dog's three years old and she said she hasn't seen this before?
Dr. Lisa Radosta:
No, this is predictable, right? Because we know from the studies that have been done that dogs that present with storm and noise phobia, we're just going to group those for now. Okay? Are generally 3, 5, 6 years old. I suspect that's because of two factors. One, people ignore the signs that aren't truly in their mind important. So they're ignoring trembling. They're ignoring the dog coming to find them. They're ignoring the dog, refusing to go out to the bathroom on the night of fireworks. So then it's got to get bad enough that it really affects the pet parents' quality of life except for those various astute parents. Number two, it takes a while sometimes for a phobia to develop and fireworks happen twice a year for most of us on years, even 4th of July. So it takes a couple of years for that full-blown phobia to develop.
Dr. Andy Roark:
One of my friends was asking me who actually buys the on-demand training courses that I put out, and it was funny, I thought about it for a second. It's not who you think it is, not the practices that are struggling. I have a course on charming, the angry client, which is deescalating and calming people down and turning frowns upside down. And the other one is on the exam room communication toolkit, which is like 17 independent tools. They stand alone as modules. You can pick 'em, use the ones you want, all about being amazing in the exam room and it's not practices that struggle with those things that tend to do the courses. It's practices that are great at those things. It's like when you go into the gym and you look around and you see really fit people working out. It's kind of the same thing.
Practices that take that stuff seriously, that really want to deliver A+, high quality experience to clients. Those are the practices that tend to do the on-demand training that I have. Like I said, I've got the two courses. They're on drandyroark.com. You can check 'em out. They are made for teams to work together. That doesn't mean your whole team has to do it, but I really recommend your techs do the training together or your doctors, if you guys want to do some doctor exam room training. I love it when front desk staffs work together on deescalating client interactions, things like that. There's nothing better than having your team talk about what you guys do in your practice and then getting some real resources and integrate those things so they're all on the same page and just they feel good. They know what they say and how they say it and what other people say and just everything that I'm teaching gets integrated into the culture. So anyway, that's why I love the team training so much. Anyway, guys, if you want to learn more, if you want to try one of the courses out, head over to drandyroark.com and have a look today.
Talk to me about spaying and neutering. So this is a female spayed, German Shepherd, does that play a part in the presentation in this? Do you think ?
Dr. Lisa Radosta:
It does? Maybe. Probably. I really think so. Okay. Here's the thing. If you had five veterinary behaviorists on here, we'd all be duking it out about this issue. Here's the thing, there's enough evidence, there's enough good evidence that spaying and neutering can make the progression of an anxiety or fear disorder move more quickly than that of moderate or severe. Okay? So we want to be thinking about is this dog affected? If this shepherd that you just described came to me intact, I'd be talking to the owner about that issue and this is also a handout on my website. Okay. It's referenced so that people can start to be thinking about "should I be spay and neutering? When should I do that? What's the evidence for or against?"
Dr. Andy Roark:
Gotcha. Okay. That all of that makes sense. She is asking me about nutritional supplements and she specifically mentioned CBD. Apparently it takes the edge off for her because what, at least anecdotally, that's what she's reporting. Where do you go with that? Are you leaning towards that in the first time through? Are you open to the idea at all or are you shooting this down? Where is your head on the 3rd of July
Dr. Lisa Radosta:
For this phone call? I'm shooting it down for the long term. It's a conversation we can have in the exam room. Right? But for this phone call, I don't have a reliable supplement CBD, fairy dust in a bottle, whatever. I don't have reliable supplement that will do what I need it to do tomorrow, 4th of July. If we want to have that conversation in the exam room, I'm always open to talking to people about anything.
Dr. Andy Roark:
Okay. Alright. That makes a ton of sense. In the short timeframe, we don't have time to play with that. Are there again, well, I guess let's just stick to the fireworks. So the nice thing about firework phobias is we generally tend to know when we're going to encounter them maybe unlike thunderstorm phobia, where I'm at work, I have no idea this is going to be what's happened, but I generally know the 4th of July is coming and there are things I can do to prepare. So do you look to supplements for something like that at all? I mean, I guess I'm just sort of trying to get my head around is there a rule for supplements in something that is predictable like fireworks, even if they really want to do it. You said you're open to the conversation to what end I guess is what I'm asking.
Dr. Lisa Radosta:
So if we have to have time to prepare, we have various ways to use supplements. So we have those veterinary supplements I hope everybody has on their shelf that's going to be Zylkene, Solliquin, you certainly have access to melatonin, which we're going to label a supplement for this conversation. Melatonin is the supplement that's going to work right now for sure in about an hour and a half. And you can use dermoid ranges, whatever you use for your derm disease that's responsive to melatonin, you can go ahead and use those doses. It's not going to cause a high level of sedation, but you're going to get some anxiety relief and some sedation from it. I can prepare by two weeks ahead, preloading my patient with either Zylkene, or Solliquin, depending on the presentation. They are not the same. They don't work the same. So that's an option. There are OTC supplements that your pet parents can purchase that may work in an hour or two. The thing is that in my patient population, I need something that works. I can't be messing around with a maybe, so I do not recommend any of those. If they want to use them, rescue remedy, whatever, they can, but it's not going to come out of my mouth because I need effective products.
Dr. Andy Roark:
Perfect. No, that completely makes sense to me. Okay, so we've walked through this. We need to be aggressive because this is the 3rd of July, warning her about sedation going a bit heavy and err on the over sedated side because you don't want to get this wrong, correct?
Dr. Lisa Radosta:
Right. And you have to know your client. You've got to know who you're talking to. There are some clients that I could not, that I know them well enough to know I can't go on the heavy side and instead I'm going to go on the light side and warn them, I don't think this is going to sedate your dog. It's okay. We're not going to give up on this med for next year if it doesn't fully sedate your dog. You got to know your people for sure.
Dr. Andy Roark:
Yeah. Okay. That completely makes sense. What medications are you your go-to at this point? You said Trazodone, highly unreliable. There's a lot of good things about Trazodone. It's, we're generally pretty comfortable with it. It's not something like alprazolam or something that we're highly regulated and we have other sort of legal issues and things like that. What else do you reach for? I guess? What are your favorites?
Dr. Lisa Radosta:
So I am one of those that anybody's listening heard me lecture. They know I don't have any favorites. Okay. I love all the drugs the same. Okay. So the thing about Trazodone is that you will probably do no harm. That's why I reached for at first. Even if you sedate the animal, it's unlikely that the animal's going to be ataxic. Okay. They'll still be able to get up and go to the bathroom. So if everything else is unknown, it's a good med to start with. We need a healthy liver if we're going to use Trazodone. That's something to think about. So that is my go-to for that reason in this situation. Another possibility is Clonadine, unlikely you're going to do harm with clonidine. You will not get the sedation of Trazodone, but you have not been given the privilege of examining the pet and speaking to the pet parent. You don't even know. I mean, you have examined the pet.
Dr. Andy Roark:
Yeah. We are going to need a behavioral exam and valid relationship here.
Dr. Lisa Radosta:
Yeah, yeah. But you haven't been able to ask the proper questions to really know what medication to choose. So the first do no harm medications are probably going to be Trazodone and Clonidine. We love benzodiazepines, lot of love them. But the problem is the disinhibition, even though it's only in about 20% of the cases, let's say, that have been given Valium for example. The problem is if that is one of the 20%, she is fighting mad at you and she and her dog have had a horrible 4th of July, so we can't go there with that prep time.
Dr. Andy Roark:
Right. That makes so much sense. Perfect. Is this dog destined to get worse over time? Is that a foregone conclusion? Oh yeah. Okay. Yeah. Okay. So just prep her for that too. Prep her for that this is the beginning and we're going to manage it, but this is going to be an ongoing issue that we are going to struggle with. It's not going to be just, this is the worst it's going to get at age three.
Dr. Lisa Radosta:
And I'm going to tweak if I can, just a hair of what you said, an ongoing disorder that we will manage, not that we will struggle with because as a doctor, I'm not going to struggle with it. I have endless resources, I have solutions. I can help you. We're going to manage it just like diabetes and just like arthritis, right? Yeah. We're going to manage it.
Dr. Andy Roark:
Perfect. Dr. Radosta, you are amazing. That's exactly what I need. This is so wonderful. I have personally sucked up so much that I'm going to be using in the next – we're recording this towards the end of June – am going to be putting this to work in the coming two weeks, and so I'm going to get the episode out as quickly as I can so other people can use your knowledge. You mentioned your website. I'm going to put links to some of your resources in the comments on the podcast, and so people are welcome to get that. Where can people find you? So if they have questions or they want to read more from you or they want more information, they'd like to see your handouts. Where can people go to learn more about you and learn more about your service?
Dr. Lisa Radosta:
They can go to our business website, which is flvetbehavior.com. And that's the way to get me. There's a Contact us form. They can see everything we have there.
Dr. Andy Roark:
Excellent. And you have been doing a lot of work with Fear Free. They can find your modules there as well.
Dr. Lisa Radosta:
Oh yeah. They can find everything on the Fear Free website, fearfreepets.com.
Dr. Andy Roark:
Awesome. Thank you. Thank you again for being here. Thanks, and that's what I got for you guys. I hope you enjoyed it. I hope you got something out of it. Thanks so much to Lisa Radosta for a great episode that I could share with you guys. Again, gang, take care of yourselves. Have a wonderful 4th of July. Talk to you later on. Bye.