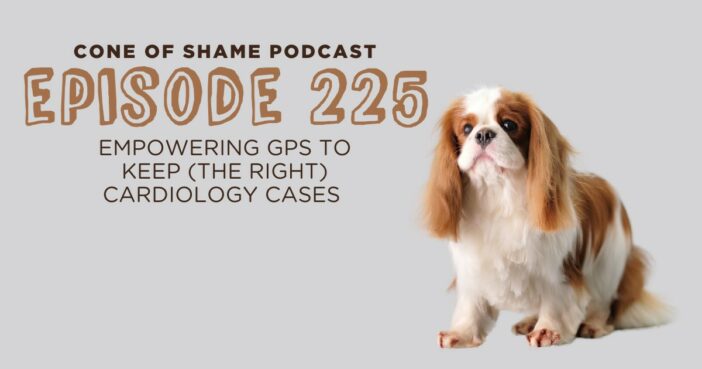 Dr. Natalie Marks joins the podcast to talk about the opportunity for general veterinary practitioners to do more thorough work-ups on, and treatment of, cardiac cases.

This episode is brought to you ad-free by CEVA Animal Health!
Cardalis Important Safety Information: Do not administer in conjunction with non-steroidal anti-inflammatory drugs (NSAIDs) in dogs with renal insufficiency. Do not use in dogs with hypoadrenocorticism (Addison's disease), hyperkalemia or hyponatremia. Do not use in dogs with known hypersensitivity to ACE inhibitors or spironolactone. The safety and effectiveness of concurrent therapy of Cardalis™ with pimobendan has not been evaluated. The safety of Cardalis™ has not been evaluated in pregnant, lactating, breeding, or growing dogs. Cardalis™ administration should begin after pulmonary edema is stabilized. Regular monitoring of renal function and serum potassium levels is recommended. Common side effects from a field study include anorexia, vomiting, lethargy, diarrhea and renal insufficiency.
LINKS
ACVIM consensus guidelines for the diagnosis and treatment of myxomatous mitral valve disease in dogs
ABOUT OUR GUEST
Dr. Natalie Marks obtained her bachelor's degree with High Honors in Animal Science from the University of Illinois in 1998, and her Masters in Veterinary Medicine and Doctorate of Veterinary Medicine degree with High Honors from the University of Illinois College of Veterinary Medicine. She became a Certified Veterinary Journalist in 2018.
She has been a veterinarian at Blum Animal Hospital since 2006, co-owner until 2018 and then associate. Prior to 2006, Dr. Marks worked at Allatoona Animal Hospital just north of Atlanta, GA.
Upon her return to Chicago, Dr. Marks became very active in the Chicago Veterinary Medical Association, serving on the executive board, the Illinois State Veterinary Medical Association, AVMA and AAHA.
Dr. Marks has received many prestigious awards in her career. She was awarded the Dr. Erwin Small First Decade Award, presented to a veterinarian that has contributed the most to organized veterinary medicine in his or her first decade of practice. In 2012, Dr. Marks was awarded Petplan's nationally-recognized Veterinarian of the Year. In 2015, she was awarded America's Favorite Veterinarian by the American Veterinary Medical Foundation. And, most recently in 2017, she was awarded Nobivac's Veterinarian of the Year for her work on canine Influenza.
Dr. Marks is also very passionate about educating in all aspects of media, both locally and nationally. She has appeared on all major Chicagoland tv and radio news syndicates and many local websites. Dr. Marks was featured nationally on the Today Show and CBS Nightly News during the canine influenza epidemic of 2015 and in multiple issues of JAVMA. She is a guest contributor in multiple media campaigns for Merck, Zoetis (formerly Pfizer), Fear Free, Ceva, Trupanion, Aratana, ScopioVet, and Royal Canin.
Dr. Marks is a regular columnist in Today's Veterinary Business, Healthy Pet magazine, the Fountain Report and Pet Vet, and has numerous other publications.
She is a desired national and international lecturer for many of the same companies at VMX, WVC, AVMA, DVM360, VetGirl, and regional conferences, and most recently was a featured speaker at Ceva Sweden's Derm Day and the Royal Canin Global Symposium.
Dr. Marks finds the ideal combination of teaching/mentoring and improving the emotional health of pets in the Fear Free movement. She sat on the Fear Free Executive Council and is a national educator helping other private practitioners develop these techniques. She also led her practice to become the 7th nationally and first practice in Illinois to become a Fear Free Certified Hospital. She is a Elite Fear Free Certified Professional.
Finally, Dr. Marks is a serial entrepreneur, angel investor and consultant, and on the Executive Committee of VANE, the Veterinary Angel Network.
---
EPISODE TRANSCRIPT
Dr. Andy Roark:
Welcome everybody to the Kone of Shame Veterinary podcast. I'm your host, Dr. Andy Roark. Guys, I'm back today with the amazing Dr. Natalie Marks. If you've been listening to the podcast for anytime recently, you might've picked up on the fact that I'm on a bit of a kick about thinking about the role of general practitioners in the future. I'm really big on the idea of technicians getting to do more and us leaning on our paraprofessionals, delegating more effectively of giving them some upward mobility. But that means we need to redefine the role of the general practitioner as well. And so I had a guest on not long ago, Dr. Sean Sanders, and we were talking about the general practitioners holding on to cases and being able to work up cases that we've gotten maybe in a little bit in the habit of just punting over to the specialists. Anyway, this episode is very much in that vein. We are talking about mitral valve disease. We are talking about cardiology for the general practitioner and keeping the right cases that can be maintained at the general practice level. And so anyway, I think this is a fascinating conversation. I learned a ton here. Dr. Marks is always amazing. Guys, I hope you will get as much out of this as I did. This episode by the way, is brought to you free by our friends at Siva Animal Health. Guys, let's get into this episode.
Kelsey Beth Carpenter:
(singing) This is your show. We're glad you're here. We want to help you in your veterinary career. Welcome to The Cone of Shame with Dr. Andy Roark.
Dr. Andy Roark:
Welcome to the podcast, Dr. Natalie Marks, thanks for being here.
Dr. Natalie Marks:
It's good to be back. Nice to see you. It's
Dr. Andy Roark:
Great to have you. Boy, you're doing so many things now. You are such, you're such an interesting person. You are an educator, you're a consultant. You have been a practice owner in Chicago for years. You've been a practicing vet for a couple of decades. You look like you graduated in 2017, but you have been doing this for a while. I talked to you last time you and I did a podcast together. We were talking about invoice bundling and rolling those things together. You just got this. You have this passion that I love for the business side of medicine and entrepreneurship and investing and then rolling that into medicine and where medicine is going. And so you think about medicine in a way I think is really unique. I still see a lot of people there, so I always enjoy catching up with you and getting your insight. So thanks so much for being here.
Dr. Natalie Marks:
Well, I'm excited because cardiology has always been a favorite subject of mine and I think it's something that touches every generalist out there. Many of us have had our own dogs that have gone through heart disease or have had those moments where we certainly have had emergencies or those favorite patients that have succumbed to heart disease. So I love the fact that we're able to talk about something new in this field and new research and also how we can practically sort of take cardiology back to our practices and empower ourselves to recharge and learn the medicine, do the medicine that we learned versus sort of this, oh, I've got a murmur. I am not going to handle anymore of this and send that out of our hospital. So I'm hoping the next 20 minutes or so I'll get everybody revved up to start working up those murmurs again. Well,
Dr. Andy Roark:
I love it. We're recording this right after I did a podcast that came out with Dr. Sean Sanders, who's a neurologist in Seattle, and we were talking on the podcast and his idea with where medicine is going is general practitioners needs delegate more to technicians and then maybe try to hold onto more of the cases that we've gotten into the habit of immediately referring to specialists. And boy, the feedback on that episode was huge and really, really positive. There was a lot of people who really liked that idea. I think that it paints a good picture for general practice vets and I think as we talk about access to care, it makes a lot of sense. And so I was looking at this and looking at working with you and what we're going to talk about. And I know this is a passion project of yours and you like about, and it fits right with that idea of what does it look like to keep more in general practice, how do we get GPS to get more comfortable with what's possible and things like that. And so I'm super excited just because that's really where my head is right now. And so let's go ahead and start to lay down what we're talking about. The thing I wanted to bring you on, talk with you about is you, as I said, has this sort of passion project for empowering general practitioners to hold onto specifically cardiology cases. You're a bit of a cardiology nerd, all the love we have, anesthesia nerds, we have.
Dr. Natalie Marks:
I own it.
Dr. Andy Roark:
Good. Excellent. That's
Dr. Natalie Marks:
It. I own it.
Dr. Andy Roark:
You're a bit in that vein and then I always like to hear from you because have such a business mind as well where it has to make sense. And so lemme just start there at a high level, talk to me. Give me the mile high pitch. True or false. General practitioners should consider holding onto the cardiology cases, the heart murmurs, things like that, that they may or may not have just gotten in the habit of kicking to the cardiologist and saying, look, I can't echo. I'm not comfortable doing an echocardiogram here myself in practice, and so I'm putting this away. Tell me where your head's at when I say that.
Dr. Natalie Marks:
Well, if I could capitalize and highlight and circle true, I would be doing all of those in that moment. So I guess let me sort of step back and let's go up to that mile high view just for a minute about can we say everything in that statement is true? Most of it is right. There are going to be cases that we see that an echocardiogram is necessary, that a pacemaker needs to be implanted, that there needs to be some type of atrial window established, or there's certainly nothing that's very definitive on radiographs or we need the assistance of cardiologists. And certainly I have a wonderful relationship with my local cardiologist I have for 20 years wouldn't know what I would do without him. I'll give a shout out to Dr. Michael Luther, who's phenomenal. That being said, there are so many other cases that are applicable to what we're talking about today where we can as generalists without a tremendous investment in money or capital or technology or the time or training or staff that are needed to implement a new program or elevated medical standards, some of the things that we talk about or maybe have a pain point about of why I don't want to handle a cardiology case or I want to refer those, we can sort of throw out the window because we don't need a lot of things in general practice to work up a murmur.
So as we'll kind of talk about, we see heart murmurs every day in dogs, and we're going to talk specifically about canines today, but we know that 75% of dogs with heart failure have heart failure because of valve disease. So it's about four and a half million dogs every year. They're typically smaller and older dogs. We of course think of the poster child, the Cavalier King Charles, but we also see chihuahuas and dachshunds and schnauzers, and I'm sure if you're listening, you're thinking, oh, that's Jimmy and Betty and all these cases that are floating through your head, males more than females, just a little bit. But about 40% of them will slowly progress into congestive heart failure. That is a lot of cases. So if you think about if every one of those got referred to a cardiologist, there's nowhere near enough cardiologists or appointments or people that have that access to care that could ever be serviced.
So there's a huge population of patients that are not getting the care that they need necessarily. If the only answer we have to them is, oh, I heard a murmur in your dog not really explaining what that means and saying, here's the number for the local cardiologist. Make an appointment. So what we're going to talk about today is how can you as a generalist and your team intervene in that appointment where you've heard a murmur? What can you do practically to work up that case? What are the steps and stages of murmurs as according to the 2019 H V M guidelines and how do you use those to sort of guide your approach? And then what we know knew really about spironolactone, that's really the key here is understanding what's come out of human research translated to a canine for sure, but this was sort of this refractory kind of hail Mary drug that a lot of people put their dogs on when they were in massive heart failure and nothing was helping and Lasix blew out their kidneys, right? Yeah.
Dr. Andy Roark:
It was the last drug that I used
Dr. Natalie Marks:
Totally. It was
Dr. Andy Roark:
Last drug that I used. Yeah, that's how I was. I'm not going to blame it on how I was trained. I think it was how I was trained. It might have been me reading between the lines of what was expected.
Dr. Natalie Marks:
I think it's both, but that's how I was trained and certainly I would follow suit from what I would see cardiologists doing many years ago, which is, oh, let's try Spro. How about we try spironolactone? Exactly right. We know now though, that is a very reactive approach and I'm all about practicality and proactivity. So there's a lot I'm going to share with you about spironolactone and how that can make a huge difference in our heart patients, especially our heart failure patients. So we're talking stage C and beyond, but also why we don't just have to wait till the heart failure. What can we do with that murmur patient itself?
Dr. Andy Roark:
Yeah, well, I mean, I love it. Let's go ahead. You've already laid down. You've already laid down a number of facts about the heart murmurs that we see. I think that's where a lot of these dogs that I think we're starting to talk about. Let's just start there. Let's talk about the cavalier, the Chihuahua, the Dotson. Let's talk about a heart murmur. We're not talking about the coughing, gasping dog. We're not talking about wheezing, darken up fluid, stuff like that. Let's just take the heart murmur dog that we have. And I think a lot of us, we sit there in the exam room, the owner is looking at us and we're listening and there's this grade three heart murmur, maybe a grade four heart murmur. We can hear it on both sides and we're going, okay, this is significant. And the owner has probably been told before that it's here.
They're trying to read me in my reaction, they're looking and going, he's listening for the heart murmur. Is it bad? Is it worse than it was before? Is he concerned? How is he feeling? And I'm running through my own mind going, how am I feeling? How concerned am about this? What am I going to say as far as their options and management and things like that? Natalie, let's just start there. So talk to me a little bit about just your classic heart murmur dogs and starting to work these up and what sort of diagnostics in general practice I can be most comfortable going with?
Dr. Natalie Marks:
Yeah, so you bring up a really great starting point, which is our communication to the client once we hear that murmur, and we know in studies and surveys of client reactions as well that a large amount of our client base feels that a murmur that we hear indicates the same type of heart disease that they think of in people, meaning coronary disease or similar disease that lends itself to heart attacks. So we first need to think about how can we best educate our clients that what we're suspecting, let's say in that nine-year-old cavalier is not coronary artery disease? Because people often and our clients in our room will hear that and think, oh, oh my God, my dog's going to have a heart attack. I'm going to wake up, my dog's going to be dead. What can I do? Or they've had a very traumatic experience themselves.
So it all of a sudden puts them back into this very emotional negative place which doesn't lend itself usually to compliance or it's a fear related authorization of a workup, which is not what we want. So the first thing we need to do is truly educate what a murmur is, right? It's an abnormal sound indicating there's some kind of turbulent blood flow going through the heart itself. A murmur. Sometimes we can say we suspect it's here based on the location, but we don't know for sure and we suspect it's valvular just by commonalities. But we don't know for sure all it's telling me, it's giving me a light bulb and a flashlight and saying, Hey, Dr. Marks, we need to check out this heart and figure out is this a primary heart disease or is this murmur here secondary? Something else is going on in the body?
And so when we can hopefully very succinctly and comfortably and in a warm way, tell our clients, this is what the murmur says to me as a veterinarian, and now this is what we can work together on collaboratively as a team to help figure out what the disease is and what stage. And that again, helps guide us of what we can do. I very much encourage veterinarians to use different either illustrations, animations, I have a fabulous animation that shows the difference between coronary artery disease and what mitral valve disease looks like because a lot of people are visual learners and we know that the average human attention span is eight seconds. So if you start going into a diatribe about what valvular disease is, your human in the room is lost. So break it up with a visual, show them an animation, direct them to something, text 'em something, whatever you need to do to sort of keep them interested.
And then we say, look, the next step is we need to investigate in what we call stage. We need to figure out what this murmur is telling us. And then guided by that what kind of disease we probably have there and what the treatment guidelines are. And thankfully a lot of that work is done for us by the 2019 Cardiology consensus guidelines from A C V I M. So we have a really nice, and I hate to call it a cookbook because it's not that easy. This is a lot of really brilliant cardiologists put this together, but we have this beautiful guide that helps us fairly quickly once we know the stage, say, Hey, this is what we do. So I think if we're talking about this, we might as well jump into these stages. I think it'll help us determine what we say to these clients.
So before we even hear that murmur, remember we can have dogs that are stage A and those are the breeds you just mentioned, right? These dogs that are at high risk of developing moos mitral valve disease, and that is your cavaliers and that's your chihuahuas and dachshunds and some of those other small breeds, remember male versus a little more than female. So if you have these breeds that are coming in to see you, we don't want to wait again, not reactive medicine. Proactive medicine is to talk to these owners at two, even one year of age and saying, Hey, a lot of times at an annual exam and these young patients, thankfully there's not a lot wrong, but that's the perfect time to say, Hey, right now everything looks great. I just want to bring something up proactively. Your dog is a dog that is at risk for heart disease, a higher risk than most, and I think it would be a good idea for us to be seeing your dog either more frequently or let's get a baseline thoracic radiograph, or I want to give you some reading on what this is.
So you're looking for things that are different at home, but at least prepping them for the idea because the more we prep them, if it happens, they've heard it, it's not shock and surprise if it doesn't happen, they're thrilled. So it's a win either way. So remember that's a stage. These are asymptomatic patients. They don't have a murmur, they're just a high risk breed. So we do need to start there. Then there used to be just stage B as one entity, but they've been since 2009 to now 2019, they've broken that apart into stage B one and B two. So B one are our dogs that have a murmur. This is typically a lower grade murmur, so like a one or a two. They might even have heart enlargement on an x-ray, and I'm talking minimal, right? So we'll get to the vertebral heart score in a second, but they might have that, but they are asymptomatic.
I think this is really important to remember when we talk about what is asymptomatic, because I think most of us go to, they're either coughing or they're not coughing right? With heart patients. There's a lot more evidence out there though that shows that these dogs can also have an tants. So when we are, there's a lot of research that's been done in the area of an tants. We're thinking mostly like with cancer patients and chronic kidney patients and other things. But when we look at cardiac patients in inappetence is very possible because cardiac disease releases a lot of those inflammatory cytokines too. So when we're asking our families, especially in a patient that has a murmur, we don't just want to ask, is your dog coughing or not? We want to ask about changes in behavior. Are they more restless? Are they not sleeping as well as they used to shifting positions?
Do they seem to be more exercise intolerant? Do they have changes in breathing patterns at home? And I'm not talking like they're breathing three or four times, they're normal. I'm saying, does something look off? Is their behavior off? They're normally super clingy and happy to be around you. Now they're spending more time away, and is there a change in appetite? So it's not just are they not eating as much, but is there a change in the pattern of eating, which we call dyslexia? So are they a cavalier that normally would snf food down in breakfast and evening and then walk away and now all of a sudden they're eating like 60% and then they kind of nibble throughout the day and they might be eating all technically the right amount, but the pattern's totally different. So these are questions we need to ask these families to see is something different symptomatically, again, outside of just the cough.
So those are important questions to ask. The other really critical piece, not symptomatic, but certainly something that has to be part of every history is what is your dog's diet? The grain-free D c M connection is very proven. Now we know unfortunately, many dogs have lost lives from this. Many dogs have gone through pretty traumatic disease, thankfully caught early enough to be reversible. But we need to know what these dogs are eating and understand if there is a grain-free component to it and obviously discontinue that. So stage A and stage B one, we don't do anything from a recommendation perspective from meds. The only thing that we're doing is we're getting a radiograph either foundational baseline for stage A or if even B one. There might be a small change, but these are dogs that the owners are aware, Hey, my dog has a murmur.
My dog's either stage A or B one. The only thing that we're doing is having them come back, not in an annual exam component, but maybe in three to six months, see what's going on with that murmur and then having those clients again, who are part of our medical team, be the ones that are advocating at home to make sure they're not seeing any signs of change. That totally makes sense. So now we move into the three that have a little bit more involvement from our end. Those are CJ and B one are education opportunities, and certainly those are pretty quick and easy in regards to how we finish that case. But if that murmur of that, let's just take the patient that Cavalier that came in and now all of a sudden that murmur is a three or a four and we start to do a workup.
So maybe they came back for a recheck and all of a sudden we've done our radiograph and there's vertebral heart score enlargement. So kind of coming back to what we can do in our hospitals, the starting point of every staging is thoracic radiographs. And I think the nice thing about radiographs in a lot of our hospitals today, and what used to sort of be like radiograph interpretation for a lot of us is that many hospitals today have digital radiography and many of them send off their radiographs, right? So even if you said, I don't want to relearn vertebral heart scoring, most of the time you don't have to do it. Most of the digital radiograph programs already have vertebral heart scoring built in as an option, or you're going to have that evaluated by the radiologist who reviews your radiographs. But vertebral heart scoring is essential.
And if you're listing and you're like, oh, gosh, I remembered that, but I haven't done it in a while, remember it's pretty easy, right? We're getting a lateral view. We're taking a short axis, which we'll call SS and a long axis, which we'll call L. Remember the long axis is the tip of the Karina to the apex of the heart. The short axis is just the width of the heart on the lateral radiograph. We take those two measurements and pair them up against the cranial aspect of the fourth vertebrae. So let's say SS is about three vertebrae long and L is about six vertebrae long. We add Ss n l three and six, and your vertebral heart score for that patient would be nine. The average is about 10 and a half, 10.2 to 10.5. But the nice thing is now there's been a lot of work to adjust for breed because we know a chihuahua and a great Dane are going to have obviously very different vertebrae sizes and certainly different heart sizes.
So when we have that stage B two, so we've done the radiograph, we've heard an increased murmur sound, and now we see that vertebral heart score, let's say in this patient was 12. So we have heart enlargement, we have the murmur that's created an increased intensity. This is where us as generalists can say, Hey, I don't even have an echo here, but I know based on the stage B two that over 11.5 without an echo indicates I intervene. And that's where we start PMO Bendin, everybody listening is probably incredibly familiar with PMO Bendin that MEIN is the brand name for a lot of people that have used this life-changing drug, right? Started with Dobermans, but obviously has a lot of applications with cardiac disease and canine patients. But according to these A C B M guidelines, this is where we intervene at stage B two.
Many people have thought, gosh, I'm going to just wait till I have heart failure. I wait till I have fluid. There's sort of varying kind of opinions on this, but this is where you start. And so as a generalist, if you are practicing where you don't have a local cardiologist, it's a four hour drive or you maybe have a client base that that's just not going to be an option and you're not doing echoes in your practice. I don't want you to feel like your hands are tied. These are all things that you can do in your hospital with a radiograph and a client conversation and POB bendin, and you're going to make a difference in slowing down that disease because there's obviously quite a few benefits to Pima bendin.
Dr. Andy Roark:
Well, I mean I love it. The vertebral heart score is something that we can definitely do. We're all trained to do in vet school. I have to go, I'm going to be honest, when you said most of the digital radiograph software that we have now automatically does it, I was like, I need to go. I'm going to go dig in and see. We've got the little cursors and stuff that you can pull. And I'm like, I would not be surprised. I know our software's updated a number of times over the years, and I'm like, it's probably time for me to circle back and say what is already automated because I still do it the old fashioned way and I bet that there's an easier way to do it.
Dr. Natalie Marks:
Well, some are automated, they're not all automated, and I think some are like yours. But even if you're using yours, if you've got the vertebral heart score icon, this is very easy. You could just put your calibers at S and your calibers at L and it calculates it for you. So that in itself you can get a gauge even if it's not as exact as maybe you'd like it to be. If your vertebral heart score is nine and your vertebral heart score is 13, right? There's a big difference in heart size and you can get a sense on where you're headed. So yeah, so vertebral heart score. So a lot of people at stage B two are like, is that all I have to do just to radiograph and boom, I'm done? Technically speaking, if that's all your client is comfortable doing at that point, that's enough to start POB bendin.
But obviously there's a foundational baseline of lab work we would've loved to have, and I certainly encourage everyone to think about having a C B C A chemistry with electrolytes, a urinalysis, just your foundational values if possible. Certainly at minimum, we want to make sure our liver and kidney are working the way they need to be for drug processing and excretion. But also a blood pressure would be incredibly helpful at this point. And then I have people always asking me, what an E k G? So I'm torn. I'll be very honest on EKGs. If you have them, great, it's wonderful, right? It's great information. However, not every client today is going to have blank amount of dollars set aside for you to do every possible cardiology related test. So to me, and from a practical perspective, my radiograph is top of the list. How I stage, certainly those baseline, at least chemistry is second for me. A blood pressure would be nice, and usually it's within reason from a cost perspective. But E K G for now, especially when we're talking practical cardiology, I have more as a second or third tier unless I have an arrhythmia, right?
Dr. Andy Roark:
Okay,
Dr. Natalie Marks:
Then it shoots up to the top of the list. But if you have a normal rhythm and you have a radiograph that proves heart enlargement, what is that E K G going to direct you to change your treatment at that point? And the answer is nothing. So for me, when I'm doing a test, the client, I always tell them, this test either has to give me information for the diagnosis I didn't have, or it's going to change a treatment plan I already made right? For it to be worth the value. So for me, E K G is one of those more focus tests that I use in those instances,
Dr. Andy Roark:
Not as a general we have our murmur, let's run an ekg. Yeah, that makes sense to
Dr. Natalie Marks:
Me. So that's sort of where we are now, a couple things about with sort of the B two to C, which is where we're getting at, which is the C and D a B one and B two. That is where we consider this patient to have heart disease. And again, we're talking today about mitral valve disease and a cavalier of course, no brainer, but that's where we have disease. Once we hit C and D, these are the stages of congestive heart failure. So at b2, I dunno if you've ever watched the price is right, I'm probably aging myself, but the yodeler like the cliffhanger where they're doing, there's that little yodeling guide and he's climbing the mountain and you're trying to guess the price before, and then all of a sudden it just falls off. At b2, we sort of fall off into the pool of heart failure.
And at c and D, this is where we start to see pretty symptomatic patients. So these are the dogs that come in that have lost weight and are exercise intolerant and have a new harsh kind of dry cough and are not eating well and have the sort of that thrifty hair coat and are just not themselves. That's when we start to see C and D. So as we look at C, C is where we have all of the things at B two, but now we have characteristics of heart failure, which means we have pulmonary edema and we also have an increasing usually vertebral heart score as well as these signs. So at that point we have one or two choices as a generalist, right? Well, actually three, but I'm going to talk about the first two as hopefully our primary for what we would consider a stable heart failure patient.
So these are patients that the client was just like, oh, he's acting pretty much himself, but he's got a cough. And those are the patients that are still maintaining their weight. They're still eating approximately what they would normally, they're still going for walks. They just were brought in because of the cough. Those are stable heart failure patients that we can manage outpatient at home and have them come back for a recheck in five to seven days. Some of those patients are not going to be stable. Their pulse ox might be low. They aren't going to tolerate oral meds, they have severe pulmonary edema. They're starting to get liver enlargement, and we're starting to worry about decompensation on the right side. So things like that. Those are patients that are going to be hospitalized. Now, depending on that instability, that's where the third option may come in and you may have no other choice but to refer them to an overnight facility where there is a specialist on staff.
But for our purposes, let's talk more about that stable heart failure patient where as a generalist, again, we can really come in and make a difference. So what is the big difference here at stage C and D? Well, the big thing to remember is this is not just where POB Bendin is. This is where historically we would do what I learned is the triple threat therapy. This is where we had POB Bendin, we added in an ACE inhibitor and we added in a diuretic like Furosemide or Lasix, and that's what the standard of care was for a long time. What I am thankful that research has shown us is that that was okay, pretty good, but we now know that quadruple therapy is the way to go, and the beauty of that is quadruple therapy adds in a drug. We were just sort of joking about spironolactone.
What we thought was sort of this very much an afterthought or this refractory, I have nothing else to try, so I'm going to try spironolactone. But we know Spironolactone now has a major place in the quadruple therapy sort of cocktail that we use for stage C and D. I'm going to group C and D together for the purpose of therapy just here. Because really the only difference of D is those are patients that have been on quadruple therapy and are refractory, so they're relapsing. And unfortunately at stage D as a generalist, we don't have a lot of other options, and that's really where we have to have quality of life discussions and certainly intervene with a cardiologist to see if there's anything else that could be done. Sometimes those are the dogs that need pulmonary hypertension therapy with Viagra or some of the other sort of complications addressed.
But once we hit stage D, unfortunately prognosis is fairly poor, and so let's focus on stage C because that's really where the majority of our heart patients will present and where we can make the most difference. For us to understand a little bit more about why spironolactone was added, we have to go back to my nightmare lectures. I think I first was triggered by this in vet school learning about the RAs system. I don't know if that triggers the cramming for a test memory for you, but it certainly was for me. But now that I think about this a little bit differently, I think it makes a lot more sense. So when we think about the RA system, remember that's the renin, angiotensin aldosterone system. We often think about it before talking about this as what's happening in the kidneys and some of the things that can happen when we have hypertension in the kidneys and certainly the activation.
The big things that I want everyone to remember, because I'm going to whittle this down to what we truly need to know and can communicate to clients if they ask with RAs, small, acute, temporary bursts and activations of that system are essential and necessary for the health of our patients and for us they're very critical. It's sort of that little spinach for Popeye in the moment that the organs need. What we have learned though is that chronic activation of the RAF system, which happens in heart failure patients, is very negative for the body, not just on the heart, but on the kidneys as well as blood vessels. We see glomerular damage, we see systemic hypertension, we see pro-inflammatory cytokines being released all over the body. We see myocardial fibrosis, so we end up with permanent scarring that we can't fix and remodel. There's a lot of changes that happen because aldosterone, which is the key, the real secret here is actually quite high in heart failure.
And we didn't know this for a long time. This came out of human medicine eight years ago. I dunno, I'm not going to quote that, but I was at a translational conference and they were talking about this finding, but we know that a lot of our cardiologists are understanding this is very much the way the canine body works. So high chronic levels of aldosterone are really bad for dogs. They cause sodium retention. They cause the inability for our heart rate to change. So sinus arrhythmias kind of go away, which is not good. We want the heart to be able to adjust with our breath causes arrhythmias and it causes vascular inflammation. So we get vasculitis all over the body, and so we need to block aldosterone, and that's what spironolactone does. Sper, it's it's really made a huge difference in the ability to not just have better quality of life, but better longevity of life. So when we talk about quad therapy, remember the triple threat was pob, bendin, furosemide and NACE inhibitor. Now that quad is spironolactone. And so when we put those together, when we put an ACE inhibitor in spironolactone together, we actually have complete blockage of the RAs system so that chronic aldosterone goes down and all those negative go away. And that allows us, again, to have a healthier cardiovascular system and a much better quality of life for that heart failure patient.
Dr. Andy Roark:
Cool. This is what the drug cardis is, right? Is your ACE inhibitor and your spironolactone sort of mixed together into one. So just to sort of summarize, when we start to have symptomatic heart failure, we're looking at PAB bendin, which is a miracle drug and has been for years. So pab, Bendin, our Lasix, our forer rod. Then Cardis is our ACE inhibitor in our spiral tum. Nice little package there. That totally makes sense to me. What kind of follow-up are you looking at in these cases, Natalie? I think a lot of us are great. I like having the tools. I hear this dog coughing. I understand we're going to maybe adjust our Lasix a little bit up and down and trying to get this dog regulated. What does that look like as far as ongoing communication for you?
Dr. Natalie Marks:
So this is where when we're in stage C, like I mentioned in stage B one and B two, those foundational other tests like lab work and blood pressure would be really nice to have and certainly helpful. Not every client will be able to do that when we're at stage C. They're necessary because we need to see first of all where we're starting from. And once we know that once we add in an ACE inhibitor and a diuretic, we're really stressing those kidneys. So we need to make sure that it's to a point that's livable and tolerable. So once I've diagnosed a patient and we've started on our quad therapy, I have them come back in five to seven days, and I explained to the client, this is an essential recheck. This is not, let's just see how we're doing this is I need to make sure that if we've had hypertension, it's resolving.
I need to make sure that our kidneys are doing okay with our drug therapy. I need to make sure that your dog is doing okay, right? That clinically they're looking better. I need to make sure they're not having side effects that we can't manage GI side effects predominantly, but we need to make sure that this is a route that our treatment plan that we've chosen that is going to be workable for me as your veterinarian for your dog, but also for clients. And that's really the beauty of Cardis is that it's a combination drug. So although we're doing quad therapy for medications that are helping with this cocktail, we know that client compliance is a big deal. There's a lot of studies that have looked at rates of client compliance. One of the most recent one that came out of AHA press looked at clients in chronic medication that's been given, and the rate of compliance for chronic meds is only about 76%.
And we know that none of the dogs that were in this survey, if they were on twice a day meds, none of them had a hundred percent compliance. So the more drugs we add to a regimen, the less client compliance we have, the more we ask clients to do twice a day meds, the less client compliance we'll have. So when we have something like Cardis that combines two essential meds per stage C into one, that's also a once a day and very palatable option. It's just helping, again, this medical team, and I know I've mentioned that a couple times, but it's a really important part of my message is that when I graduated, I was taught this very one directional delivery in the exam room like, I am veterinarian, you are client, I'm going to tell you what to do. And you're just going to say, okay, doctor, and do it.
And it was what we did at that point. I hate saying it like that. It sounds so old, but I'm so thankful that today's exam room is two directional, that we have a medical team which involves a veterinarian, the veterinary technicians and assistants, the client and the patient. And we're all in there obviously with the same goal. And so when we work collaboratively and we're encouraging those clients at home to be part of our medical team, which means I need them to give the meds for my patient to get better, the easier we can make it on them, the better our patient outcome will be and the happier our client will be, right? So they come back at five to seven days. If they're doing great, I have them every three months come back. And if they're still doing great, sometimes we spread that out to six.
But I like to see them quarterly unless there's something that's changed at home. And then of course I see them earlier. There's a lot of resources that we can give our clients. You don't have to recreate the wheel. If you're interested in Cardis, your CEVA rep has a ton of great options that I've looked at. Resting respiratory rate apps that your client can download because it sounds crude, but one of the best things that we can know is what that dog's resting respiratory rate is at night, and if it's greater than 40 or there's a trend, that's one of the best ways to indicate a refractory relapse in congestive heart failure patients. So resting rest rate apps, client handouts that show a little bit of what I was talking about at the beginning of what mitral valve disease looks like, what that can do and what your dog may look like if suffering from mitral valve disease. Things to watch for and monitoring, as well as some of the other aspects of just heart disease itself and some of the medication support documents. So don't feel like you have to create this whole cardiovascular portfolio to send out to your clients. Take advantage of the resources that are already there. That can certainly help support your educational delivery in the exam room. And also for follow-ups, sending these as texts or emails when you're checking in on patients, as well as having on your website to link out.
Dr. Andy Roark:
Dr. Natalie Marks. Thank you so, so much for being here and talking through this with me. I really enjoy this. Guys. Thanks for tuning in. I hope you guys got as much out of it as I did take care of yourselves, everybody. Thank
Dr. Natalie Marks:
You.
Dr. Andy Roark:
And that's it, guys. That's what I got for you. I hope you enjoyed it. I hope you got something out of it. I always love a crash course like that. It was just such a fun episode. I have three pages of notes coming out of this podcast. That's one of my favorite things about doing these episodes is I get to sharpen my own skills and I always learn a ton. So anyway, gang, take care of yourselves. Be well. I'll talk to you soon. Bye.