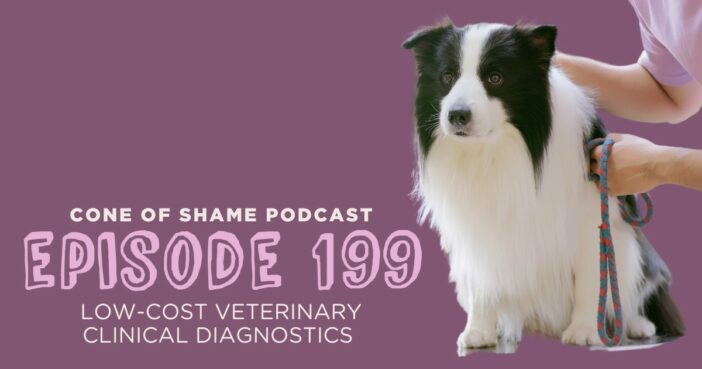 Dr. Ryane Englar joins Dr. Andy Roark to discuss her new book Low-Cost Veterinary Clinical Diagnostics.
A practical guide to maximizing the diagnostic value of in-house quick assessment tests (QATs)
In Low-Cost Veterinary Clinical Diagnostics, the authors provide a hands-on resource designed to facilitate healthcare delivery across the spectrum of care.
Historically, clinicians have been taught to apply the gold standard approach to the practice of medicine. However, recent advances in veterinary medical care and associated technologies have made practitioners question whether a one-size-fits-all approach is truly best. After all, when we perform diagnostic tests, are we testing out of the desire for completeness, to cover all bases for the good of the patient? Or are we testing because we are expected to?
The reality is that gold standard care is not always advisable and not always possible. In clinical practice, veterinarians frequently encounter obstacles that limit their approaches to case management. Cost of care is a significant constraint that requires practitioners to rethink which diagnostic tests are essential.
Not every patient requires a complete blood count (CBC), chemistry profile, urinalysis, and fecal analysis to obtain diagnostic value. This text suggests that the "best" approach to case management be determined by the situation, the context, the patient, and the client.
While sophisticated panels of tests may remain the recommended approach to case management, Low-Cost Veterinary Clinical Diagnostics outlines entry-level, in-house diagnostic blood, urine, fecal, and body cavity fluid tests: how to perform them as well as the breadth and depth of patient-specific data that can be gleaned from quick assessment tests (QATs).
Readers will also find:
A thorough introduction to patient care considerations, communication strategies that facilitate cost-conscious shared decision-making
Comprehensive explorations of quick assessment tests (QATs) in hematology, including packed cell volume (PCV), total solids (TS), buffy coat analysis, blood smears, blood glucose, blood urea nitrogen (BUN), saline agglutination tests, and activated clotting time.
Practical discussions of quick assessment tests (QATs) involving urine, including urine color, dipstick analysis, specific gravity (USG), and urine sediment analysis
Pragmatic evaluation of fecal analysis, including considerations surrounding fecal color, volume, consistency, and odor; saline smears or wet mounts, and fecal flotation.
Discussion on body cavity fluid analysis
Sample case vignettes, complete with question and answer (Q&A)
Perfect for veterinary practitioners, veterinary technicians, veterinary and veterinary technician students, Low-Cost Veterinary Clinical Diagnostics offers a quick and easy reference guide to maximizing diagnostic value in those cases where care is cost-prohibitive.
You can also listen to this episode on Apple Podcasts, Google Podcasts, Amazon Music, Soundcloud, YouTube or wherever you get your podcasts!
LINKS
Low-Cost Veterinary Clinical Diagnostics (Published by Wiley-Blackwell): https://www.wiley.com/en-us/Low+Cost+Veterinary+Clinical+Diagnostics-p-9781119714507
Also available on Amazon:
https://www.amazon.com/Low-Cost-Veterinary-Clinical-Diagnostics-Sharon/dp/1119714508/ref=tmm_hrd_swatch_0?_encoding=UTF8&qid=1676300614&sr=8-1
Dr. Andy Roark Exam Room Communication Tool Box Team Training Course: https://drandyroark.com/on-demand-staff-training/
Dr. Andy Roark Charming the Angry Client Team Training Course: https://drandyroark.com/charming-the-angry-client/
Dr. Andy Roark Swag: drandyroark.com/shop
All Links: linktr.ee/DrAndyRoark
ABOUT OUR GUEST
Ryane E. Englar, DVM, DABVP (Canine and Feline Practice) graduated from Cornell University College of Veterinary Medicine in 2008. She practiced as an associate veterinarian in companion animal practice before transitioning into the educational circuit as an advocate for pre-clinical training in primary care. She debuted in academia as a Clinical Instructor of the Community Practice Service at Cornell University's Hospital for Animals. She then transitioned into the role of Assistant Professor as founding faculty at Midwestern University College of Veterinary Medicine. While at Midwestern University, she had the opportunity to teach the inaugural Class of 2018, the Class of 2019, and the Class of 2020. While training these remarkable young professionals, Dr. Englar became a Diplomat of the American Board of Veterinary Practitioners (ABVP). She then joined the faculty at Kansas State University between May 2017 and January 2020 to launch the Clinical Skills curriculum.
In February 2020, Dr. Englar reprised her role of founding faculty when she returned "home" to Tucson to join the University of Arizona College of Veterinary Medicine. She serves as a dual appointment Associate Professor of Practice and the Executive Director of Clinical and Professional Skills.
Dr. Englar is passionate about advancing education for generalists by thinking outside of the box to develop new course materials for the hands-on learner. This labor of love is preceded by six texts that collectively provide students, clinicians, and educators alike with functional, relatable, and practice-friendly tools for success:
• Performing the Small Animal Physical Examination (John Wiley & Sons, Inc., 2017)
• Writing Skills for Veterinarians (5M Publishing, Ltd., 2019)
• Common Clinical Presentations in Dogs and Cats (John Wiley & Sons, Inc., 2019)
• A Guide to Oral Communication in Veterinary Medicine (5M Publishing, Ltd., 2020)
• The Veterinary Workbook of Small Animal Clinical Cases (5M Books. Ltd, 2021)
• Low Cost Veterinary Clinical Diagnostics (John Wiley & Sons, Inc., 2023)
Dr. Englar's students inspire her to write so that they have the resources that they need to not just survive but thrive in clinical practice.
---
EPISODE TRANSCRIPT
Dr. Andy Roark:
Welcome everybody to the Cone of Shame Veterinary podcast. I am your host, Dr. Andy Roark. Guys, I'm here with my friend Dr. Ryane Englar today, and we are talking about her new book, Low-cost Veterinary Clinical Diagnostics. Man, I get super geeked out about this. She's hilarious and amazing, and she may take over the world. Definitely listen to the end of this podcast when we talk about her struggles in finding laboratories that would work with her and ultimately working with a crime scene investigation unit. Only veterinarian type problems here, only veterinarian type problems.
So anyway, she is incredible. This is such a fun conversation about the basics that we have put down and forgotten in vet medicine, about using sight, smell, sound, feel, I don't want to say taste, but you knew I was thinking it. It's all of those things where we've gotten pretty dependent in a lot of ways on our fancy diagnostics. And they're great, they are wonderful, but boy, there's some value in really just using our eyes and having experience of looking at samples. And is it possible that we could be extracting a lot more knowledge from just the most basic tests? Yeah, I think probably so. I'm curious what you guys think.
But anyway, just check this out. It's such a good conversation. She's really got me inspired to start looking at my game and figuring out where are the simple little holes in my basic knowledge that would make me a better vet and that would help me take better care of pets with basically no cost to the pet owners, just looking at what we're already doing and getting a little bit more out of it. So anyway, guys, fun episode. Let's get into it.
Kelsey Beth Carpenter:
(Singing) This is your show. We're glad you're here. We want to help you in your veterinary career. Welcome to the Cone of Shame with Dr. Andy Roark.
Dr. Andy Roark:
Welcome to the podcast, Dr. Ryan Englar. How are you?
Dr. Ryane Englar:
Great. It's good to be here. Thanks for having me.
Dr. Andy Roark:
Oh, always enjoy you. You've been on the show before and I was thrilled to have you back and I wanted to have you back because you have a new book out. For those who don't know, you are an associate professor and executive director of Clinical and Professional Skills at the University of Arizona's College of Veterinary Medicine. That is a long title. And you're an author. This is not your first book, is it?
Dr. Ryane Englar:
No, this is number 11 if you count the ones that I been partners on.
Dr. Andy Roark:
Not quite the first book, no. But yes. So you have a brand new book out called Low-Cost Veterinary Diagnostics, and I was like, that's an interesting title and I love that you have a book on this. And so I want to open this conversation up and basically just sort of say, tell me at a high level, tell me what this book is about. Let's just start there so that I'm not picturing something in my mind that's not true.
Dr. Ryane Englar:
Yeah, absolutely. The book started out, the original intent was to develop a clinical skills guide or manual for our students really with respect to blood diagnostic test, urine and fecal results. But then it quickly expanded into what it is today, which is really a tool that can be used by vet students, new graduates, seasoned graduates, veterinary members of the whole team so vet techs, really even clients for some degree. And what it is is really looking at what are the tests out there that are point of care that we use each and every day, and how can we maximize the data that we obtain from them?
And the classic example I'll give from vet school is that by the time I got to fourth year vet school, the internists or a generalist on any service would say, here's a patient, here's the vignette, tell me what test you're going to run. And I graduated from Cornell University. Very proud to be a graduate there. But every answer for every vignette was, we need a CBC, a chemistry panel, a urinalysis, two to three view chest reds, an abdominal ultrasound, maybe an MRI. So quickly it expanded and that was the gut reaction of that's what they want to hear good, but we quickly lose sight sometimes of, and I learned that as an educator, why are we doing that?
If we're going to ask a client to run a test, what do we need that for? What are we looking for? How are we going to interpret it? And so there's a lot of information we forget. So the book was born out of what can we get and drill down and get the max out of a PCV. There's an entire chapter on assessing the color and turbidity and smell of urine. A chapter on fecal consistency, fecal color, fecal odor. Really looking at expanding that tool set so that if we are in situations where we have to scale back, what can we do? And really, let's not feel bad about scaling back. Let's be like, yeah, let's get the most out of this data, whether that's blood, fecal or urine testing.
Dr. Andy Roark:
That's fascinating. A lot of the mentors I had in medicine, they were much older than me. I think that's often the way that it goes. And you kind of come in and they're at the end of their career and they've got so much experience and so much knowledge. And there's a couple of them, Dr. Mikey Schaer pops to mind. And that guy didn't seem like he needed any diagnosis. He could just feel the pat and say, ah, I think it's probably this. And darn if he wasn't right all the freaking time.
And you always wonder, that stuff is so powerful. And he would just beat the drum on… He would ask you, "Where do you want to start?" And the answer was the physical exam. And if you said a bunch of stuff, he would shoot you down, which is rare because most people would said exactly what you said, which is we're going to need this litany of tests and this big workup. And he would say, "Physical exam." And then basically he'd be like, and then we're going to see what we have and then we're going to make a plan from there.
And he was so good. He was that guy who could walk in to the treatment room and he would sniff the air and point at a pet and go, that pet has parvo. And he was right. He was, that one right there, that's got parvo. And it was incredible. And so I really love where you're coming from. So I guess let me say this, if veterinarians, if vet technicians had more of this type of knowledge and were more comfortable just using their eyes, their ears, their nose and their touch, and looking at patients and looking at samples this way, where do you see the biggest areas of potential impact in taking this approach? What are things that you see that there's such an opportunity here and we're not pursuing it? What does that look like?
Dr. Ryane Englar:
Yeah, absolutely. I think for me, really it's a matter of spectrum of care. And it's really looking at cost for factors. Obviously looking at how can we partner to create a tailored treatment plan and diagnostic plan for a patient who may not be able to do the litany of tests So that's kind of the first easy pass. When you look at the title, you say, oh yeah, that's what it's about when I can't do everything. But then if we put that to the side and we think about it on a deeper scale, how do we actually create that partnership and communication with our client of putting that plan forward?
So if I'm going to convince a client to do test X, Y, or Z, I really need to make a case for Y. And what information am I going to get out of there and what am I going to do with that information? So we have to have not only the plan, but the expectation of, if I do this and I find result X, Y, and Z, how will that actually allow me to better treat your patient? And so I think it opens up those communication windows. It allows questioning, which I think sometimes we get that defensiveness of why is someone questioning why I want to do this certain test? And it can say, oh, well, let me tell you why. Let's have that conversation about what is my hope for this pet so that we can actually make it custom so that we can apply what we need and the knowledge we have for pet specific care.
Dr. Andy Roark:
So one of the things I like a lot about you and is one of the reasons I first really wanted to talk to you is that as a professor of clinical and professional skills, you kind of walk this line between a clinical approach and then also a communication aspect, which is things that I'm most excited about. I really love that medicine from a challenge standpoint of knowing what to do medically and then also being able to communicate and negotiate, advocate for the pet, build a relationship with the pet owner and get them on board.
How does an approach like what you're talking about change the way that we communicate with pet owners? Is it a different type… Do you break these out and you're, oh, suddenly are you pushing more to say, let's start with a PCV and then we'll run a full blood panel based on what we see. Or do you go with a full blood panel and just extract extra amount of information? How do you parse that, I guess? And then how does that really, when the rubber meets the road and you have these skills or you have this focus on really looking deeply at what we're doing and extracting the most information possible out of it, how does that change the way that you communicate?
Dr. Ryane Englar:
Those are all great questions. Man, I wish we had 22 hours straight on this podcast. So everybody gets some popcorn, sit down, it's going to be a while. No, I'm kidding. I think the hardest part, is it does depend on the patient. It depends on the presenting complaint, and ultimately there's immense value and wealth to doing some of those more advanced diagnostics. So an emergency situation, I may be more apt to opt for full panels, but I think where it really helps is in situations where we may want to do everything but can't, there's a limitation. Maybe the limitation is cost, that's the most obvious, but maybe the limitation is we might not have the equipment. Maybe we don't have every upgraded coagulation panel profile we need or would want. So we have to scale back and we have to say, well, what can I do now?
Maybe it's a weekend and our machine is down and we don't have the ability to get what we need, even if the client could afford that. And so I think it's saying, what can we do and having a transparent conversation with the client. This is what I would like to do and why, and then it becomes a dialogue. And when that owner, which we've all been in that situation says, I'd love to do everything and I can't. I can't because of X, Y, or Z, cost is often a factor. Okay, let me prioritize, this is what I want to do, and this is actually how I can get the similar information.
It may not have every single panel item that a chemistry profile would, but this is what I'm going to do, and with this test, I can run out X, Y, and Z. And I think a great example, right, is the blood smear. The blood smear, I remember in clinical year, every single case that walked in the clinic, it didn't matter how the blood was run, you had to run as a student, many blood smears that we went through, 10 and 15 and 20. We were so bad at creating them, but by the other point-
Dr. Andy Roark:
It wasn't that we went through them, it was just that we were so bad at making them. Personally, I would take a dozen slides to get one that I was comfortable showing to another student like, oh, this is mine.
Dr. Ryane Englar:
That's an A+. I went through a hundred, and then Cornell probably flagged me. It's probably in my system in some records somewhere of all the boxes I went through. But that blood smear, so in school, we got used to looking at it and then-
Dr. Andy Roark:
I leverage my technicians that way. That was my workaround was I never got good at it. I just go, leverage your technicians. Not because I can't make a blood smear, that's not why, but because I value them, that's why I let them do it.
Dr. Ryane Englar:
No. And you know what, they're the ones who soar in our clinical skills lab teaching our students how to do it. So I'm all for that. I think where we get weak is we forget to look at those blood smears or have someone who has to go look at them, right?
Dr. Andy Roark:
True.
Dr. Ryane Englar:
And so days go by, weeks, years, and I'm cringing to say it, but there were many a day in private practice for [inaudible 00:12:44] that, I'm going to look at the automated analyzers.
Dr. Andy Roark:
Yeah. Well, I think that's really different.
Dr. Ryane Englar:
We should.
Dr. Andy Roark:
Sorry. I think that's really defensible. You know what I mean? Of we've got these awesome analyzers and they do all the things. You know what I mean? And you go, why do I need to look under the microscope when I've got this beautiful scatter plot that lays out all of the things? You know what I mean? And as we have artificial intelligence, it gets easier and easier. I think in life in general, it's getting easier and easier to be a little bit intellectually lazy of just being like, you know what, let's just pop into computer and see what the round comes.
And I know that there's a downside to that. I feel like there's a downside to that as far as our… I think we all really want to be James Harriet meets Crocodile Dundee who can just… it's like bush medicine where if there was… we take great pride as a profession in how well we would do in a zombie apocalypse. I don't know if you've noticed that, but there's a lot of people.
Dr. Ryane Englar:
There's all the memes out there.
Dr. Andy Roark:
Yeah, there's a lot of memes. There's a lot of people who take great pride in how well they think that vets would do in a zombie apocalypse. Those are the people who need to buy your book. I'd be, if you think you would make it, you should have this book because this is how you'll continue to practice after the zombie apocalypse. Anyway, that was sort of a bit of a digression, but it's just to say I feel… It's almost like it's easy just to spend more and more time on the couch if you have a more and more comfortable couch. It's almost like we have a more and more comfortable couch in a lot of ways with our diagnostics and stuff. And you go, boy, the ability just to look at the blood smear, that's real. No one can take that away from you. And man, what a useful tool in your toolbox. And I can tell you, I am 100% guilty of just look at scatter plot. You know what I mean? And just go, oh, let's see what we got here and go on.
Dr. Ryane Englar:
It's absolutely me too, right? Easy. Like you said, I think that's a perfect analogy about the couch. And so then what happens? We get the case where we can't get that scattered plot and then we feel frozen and paralysis. And so having that ability to say, all right, let's keep those skills fresh. We have a whole chapter in looking at the Buffy coat and how many times have I not looked at the Buffy coat in practice? And I'll be honest with my students, I'm like, you know what, this textbook reignited a fire in me because it taught me the areas I got lazy or the things that I forgot or the things about the urine dipstick that I just took for granted. And then I realized, oh, that's right, there's a certain cleaner I cannot put in cats cages or dog kennel cages than an animal pee's in the kennel in the hospital. I can't just put the dipstick on that surface because it's contaminated and now it's going to cause a false positive or negative.
And so it has really cool little tips and tricks, some pointers. My co-author was amazing. Dr. Sharon Dial, she's a clinical pathologist, so she filled in all the gaps that I had forgotten. So it was a learning experience for me. That's what we hope. It's really a celebration I want to think about it, not a critique or criticism of all the immense wealth of diagnostic testing we have. That has a place forever in my heart, of course, I respect it, but it's looking at what else is there? Let's celebrate what we can do when we are in that apocalypse, as you say.
Dr. Andy Roark:
Oh yeah. If you dream of doing team training with your team, getting your people together, getting them on the same page, talking about how you guys work together in your practice, I'd love to help you. You can check out drandyroark.com and check out the store. I have two different team training courses. These are courses for teams to do together to get on the same page and to talk about how you do things. I have my Angry Clients course, and I have my Exam Room Toolkit course, and they are both available and there so come out. All right, guys, let's get back into this episode.
Well, I like this live. I've been thinking a lot about artificial intelligence recently. So the ChatGPT stuff I think is really interesting. I think it's going to fundamentally change medicine. It's definitely going to fundamentally change the way we interact with pet owners and the knowledge that they come with. These are big changes and they are right around the corner. And I look at that, and I do think a lot about how it's going to interact with us. And I don't think that artificial intelligence is going to replace practitioners. I think we need to adapt around it a bit so that we say we have these AI tools that are great and amazing, and also we should be just rock solid on the fundamentals so that we can leverage them to the maximum potential and know how to use them and still be entirely relevant and be confident and comfortable in our skin and in our role as the healthcare provider.
And so this book just really hits on that for me. I imagine what it was sort of writing this book, and to me you explained checking yourself and finding these areas. And to me, I think that that would be the most fascinating thing is I'm sure you sort of had these discoveries and unlocked these things that go deeper maybe than you had in the past. And you're a very accomplished veterinarian. You're boarded by the ABVP and you've been teaching this for a long time. But were there areas when you started to dig into the research for this book? Were there things that really unlocked for you? Were there areas that you were surprised by how much depth there was that you either weren't using or weren't really aware that you could get information from?
Dr. Ryane Englar:
Yeah, great point. I would say every single chapter, I think especially the ones that I had to write, and then Dr. Dial would go over them and we would sit side by side because each one of us would either lead a chapter or be the buddy up and help. And I think that for me, much of it was checking the knowledge that I knew and where did it come from? Like so many things in life, you have this saying or a motto or you're like, I learned this 8,000 times in vet school, it has to be true. And then you write the book and you're like, Hmm, is that real? Did that actually happen? Is that true? Did I make that up right? Did someone else tell me and I just assumed that it was true?
So I think for me, as with every book writing experience, just the literature review, finding out, oh, yes, that actually is documented and this is where it came from, is so helpful because then it does check yourself, is what I'm telling the next generation truly right or is it because I remember someone somewhere in my past told me to believe it and I just accepted it.
Dr. Andy Roark:
Were there any examples that come to your mind of things that you were like, oh no, this isn't true?
Dr. Ryane Englar:
Gosh, I wish… You know what, there probably are thousands of them. I think for me it was just the reminder when we were going through I'm stuck on the same Buffy coat example of going through and when Dr. Dial and I reached and wrote the table of contents, I filled in what I knew, and she's like, maybe we should do a Buffy coat chapter. And I'm like, what, the Buffy coat? What do I know about that?
Dr. Andy Roark:
Yeah, when you said that, that was the experience I had. Yeah, when you said that was the exact experience I had, was like, oh, the Buffy coat, what do I know about? Not much.
Dr. Ryane Englar:
Right. Or total protein, right? Again, I love to tell my students this because sometimes I think they just think I know everything, and I'm, oh no, that's why there's a library in my office, I need to reference stuff. Total protein, as a vet, I know how to get it right or my technicians use the refractometer, they get the value, they give it to me. I can interpret it, but how much do I really know deep? I can give you the differentials; high protein, low protein, but everything's unpacking more and more so that it's not just a one sentence answer. It's let's dig deeper beneath that.
And other areas of the book made me want to explore more. For example, you mentioned parvo, right, and smelling the smell of parvo. And for me, the chapter on fecal color odor consistency ignited my spark in another crazy area of my brain, which was why do clinical skills labs like the ones I teach, only focus on visual things and tactile things? There's zero olfactory clinical labs in vet med and not in human healthcare, in the military, yes. So I've spent three years trying to create diagnostics work to develop olfactory cues that we can actually bring into the classroom. So in another six months-
Dr. Andy Roark:
You came up with a stink test.
Dr. Ryane Englar:
Yeah. So I'm working with a crime scene investigation lab on that, and they're the only ones that would take bio samples because believe it or not, in my crazy quest, I found that most of the companies that use mass spectometry to evaluate scent are food companies like the cereal companies. Because if clients are like, my cornflakes stink, it smells like mold, we got to fix this, right? So they go to these labs. Well, I had lots of talks with these labs. They were wonderful people. I thought I was very clear about, we have fecal samples from dogs. And then we reached a point that was pivotal on every call. Wait a second, you would've sent fecal samples to my cereal lab? No, we're not doing that. We're not [inaudible 00:22:20]. So many doors got shut down, right?
Dr. Andy Roark:
Oh, yeah.
Dr. Ryane Englar:
They had them told and they're like, wait, we're not actually… So I finally found the crimes team investigation people, and now we're hopeful, but-
Dr. Andy Roark:
This is amazing.
Dr. Ryane Englar:
That's huge. So maybe in six months I'll have that. I think the biggest downside is where are we going to test that? So nobody wants to be the Guinea pig in our faculty suite office to test the parvo scent.
Dr. Andy Roark:
Oh yeah, you have mad scientist problems. Did you know that? You run into the problems that great inventors like Dr. Frankenstein have run into again and again, which is people closing doors in your face, asking what you're doing with a dead body, things like that. I love that you have a crime scene scene investigation team who's, yeah, we'll talk to you. That makes me so happy. What does a stink lab look like? I don't know if that name's going to stick. I don't know if you like it, but to me, Ryane runs stink labs. What does this look like? Help me understand what this would even be like. I'm assuming that the old factory stuff is hard because it's hard to quantify and say, oh, this is a five, this one's a five. I don't know how you do that with a smell. But yeah, it seems pretty sort of subjective. Help me understand, what does that look like from a training standpoint? I think it's fascinating.
Dr. Ryane Englar:
No, that's a great point. Basically what we're looking at is we have to find the olfactory fingerprints of different disease processes in bio samples. And so parvo seemed to me the easiest starting point because it smells bloody. There's this metallic component. If you pull all of us, there's this [inaudible 00:24:14] component coming from the blood. And so my hope was we could find that compound in it. So you have to actually take a sample, pulverize it, there's lots of ways to do that. And basically it has to run through a very fancy mass spectometry machine. That's going to spit out a little pattern, we hope that can differentiate normal diarrhea that's not parvo positive from diarrhea that is parvo positive.
So the hope is by going through enough samples, you can find the blueprint or fingerprint. So once you find the fingerprint, we now can identify what those compounds are and you can put them together kind of like a perfume factory into one little concoction. And it could be liquid or it could be infused on a little pad, kind of those scratch and sniff stickers that probably aren't allowed anymore that we used when I was a kid. They're probably very toxic, but haven't seen them for a while to buy them for my niece. So something's sketchy about that.
But the idea would be we would then be able to build that into a lab. And so the example I have, and it's the only one I've found, when I was trying to figure out how to make this possible, I get a lot of simulation catalogs and I found one from a nursing program and they had a fake vomit, and they wouldn't tell me what was in the fake vomit. They said, you'll have to buy it.
Dr. Andy Roark:
It's proprietary.
Dr. Ryane Englar:
Yeah, it's proprietary. Buy it and call the manufacturer. So I said, all right, great. This was pre-crime lab. So I call, I order it. It arrives by FedEx. While I'm teaching another class, everything comes to this main depot. And all of a sudden students in my lab are, is somebody really sick in here? We're in a classroom down the hall. They're, somebody threw up. I don't know where that's coming from. And all of a sudden, a whole bunch of students run to the bathroom. They're, we feel really ill. Somebody comes down from the main office, they're like, Dr. Englar, there's this package up front and it really stinks. And they hand me this box, and it had been crushed by the FedEx people. I love FedEx, no offense, but it was crushed. The whole thing was leaking this fluid and the whole… it smelled-
Dr. Andy Roark:
Mad scientist problems. That's what this is.
Dr. Ryane Englar:
People were, don't do it, Ryane. So now I'm going to have to do my test outside in Arizona because everyone does not want that. But especially after COE comes to visit, we don't want the accredited bodies turned away. But my thought would be, if you can do this, parvo's our first pilot. It's very expensive and I have no grant money external to do it, so we have to do very few samples and hope for the best.
Then we could do things for the ketotic breath. You could do all kinds of different aromas, right? Pseudomonas for otitis, that horrible rancid smell that we all kind of know. And then we're, we need to culture this here, that's rank. It would be great to be able to recreate that. And it is, it's very Jekyll and Hyde. So maybe my love of Broadway musicals has inspired it.
But things like that make me want to come to work, want to create things. Because if we can do that, then we know what… if you can just train someone to recognize that smell, but think about the utility at every other area. So if we forget just diagnostic, think about individuals that pass out in surgery because the smell of [inaudible 00:27:51] and they just need sensitization or desensitization. Or people who pass out because the smell of items in necropsy or the sight and smell of blood in surgery.
If you could partner with psychology departments and actually help individuals, maybe you could be the next neurosurgeon, but there's some kind of a gap because blood smell makes you feel sick. So let's recreate all of that, have its own little lab and figure out a way to get people to do what their strengths are. So yeah, I'm always thinking about things.
Dr. Andy Roark:
Well, I'll tell you, I'll help you out right here so I do escape rooms with my wife, and so we always go and we love them. And so anyway, we did an escape room and there were these little metal containers and they all looked identical except they had little holes punched in one end. And then there was this door and it had a little tray on it, and there were little symbols of different herbs and things like that. You would kind of sunflowers and things like that you would recognize. And the idea was you were supposed to smell these containers because they had a scent inside. And then when you put them onto the tray in the right order, the door would open. And I was just thinking that that could be like your exam. And when they put the things on the tray, the thing unlocks and they can leave. They can go home for the day and they're done with lab. And so I don't know, sit with that a little bit.
Dr. Ryane Englar:
Yeah, I love that idea.
Dr. Andy Roark:
It's less mad scientists than you usually go, but-
Dr. Ryane Englar:
I could tone down a bit for you. I could make that work.
Dr. Andy Roark:
Or tone the door up a bit. I don't know. I'm sure you can find a cursed door from an old temple, something like that, that would impress your colleagues. Anyway, Ryane, thank you so much for being here. I'm going to put a link to your book down in the show notes. Where can people find you? Where can they learn more?
Dr. Ryane Englar:
Yeah, absolutely. For this textbook, it's published by Wiley-Blackwell. So you could go straight to the Wiley-Blackwell website for your country, right, the US, but there's also European versions of that, and you can buy direct from Wiley-Blackwell. If you're an instructor, I don't know what the stipulations are, but there's a link where instructors could request a free copy to look at, right, if you were thinking about incorporating it into your classroom.
So that's the best reason to go to the Wiley site. Others, my students get a free access to the University of Arizona because we have an e-book user license that's unlimited, but other students from other universities can go to amazon.com. Sometimes you'll get a price break depending on how they do those algorithms. So I also have an author page on amazon.com, so you can also link to not just my other Wiley-Blackwell textbooks, but also my 5M textbooks and Taylor & Francis and Elsevier.
Dr. Andy Roark:
Awesome. I'll put links in this show notes. Thanks for being here. Thanks for listening, everybody. Take care of yourselves.
Dr. Ryane Englar:
Thanks so much. Appreciate it.
Dr. Andy Roark:
And that is our episode, guys. That's what I got for you. I hope you enjoyed it. I hope you got something out of it. Thanks to Ryane Englar for being here. Again, as always, if you enjoyed this episode, share it with your friend and or leave me an honest review wherever you get your podcast. That is how people find the show. It really means a lot to me. I always love it when people leave nice positive reviews and pats on the back and things like that, or even constructive feedback of things you'd like to see more of or things we could do differently. Anyway, guys, take care of yourselves. Be well. I'll talk to you later on. Bye.