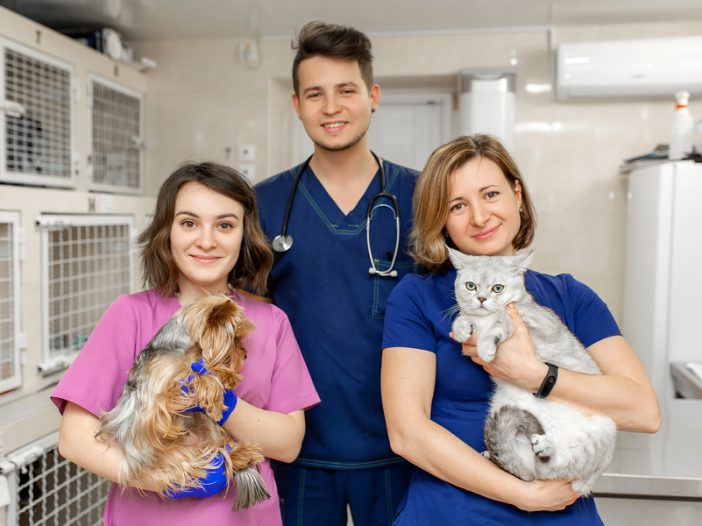 "Veterinary clinics don't care about animals anymore, they only care about making money." People have been saying that a lot lately and it makes me upset because it simply is not true. People in the veterinary field are some of the most caring and compassionate people I have ever met. If you have any doubts, let me tell you about one day this week at Cloquet Animal Hospital.
It started with a call from Sammy's owner. Sammy had been sick with anemia for a few weeks. He initially responded well to treatment, but suddenly took a turn for the worse over the past couple of days. We hoped today would bring good news. Unfortunately, Sammy was a lot worse and the family couldn't let him suffer. It was time to say goodbye. The family was told to bring Sammy in right away. My team immediately started to get everything ready so the family didn't have to wait. They rearranged the morning schedule to accommodate Sammy. As the family was saying goodbye, they had one special request – in addition to the clay pawprint we always make, could we also dip his paw in ink to make a print on a piece of paper? Mom wanted to remember her beloved kitty with a tattoo of his paw. After Sammy was gone, my technician said: "I hope they don't mind coming back to pick up the paw print because they deserve a really good one and I want to take my time to make sure it's perfect."
Trixie was scheduled to have her teeth cleaned and an oral exam. She hadn't been eating well and her mom thought it was because of a bad tooth. Her pre-surgical blood screen said otherwise. Her liver values were high and we needed to treat this first. Trixie's mom was called, the abnormal blood tests were explained and diagnostic and treatment plans were discussed in detail. A treatment plan was made and an ultrasound with the specialist scheduled. When Trixie's mom arrived to pick her up, she was upset and scared. My veterinary technician took the time to answer all her questions and reassure her that we would do our best to find out what was wrong with Trixie and treat her appropriately.
Next came a call from Alice's family. Alice's front leg was broken. We had applied a splint to immobilize the leg and were performing weekly bandage changes. Alice had a splint change appointment in two days, but her bandage was really rubbing on her and irritating her skin. We found a time to have her come in so that we could make her more comfortable. When the splint was removed, a cry of "Oh that poor girl!" came from a very sympathetic vet tech. My team gently treated Alice's bandage sores, readjusted her splint to avoid rubbing and made sure there was extra padding, all while she received reassuring pets on her head to make sure she wasn't scared.
Margo had an appointment in the afternoon. She was a senior patient who had been diagnosed with diabetes mellitus at another clinic a few weeks ago. The client came to us for a second opinion. We did an exam and tests to confirm the diagnosis. Margo's mom was a young college student and didn't really understand how to care for a diabetic dog. I explained the disease process and treatment to her and told her I would be back with a treatment plan. While I wrote out her treatment plan, my technician went into the exam room, demonstrated how to give insulin, discussed an appropriate diet, weight loss, and exercise plan and answered all of her questions. Margo's young mom left feeling confident she could treat her sweet dog that had been with her through most of her childhood.
Star was an adorable German Shepherd puppy who came in with her family – a mom and two little kids. Star was greeted immediately upon entering the building and loved on by the receptionists. The technician then took the family into the exam room to answer all of their questions about the health and training of their puppy. The family had never had a dog before and needed a lot of guidance. When the children started to zone out, the receptionist found them a movie to watch to occupy them so that their mom could focus all her attention on Star. She was educated about the risk of intestinal parasites, especially with young children, and how to keep everyone safe, as well as important preventative care to help Star live a long healthy life. After her exam, Star was taken for her own private tour of the treatment area for more treats and attention with the hopes that the veterinary clinic wouldn't be so scary. She had her own little photoshoot and featured her adorable face on our Facebook page.
Kendall was a black lab with an ear infection. Kendall is a nervous dog and doesn't like veterinary visits. We were aware of this and prepared for his visit. We had his mom give him medication at home, prescribed by us, to reduce his anxiety. We had his favorite treats ready and knew to go slow and gentle with him, but also work efficiently so that his visit was quick enough that he didn't have enough time to get too worked up. He was still nervous, but we all worked together to make him feel as comfortable as possible, worked within his limits to not stress him, and still gave him the treatment he needed.
Sally was another sick kitty. She was only two, but this was her fourth time hospitalized. Sally liked to eat Nerf bullets and had to have a couple surgically removed. Even though the family had banned Nerf bullets in their house after the first surgery and searched the house from top to bottom to remove any remaining Nerf bullets, Sally had a magical ability to find one hidden somewhere. Sally was really sick and her family had said they could not afford another surgery. She had passed a toy before with just the help of intravenous fluids and we hoped it would work this time as well. But instead of getting better, Sally seemed to get worse as the day went on. She was painful and sad. We all watched Sally and gave her lots of love throughout the day. Our hearts broke for Sally and we were afraid she wasn't going to make it. Sally's family agreed to give her one more night of fluids. Transferring to the emergency clinic for overnight care wasn't in their budget so we agreed to hospitalize her overnight, knowing she would be alone. Later that night, a few hours after we closed, I drove back to the clinic to see how she was doing and make sure her fluids were still running. When I walked up to her kennel, it was like another cat was there. She was purring, begging to be petted, and eating. I was so excited that I took her picture and immediately texted the team that had been working with Sally all day. They all had the same response as me – ecstatic that she was feeling so much better and she was going to make it.
This was just one day at our clinic. In that day, I saw a team that cried as a family said goodbye and worked to give them one last gift with a special pawprint. I saw a team go the extra mile to make sure a diagnosis and treatment plan was understood. I saw them help a family to build the bond with their new furry family member. I saw them do their best to reduce the anxiety of a scared patient. And I saw them spend the day comforting a sick kitty and rejoicing together when the kitty turned around.
The veterinary team not only cares about your pet, they love your furry friends as if they were their own.
The views and opinions expressed in this article are those of the author and do not necessarily reflect the position of the DrAndyRoark.com editorial team.
---