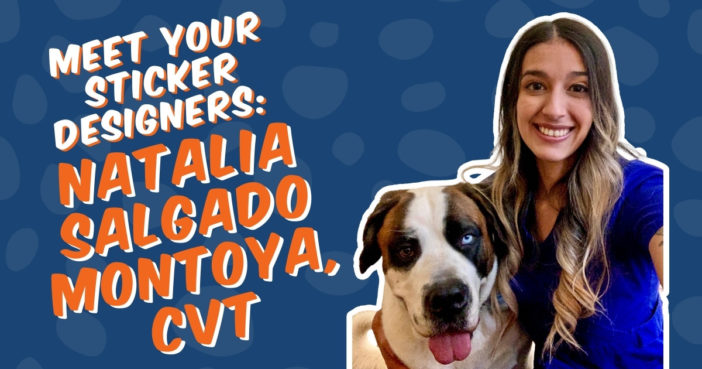 This year, for Vet Tech Week, we wanted to try something a little different: We held a sticker design contest! There were SO MANY incredible submissions (Vet Techs are a creative bunch!), so we put it to a public vote and finally managed to narrow it down to three winners. Those winners had their designs printed into limited edition stickers that are now being used to help celebrate Vet Tech Week all over the continent!
These designs were true works of art, and we wanted to know a little more about the artists behind them. Today, we're meeting Natalia Salgado Montoya, who designed what we called the "Pawprint Full of Passion" sticker. Read on to get to know Natalia, who created the sticker many of you own today!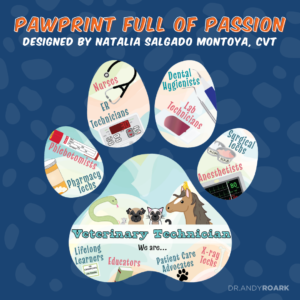 Q: Tell us a little about yourself!
A: I'm currently taking a break from clinical practice to focus on CVT Creations, my veterinary art business. It merges my artistic talent with my passion for education. My background in veterinary dentistry, anesthesia, general practice, and shelter medicine fuels me to create fun art that is also educational.
I was raised in Northern California. I realized I wanted to become a veterinary technician while working for an animal shelter, and after learning about the amazing program at Portland Community College, I moved to Oregon. I've been in veterinary medicine for 6 years, and certified for 3 years.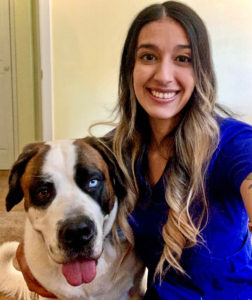 Q: What is your favorite thing to do as a Vet Tech?
A: My favorite role as a vet tech is helping an anxious or fearful animal feel safe. I have a soft spot for "difficult" animals due to my experience working in shelter medicine and a fear-free practice. A vet clinic can be a stressful environment, so I take the time to help them feel comfortable. I love watching an animal become comfortable as they build a more positive association with visiting the vet.
My favorite procedure to do is a dental cleaning. I find it so satisfying to clean dirty teeth and make them sparkle. Oral health is as important for animals as it is for humans, and I'd like to obtain my VTS in dentistry one day. I'm a dog lover, so I honestly love all the dogs I meet. My favorite breeds to have as patients are pit bulls, Dobermans, and the giant breeds (especially St. Bernards).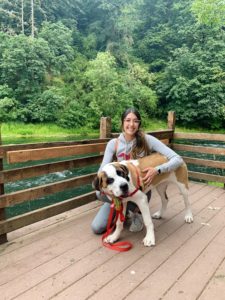 Q: What inspired you to create your sticker design?
A: I wanted to bring recognition to the many important roles that vet techs fulfill. Some clients think veterinary technicians only give vaccines and trim nails, and are shocked to learn how essential we are in the veterinary hospital. This sticker helps techs show off all the amazing things we do. I intentionally incorporated a variety of species into the design because vet techs work with all kinds of animals.
Q: Why do you think Vet Tech Week is so important for everyone to celebrate?
A: Vet Tech Week spotlights and celebrates the role of veterinary technicians and the essential contributions we make to the field. Our work is often undervalued, but we do a lot for our patients. Vet techs play a critical role in the clinic, but also in other settings like diagnostic laboratories, research facilities, educational settings, and pharmaceutical companies. Our work deserves to be seen and celebrated.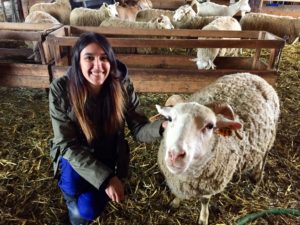 Q: What's one thing every person (vet med or non-vet med) could do right now to make a Veterinary Technician's day?
A: The pandemic has been difficult for the veterinary field. One thing that could entirely make a vet tech's day is simply showing us patience and kindness. We need to be kinder to each other and ourselves while at work so that together, we can handle whatever comes through the door. Clients need to be reminded that we're here to care for their animals, and we're doing our best.
Thank you to Natalia for sharing her creativity with all of us and giving us a new, fun way to celebrate Vet Tech Week in 2021!