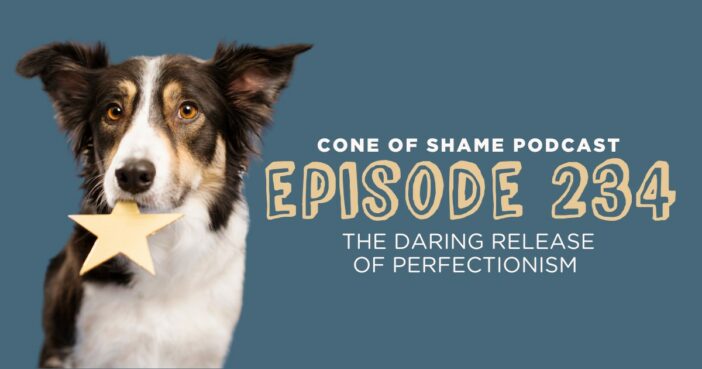 Dr. Natalie Marks joins Dr. Andy Roark to discuss her recent article on "The Daring Release of Perfectionism." They discuss how the selection process for veterinary school and success within veterinary school may favor perfectionistic tendencies, and the drawbacks these tendencies have in practice. Finally, they talk about how to manage perfectionism and make peace with it.
You can also listen to this episode on Apple Podcasts, Google Podcasts, Amazon Music, Soundcloud, YouTube or wherever you get your podcasts!
LINKS
ARTICLE: The Daring Release of Perfectionism
Dr. Andy Roark Exam Room Communication Tool Box Team Training Course
Dr. Andy Roark Charming the Angry Client Team Training Course
Clinical Empathy Webinar with Dr. Andy Roark and Dr. Emily Tincher
ABOUT OUR GUEST
Dr. Natalie Marks obtained her bachelor's degree with High Honors in Animal Science from the University of Illinois in 1998, and then proceeded to obtain a Masters in Veterinary Medicine and Doctorate of Veterinary Medicine degree with High Honors from the University of Illinois College of Veterinary Medicine. She became a Certified Veterinary Journalist in 2018.
She has been a veterinarian at Blum Animal Hospital since 2006, co-owner until 2018 and current associate. Prior to 2006, Dr. Marks worked at Allatoona Animal Hospital just north of Atlanta, GA. Her media experience began in print when she created several monthly veterinary columns in multiple community magazines and was a frequent guest speaker for the German Shepherd and Bernese Mountain Dog clubs of Atlanta.
Upon her return to Chicago, Dr. Marks became very active in the Chicago Veterinary Medical Association, serving on the executive board. She was also a past board member of the Illinois State Veterinary Medical Association and an active volunteer to the American Veterinary Medical Association and American Animal Hospital Association.
Dr. Marks has received many prestigious awards in her career. She was awarded the Dr. Erwin Small First Decade Award, presented to a veterinarian that has contributed the most to organized veterinary medicine in his or her first decade of practice. In 2012, Dr. Marks was awarded Petplan's nationally-recognized Veterinarian of the Year. In 2015, she was awarded America's Favorite Veterinarian by the American Veterinary Medical Foundation. And, most recently in 2017, she was awarded Nobivac's Veterinarian of the Year for her work on canine Influenza.
Dr. Marks is also very passionate about educating in all aspects of media, both locally and nationally. She has appeared on Good Day Chicago, WGN-Pet Central, NBC Morning News, ABC, CBS, NPR, WBBM, Northwestern University media channel and many local websites. Dr. Marks was featured nationally on the Today Show and CBS Nightly News during the canine influenza epidemic of 2015 and in multiple issues of JAVMA. She is a guest contributor in multiple media campaigns for Merck, Zoetis (formerly Pfizer), Boerhinger-Ingelheim, Ceva, Trupanion, Aratana, ScopioVet, and Royal Canin.
Dr. Marks is a regular columnist in Today's Veterinary Business, Healthy Pet magazine, and Pet Vet, and has been published in Veterinary Medicine magazine, DVM magazine, Dogster, and Vetted. She is on the Advisory Board for Health Magazine and also was the host of numerous veterinary broadcasts for the Viticus Group (formerly WVC).
She is a desired national and international lecturer for many of the same companies at VMX, WVC, AVMA and regional conferences, and most recently was a featured speaker at Ceva Sweden's Derm Day and the Royal Canin Global Symposium.
Dr. Marks finds the ideal combination of teaching/mentoring and improving the emotional health of pets in the Fear Free movement. She sat on the Fear Free Executive Council and is a national educator helping other private practitioners develop these techniques. She also led her practice to become the 7th nationally and first practice in Illinois to become a Fear Free Certified Hospital. She is an Elite Fear Free Certified Professional.
Finally, Dr. Marks is a serial entrepreneur, angel investor and consultant, and one of the newer members of VANE, the Veterinary Angel Network.
When Dr, Marks is not working, she treasures her time with her family and her three wonderful children: Sophia, Evan and Madeline. Dr. Marks loves traveling, scuba diving, cooking and spending time outdoors, especially anywhere there is a beach!
---
EPISODE TRANSCRIPT
Dr. Andy Roark:
Welcome everybody to the Cone of Shame Veterinary Podcast. I'm your host, Dr. Andy Roark. Guys, I am here with my friend, Dr. Natalie Marks. She's amazing. She's a practicing veterinarian. She's an entrepreneur, she's a lecturer, she's a writer. She does so, so many things. I really love an article that she wrote called The Daring Release of Perfectionism, and she talks a bit in this article about dealing with perfectionistic tendencies as a leader in practice, as a veterinarian, as a colleague.
And then when we get into this episode, we talk a little bit about her own sort of epiphany that perfectionism was undermining what she was trying to do and how she sort of wrestled with that. Man, this is one of my favorite conversations of the year. It really is. I hope you'll give this episode a chance. If you see yourself as a bit of a perfectionist, if you work with people who are perfectionists and you recognize that it's a double-edged sword, this is a really good episode. So anyway, I hope you'll really enjoy this. Dr. Natalie Marks is amazing. Let's get into this episode.
Kelsey Beth Carpenter:
(Singing) This is your show. We're glad you're here. We want to help you in your veterinary career. Welcome to The Cone of Shame with Dr. Andy Roark.
Dr. Andy Roark:
Welcome to the podcast, Dr. Natalie Marks. Thanks for being here.
Dr. Natalie Marks:
Thanks for having me back, Andy. It's good to be here.
Dr. Andy Roark:
It's wonderful to have you. You have been here at least three times. I really enjoy you. You are my discovery of 2023, I think. I don't know that you were on before 2023, and now I can't have you on enough. I enjoy so much that you're doing. For those who do not know you, you are an educator, a consultant, a practicing veterinarian in Chicago. You are a leader in the Fear Free movement. You were a member of the original Fear Free Advisory Board. You have won crazy awards that I have to say I'm super jealous of. You were in 2012, you won the pet plan Veterinarian of the Year award, which I was involved with putting on that ceremony and stuff. And so if people don't remember, it was a big deal. You were voted America's favorite veterinarian by the American Veterinary Medical Foundation. You just rack it. You rack up big awards and you're doing so much. It's amazing to me. You make me tired and I do a lot.
Dr. Natalie Marks:
Oh, my gosh. Well, that's saying something. I feel like you're always on the go too.
Dr. Andy Roark:
Oh, man.
Dr. Natalie Marks:
Well, it's interesting you bring that up because it sort of relates to what we're going to talk about today, which is just that overachieving drive that a lot of us also coincidentally have with perfectionists. And so I'm curious to see what we can tease out.
Dr. Andy Roark:
Yeah. No, I agree. I think it's funny. You're exactly right in that that is the setup for where we're going. You wrote an article that I saw and I really liked. It was in Today's Veterinary Business, it was called The Daring Release of Perfectionism. And in it you talk about, you say that our colleagues, clients, and patients are better served when we simply strive for excellence over perfection. And so, one of the things sort of appreciate about you is I see a number of my own tendencies of just have "I have to be the best. We have to accomplish more. We have to make a bigger difference. We have to get more things done."
And I really personally wrestle with this a lot because you can push yourself for perfection to the point that it becomes counterproductive. And I have often struggled with trying to figure out where that line is of pushing myself hard enough that I continue to make progress and feel good about what I've done at the end of the day, but not push myself into the negative place that I've been before where I'm like, "Andy, you've got to let some of this go." So let me sort of pause there and let you sort of lay out your thesis on perfectionism.
Dr. Natalie Marks:
Yeah, as you mentioned just when we were chatting, it is a really significant double-edged sword, but I think has sort of overtaken the veterinary industry because so many of us, just to even get into veterinary school, we were told we have to do get almost straight As. Our academics have to be stellar and we have to do all of this sort of extra internships or volunteerism ahead of time. And you should have done a research project and maybe should have also have these recommendations, which means you have to do this extra. And it's all about truly overachieving, because there were only so many spaces with how many applicants. Although the situation has changed a little bit, certainly with the shortage of veterinarians. But certainly when you and I were in school, that's how it started.
You get into school and it's throw, how many, 36 hours of caseload at you every semester. Many of us had jobs, many of us were volunteering, working at clinics. But I think the underlying theme that connects that… As Taylor, we were talking about Taylor Swift. The invisible string that connects so many of us is that we want to be perfect. It starts in a healthy way. And I think many of us maybe were raised that way or encouraged that way or genetically have some of that in us or all of the above. Nature versus nurture, however it was, we ended up at the same place that in order to be the best, we have to be perfect. And what I found as I was sort of thinking about this and reflecting on especially my year as practice owner, I found that it often led more to detriment than to benefit. Not just me, but to my team, to the families and clients I was working with, to my patients, to my family, to my friends.
And the key though, and I think the trick is identifying it in the moment versus having to do this reactive approach that I'm doing right now. It's hopefully helping obviously in this next chapter of life, but so many of us have our blinders on and are so busy in the muck of practice, and I say muck in the most positive way, but you're in that daily grind and not realizing that if you just take a few of, hopefully the tips and tricks we'll talk about today and apply them. These are not major things. These are sort of, if you've read about atomic habits, these are little things that can make a huge difference in how you feel, how you present yourself, how you're received. But I think the goal of all this is how can we make veterinary medicine a lifelong career? I think that is a key of why so many of us have left, why a lot of people have said, "I just can't do this any more," because of this.
Dr. Andy Roark:
Well, there's so much to unpack there. So I completely agree. I think we select for perfectionists going into vet school. And so those are the people who go through the hoops and set themselves in a place where they get selected. And then when we get trained, I think we train people to be perfectionists. And again, I know things in vet schools are changing and their curriculum is evolving and I think it's wonderful, but generally we don't work collaboratively in vet school. We work as individuals and we are graded on our perfection, on our completeness. And so I think that we select for people who have that fixation and we further train to that. And then we put them out into a scenario where honestly being a perfectionist, just from a pragmatic business standpoint, is really limiting. The vets that really thrive are ones who are okay with something not being exactly perfect as long as it's good enough and they didn't have to do it.
And it's like that's how you leverage staff. That's how you're able to get work done. But if the only way that something is good enough is if you yourself do it. There's no way out of that. It's absolutely limiting. Can you flesh out some of your comments, because I think this is important to get our heads around? So you say perfectionism is not ideal for our team, it's not ideal for our patients, it's not ideal for our clients. Can you sort of flesh out what that looks like? I think some people would say, why is perfectionism not ideal for our patients? How is that true?
Dr. Natalie Marks:
Right. Well, so let's start specifically just right with medicine. And what I think both of us… And I don't mean to speak for you, but I would assume you would feel this way. We aren't saying, I'm certainly not saying, just strive to be sort of average. If you're doing surgery in an average way, that's fine. Not at all where we're getting at. But I think a perfect example, and I'm glad that I went right to surgery because I think this is a key. When we as perfectionists, we often will think to ourselves one of two scenarios. Let's say you are brand new associate and you're like, I have a client that comes in and they want to have a gastropexy and you've never done a gastropexy. Many perfectionists will actually do one of two scenarios. They will either say to themselves, I've never done this before. I don't want to fail, so I'm not even going to learn.
I'm not going to take the steps. I'm going to decline this. I'm going to shy away from this because if I can't be perfect, I shouldn't even try. But there's another camp of perfectionist that will say, I'm going to admit to myself I don't really know what I'm doing, but I would never let anybody see that fear. I would never ask for help because God forbid they see me having a vulnerability. So I'm going to try this surgery even though inside I'm terrified and I might make mistakes, and you probably will make mistakes, and the patient's going to be under anesthesia longer. You're not going to understand the shortcuts. And perhaps there's going to be even complications, God forbid, but they might be. So both of those scenarios perfectionists can lean to. But if you notice, those are extremes.
Dr. Andy Roark:
Yeah.
Dr. Natalie Marks:
What we want to think about is how can I take fear, which fear is such a innate and sort of natural survival instinct we all have, but we don't want to be guided by it. I work with a life coach, and she gave me this amazing sort of imagery of how to keep my fear in check. And in my head I have a boardroom, and I'm sitting at the head of the table and I have all my emotions sitting in their chairs. And every emotion that I have when I'm thinking about a decision has a voice including fear. But fear can have that voice and then I can say, "Okay, fear, I've heard you, but I'm going to take the consensus and figure out what my view is."
And so when you have a situation like that, instead we'd love to encourage and hopefully teach and mentor the hybrid model, which is, "Okay, I hear you fear. Never done this before. I get that. That's noted. That's needed." We have to have some of that healthy sort of wary optimism.
But I also heard that in that bravery of saying, "I'm going to try it," you probably need a little bit of help. So let's take the cautious nature, but let's take the bravery and let's meet in the middle. Let's ask someone for help. Let's go in for guidance. Let's take a little bit of extra study. Let's take a course, but let's find that healthy goal of helping that patient but also having that self achievement without the worry you're going to fail or without even trying. And so that's what I mean by around our patients. We can either not help them at all or we can be too bold because we don't want to show vulnerability. And I think that's one of the keys of perfectionist is they're so scared… again, I'm speaking as a recovering one… so scared to let somebody see you fail most of all yourself. Even though that often doesn't happen.
Dr. Andy Roark:
I like this a lot. I was talking just a couple of days ago with Dr. Ivan Zack, and so he's the CEO at Galaxy Vet, and just a genuinely neat, interesting guy. And he said, I've never heard it bluntly, but he said, "Perfectionism is fear." And he said, "That's what it is." And now that you're talking about fear… And I sat with that a little bit and said, "Is that really true? I hear what he's saying, but is that true?" And then as you're saying, "Well, there's really two different paths, but they're both fear driven." I go, "Oh, that's sort of starting to square up." Do you generally agree with that assessment?
Dr. Natalie Marks:
I do. If you think about if this is relating to you, if you're sitting there going, this is me, this is me, if you think about how perfectionism guides you… And let's take another aspect, let's say with your team. So say you are a leader in your practice in some regard, whether management or a peer leader or a champion for some aspect, and you're tasked with a project that you have never done or is quite large or means stepping into a whole nother realm that maybe you failed at before even. Perfectionists, again, tend to go to extremes.
They tend to, and I think I wrote in my article about silent expectations. They often feel like if I have this expectation that this project has to be perfect, then I'm going to not really tell people around me what I need them to do and help me with because I don't want to be bossy. I don't want to come across as taking over because I have that fear of being looked at that way. But also then I'm never clear. I don't give expectations of what our goals are. And then when someone presents me with something they've done for this project, then there's inherent disappointment which often in body language is communicated to the team member, which then of course creates this conflict.
So to your point, led by fear in both scenarios instead of finding that middle ground of saying, "I understand I'm me and I understand you're you. And for this project, our expectations are such. And so I want to discuss with you, same way we do shared decision making in the exam room, I want to discuss with you, this is what I want out of this project, but what do you want out of this project and how do we find that shared goal together so that expectations are out, they're on the table, we know exactly what they are, we hold ourselves accountable for our roles and then we regroup."
I didn't do that as a young owner. I didn't want to be that person because especially I think a lot of them are the associates, which I was, that then become owners and you're working with the same people but in a different role, and you do not want to be looked at as, if I can just say it, a bitch the that just bought the practice. So you come out there and you are just like, "Well, whatever you think you can do," but that never ends well. But that stems from this perfectionistic tendency of I expect here, and I assume everybody else thinks they should be up here, but that's not the case and nor is this case healthy. So we have to sort of bring down, yeah,
Dr. Andy Roark:
Is it perfectionism kind of getting trapped in two spaces? Do you think it's perfectionism of the job has to be done perfectly and I don't want to make other people feel micromanaged and I want to be the cool boss and I don't want to be the boss that people don't want to work for. And so then you're completely stuck at that point because you're like, "It has to be perfect, but I don't want to really communicate my expectations because then I will not be this other part of perfection." It doesn't seem like there's any way out of that if you set yourself up that way.
Dr. Natalie Marks:
Yes, and that's the key is that… I wrote this article because as I was reflecting on my first several months of ownership, I was thinking if I was mentoring people, which I do, what advice would I give them now as these young owners, whether they're in sort of a corporate partnership or they're independent, but whatever that is, if they are in this role, what is a better way to start? And again, I don't like to look back on regret. I like to look at everything in life as a learning opportunity. And so I think this is just a way for us to think about how can we set ourselves up, especially to improve work culture, because that's really where this is stemming from. Every person, especially perfectionists, they feel very, very nervous about someone else seeing a flaw, because to them a flaw creates extreme anxiety.
And I think we all know that. Even though many of us have failed, if we look back in life, we failed. Sometimes we ignore the failure. Sometimes we are embarrassed about the failure. We do come back, but many of us don't go back in the same way or don't even go back to that same experience because it's so traumatic for a perfectionist. However, if we reframe that and say, how much could someone learn from you being vulnerable enough and brave enough? Those two can go together. That's the thing. We don't often think that bravery and vulnerability are together. We often think vulnerability is a weakness. It is a strength. So if you are brave and vulnerable in the same time as a practice leader and demonstrate, not be embarrassed, but just demonstrate the humility of a flaw or we'll say a perceived failure, because often it isn't. Often what we perceive as a failure is a minor blip in the road, but to a perfectionist, it's a catastrophe.
But then show how we learn together. You misquoted a client, how do we learn from that experience? What process can we create so it's better next time? Something happened in a surgery, no one's perfect. How do we learn from that experience? How do we teach someone not to do the same thing and then get that personal reward out of mentorship? So I think it's all about reframing it and understanding that, again, a brave vulnerability is I think how I choose to lead as I move forward, is to say it takes a lot to show somebody that I messed up. It takes a lot to admit a mistake, especially as a perfectionist, but the reward that you get from that vulnerability is actually so much more bucket filling than we realize.
Dr. Andy Roark:
Yeah, I love that you say that. And having that behavior modeled, that is something I feel like I've seen a lot more in the last say 10 years than in 10 years before that. And I had a couple of mentors. So I'm a Florida grad, and Uncle Mikey as we call him, Dr. Michael Scher was at Florida. That guy was absolutely brilliant, absolutely brilliant. But he would talk in rounds about his pile of bones, he'd be like, "Yeah, I remember him. I missed that one on my pile of bones." And I remember just, I liked him so much in the time, but for someone who's a bonafide… And maybe you would say, "He's such a bonafide genius, no one's questioning his competence." But I thought that was such wonderful behavior and philosophy to say, "Well, I'll tell you about how I messed this one up." And it made an impression on me to have this person who I just respected so much being willing to say, "Well, I've made these mistakes."
Hey guys, I just want to jump in real quick and let you know about some great continuing education I have coming your way. Guys, I've partnered with Nationwide to put together a series of webinars that are a hundred percent free to you. They have Ray-CE, they are good to go, and they are going to be, first of all, just genuinely entertaining and fascinating. The first thing I got coming for you is on November the 14th with my good friend Dr. Emily Tincher. She's been on the podcast a number of times. I love having her here. She's such a fun, interesting person who's a deep thinker. And so anyway, she is doing a webinar called Clinical Empathy, the Exam Room Skill that Can Transform Your Team. And I've had Emily on the podcast before talking about clinical empathy.
This is a really good skill building webinar. This is great for your support staff as well as your doctors, but your team leads especially, but your technicians, your assistants, your CSRs. All of this, it's such a great communication content. I think you're going to really like it. So anyway, that is on November the 14th. It is at 3:00 PM eastern, noon Pacific.
And then the last one in the series is on December 13th. It is with Dr. Simon Platt. It is called Head Cases, a Spectrum of Care approach to neurology in general practice. So if you're a neurology buff, if you like seizures, not like seizures, if you like knowing about seizures, if you like a neurophysical exam tips, tricks and hacks, things like that, this is going to be a great webinar. So again, this is on December 13th. It's at 1:00 PM Eastern. That's 10:00 AM Pacific Time. Gang, I would love to see you there. Links to all this stuff in the show notes. Go ahead and grab a spot. I'll see you there. Let's get back into this episode.
I was having a conversation with my team, and this comes from a practice manager named Maria Pirita, who I work with who's amazing, but she's one of the most optimistic, positive people, can do people I meet. And her life philosophy as she told it to me was, "How hard can it be?" And I'm like, that's such a wonderful… So that surgery, she would look at the surgery and go, "How hard can it be?" I just think, how refreshing is that? How wonderful would it be to have that be at least one of the driving voices in your mind of, other vets do it. I've done a lot of surgery. How hard can it be? And I love how you put it. I love your sort of board of directors where I'm just like, I'm not saying this is the defining voice, but it's one of the voices. And I think a lot of us have lost touch with that how hard can it be voice?
Dr. Natalie Marks:
I love that too. And I think that speaks to, and again, we're sort of this underlying tenet of fear is that a lot of us go into… And let's just even take practice ownership. We've been talking about it as an example. A lot of people look at practice ownership. And maybe if they allowed themselves, again, I call that daring release because it's not easy. It's not easy to release that sort of… It's almost like a body suit. It's this control and sort of this safety in a way of sitting in this space of perfectionism. But when you let that go, and it can be slowly at points and starting with baby steps, but you let that go and you actually look at yourself and say, "What do I want? What do I want right now out of life?" And if that's to you, it's like, I want to be a practice owner. And then that ugly fear that's sitting on your shoulder goes, "You can't do that. Are you crazy? That's insane, blah, blah, blah."
You have to listen to it, but you don't have to follow it. And that's important I think, because we don't want to get rid of all of our fear. Fear is needed in small… Otherwise, fear would say, "I've got a cliff. I could just walk off. I can fly." Fear is needed, but fear also is, if we think about where that started, it was because when we were living in caves and there's a saber-tooth tiger around the corner, fear kept us in the cave and away from threats. And it's still there, but we have a much better way of controlling it. And how hard can it be? And so the other thing I think that has been really helpful as I've been working on this journey of releasing perfectionism is exactly what you mentioned, which is surrounding yourself with people who think about the world differently. Perfectionists tend to want to stay around perfectionists because it's like safety in numbers. It also feels better for someone to say, "Oh yeah, totally. I agree with you a hundred percent."
Dr. Andy Roark:
Yeah. It validates what you're doing and how you see it. And it validates your fear as well. They're like, "Oh yeah, I would never let someone else do that." And you go, "Okay, good. I feel good about this."
Dr. Natalie Marks:
And then you're like, "Of course I knew it. I was perfect," and it's just sort of this vicious cycle that you again trapped and you can't get out of. But when you allow yourself to be surrounded by people who have different ways of looking at the world, have not necessarily struggled with the challenge of perfectionism, but strive for excellence, that healthy hybrid form, it challenges you to think about what if I did look at it that way? Or what if I did take a step back? What I just saw is a massive mistake. Maria might've been like, "That's nothing. What's going on? Why are you thinking that way?"
And the more that you allow yourself to internalize those other comments, the more you can validate that you know what, that was a little minor mistake and everybody makes them, and I'm going to move on, instead of internalizing that and having it stay with you for days and weeks and affecting other parts of your life. And I know that I definitely did that as a younger associate, and I would let a case just linger and fester for a long, long time instead of surrounding myself with people who could allow me to think differently, but also being brave enough to say, "Yeah, I made that mistake. I can't believe I did that, but I did do it. Help me get through it."
Because we get embarrassed and we just sort of wallow in this alone. And being alone in perfectionism is awful, absolutely awful because not only do you feel alone, but there is nobody there… Again, I'm going to just keep using Maria… I hope I get to meet her someday… being that beacon of light that says, how hard can it be? It was one mistake. You quoted the client $450 instead of $500. Yes, the client's response was as such, but it's not that you're the worst person. Let's just think about a different way to diffuse a client next time you're on a call.
Dr. Andy Roark:
Yeah, I love it. Natalie, was there a turning point for you? Was there something that made you stop and sort of assess? Because you clearly thought a lot about this. And you say sometimes you have a before version of yourself and an after version of yourself. What was it that sort of made you stop and take stock?
Dr. Natalie Marks:
Yeah, it was probably one of the hardest days of my veterinary career, and it was actually, we had been doing, I was a practice owner, we were doing reviews. And we had of course our team review us, myself and two partners. And I had set myself up in the safe space of perfectionism of saying, "Oh, well, look at all this great stuff that's coming back. You're a wonderful mentor. You teach us, you do rounds with us," and all this stuff. And then all of a sudden, I had three comments from newer team members who said, "You're really intimidating and unapproachable." And I'd never really had that direct feedback before, especially from a position of leadership.
And if I thought about it in the moment, certainly now as I reflect, of course I have many different feelings on it, but in the moment, I remember hearing that from my senior partner, delivered in a way that I think if I had delivered that now would be different, but sort of just this very direct, almost like a brick hit me. You're pretty intimidating and really unapproachable, and they don't really feel like they can come to you. In that moment, I know I went home, I didn't eat for two days. I had stress colitis. I'm thinking, how do I even go on? You start to ruminate and go into this spiral of, I must be the worst practice owner anyone's ever had. Oh my gosh, if people think of this here, do my friends think I'm that way and they just don't tell me? Do my kids think I'm that way? And you go into this really dark place.
Dr. Andy Roark:
Yeah.
Dr. Natalie Marks:
And my best friend at that moment said to me, "You've got two choices. That's what you got here. You can sit here and continue to wallow," because it had been days of me really being in this dark place, "continue to wallow, and you are going to lose everything you worked for." Because practice ownership at that point had been my veterinary goal and I'd finally achieved it, "And you could lose everything. Or you can take this and you can say you don't want to be looked at that way because the way you're acting, it sounds like you don't. And you can be super brave and sit down with those three people and get feedback on what they are seeing because you obviously aren't seeing it. And it's going to take strength and it may even go down a little bit more before you go up, but you're going to go back up."
And I thought it took a lot of guts for me to sit down with those people because they did give me a lot of feedback that I wasn't necessarily expecting or even in the moment wanting. But I wrote it all down and I sat with it. And I said, "You know what? This is probably the bravest thing that I've ever done for myself, but it's also the bravest thing you've ever done because they definitely didn't need to give me that feedback." But I realized that's not the leader I want to be. And so it took a while though to tease out why was I looked at that way. And that's where I came kind of to those silent expectations. That was a big part of it for me is working on projects with team members and not giving them transparency and not showing my weaknesses, realizing that instead of them looking at them as weaknesses, they would realize that I'm human too. It humanizes leaders to be that way, and perfectionists just don't see that in the moment.
Dr. Andy Roark:
No, I love that. Thank you for telling that story. And again, I resonate with that so hard. I know exactly how you feel because you want to be the best boss and you want to be the best manager and the best doctor. And then when you get hit with feedback like that, sometimes it's really hard to let it go, if that's what you really care about.
The way I came into thinking about perfectionism just for myself is very much… I ended up in sort of the same place as you. At some point you just get tired of getting trapped again and again. And ultimately, you have to pick your poison. And I think your friend was so spot on. You can just continue to do this or you can decide that you're going to try to make some changes. But those are your only two options. Keep doing what you're doing or do something different. Anyway, I love that you shared that. I love this conversation so much. Dr. Natalie Marks, you are absolutely amazing. Thank you for being here. Where can people find you online? You are doing so much. I love your column in Today's Veterinary Business. Where else can people find you and follow you?
Dr. Natalie Marks:
Yeah, I do a lot on LinkedIn. I'm certainly doing a lot educating. My website is marksdvmconsulting.com if people want to check out a lot of the articles and blogs and where I'll be next. But I'm certainly around and I really am on Facebook and Instagram too. But I love, just like you, I love connecting with colleagues, and I think this issue is one that has sort of remained behind the screen and behind that big curtain for a long time. But I think the more that people talk about this and realize there's a huge community of recovering perfectionists out there that have been where you are. And if you're feeling this way, don't feel like this is the end, that I'm a perfectionist, it's ingrained in me, and I will never be able to change. Small steps make a big difference.
And also, one last thing I would say is you need to recognize the joy along the journey. We're so committed to, it's got to be if we don't hit the ultimate goal, the only way we can really find joy is the end result. Only for a second, because then we got to move on. It sounds so trite, but stop and smell the roses and the little, little pieces along the way because that's where we find purpose and meaning. And often that's even more rewarding than the end of the journey.
Dr. Andy Roark:
Oh man, you're speaking to my soul. Anyway, we could have a whole other conversation about that.
Dr. Natalie Marks:
We certainly could.
Dr. Andy Roark:
We're going to stop here, but I have lived that reality so much. And I've come to the same place as you. You've just got to let some of it go. You got to stop and smell the roses. Thank you so much for being here. Guys, thanks for tuning in, and everybody take care of yourselves. All right? And that's it. That's what I got for you guys. I hope you enjoyed it. I hope you took something out of it. Dr. Natalie Marks, thank you so much for being here. She's absolutely fantastic. Gang, take care of yourselves. Be well. I'll talk to you later on.