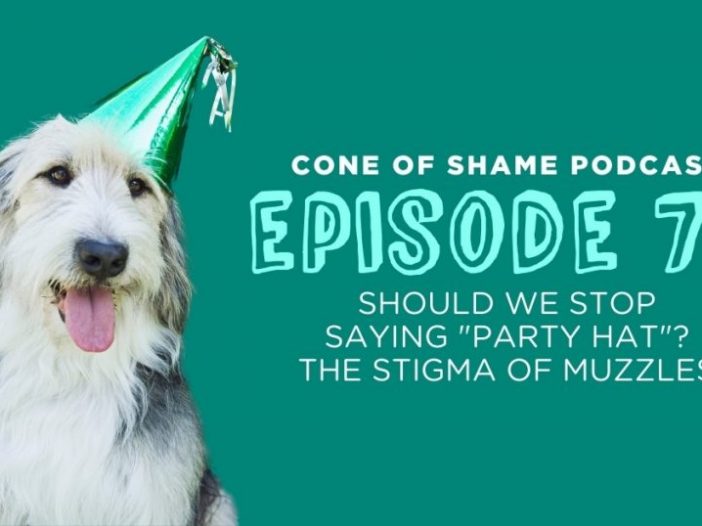 This week on the Cone, Dr. Andy Roark and Harry Potter Vet, Dr. Michael Miller, review Miller's wildly popular article "Stop Saying Party Hat! Muzzle is Not a Dirty Word".
INTRO
This week on the Cone…it's levi-O-sa not levio-SA. Actually it's the 'Harry Potter Vet' himself, Dr. Michael Miller, but he's not talking magic and muggles today. Instead we look at the first article he submitted to drandyroark.com 'Stop Saying "Party Hat", Muzzle Is Not A Dirty Word'. Some clients can be hesitant and even resistant about using a muzzle on their animal, but it's essential sometimes to do the job right. Michael wrote this article five years ago and things have changed. Andy checks in with Dr. Miller to see how his feelings differ from when he originally put pen to paper.
TAKE AWAYS FROM THE EPISODE
It's not shameful to muzzle your dog.
Normalizing the muzzle conversation is necessary to de-stigmatize it.
"Clear is kind" – Brené Brown, using terminology like "party hat" can confuse clients and make situations worse. Manage expectations with clear language.
Clients may not want to muzzle their dog but it can be the best thing for them to get care. You're not trying to something that is bad for their animal.
Having to keep one eye on a stressed animal can lead to sub par work.
You are allowed to and should set boundaries for the safety and comfort of yourself and your staff.
A muzzle is just one tool in the toolbox that you use to help ease an animal's anxiety and stress during a visit.
Using a muzzle never gives you or anyone reason to mistreat an animal.
Andy and Michael go through all of this and explain how their own dog's behavior has made it easier to talk with clients about using a muzzle. Sometimes a muzzle really isn't the best choice and there may be another way for the animal to be treated but we still have to manage expectations and maintain boundaries for us, our staff, and our clientele. Listen to the podcast here, or wherever you listen, to catch all the nitty gritty details and to hear it straight from the horcruxes mouth.
---
LINKS
Personal Branding w/Dr. Andy Roark: https://unchartedvet.com/personal-branding/
Dr. Andy Roark Swag: https://drandyroark.com/swag
All Links: https://linktr.ee/UnchartedVet
---
RELATED MATERIAL
'Stop Saying Party Hat! Muzzle is Not a Dirty Word' -Dr. Michael Miller
https://drandyroark.com/stop-saying-party-hat-muzzle-is-not-a-dirty-word/
COS 008: The Deathly Hallows Of Veterinary Medicine (w/ Dr. Michael Miller)
https://soundcloud.com/coneofshameshow/cos-008-the-harry-potter-vet
'The 3 Deathly Hallows of Vet Med' – Dr. Michael Miller
https://drandyroark.com/the-3-deathly-hallows-of-vet-med/
ABOUT OUR GUEST
Dr. Michael W. Miller is the co-owner of a four-hospital small animal practice, seeing patients at Lakewood Animal Hospital in Morris, Illinois. In addition to dogs and cats, he has a special interest in reptiles which led him to start a wildlife rescue at his practice for hit-by-car turtles. He has volunteered on committees for the Association of Reptile and Amphibian Veterinarians, and serves on the Illinois Veterinary Medical Alumni Association executive board. After being a contributing author to the DrAndyRoark.com and UnchartedVet.com websites, he started his blog called Harry Potter Vet, where he uses comparisons to the wizarding world to help veterinary professionals and himself discover the magic in veterinary medicine. Outside of vet med, he also is discovering the magic of parenthood as he and his wife raise their two young sons.
Editor: Dustin Bays
www.baysbrass.com
@Bays4Bays Twitter/Instagram