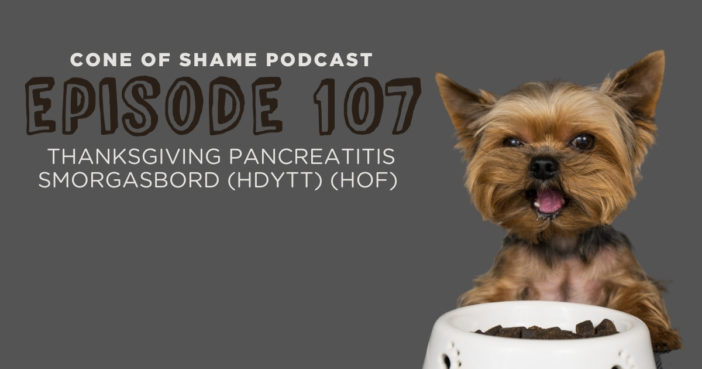 In this episode, Dr. Andy Roark talks to the VetGirl herself, Dr. Justine Lee about how SHE treats pancreatitis. We've got a tiny dog who ate half a heavenly ham. How do YOU treat that?
LINKS
Uncharted Podcast on iTunes: podcasts.apple.com/us/podcast/the-…st/id1449897688
Charming the Angry Client On-Demand Staff Training: drandyroark.com/on-demand-staff-training/
What's on my Scrubs?! Card Game: drandyroark.com/training-tools/
Dr. Andy Roark Swag: drandyroark.com/shop
All Links: linktr.ee/DrAndyRoark
VetGirl: vetgirlontherun.com/
ABOUT OUR GUEST
Dr. Justine Lee DVM, DACVECC, DABT lectures throughout the world on emergency, critical care, and toxicology, and was honored to receive the Speaker of the Year Award at the North American Veterinary Conference (2016, 2015, 2011) and Association des Médecines Vétérinaires du Québec (2012). Dr. Lee was the co-host veterinary analyst on Nat Geo Wild's Animal ER LIVE, and was the former contributor/blogger to Prevention magazine, PetMD: The Daily Vet, Pet Health Network and Voyce. She has been featured on NBC Weekend Today, Rachael Ray, WCCO, MPR, and various other TV and radio engagements. Dr. Lee is a part-time criticalist at Animal Emergency & Referral Center, a specialty referral hospital in the Twin Cities, MN.
VETgirl was the brainchild of Dr. Justine Lee. Years ago, while frantically studying for her board examination(s), she decided to take some time out to relieve some stress (aka "panic) by running. While pounding the pavement, she thought, "Why can't I listen to this stuff on my Walkman while I exercise?" (She is old, and this was pre-Ipod days). Since sleeping on top of her textbooks didn't appear to osmotically work, she decided that this "listen and learn" modality would truly be the best way to "take it all" in while frantically multi-tasking. And that's when she teamed up with techno-saavy Dr. Pachtinger to create VETgirl.
Editor: Dustin Bays
www.baysbrass.com
@Bays4Bays Twitter/Instagram
SHOW TRANSCRIPT
Dr. Andy Roark:
Welcome, welcome, welcome to The Cone of Shame veterinary podcast. I am your host, Dr. Andy Roark. Guys, I'm pulling out one of my favorites, the vet girl herself, the one and only, the amazing Dr. Justine Lee, in this hall of fame episode, talking about how she treats pancreatitis.
Dr. Andy Roark:
Guys, it's the holiday season. We're going to see some upset stomachs. What happens when they're bad? What happens when we go all the way to the pancreatitis? Are there any tips, tricks, or hacks that you or I could pick up? Let's find out from Dr. Justine Lee.
Kelsey Beth Carpenter:
This is your show. We're glad you're here. We want to help you in your veterinary career. Welcome to The Cone of Shame with Dr. Andy Roark.
Dr. Andy Roark:
Welcome back, Dr. Justine Lee. Thanks for being here.
Dr. Justine Lee:
Thanks so much for having me on.
Dr. Andy Roark:
Oh, my pleasure. I always enjoy it. I have got a quick case. This is a classic, but every now and then it's good to through the classics and make sure that we're not missing anything, that I am doing gold standard of care today as it was years ago, so let me make sure I'm up to date and I got my bases covered. You ready?
Dr. Justine Lee:
Ready.
Dr. Andy Roark:
I have a four-year old male neutered Yorkie named Lancelot. He is quite a character. As we got ready for the Thanksgiving holiday, Lancelot got loose from mom when her friends were over, and into the big red cooler that was holding the honey baked ham for dinner. They found Lancelot standing on top of the tinfoil and grazing on the ham itself. Just so you know, they saved the ham.
Dr. Andy Roark:
They cut off the part that he ate, and so the ham's okay other than the portion that Lancelot ate, but he did eat a hunk of hunk of ham. It's been about two days. Lancelot, on examination, he's got a painful belly, he's trembling, which might just be Yorkie at the vet clinic, but it might be something more. He's vomiting and he's having bloody diarrhea. Just walk through this case with me real fast. I want to make sure I'm going to nail it. How do you treat that, Justine?
Dr. Justine Lee:
Sure. You know, we were just joking before whether or not to make it a Schnauzer, but I will say one of the top breeds that I end up seeing for pancreatitis, of course during Thanksgiving and during Christmastime, is actually the Yorkshire Terrier. A lot of people forget this is one of the top three breeds besides Miniature Schnauzers and Shetland Sheepdogs that are really at risk for pancreatitis, and unfortunately, I see pretty severe pancreatitis in Yorkies.
Dr. Justine Lee:
Now, with pancreatitis, it can range from the mild case that goes home with sub-Q fluids and an injection of Maropitant and some bland food, to the life threatening, acute, necrotizing pancreatitis that can be fatal, and I've seen the whole gamut.
Dr. Justine Lee:
I will say most of them oftentimes need to be hospitalized for one to two days, depending on how severe it is, and I'm also going to just get on my soapbox and say when in doubt, in this scenario, really important that we educate our pet owners. As soon as their dog eats anything, even if they don't think it's poisonous, it's always important to call the ASPCA Animal Poison Control Center because simply inducing vomiting two days ago, as soon as they saw him standing on the cooler eating it, could have prevented the problem to begin with, right?
Dr. Andy Roark:
Yeah.
Dr. Justine Lee:
Preventative medicine, again, so important. In this scenario, because the dog already ate it, I'm going to say the mainstay therapy is always just a handful of things, and I say this with a poison patient too. I joke when people ask me for advice. My answer is always symptomatic supportive care, fluid therapy for perfusion and hydration. It's gastrointestinal support. It's analgesia. It's neurologic supports, cardiovascular support, and a couple of miscellaneous things, but I always joke that's my answer to vet med.
Dr. Justine Lee:
In this scenario, depending on what we find on physical exam, depending on how severe this dog's abdominal pain is, my general philosophy is treat each pet the way you would if it was your own pet, so if you didn't get a veterinary discount, would you spend $1000 in diagnostics or $1000 on treatment? Just focus it on treatment and work with the pet owner that way. I would say definitely warranted, appropriate to get a CBC, a chemistry, potentially an ultrasound, depending on how severe it is, obviously starting with some survey rads if you don't have ultrasound.
Dr. Justine Lee:
If the owner has financial limitations, you can even consider doing a CPL or a canine pancreas specific lipase test, if you don't have the ability to do ultrasound, but really treating the symptoms. In this scenario, I oftentimes will use IV fluids. I don't care what kind of bag of fluids you reach for, saline, LRS, P-Lyte, whatever's going to perfuse that patient.
Dr. Justine Lee:
Provided that patient doesn't have cardiopulmonary disease, I usually use 2 1/2, three times maintenance. I know that that dog is probably pretty nauseous, so whatever you're favorite antiemetic is. I use Maropitant. Some type of analgesic. My go to for visceral pain is Buprenorphine, but obviously we want to treat that dog's signs of shock first, depending on how shocked they are, so I'm going to say fluid therapy, antiemetics, Buprenorphine for pain control. I will say that I have moved away from using Metronidazole for every bloody diarrhea case.
Dr. Andy Roark:
Talk to me more about that. Yeah.
Dr. Justine Lee:
Yeah, there have been a couple of recent studies that came out basically saying it doesn't help decrease the severity of it too, too much, and most owners don't medicate this super bitter pill twice a day for the two to three weeks that they're supposed to, right, so as part of antiemetic [crobiol 00:06:15] stewardship, I'm going to advocate for a high fiber diet instead, once the dog is doing well enough to take enteral feeding.
Dr. Justine Lee:
Sometimes just probiotics will help, so honestly I've moved away from using Metronidazole in a lot of these cases, and really again, just symptomatic supportive care, resting the gut. If I think it's a dog that is really severely affected, sometimes in the critical care, ICU setting, I may put in a nasogastric tube the following day so I can evacuate the gastric juices and potentially start enteral feeding.
Dr. Justine Lee:
But I think the biggest update with pancreatitis nowadays is years ago, we used to starve dogs, right? We wouldn't show them any food, we wouldn't let them smell food. Now what we've discovered is more of what we're doing with cats, which is once you control that nausea, it is okay to actually start potentially feeding these guys with a feeding tube.
Dr. Justine Lee:
But the big mistake I see, vets like to feed too quickly, and my general philosophy is do not feed until all the homeostatic, physiological parameters are normal. If their blood pressure isn't normal, their heart rate's not normal, they don't have gut sounds, if they're still cold, if they're still nauseous, they do not get nutrition. You've got to fix all that stuff first and then we'll feed them later.
Dr. Andy Roark:
Hey guys. I just want to jump in real quick with a couple quick updates. Did I mention they're quick? Because this is the quickness. Quickly, what do we got going on? Over on the Uncharted Veterinary Podcast, Stephanie Goss and I are talking about Dr. Fragile. No, Dr. Sensitive, that's her name, Dr. Sensitive, who cannot take any type of criticism from the staff without getting real upset.
Dr. Andy Roark:
How do we talk to that doctor? Is that okay? Is that how we can run a practice? I think it's probably not. What do we do about it? Check out the Uncharted Veterinary Podcast this week, because that's when we break it down. I'll put a link down in the show notes. Also on the Uncharted side of the house, on December 12th, we have a brand spanking new workshop. It is from the one and only Jen Galvin. It's called It's All Fun and Games: How to Play, Engage With, and Reward Your Team.
Dr. Andy Roark:
If you're like hey, I wish my team was happier. I wish we knew each other. I wish we had some team building. I wish I knew how to make people laugh and smile, and enjoy being here. I'd like a workshop on how to play and engage with my team. Yeah, that's what we're doing. It is $99 to the public. It is free to Uncharted members. Link in the show notes. We would love to see you there. Guys, let's get back into this episode.
Dr. Andy Roark:
Can you, and the answer may be no, but can you help me set expectations for the pet owners? Are there things in the diagnostics and the presenting examination that are going to help me say to them, look, we're probably going to need an ultrasound? You know what I mean? We're going to need an ultrasound. This is going to be a multi-day hospitalization.
Dr. Andy Roark:
Is there anything like that that I can be looking at where I am to get some idea of severity? I have been practicing a dozen years. I have messed them up probably every way you can mess it up. I have sent them home too early, I have kept them too long. I have done all those things. Anything that I can look at early on to judge severity and try to set expectations for the clients?
Dr. Justine Lee:
Great question. Without pulling the acute necrotizing pancreatitis paper, I can say yes, there probably are some. Clinically, I would say if it's a Yorkshire Terrier, or a dog with a lot of co-morbidities, they have heart disease, they have diabetes, they're azotemic, they have acute kidney injury, they have signs of MODS, multi-organ dysfunction, their prognosis is probably worse.
Dr. Justine Lee:
I'm going to say clinically, if they have ascites, if they have evidence of a really severe peritonitis that's causing some effusion. That's a patient I would really recommend referring for an ultrasound, referring for 24-hour care. For me I'm going to say any concurrent co-morbidity, any evidence of multi-organ dysfunction, any ascites, would be big red flags where I would warn the owner that the hospitalization's going to be longer. It's going to be more costly.
Dr. Justine Lee:
With my multi-organ dysfunction, a lot of people think ah, I never see MODS in general practice. You do. If you see a bad parvo, you see a bad heatstroke, they're azotemic, you think it's pre-renal, they're vomiting, they're [sloughing 00:10:38] their gut, they have GI failure, they're slightly tachypneic, it could be lung failure, they're coagulopathic, so any kind of sign like that usually means it's pretty severe or it's leaning towards acute necrotizing pancreatitis.
Dr. Andy Roark:
Got you. Any last pearls, words of wisdom on these types of cases? Anything that you see GPs miss or wish that we would, as a group, lean harder into?
Dr. Justine Lee:
Yeah, I guess just what I mentioned before. Don't blow off the Yorkshire Terrier.
Dr. Andy Roark:
Yeah, that's a good one.
Dr. Justine Lee:
They're definitely one of the top three breeds for pancreatitis. The second thing is don't spend all the money on diagnostics. When they have financial limitations, focus on that symptomatic supportive care. In full disclosure, I don't do a lot of CPLs except when an owner has financial limitations and can't afford a $500 ultrasound, right? You have to be careful interpreting it. If it's negative, I believe it rules out pancreatitis. But if it's positive, it could be GI lympho, it could be a GI foreign body.
Dr. Justine Lee:
There's a lot of positives that I can see with CPLs, so just interpret it carefully and when in doubt, appropriate pet owner education. Now is a great time for people to embrace the opportunity on social media to say keep turkey fat, the string that goes around a turkey, don't feed turkey bones, or things like that. Taking time to help educate your pet owners, especially those three breeds at risk, the Yorkshire Terrier, the Schnauzer, and the Shetland Sheepdog.
Dr. Andy Roark:
Cool. Thanks, Justine. Always appreciate your insight. I really do. Thanks for being here.
Dr. Justine Lee:
Thank you so much. So fun to talk to you.
Dr. Andy Roark:
And that is our episode. That's what we got for you, guys. I hope it was useful. I hope it's going to make the holidays a little bit better for somebody out there who heard it and goes ooh, that was a good refresher right before I needed it. That's what I hope when I make these episodes, guys. If this was helpful, you can give me a big Thanksgiving helping of review, of podcast review, wherever you get your podcasts.
Dr. Andy Roark:
I love it when people write honest reviews of the podcast on iTunes or wherever they get their podcasts. It's how people find the show. It means the world to me. Yeah, that's it. That's all I ask. All I want for Christmas is your podcast review. That's it, that's all, so I mean, you could be Santa for me any time, any place.
Dr. Andy Roark:
That's all you got to do. Anyway, guys, in all seriousness, I am thankful for this profession. I'm thankful that I get to talk to you guys every week. I'm thankful that I get to talk to people like Justine Lee. I'm thankful that I have a job where lifelong learning is a thing I get to do. Anyway, happy holidays to everybody. Take care of yourselves. Bye.