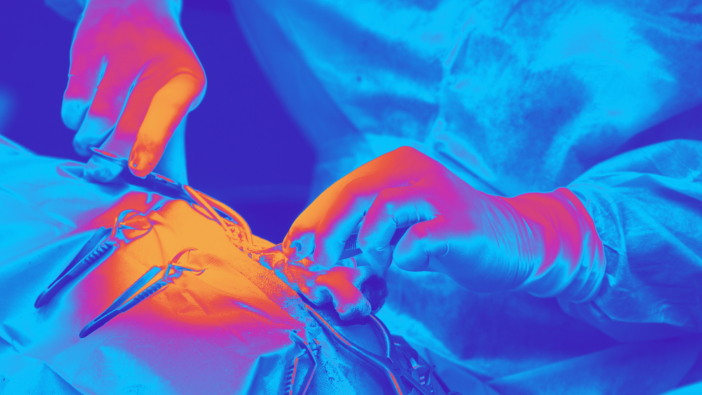 This post is fictitious. Any resemblance to pets, people or practices is purely coincidental. If stories of surgery or blood make you uncomfortable, please consider skipping this week's newsletter.
If you're a listener to my podcast, the Cone of Shame, then you know I've recently been digging into a newfound interest: the ghostly side of veterinary medicine. This week's Cone of Shame episode features real stories of the paranormal in veterinary clinics, and an interview with Certified Paranormal Investigator and leader of The Truth Searchers, Gabe Mathews. You can check it out here… if you dare. (The YouTube video is also very fun).
In the episode, I lament the fact that the veterinary profession has very little support for those experiencing stress from things like voodoo dolls, clowns, hauntings and possessions. Gabe points out that, conversely, the paranormal community does very little with animals, so the blindspots go both ways. This general lack of awareness has gotten me wondering how many out there have had incidents in the clinic that are beyond explanation.
I was in my first year as a veterinarian when I worked with a peculiar veterinarian named Levana Crow. She was the quiet doctor that most of the staff stayed away from, but I always thought she was probably just misunderstood. At first I thought it was kind of funny that she seemed to get a lot of side-eye from pets she would treat, but then I noticed I could never get a good photo of her working with pets because they always seemed to be resisting her or trying to generally get away. She's the only vet I've ever known whom pets uniformly didn't seem to like.
One afternoon I did my first emergency enterotomy on a rhodesian ridgeback named Piper. She turned out to be in heat, so there were large, friable blood vessels running everywhere. It was like they were just aching to tear and bleed. From the skin to the incision in the bowel, everything oozed blood continuously. My arms were soaked up to the shoulders when I was done. To make matters worse, the surgery suite was probably 90 degrees under the old operating room lights, and I felt faint after about the first ten minutes. It was an awful experience.
Piper's family had young children who loved her, and this was my first emergency surgery so I felt enormous pressure to get the procedure right. That's why I was so afraid that night when I found the dog's gums were pale and her heart rate was about 140. Piper was lethargic and wouldn't eat anything. I was terrified she was bleeding internally, so I asked the only other doctor in the building for help.
As I scrubbed Piper's belly to re-open her surgery site (the rest of the staff had already gone home), Dr. Crow put a mixture of what looked like leaves and mud on top of the surgery lights. She said the smell as it cooked would calm our nerves. I was trying to get a sterile surgical field, and wasn't in any position to mess with the lights so I let it go.
When I pushed the induction agent into Piper's vein, I could see her chalking symbols and shapes onto the surgery suite wall. I asked what she was doing, and she reminded me to concentrate on the patient and let her do her thing. Piper needed to be intubated, and this was one of my first surgeries, so I didn't pay any more attention to what she was doing in the room.
As the surgical lights heated up, Dr. Crow's concoction began to crackle and cook. The tiny cinderblock room filled with a thin smoke that smelled like burning Robotussin and gave the room a dreamlike quality. I remember Dr. Crow sang in a soft childlike voice as she slipped the scalpel under each to the stitches I'd placed earlier that day and cut them free. Everything swam in and out of focus as the abdominal incision began to twist and writhe like a snake across Piper's belly.
Before Dr. Crow opened the abdomen, she asked for gauze. When I clumsily passed it to her, she took it with the hand holding the scalpel. The blade slit my surgical glove and the webbing between my fingers. Blood dripped into the surgical field. Before I could clean it up and re-scrub the area, my blood was slurped up by the wriggling incision like a mouth sucking the last bit of soda from the top of a soda can.
The next thing I remembered was walking into the clinic the next morning. The surgical suite was pristine, and Piper sat quietly in her kennel watching me approach. She had no signs of pain, and her surgical site didn't appear to be red or irritated. But… I swear her incision moved as I pressed around it. It curled at one edge, as if smirking at me. Then it was normal again. Piper began to growl.
I sent Piper home that afternoon and assured the family that she still wasn't herself because of the surgery. I was confident she'd be back to her happy routine in no time.
I called the owners a few times in the following weeks to see how Piper was doing, but they never answered or returned my voicemails. A month later when I tried, their phone was disconnected. I wish I could have talked with them about how Piper was doing.
Dr. Crow left the practice a week after Piper was discharged. It was a surprise to the whole staff, but the practice owner assured us it was for the best. I haven't talked to Dr. Crow in more than 10 years, but I know she's out there. I've heard people at conferences tell stories about vets who go by other names, but match her description. Who knows, she might be working at your practice right now. Maybe if you get stuck working alone one night, just the two of you, you'll find out who she really is.