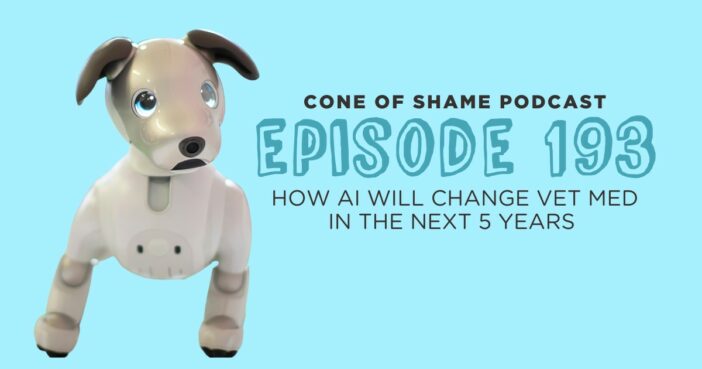 Dr. Adam Little joins Dr. Andy Roark to discuss what the recent launch of powerful AI tools like ChatGPT will mean for veterinary medicine in the next 5 years. They discuss how AI will impact communication with pet owners, customer service, building practice systems and protocols, and making accurate diagnoses.
You can also listen to this episode on Apple Podcasts, Google Podcasts, Amazon Music, Soundcloud, YouTube or wherever you get your podcasts!
LINKS
ChatGPT: https://chat.openai.com/chat
Dr. Andy Roark Exam Room Communication Tool Box Team Training Course: https://drandyroark.com/on-demand-staff-training/
Dr. Andy Roark Charming the Angry Client Team Training Course: https://drandyroark.com/charming-the-angry-client/
Dr. Andy Roark Swag: drandyroark.com/shop
All Links: linktr.ee/DrAndyRoark
ABOUT OUR GUEST
Dr. Adam Little works at the intersection of accelerating technologies and veterinary medicine. His career has spanned areas of focus ranging from artificial intelligence to telemedicine to connected devices. He is the co-founder and Chief Medical Officer of GoFetch Pay where his team is helping create a safety net for every pet.
Prior to co-founding GoFetch, he served as the first ever Director of Innovation & Entrepreneurship for Texas A&M College of Veterinary Medicine where he spearheaded such initiatives as the Veterinary Innovation Summit and the Veterinary Entrepreneurship Academy.
Dr. Little holds a Doctor of Veterinary Medicine degree from the Ontario Veterinary College He is a past Board member of the Ontario Veterinary Medical Association, Veterinarians without Borders and the Vet Futures Commission
---
EPISODE TRANSCRIPT
Dr. Andy Roark:
Welcome everybody to The Cone of Shame Veterinary Podcast. I am your host, Dr. Andy Roark. Guys, I'm here today with the one and only Dr. Adam Little. He is a veterinarian. He works for a company called GoFetch that's doing really interesting, innovative things with helping keep care affordable. But he's here today talking to me about artificial intelligence because he's about the most artificial intelligence guy that I know, meaning he's worked his whole career with artificial intelligence in vet medicine, and we talk about that at the very, very beginning. Anyway, guys, we are talking about AI and specifically chatbots. You'll hear me talking about ChatGPT a lot. That is an artificial intelligence chatbot that is free and open to the public. I asked ChatGPT before the podcast. I was like, "Hey, I'm going to do a podcast about you and I am curious how you think that you could change veterinary medicine in the next five years." And chat CPT came back with six things.
It said increased access to information so pet owners can be provided with access to information about their pet's health, behavior, and overall care. It said improved communication between veterinarians and pet owners. This can help bridge the gap in communication between veterinarians and pet owners by providing a platform for them to exchange information, ask questions. Personalized care. ChatGPT can potentially help veterinarians provide personalized care to their patients by analyzing data and tailoring treatment plans to individual pets. Assistance with telemedicine. Data analysis. ChatGPT can potentially help veterinarians analyze data and identify patterns in pet health and behavior, which can lead to improved diagnosis and treatment options. And then veterinary education. ChatGPT can help veterinarians stay up to date with the latest research and development.
So that's how ChatGPT thinks that it might change our profession. Adam Little and I have a lot of other ideas, and that is what we talk about. Guys, let's get into this episode.
Kelsey Beth Carpenter:
(Singing) This is your show. We're glad you're here. We want to help you in your veterinary career. Welcome to The Cone of Shame with Dr. Andy Roark.
Dr. Andy Roark:
Welcome to the podcast, Dr. Adam Little thanks for being here, man.
Dr. Adam Little:
Thanks for having me.
Dr. Andy Roark:
Oh man, always, my pleasure. For those who don't know you, I've known you since you were a vet student and you were really interested to me because you left that school and then you went straight into industry doing innovative things. You went right to work for LifeLearn, and you were doing a bunch of AI work with them, right? Color in the lines a little bit about what that was like.
Dr. Adam Little:
Yeah, for sure. So when I started… We're actually celebrating our 10-year anniversary from vet school. [inaudible 00:02:54] anniversary knowing each other, Andy. It's been great. But yeah, I started to work with IBM Watson looking to build decision support tools to help veterinarians make more accurate decisions in practice. That project went through its own journey. The momentum behind the underlying technologies has never really slowed down. And I think what we're witnessing now is the average person and consumer really being exposed to what are some pretty magical capabilities and things that would've seen a little bit like science fictions before now really in your pockets. And it's leading to some really interesting, I think, opportunities for veterinarians and teams. But probably people aren't even scratching the surface of what's already out there. So I think one of the things that we were going to chat a little bit about today was what can I start doing with this stuff today and how can it help me in my job and tasks of right now, as opposed to what dos 10, 20, 30 years look like?
Dr. Andy Roark:
Oh, yeah. I got really fired up about ChatGPT and some of the AI chatbots and stuff that came out around the first of the year. And so it was back in December and I started seeing articles about ChatGPT specifically and AI chatbots and I started just tinkering around with it. I came to believe that this is a game changer beyond what most people think. I would go to holiday parties, and so my wife is a college professor, and so it's exam time and they're all there and they're grading these exams and they're just liberal arts college and they do a lot of take-home exams and things. And they'll do a lot of open book exams. My wife's in the biology department. And so basically the challenge has always been you can use whatever notes you want because we're going to ask you hard questions that require you to synthesize information from a variety of different sources and understand it so that you can answer this abstract robust question. And that's how the exams at this university have worked.
It was a fun and sad game where I would go up to the faculty members at these Christmas parties with my phone in my hand, and I'd be like, "Hey, give me one of your exam questions." And they would give it to me and I would type it in to ChatGPT on my phone. And then I would say, answer this question in the form of a nineties rap song. And then I would hand them my phone and say, "Is this correct?" And the look on their faces as they saw Dr. Dre's answer to their test question was amazing. To me, it was earth-shattering. Because it's one thing to go to Google and do a Google search and they're like, "Here's 10 different articles that kind of answer your question, or they give you some guidance." It's something different to go to an online platform, ask it a question and have it specifically synthesize the information and give you the best answer it can. And then to be able to ask follow-up questions and it remembers the first question and draws from that. And that's absolutely game-breaking to me.
And so I am looking at that, and I have found a bajillion uses for this thing. My brother is a lawyer and he does estate planning. He also does business law. And he was on there and he said, "I have this basic information. Write me a simple will and let it go." And he is like, "It's solid." And then it was a release contract basically saying, "Hey, you release me from all liability of these things," like a waiver. And he was like, "It's a solid first draft. It's not perfect." But it's getting better. The more people play with it, the better it gets. And so I agree with you. I don't think we've remotely scratched the surface. I think that there's more to it than writing biology test answers in the form of a nineties rap song, but I'm not sure. I think there's more to it than that.
So I wanted to have you on today, because you are a veterinarian. You have been in this space for a long time. You and I have worked together many times. You are a super innovative creative guy. I think the world of you and I'm always interested to hear what you think because you think about things in really interesting ways. But I wanted to dig with you of what does artificial intelligence mean for, in the trenches, veterinary professionals? And the timeline I'm looking at is the next five years, not 10, 20 years from now. But in the next five years, what kind of impacts are we going to see?
So let me just open it up at a high level to you and just say, all right, thinking in the clinic, where does your mind go first? As you look at the AI that's available right now, how does that start to impact us?
Dr. Adam Little:
So I think it's important to take a step back and look at why is it even the examples that you were sharing such a almost watershed moment for those interactions? Because there's been a lot of building blocks that have gotten to this point. But I think for the most part, there's two or three things that really jumped out for most people about ChatGPT-3, myself included. So the first was that most people's experience with these sorts of tools have been very, very narrow. So there's an application that has a very specific purpose. You can't just ask it any question about anything. You run up against edges. And it's really designed for a very specific purpose. An AI that can play chess or an AI that can play this game.
But I think that there's two components that made this really interesting for people. One was that it seemed to know a lot of stuff about everything and could answer almost infinitely complicated or diverse queries. And the second was the interface about how you asked those questions. So you didn't need a special piece of software, you didn't need to know how these models worked. You literally just started asking questions. And then to your point, that information was retained and could be built upon in subsequent conversations. You could ask it for the ability to summarize or expand on a response or write a response in a more professional or comedic tone. And so as a result, you've seen this product grow to be one of the fastest-growing products in history. And when I mean it's just scratching the surface, the underlying architecture that allows ChatGPT-3 to have those responses, that architecture is now being put in those learning models are now being put into a variety of applications.
I think when we bring it back to the vet practice, there's a couple of important things that people need to wrap their heads around as we explore different use cases. The first thing is, I think a lot of people out of the gate look at it from the perspective of, "Is this going to replace me or replace this task?" And in particular, people get naturally defensive about that. "Oh, it's not going to do a surgery, it's not going to do these things." But I think that's the wrong way to look at it. Instead, if you really look at it as almost your ability to augment yourself where it's not making the diagnosis, designing the treatment plan, communicating to the client, but instead empowering you as the practitioner or the technician or the practice manager to do parts of your job 10 times faster or a hundred times faster, it really opens up this ability. Whereas opposed to it's competing against you, it's augmenting your ability to move forward.
And I think in particular, there are tasks in veterinary medicine that are really complicated and very narrow in terms of the expertise and complexity, but there's a whole lot of other tasks that people are doing on a day-to-day basis that this could easily today make so much better. So I think one of the best ways to do this is to go through a bit of an example. Let's start with a receptionist. What's three or four things a receptionist would do in their day-to-day life?
Dr. Andy Roark:
Yeah, sure. Scheduling an appointment. Taking a phone call about refilling food or medication.
Dr. Adam Little:
Awesome.
Dr. Andy Roark:
Answering a basic, is this an emergency or not question.
Dr. Adam Little:
Yeah, exactly. Okay, perfect. So let's talk about first of those incoming calls and emails, which I would imagine occupy a lot of time. One of the really interesting things about ChatGPT-3 is that you can do something like give it a prompt. For example, "Imagine I'm a veterinary receptionist," or "Imagine you are a veterinary receptionist." So giving it that context of the situation, "And I have a client that is frustrated about a recent bill" or complaining about the wait time to see a veterinarian or upset that they can't see that specific veterinarian, "Draft a response to that client." So again, that first wave, that first response, which in some ways is going to be a lot quicker for them to write it, but also take you out of the frustration and the emotional tension of being like, "This client just keeps emailing me and keeps frustrating me."
And so again, we can actually go through, I have my screen share open so we can actually test it with some of these prompts if we want in a second. But the ability to then say, "Okay, how could I, for example, use this to draft a first line for every single email that comes in?" "How could I, for example, feed it my clinic values and mission statement or our terms of service or an SOP, and use that information in the response that it gives?" "How could I take, for example, a situation where a client has complained about our process for communicating estimates and that led to them being frustrated at a recent charge and take that as a memo to our team that we're going to post internally or post to our wiki to be able to do this."
So the ability to design a prompt, which is basically that question, but as opposed to just drafting an email to a client saying, "As a veterinary technician, this client has been waiting for three weeks to see our veterinarian, they are frustrated. Respond in an encouraging but neutral tone." Being able to give it more direction. And then if you get a response that you don't necessarily agree with, be able to teach it what is the response that you're looking for, so it's not just a one-off shop. So that's just an example of a couple of the key components that come up there. The ability to expand or summarize information, change the way that it's presented and link it with new data sources or new information that you're providing it to it as part of that discussion.
Dr. Andy Roark:
Yeah, I completely agree with that.
Hey guys, I just want to hop in really quick and give a quick plug. The Uncharted Veterinary Conference is coming in April. Guys, I founded the Uncharted Veterinary Conference in 2017. It is a one-of-a-kind conference. It is all about business. It is about internal communications, working effectively inside your practice. If you're a leader, that means you can be a medical director. It means you can be an associate vet who really wants to work well with your technicians. It means you can be a head technician, a head CSR, you can be practice owner, practice manager, multi-site manager, multi-site medical director. We work with a lot of those people. This is all about building systems, setting expectations to work effectively with your people.
Guys, Uncharted is a pure mentorship conference. That means that we come together and there is a lot of discussion. We create a significant percentage of the schedule, the agenda at the event, which means we are going to talk about the things that you are interested in. It is always, as I said, business communication focused, but a lot of freedom inside that to make sure that you get to talk about what you want to talk about. We really prioritize people being able to have one-on-one conversations to pick people's brains, to get advice from people who have wrestled with the problems that they are currently wrestled with. We make all that stuff happen.
If you want to come to a conference where you do not sit and get lectured at, but you work on your own practice, your own challenges, your own growth and development, that's what Uncharted is. Take a chance, give us a look, come and check it out. It is in April. I'll put a link in the show notes for registration. Ask anybody who's been, it's something special.
All right, let's get back into this episode.
I think there's going to be two categories of veterinarians in the next five years. I think there's veterinarians that are going to try to stick their head the sand and be like, "I don't want anything to do with this. I don't like it. Don't want to know about it." And there's going to be veterinarians who are going to not be threatened by it, but say, "Okay, this is a new super powerful tool that I am going to wield for maximum effect." And I think that if you try to put your head in the sand, I think you're going to be extremely frustrated because this is out in the world and pet owners know it. I think we're going to see a different type of educated pet owner, that is dialed in a way they've never been before.
When I start thinking about this, it's funny that you went right to the internal systems, which I really love, and I think that there's a lot to that. And we can come back. I have a hundred percent told Chad GPT to write sections of the employee handbook and just been like, "Write a dress code for a veterinary practice." And just again, generally turns out first drafts, but it's solid. And you go, "Okay." Especially if you're doing things like help me write a job ad. It will come back with best practices and be like, "Okay, this is how we set it up. And make sure we talk about these things." And again, the downside is it's generic unless you give it the ability to not be generic. But if you are looking for something that's just solid technical work, it's really amazing.
But I put it into the hands of pet owners. And so here's where I think, whether you like it or not, this is where you're going to deal with it. So I think that we are headed towards the age of a new type of educated pet owner, which means the pet owner coming in and saying, "I Googled all kinds of things about my pet's cancer." I think those days, depending on how AI proliferates, but you've got Microsoft and Bing, their search engine and they're integrating AI directly into their search engine. I think the days of them coming in… I think this could be a good thing. I think hopefully we're less likely to see pet owners that have gone down these wild rabbit holes. They found some obscure article somewhere and grabbed onto it. I'm hoping we'll see less of that because they'll get some better guidance.
But you're going to see people coming in who said, "I told ChatGPT the age of my pet, the breed of my pet. I fed in the prior medical history. I fed in the blood work results that you gave to me last time I was here and I asked these questions about these behaviors and it thinks that this might be the reason or that these three things." And honestly, if they actually fed all that stuff in, they're probably not going to be wildly mistaken. Now, there's a chance ChatGPT can a hundred percent be wrong, and the problem is when it's wrong, it's very confident. It will confidently say, "This is what's wrong with your dog." And it's wrong, but it does not… It's just not hedge its bets. It tells you "This is what it probably is." I think we'll deal with that.
My hope is that we will have a more educated group of pet owners, but at least they'll be educated in a more, I don't know, based in reality way than people who are just… When we say educated, what we really mean is fanatical about searching the deep dark corners of the internet to find obscure things. What do you think about that?
Dr. Adam Little:
I think that there's a couple of important points to unpack there. One of the ones that you raised was what is, I think a little bit implied in this, is what is the role of the veterinarian and what can the human in that relationship bring when the answer might be something that people can arrive at on themselves, in some cases even more accurately. And I think that's where these trusted relationships become really the bedrock of quite a lot of this moving forward. Because you think about the types of interactions that you have in your own life where even if I have the answer, I want to talk about that answer with somebody. It could be everything from I'm learning to be a golfer, I've watched all these videos and I know how to do this golf swing, but I trust my coach. Or I'm buying a house and I can look at all these prices and I can do all the comparables, but my real estate agent who's walked a mile in those shoes, maybe they have a perspective and a trust that they can bring to the table.
I think as veterinarians, we already have a bit of a leg up on a lot of those professions because I think at the end of the day, there is this trusted relationship that a lot of veterinarians build between their patients and their clients. So even if the client has the right answer, there are so many other aspects to how do I arrive at the best way to manage this for my pet? How do I deal with maybe the emotional journey of a pet that's going through… Things that just spreading out an answer are not going to be nearly as sufficient for the need that the client has. And I think that's where veterinarians have a time to shine.
I think we've already seen this where there's been a generation of practitioners that has already practicing grown up in a world in which everybody has access to Google. And to your point, Andy, even if it's not accurate, the idea that pet owners are coming with more information, there's veterinarians who either lean into that and veterinarians I think that lean back. And by leaning in, I mean embracing the fact that clients are doing their own research, being able to drive them towards reputable sources, being able to start the conversation of maybe a higher level of understanding and being able to be maybe more productive or efficient in that time where they don't shame those clients for being curious and proactive in their pat's care, but rather work with them because of the momentum that they've been able to create. So that's one part.
I think the other two things just briefly is ChatGPT three, this interface is just… We're in still the early innings of this. And what I mean by that is it's not going to be a pet owner going into a search box asking all that medical history, for example. These capabilities are just going to be embedded in all the places like you were mentioning, Bing, that people are already going to. So companies like Notion that a lot of veterinarians use for their own note-taking, they have all the AI already embedded now that allows you to automatically draft, summarize, tweak content, intercom for customer support. A lot of those widget chat box things on websites. That already has it in. So it's the brain behind it, which is going to be embedded in any kind of a digital tool and then ringing in the unique corpus or information to compliment, let's just say the more generalized information that ChatGPT has access to.
So as an example, when you're looking at that medical record, you don't want just any pet's medical record. You want your own pet's information, your own pet's history. And so it's the idea that even if you are quote-unquote [inaudible 00:22:05], these things are just going to keep popping up. And you're going to have to either embrace or frankly probably get steamrolled by people and teammates that are using these capabilities to practice medicine at a higher level. And maybe an interesting thought exercise that I think gets really interesting as a profession is at some point the technology becomes so good and so per pervasive, that ignoring it is seen as almost a derelict of your duty.
So I'll give you an example. When the stethoscope came out, everybody thought… There was a lot of people who thought that that was not going to be important, it was reckless, et cetera. At some point, it became the standard of care. To the point now that if you go in for a physical exam and you don't use the stethoscope, that's malpractice effectively. That would be something. At some point, your personal desires or attitudes towards these technologies get overpowered by this is now just a new standard of care. And I think what's happening is the technologies are growing so much more quickly. And so the time between "This is crazy and I never want to touch it" to "I am almost obligated to use it because otherwise I'm going to be not practicing to the level that I'm expected to." That timeframe goes from decades to years, and maybe in some cases in the future, 12, 18, 24 months because of the speed at which the technology's coming out.
Just a few thoughts there, but I agree with you. That's a reckoning, I think point for the profession when people are coming in with the answers.
Dr. Andy Roark:
Okay, so you blew my mind here for a second because you're right. How long is it until you missed the case of Atypical Addison's? And someone says to you, "Did you run it through the AI?" And you say "No." And they're like, "Oh, you probably should have done that." How long is it… Because you're right. I had not thought about it. Definitely not lost on me, that the ability… So we go to vet school and they train us to synthesize information. That's what we do. You cannot, given a case that says, all right, this is how the pet presents. This is what the blood work looks like. This is what the white cell count is. This is what we found when we tap the abdomen, what's going on? You can't Google that. You're going to have to take that information and synthesize it.
But that type of synthesis is exactly what artificial intelligence is made for, is feed these things in and it's like, "Oh, putting all these things together, this is what the most likely outcomes are." And so I had definitely thought like, "Oh man, it's only a matter of time until we have the ability to start checking ourselves against some AI backdrop and say, is this reasonable? What do you think?" But I had not thought about the bone-headed mistakes that you make. And someone says, "Why didn't you check this against the AI?" And you go, "Oh, yeah, if I had, it probably would've at least listed this as a differential."
How long is it until in vet school when… I used to sit and I know you used too, sit with this stupid list of 10 differentials and you're like, "There's three differentials. There's not 10." And they're like, "No, there's 10." Boy, I'd bang that into ChatGPT on my phone today in a heartbeat and be like, "Help me out here." But that's stuff's coming.
Dr. Adam Little:
Or new medical information that's being created because at the same time, it's the rules of the game are evolving as new therapies and diagnostics get created. And we already know that the amount of medical literature is reaching a point where it's just impossible for your average practitioner to keep up. We have these big conferences and we have ways to try to pass that information along. But what you really want is when you're treating a case or looking at a patient or having a discussion with an owner that you're working with the best available information and it's just not humanly possible to both be exposed to all the new information that's being created and synthesizing it in a way that is impactful for that client or patient.
And so you're going to reach a point, I think, very really quickly where it goes from maybe a novelty, "Hey, there's a weird team member who's doing a other job in this, and that seems kind of weird, but I'm just going to ignore it" to "This is just the way that you have to… You have to lean into using these tools because otherwise you're not practicing at the best of your ability." And I think at some point in the not too distant future that is going to be reinforced in the hospital systems as well, where if you're making a decision that is in opposition to the recommendations of an algorithm, there has to be some sort of justification for it or some sort of context. And I think that's going to be really important.
But then it comes back to what are the skills that are needed in a world like that? And I think that relationship, the ability to build those bonds, the ability to communicate and manage the expectations with the client and patient, there is just so many other jobs and they get freed up or even amplified in terms of their importance when some of the other pieces aren't necessarily as critical for a human to do.
Dr. Andy Roark:
Oh, I think you're absolutely right. I think this is good for veterinarians. I think it's going to shift our job around. But to your point, I think relationship building becomes more important than ever before because there's so much information that pet owners have access to, and they still need someone to know what questions to ask and how to ask them to be the voice of common sense. And to personalize things.
I mentioned my brother earlier who's a lawyer, and we were looking at ChatGPT and stuff, and I said, "Are you concerned about people just getting estate plans, wills and trusts from AI?" And he said, "No." He said, "My job, there's two parts of my job. One is to listen to everything this person has going on and make sure that the important parts get pulled out and communicated. Because knowing what's important, that's part of my skill." Again, that's someone putting it into AI. They don't have that. They don't know what's important. They don't know, "Oh, I should have mentioned that I was divorced and have children from another marriage." They didn't know that they should say that, that that had ramifications, but it does.
And then he said the other part was… It was funny, he said the other part was there's great power for him as a lawyer to be the person who has clear eyes and is totally uninvolved, "I'm not trying to make something happen." And he's like, "I am happy to be the jerk who asks you the really hard questions you don't want to have asked because that's my job. And you don't get that when you do it yourself." I think that those things transfer over to vet medicine, say, "Oh, we are still going to have our job as a relationship builder, a persuader, someone who advocates for what path to take as an explainer, as a communicator and things like that." I think we're going to have all those jobs. I think there's a lot of other things that… I think there's a lot of other ways that our job will change.
I'm really interested in how AI interfaces with technicians. And so we have technicians that are doing more wellness work and things like that. Can we have a technician with AI support that's able to do even more things? And I know people have mixed reactions to that. I'm not saying good or bad. I had Dr. Katie Cutter on the podcast a couple weeks back, and we were talking about… She's got a company called BoosterPet in Washington, and they have technicians in wellness practices, and the vets do basically remote visits to where the technician is with the pet owner and the pet. And I go, "Wow, that's fascinating." How different is that from a technician with a good AI program? I don't know. It's an interesting step in that direction. I don't see that in the next five years, but the ability to do things like that, that's not magical anymore, that's not too far outside the realm of possibility.
Dr. Adam Little:
And to your point about these practice setups, I do think the environment and the model ends up allowing certain practices to have a competitive edge with respect to implementing these pieces of technology. Really simple things where if you have a practice, for example, that has computers that everybody takes 20 minutes to boot up and they can't use their cell phones and they can't easily access these tools. Or for example, they don't have a software budget. So a receptionist if they want to add a piece of software to their toolkit has four levels of approval. The ability to have your staff members easily tap into these tools and work with them, you've just added so many points of friction that really just prevent your team from being successful. And so I think what's going to happen is that practices that lean into like "Look, let's figure out what are the parts of your job that we can add some of these capabilities to either augment, pair you with people that have more confidence and comfort level working with them and get some quick wins."
So as an example, you're a technician going in, what's the case that you're most worried about communicating? Let's actually show you what are some tips or questions or approaches to communicating bad news to a pet owner? And you can see how these capabilities can act as a bit of a copilot for you. That's just going to start to get the momentum going where they start turning their attention towards using it for more cases. And myself, I use it two and three times a day for a variety of things. Sometimes it's summarizing big pieces of information and to explain like I'm five sort of thing. Sometimes it's drafting outlines or just like, "Hey, how should I think about this situation?" But it just ends up being this colleague in a lot of ways that will just become more personalized and useful over time.
But if you're a practice that you've set up this approach and rigidity, that basically prevents, or certainly disincentivizes your team from even exploring these things, you're just going to be constantly left in the dark. As an example, you'll have two practices and one spinning out a blog post a day, multiple social posts, the response times on emails are better. And you're like, "Do they have a hundred staff?" And it's like, "No, they have two people," plus they all have access to these tools. Versus your team that the owner of the practice manager was just so against using them that they missed out on an opportunity.
I think that gets back to your point of just exposing yourself to them is such a an important first step because I think a lot of people are having these moments of delight or wow moments from a variety of different perspectives. Like the one that you had at the Christmas parties there.
Dr. Andy Roark:
Oh, yeah. It's funny. I look at the grocery store and I go to a grocery store that has a huge self-checkout section now. It used to have all cashiers and baggers, and now they've replaced a big chunk of those with self-checkout. And they generally have one human being teller, checker, [inaudible 00:33:14] bagger, and then they have one person standing over the dozen self-checkouts that they have open. Adam, I think that that's where a lot of customer service is going to go across industries. Anytime that somebody can get you to use an online chat to communicate, I think you're going to be talking to an AI very, very soon. Whether you're booking an appointment or asking questions about a product or troubleshooting the new technology purchase that you made. I think that we're going to get funneled more and more to chatbots.
Honestly, how many times do we reach out? And it's a fairly basic question, they're like, "Oh, just do this." I do think that you're going to see more and more of that. So anything that we can get people to send by email or to use as a chat, I think that they're going to be talking to AI. And again, I'm not celebrating this. I think that it's where things are going, and I'm just… At least I'm choosing to look at it through a positive lens because of labor shortage and difficulty getting help and things like that. But I think that you're right about part about getting creative about how you can do these things, I think that that's really the most interesting thing is figuring out.
So you mentioned Notion earlier. And it's a note-taking app. I love it. It's on my phone, it's on my laptop. I use it all the time. And they added AI into Notion. And so I have a page of notes. So I'll go to a vet conference and I'll take notes on my tablet or type them up in my laptop or whatever, and then I can just hit the AI button and then say, "Write this as an email to Adam Little," and it will take my notes from the lecture, turn them into an email, and then send them to Adam, and you'll get an email where these things are laid out as a clear summary of what I saw. It's incredible.
Dr. Adam Little:
And you start to realize too, how quickly these capabilities have been integrated some of these tools. So for example, there's already email clients now that you can set it up so that the first… When an email comes in, it automatically drafts the response. And so when you actually log into your email client, you start to look and say, "Oh, I'm just editing and refining these responses or these drafts or these types of queries." Another example is all the images work, the ability to say, "Describe a picture of a cat in and a hat that's at my clinic." And the AI's ability to generate unique images that you can post, you no longer need a graphic… Again, it's the convergence of so many different types of capabilities for different sorts of interfaces.
And maybe just to show you an example of something that is not five or 10 years, but I think something that can happen quite soon, there's already companies now that you can upload a voice sample and it will basically create a virtual assistant with your own voice. Now, what you could do is you could feed in your past medical notes and you could basically have a conversation about past cases with yourself. And so if you're like, "I don't trust the AI to give me," what if the AI sounded exactly like you and was using all the information that you had captured in your medical record to help you work through a case? That's just an example. But the ways that people experience and access these tools are combining in ways that are really difficult for us to even wrap our heads around. But that experience is not that far away.
That's where you're like, "Wow, these are expert level modes that we can work on," but you think you're yourself as the practitioner. That case, if you… I think it comes down to, in a lot of cases like this, the sense of identity. What does it mean to be a veterinarian? And when I feel that these capabilities are displacing that or taking that away or in some way threatening to me, it impacts veterinarians I think at a much more deeper level than we really anticipate. So that's why I think it's important to create an optimistic, constructive conversation where, hey, instead of looking at what it's taking away, how can it allow you to practice at a 10X or a 100X level than you ever have before?
And I think that's where, as a profession, we have to really come back to what is the reason that most people got into this? The reason that most people got into this is to help save animals. And if you can go through your career, and this generation is capable of saving five, 10, a 100X more animals and impacting that many more cases as a result in these capabilities, that is where we need to go. And I think by having people use these tools and have a voice in them, you cannot just help shape what they become, but you can literally build them yourselves. You can start to create capabilities and systems that make a difference for you as a veterinarian. So I do think that it's important for those of us who are on more of the cutting-edge around some of these tools to create opportunities to make them approachable, to make them fun, to make them something that's accessible for people that could try. Because otherwise they will be left behind and they won't be able to lean into those advantages in the way that I think we really need to.
Dr. Andy Roark:
Oh man. Adam, thanks so much for being here. Where can people find you online? Where can they keep up with your musings, writings, thoughts?
Dr. Adam Little:
On Twitter @exponentialvet and at the Uncharted Conference, and feel free to shoot me an email at any time at adam@gofetch.ca. In particular, if you're a veterinarian that's building something, I'm a really big fan of always talking to people that are getting their hands dirty trying to create the future that they want veterinarians to practice in. Happy to have those discussions as well.
Dr. Andy Roark:
Awesome.
Guys, thanks so much for being here. Everybody take care of yourselves.
Dr. Adam Little:
Take care and thanks, Andy.
Dr. Andy Roark:
That is our episode. Guys, I hope you enjoyed it. Hope you got something out of it. Google ChatGPT if you want to go mess around with it. And it's free to sign up. It's fascinating just to kick around and ask questions to AI and see what it knows and see what it doesn't know and see what it can figure out.
Anyway, guys, I hope you took this as a fun and interesting and bright episode as opposed to a doom-and-gloom, Terminator, end-of-the-world, computers-are-taking-over episode. I don't think that's where we're going. I do think that our job as veterinarians is going to change significantly in the next five years. I think the real question for what differentiates great veterinarians in the future is, do you understand… You don't have to be a coder, anything like that. Do you understand what artificial intelligence can do? And do you understand how to take burdens off of yourself and let the computer do that work so that you can do the things that only a human being can do? And that's build a relationship, that's understand context, that's empathize, is connect emotionally.
So anyway, guys, that's what I got for you. Take care of yourselves, be well. I'll talk to you later on.