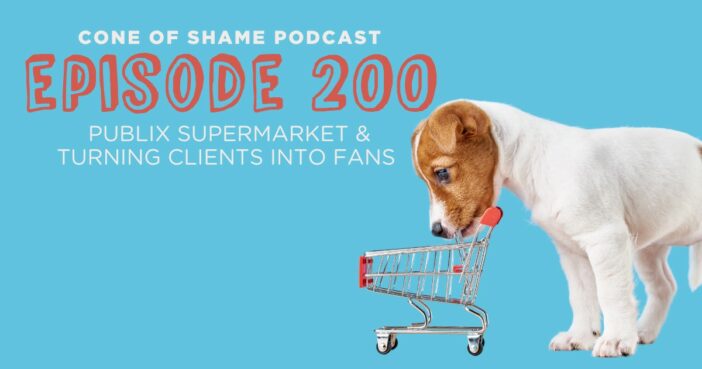 Tyler Grogan CVT, Creative Marketing Director at Uncharted Veterinary Conference, joins the podcast to discuss her favorite grocery store and how to turn veterinary clients into loyal fans.
You can also listen to this episode on Apple Podcasts, Google Podcasts, Amazon Music, Soundcloud, YouTube or wherever you get your podcasts!
LINKS
Links to Amazon.com are affiliate links and help support the show. (They're also much smaller than normal links and easier to copy when typing up show notes!)
A Piece of the Pie: https://amzn.to/3L74Itz
Dr. Andy Roark Exam Room Communication Tool Box Team Training Course: https://drandyroark.com/on-demand-staff-training/
Dr. Andy Roark Charming the Angry Client Team Training Course: https://drandyroark.com/charming-the-angry-client/
Dr. Andy Roark Swag: drandyroark.com/shop
All Links: linktr.ee/DrAndyRoark
ABOUT OUR GUEST
Tyler Grogan is a Certified Veterinary Technician with experience in specialty, emergency and general practice. She currently serves as the Creative Marketing Director for the Uncharted Veterinary Conference where she focuses on brand building, marketing, storytelling across multiple digital platforms, and exploring new ways to elevate the client experience.
---
EPISODE TRANSCRIPT
Dr. Andy Roark:
Welcome everybody to The Cone of Shame Veterinary Podcast. I am your host, Dr. Andy Roark. Guys, I'm here today with one of my good friends, Tyler Grogan, CVT. She is the creative marketing director at the Uncharted Veterinary Conference, and I am talking with her about a lecture I saw her do back in December on turning clients into fans. And we talk about sports fans, we talk about Tyler's not at all strange obsession with the grocery store Publix and the experiences that they create and what she's learned from the Publix's supermarket about veterinary clients and building client loyalty. This is a really fun conversation. This is an idea conversation if you like those conversations where people are talking about sort of abstract things and you go, "Oh man, this is really getting me thinking in new and interesting ways," you're going to love this episode. Gang, without further ado, let's get into it.
Kelsey Beth Carpenter:
(Singing) This is your show. We're glad you're here. We want to help you in your veterinary career. Welcome to The Cone of Shame, with Dr. Andy Roark.
Dr. Andy Roark:
Welcome to the podcast. Tyler Grogan, how are you?
Tyler Grogan:
I'm good. How are you Andy?
Dr. Andy Roark:
I am doing so good. It is so good to see you. I do enjoy when we get to catch up, which is very often since we live in the same town and we work for the same company and all those sorts of things. But I get to see you a lot, but I always enjoy seeing you. For those who don't know you, you are a certified veterinary technician. You have been in social media and marketing for a number of years now. You are the creative marketing director for the Uncharted Veterinary Conference, which is where you and I both work. And yeah, you are always a breath of fresh air and one of the most positive people that I know, and I have just been so happy to get to know you over the last like what, six, eight years now. Something like that?
Tyler Grogan:
Yeah, we're coming up on a decade of knowing each other.
Dr. Andy Roark:
Are we really? I was thinking it was getting up there.
Tyler Grogan:
Yeah, we met, I believe it was, it was then NAVC, but now VMX conference once upon a time. And then I showed up at Uncharted and haven't left. So you've been stuck with me since.
Dr. Andy Roark:
Yeah, that's true. You showed up for a conference and ended up with a job, and that's how that went.
Tyler Grogan:
My plan worked brilliantly.
Dr. Andy Roark:
Well. I wanted to talk to you about some work that you've been doing. You have a lecture that I got to see back in December, and it's called Turning Clients into Fans. And I wanted to bring you on here, one, because it's our 200th episode of the podcast, and I was like, who do I want to talk to? I want to talk to my friend Tyler, just someone who I have gotten to be really close with. And then number two, I love when we take two different ideas and squish them together to understand the world. It's how my brain works, it's one of my favorite things. If people have ever heard me talk about time management, I talk about Red Dots and I talk about dragons, and I just talk about all of these wild things because I think that thinking about disparate things and then squishing them back into the question at hand or vet medicine specifically, I think that lets us see things in a new and interesting way.
And so you did this presentation that I got to see, called Turning Clients into fans, and you talked about Publix, the grocery store, in terms of how we should treat veterinary clients. And I want you to lay down your story and your thesis on how Publix informs the way we should think about seeing pet owners.
Tyler Grogan:
Yeah. So I love that you called it a thesis because as I dove into this topic, it definitely started to feel a bit like a research paper, which is always fun. I'm a naturally curious person. So it actually came up as a question in 2019 before the pandemic when we were at Fetch in Kansas City, and I saw a talk by Bill Schroeder about marketing. And he briefly touched on how there are fans for different businesses, and he actually used Uncharted as an example of a company that had fans. And so that always kind of stuck in my head. And I've always had that kind of question in the back of my mind of, okay, well it makes sense, but how does it get to that point? And so I took that from there and really thought about sports. And in veterinary medicine right now we're experiencing a lot of change and we went through a lot of change, and that comes with a lot of new team members and a lot of new processes and a lot of new things.
And so it kind of made me ask this question. So again, putting thing one thing to another thing, kind of like how your brain works of how do sports have actual fans that endure so much change? They endure change for their staffing, their teams on a regular basis. And yet someone who is a fan of a sports team is a fan of the team. And I was like, okay, there's this bigger question of how do you create this enduring, because really they're customers, how do you create this enduring fanship? And Publix is a great example of a business taking some of those concepts.
Dr. Andy Roark:
I want to pause here for one second because I really like this idea. I've not really honestly processed it that way because when you look at professional sports, you have these free agents and you have people who come and they turn over and they get traded. And I know people who are absolutely rabid fans of a sports team. And I'm like, man, all of the people who are on that team, were not on that team five years ago, and they won't be on that team five years from now. But the fans are often, they seem much more loyal than the actual players on the team, in a big way. And I understand there's economic drivers for that. But I think this is really interesting.
It's also really, honestly for a second, I kind of recoiled when you said, these fans are our customers. And I'm like, "Customers? Like I'm a Florida Gator customer?" And the truth is, yes, I am. I have a very expensive degree that I purchase from the University of Florida. And boy, their merchandise is ridiculously expensive. And yet, I still buy it and people buy it and give it to me because that's where I'm from.
But you don't think of fans as customers. But at their root, that's exactly what they are. So I like that. And I had not really considered the idea of looking at this as a way of insulating vet practices against staff turnover because sometimes we have veterinarians that leave and sometimes we have staff that leave. And that's just unfortunately, it's part of the job. I don't think there's anything insidious about it other than people always, they have lives and they have spouses and they have needs and they move away to be close to family and things like that. And so how do you build this attachment to the team as opposed to the individual? I love that. So with you there. Talk to me about how Publix interfaces with US professional sports teams.
Tyler Grogan:
All right, so stick with me here. So like you said, you kind of recoiled at the thought of a fan being a customer, and I had a similar reaction of, wait a minute, but it makes sense. We're spending money to participate in these types of things. And so again, the bigger question was how do we create this enduring fanship, and then how does that translate to business? And so sports was kind of a huge thing to look at and really translate to veterinary medicine. So I started thinking about what businesses do I consider myself a fan of and why? And the first one that came to mind was Publix, and it's a grocery store for those of you who are maybe not from the south or the United States that have not heard of it, but it's a grocery store chain in the southeast.
And I would say that I am a fan of Publix and there are people out there that are true fans of Publix. And that means that they're out there buying merchandise or if you live out of state, they're telling you that if you go visit this area of the country, you should go to Publix and have a Pub sub. It's that level of involvement. And so what were they doing as a business that was creating that same level of, I want to be involved in this, I want to spend money here, I will choose this over any other place and that loyalty. So it was an easier leap for me to kind of think about, okay, let's look at the business side of this rather than sports teams to really translate it to vet med.
And so it boiled down to a couple different areas of customer service, which were exceeding expectations consistently. So setting expectations of what you're going to get. When you walk into a Publix store, it's going to feel the same. You're going to have a good experience. If you walk up to a counter and ask for help, they're going to help you. It's just always a positive experience. So meeting and exceeding expectations, and that's on a consistent basis.
And then the other thing is creating an emotional attachment, which this one hit right on the head for me because vet med, we immediately have that leg up on any other business. We are going to establish emotional connection with our clients and customers right off the bat because a big part of their identity is their pets and being pet parents. And we have a great opportunity to connect with them on an emotional level that most other industries don't get that. So we already have half of it, pretty much set up for us. The second half is really about meeting and exceeding expectations on a consistent basis. So what can veterinary practices do to accomplish that? There's so many different things.
Dr. Andy Roark:
I'm going to pause here for a second. I want to unpack this connection with Publix a little bit more because I want people to really understand it. And I think you did a really good job in the presentation of laying this out because I agree, my wife will drive past three grocery stores to get to Publix. It is the one. We have our Publix, it's the one that we go to. I ask her why we do this, and she says, "Well, it's because I know where everything is." And I go, "But, how did we get to that point? Why did we not stop at the other grocery stores before we came here so many times that you now know where everything is? What got us to this place?" Because I do agree that now there's the comfort, there's a familiarity, there's all these things.
And I do think that's part of it. It's called perceived switching cost. So this is true, and I learned about this in human medicine, but then it applies to vet medicine and applies to everything's. In my wife's mind, there is a switching cost, which means if we went to a different grocery store, she would have to figure out where specific things are versus she just knows where they are right now and this is easier. So there's a cost of switching going somewhere else. And so that's where we are now, but how do we get there? And so talk to me a little bit more about the fan experience for a grocery store, and I like some specific examples of how did this get created? How did this get built?
Tyler Grogan:
Yeah, for sure. So I'll step back for a second to the sports example and this connection here. So part of making someone a fan of something is how they're introduced to it, and there's usually some level of socialization to that. So for sports, it's usually my family was a fan of this team, and therefore I'm a fan of this team and within proximity of my home, et cetera. For something like Publix, for example, my mom would always shop at Publix. And so now I shop at Publix and I know what they can do if you need your seafood steamed for you, they'll do it for you before you take it home so your house doesn't smell like fish. That's the level of customer service that they're offering.
And so how do they reach that point of fanship? Well, again, I bring it back to they're consistent. I walk in there and I know exactly what to expect. They are not only going to meet my expectations, but they're going to exceed them. For example, I became a fan of Publix, starting from being a small child, but I recently moved to South Carolina, as you know. And when I walked into my local Publix, which was the first order of business, I walked over to the deli counter and they have usually a type of turkey that is one of my favorite for lunch meat sandwiches. I didn't see it, I asked, they didn't have it. And I was a little disappointed, which I think the deli counter attendant could tell. And I left without my turkey. And it was, oh man, this is like a thing, it's just something that makes me feel comforted and I'm at home, but I can't get it. So it's no big deal.
Well, the next time I went to Publix, probably the week later, I went over to the deli counter to find maybe a new alternative, and there was the turkey in the deli counter, and I was like, "Whoa, wait, they have it." And so I got myself a pound of it, I'm planning to eat it all week long, very excited. And now it's still consistently there in the deli counter. And it's not always on display, but they always do have it in stock. And I can't help but feel like I was the person that made them keep that in stock. And I'm one customer out of hundreds that walk into that store all the time. That's the level of types of things that happen at Publix that make people continue to go back and be a fan and recommend them above all others. So that for me was a moment of, "Oh, this is a new level. This is beyond loyal customer. This is, I'm going to tell people the story."
Dr. Andy Roark:
Yeah. I like that. I think that's a great example. It's sort of probably a small thing from them is to say, "This was something that was requested. Let's try it. Let's see if anybody buys it." And they got it. And people do buy it. One person, Tyler Grogan, who shows up every week and buys a pound.
Tyler Grogan:
It might only be me. I believe that it might only be me, but I want to think that people around might also buy the turkey and be like, "Wow, whoever thought this up, they had a great idea here." But it makes me feel good to know that they have this, maybe it is just for me.
Dr. Andy Roark:
I imagine them hiding behind the counter and they're like, "Hey, it's her, it's the turkey girl. Get it out the back." And they go in the back and they get the same turkey and bring it forward, and then they put it back way after you leave.
If you dream of doing team training with your team, getting your people together, getting them on the same page, talking about how you guys work together in your practice, I'd love to help you. You can check out drandyroark.com and check out the store. I have two different team training courses. These are courses for teams to do together to get on the same page and to talk about how you do things. I have my Angry Clients course, and I have my Exam Room Toolkit course, and they are both available in there. Check them out. All right guys, let's get back into this episode.
So I love it. I like this a lot. Go ahead and start to help me see the vision of how some of these concepts translate to vet medicine. What does it look like to start to apply some of these principles in a hospital?
Tyler Grogan:
Sure. This is so exciting, I love this part. So George Jenkins, the founder of Publix, was quoted to say, "Astonishment is not a feeling people soon forget." And so I think about in vet medicine, these moments of when can we take it from this was a good experience to this was a memorable one, to this was something that really was meaningful for me. And we have so many opportunities to do that. It really is about setting the strong foundation of when I come to this vet practice, this is what my experience looks like, this is what I can expect, this is the level of transparent communication that I can expect from the entire team, from the practice. So setting that strong foundation is definitely step one.
But beyond that, you can create those moments. I think our friend, Dr. Michael Miller, does a really good job of this. An example that I love is during the pandemic when everyone with curbside, he started having a little post-it note packet in his pocket of his jacket, which I just rhymed. Great. I just decided to rap about it. He would have a post-it pad with him and he would take a photo with the pet, write a little note personally to the client, which could have even been just something as simple as, "Thanks for coming today," and he would send that back out with the pet to the car. And he was just doing that on a regular basis and his clients loved it.
Dr. Andy Roark:
Sure.
Tyler Grogan:
They're posting about it on their social media. Yeah. And so he took it from this, they've already established their curbside protocols and procedures and they're following those. And then he took it to another level of just adding this little extra step and make someone feel special and seen that day and those little things can really add up to creating that experience and turning someone into somebody that's going to become a fan for you.
Dr. Andy Roark:
That's awesome. Man, that's great. That's a great example of just astonishment. I can imagine this thing coming out and you never expect it and it's super cool. I guarantee those photos made it onto people's refrigerators, like the old magnet on the fridge. I have no doubt. That's what I would've done. And I love that. I'm also, a big Michael Miller fan. He's been on the podcast a couple of times.
The last time he was on, we were talking about something, I think the title of the episode was like Leaders Shouldn't Eat Last. I think it's basically what it was. My favorite Michael Miller line was basically he was talking about being sort of a servant leadership to the extreme to point where he's like, "Boy, we've created a job that no one else would want to do, and that's a problem." So anyway, he's such a neat guy and he's such a deep thinker and I'm not surprised that's where that comes from. All right, I love it like it a lot. So we're looking for those sort of types of ways of exceeding expectations, it's sort of astonishing people and things like that. Do you have other examples or other things that you see that that stand out as ways that you've seen practices build fandoms?
Tyler Grogan:
Another really powerful example that I think speaks to the emotional connection piece of being a fan, it actually comes from an unexpected place maybe, which is euthanasia. Those are some of the most emotional moments for our clients in the times that we're interacting with them, that we have this opportunity to create those connections. And if we meet and exceed expectations during those experiences, then those are the people that'll come back with the pet that is the new addition to the family after that difficult loss. The card that goes out in the mail, maybe a few days afterward to them could be that little extra step. Some of these things we kind of think of as our normal because we are experiencing them on a regular basis. But for someone that maybe this was their pet of 20 years, this might be the first time that they're experiencing this loss.
And to have that little extra checking in on them, or even just a quick email. For example, could be that extra step that makes me feel really, really important to these people. And I'm not just a person that walked in one time, I'm a person they care about. And so those are really powerful moments that we can connect with people in such a strong way. And so that's another example. Outside of the practice, I heard a story recently of a company that they provide AutoShip for foods. And so a friend of mine's family had a pet that passed away. They emailed the company and said, we need to cancel this AutoShip. And they were very nice emailed back and said, "Of course, we'll cancel that for you. We'd just ask that you donate the food that you already have to a local shelter."
But then they took it to the next level and they sent them a small bouquet of flowers to their home. And for a large company like this, that might have been just a very, very small investment. But that led to this family feeling very personally connected to this company and therefore, walking down the street of their neighborhood, telling all their neighbors about this experience. And who are they more likely now to maybe also get foods for their pet from? So it can be really powerful and have a lot of ripple effects to just make those little extra steps.
Dr. Andy Roark:
Yeah, I think that's fantastic. That makes a ton of sense. So you talk about consistently exceeding expectations. I think that that's an important thing. I think a lot of us, we have wonderful interactions, we'll have a great conversation and we'll say, "Oh, I saw this opportunity, I jumped in and helped this person. And it made me feel good, and they even wrote a thank you note because they were so impressed with it." Talk to me a little bit about the consistent part of it. How do we start to build consistency into programs like this, in your mind?
Tyler Grogan:
Yeah, sure. So some of it comes down to setting up protocols and processes for your practice, which those, again, were kind of coming out of a time of significant and rapid changes during the pandemic. And so some of those processes might look radically different than when you opened your practice. A good example may be just your appointment protocols. How long in advance are we confirming appointments? How long are we going to expect people to be waiting? What are we letting them know? What are our steps because we are so busy at this point? What are our steps to letting people know that we're running behind, or what our expectations are we setting around maybe how long they'll be in the lobby or in their cars before they come in?
Some of those things, just sitting down and looking at those processes can really help to establish some consistency right off the bat. And then what I think is maybe the step to exceed the expectations is to set yourself up for success in those processes. There's nothing to say that we could get this client in a room within 15 minutes of their arriving, but if we tell them that it may be a 25-minute wait and we get them in 10, that's succeeding expectations. We've set ourselves up to succeed. We do this really well with things like lab work where we let them know perhaps that we know we'll get the lab results back in three, four business days if it's a regular testing. But we'll let them know we'll get back to them within seven to 10 business days. And then when we call them way ahead of that, it's an exceeding of expectation. So yeah, there's so many opportunities to just set yourself up for success. So I think there's a lot there to dig into.
And you can look at one thing at a time. It seems like it can be overwhelming if you sit back and look at the whole picture. But I love something that you say, which is pick a hell and make it pretty. Pick something that is something you do all the time. Maybe it's the thing that you're known for, you're known for your low stress handling appointments and you do really well with very fearful cats, for example. Look at that process. What makes it great? Look at what you're doing now and you already know it's doing well for you. And then where can you add in a couple layers of, we know we can do it this well, let's say that we're going to do it this well and set ourselves up to exceed their expectation. Let's also give them a small toy when they leave without saying anything about it at any point before their visit. And then it's going to be this extra step, this little extra thing that is part of your process, but it's behind the scenes. So it's exceeding expectations from the client perspective. There's little things like that.
Dr. Andy Roark:
That makes a ton of sense. Tyler, for people who are inspired, who are fired up, who want to get deeper into this head space, do you have favorite resources that you recommend? Anything that you like or draw inspiration from?
Tyler Grogan:
Yeah, so when I was diving into learning more about Publix and their customer service, I did come across a book called A Piece of the Pie. It was written by an executive of their HR department, who was there for 25 years. And it's got a lot of great stories of these moments of exceeding expectations that I really, really enjoyed. So that's a great resource if people are interested in learning more.
Dr. Andy Roark:
That's so great. I love stories like that where you can just pull examples from, and I walk around with an encyclopedic knowledge of customer service stories of Publix. The staff after a while is like, "Here he goes again," and I'm telling Publix customer service stories. Perfect. I'll put a link to that in the show notes. Tyler, thank you so much. Where can people find you online? Where can they see the wonderful work you do for Uncharted?
Tyler Grogan:
Yeah, so I am doing some workshops this year for the Uncharted community. That'll be out for anyone who'd like to attend. So keep an eye out on our website for those coming out. If you're in the community, I've got some things in there including some more information about this topic, and you'll probably see me around any of the Uncharted events that are going on. So keep an eye out for me there. And definitely say hi if you're coming to any of our Uncharted events, because I love to meet new people.
Dr. Andy Roark:
Oh, awesome. Tyler, thanks so much for being here. Guys, thanks for tuning in. Take care of yourselves.
And that is the episode. Guys, that's what I got for you. I hope you enjoyed it, I hope you got something out of it. As always, if you did, share with your friends, write me an honest review wherever you get your podcasts. It is how people find the show. It always means the world to me. Gang, take care of yourselves. Be well. I'll talk to you later on. Bye.