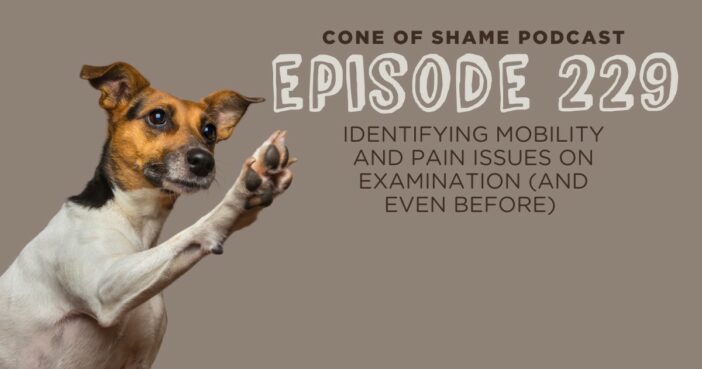 Dr. Dycus, Chief of Orthopedics at the Nexus Veterinary Bone and Joint Center and founder of Ortho Vet Consulting, shares invaluable insights into orthopedic examinations for both dogs and cats. He discusses the importance of video documentation for evaluating mobility issues, offering indispensable guidance to veterinarians and pet owners alike.
You can also listen to this episode on Apple Podcasts, Google Podcasts, Amazon Music, Soundcloud, YouTube or wherever you get your podcasts!
LINKS
C.A.M. (resource for pet owners)
C.A.R.E. (resource for pet owners)
Dr. Andy Roark Exam Room Communication Tool Box Team Training Course
Dr. Andy Roark Charming the Angry Client Team Training Course
ABOUT OUR GUEST
Dr. Dycus attended Mississippi State University's College of Veterinary Medicine for his veterinary degree, Auburn University for a small animal rotating internship, and Mississippi State for a combined surgical residency and Masters degree.
Dr. Dycus is frequently asked to lecture locally, nationally, and internationally. He has given over 200 continuing education lectures and taught over 125 laboratories. He has published numerous research articles and authored or co-authored several book chapters. He is the co-editor of the textbook: Complications in Canine Cranial Cruciate Ligament Surgery. He was named by DVM360.com as one of the 10 veterinarians to watch in 2018. Dr. Dycus is a frequent contributor for updates in orthopedics to several veterinary websites and magazines. Dr. Dycus has also been featured on Sirius XMs Doctor Radio's segment on Pet Health and Orthopedics. His passion for teaching has allowed Dr. Dycus to become a laboratory instructor for the CBLO, TPLO, extra-capsular stabilization, medial patella luxation, angular limb deformity, and fracture repair. He is on faculty for AO (Arbeitsgemeinschaft für Osteosynthesefragen), and he is an orthopedic consultant for VIN (Veterinary Information Network).
Along with being a scientific reviewer for multiple journals, he serves on the editorial review board and is the associate editor (orthopedics) for Veterinary Surgery, the official publication of the American and European Colleges of Veterinary Surgeons. He has previously held an appointment on the research committee for the American College of Veterinary Surgeons. Currently Dr. Dycus is on the Board of Trustees for the American College of Veterinary Surgeons, is a council member for the Association for Veterinary Orthopedic Research and Education (AVORE), and is on the education committee for AO North America. Dr. Dycus became a certified canine rehabilitation practitioner through the University of Tennessee in 2015. He is the director and chief of orthopedic surgery at Nexus Veterinary Bone and Joint Center where he has a focus on total joint replacement, complex and minimally invasive fracture repair as well as angular limb deformity correction, 3D implant printing, and arthroscopy. In addition, he is the medical director for Nexus Veterinary Specialists located in Baltimore, Maryland. He is the founder of Ortho Vet Consulting, an educational consulting and orthopedic coaching service as well as the co-founder of the Veterinary Sports Medicine and Rehabilitation Institute (VSMRI).
---
EPISODE TRANSCRIPT
Dr. Andy Roark:
Welcome, everybody, to the Cone of Shame veterinary podcast. I am your host, Dr. Andy Roark. Guys, I'm here with my good friend, Dr. David Dycus. He's an orthopedist. He lectures all over the world. He does a ton of things, which I'll lay out here in a moment. Man, I always enjoy him. He is so useful. He's such a wealth of knowledge and just super practical clinical knowledge. And guys, we are in the orthopedic exam today. And gosh, he just makes pearls of wisdom rain from above in this episode. It makes me so happy.
My face, I wish you could have seen my face when we get into talking about how to ask pet owners to take videos of their limping pet, and he's like, "Yeah. This is my wishlist for how to film and what to get them to do." And I'm like, "Man, if I was a pet owner, I would love this. I would feel empowered. I would feel like I have got some homework to do. I feel like my vet cares." And then as the vet, I'm like, "Yeah. This is super helpful." And it's just a way… It's like sometimes you struggle to ask for what you really need because you don't exactly know how to articulate, "Hey. This is what makes a good video that's actually going to make my life easier and not just give me more to do in my day." And so anyway, that's just one part of what he lays down. But man, that was probably my favorite part and we do it for dogs and cats.
At first we start off, we're talking a lot about dogs. We very much get into cats and how cats are different and ways of diagnosing cats differently, and just, anyway, boy, the amount of knowledge packed into this episode is just absolutely over the top. So anyway, if you ever see limping animals, limping dogs or cats, this episode's for you. Let's get into it.
Kelsey Beth Carpenter:
(singing) This is your show. We're glad you're here. We want to help you in your veterinary career. Welcome to The Cone of Shame with Dr. Andy Roark.
Dr. Andy Roark:
Welcome to the podcast, Dr. David Dycus. Thanks for being back on the show.
Dr. David Dycus:
Hey. Thanks for having me. It's great like always to be back.
Dr. Andy Roark:
Oh, man. I so enjoy having you on here. You have been… I think I have you on about once a year. I should probably do more than that, but you are perennial here. I always enjoy the heck out of you. For those who don't know you, you are a board certified veterinary surgeon. You have a sole focus in orthopedics, so you're always in talking about limps and joints and aches and pains and corrective procedures and things like that. You are the chief of orthopedics at Nexus Veterinary Bone and Joint Center. And you also are the founder and owner of your own consulting firm, which is Ortho Vet Consulting.
So you are awesome. I love talking to you about these things. You have a passion for canine working dogs. And so it's just something that I've always been interested in and it fits with your orthopedic interest. And I've had you on talking about osteoarthritis many times in the past and things like that. And so let's go on. I want to just talk with you today. I'm interested in. I had just a flurry of questions recently about limping dogs and mobility. From those, do you think it's torn? Is it partially torn? Do I need to come in? Do I need to do a surgery? Should I wait and see? And it's just a lot of those sort of nuanced questions. And so I wanted to bring you in to kind of help me brush up a bit on identifying mobility and pain issues and just examination and then even pre-examination. Are there things I should be asking before from the pet owner? Are there things I should be looking at before I put the hands on the beast? Anything like that?
So let me just start it at a high level and sort of say when somebody comes to you and says, "Hey. Could you take a look at this limping dog?" where do you even start to process this in your mind?
Dr. David Dycus:
So I think first thing is going to be listening to the owners and gathering as much information as you can, because in a lot of situations when the dog or even the cat is in the veterinary hospital, they're amped up. And so sometimes some of the things that the owners say are happening, you watch the dog walk, for example, and you're like, "Well, I don't see anything," and you're thinking the owner's crazy or the dog's getting better. So I always question them about how long it's been going on, where they see the issues most. And I try to keep most things open-ended so I don't persuade them one way or the other or they answer something the way I want them to.
I want them to tell me are they predominantly seeing stiffness upon rising and then the dog works out of it and looks beautiful? Or are they seeing something that the dog is stiff and then it stays consistent? Is it something that started out very intermittent and has now progressively gotten worse? Or are they actually seeing maybe some behavioral type changes? Maybe the dog's sitting down on walks or maybe they've noticed that, "Usually he beats me up the stairs and hops on the bed at night, and now we're kind of waiting on him to come up the stairs and then I'm having to bend over and help him up into the bed." So they may notice some not necessarily limping, but they may notice some changes. And if it's a cat, for example, perhaps they have stopped wanting to jump up onto the counter or they get up and find themselves, but then they start meowing or seeking out somebody to help them get down off of a surface because they don't want to jump down. So I think certainly listening to the owners is a huge, huge one.
Dr. Andy Roark:
Do you have any slick sort of Jedi questions that you feel draw histories out naturally? Or do you sort of do a 20 questions like, "Hey. I'm going to ask you a bunch of questions," and then just kind of go through a checklist in your mind? How does that sound when you're trying to draw this out and without leading them too much?
Dr. David Dycus:
Yeah. I think sometimes when the owners come to see me, they've been to their regular veterinarian and they've maybe got an idea of what's going on.
So they start telling me things that they think I want to hear, things they've looked up on the internet to try to persuade me in that direction. And so I say, "Listen. Let's start at the very beginning." I'll say, "Why are we here?" "Well, my veterinarian…" and I say, "Well, no, no. What did you see at home when you first noticed something that was wrong?" And, "What changed your thought as to why you thought your dog needed to see a veterinarian?" And then they'll say, "Well, he was limping." "Okay. Well, how long ago was he limping?" "Well, a few months ago." And then I say, "Okay. Well, has he just been limping the same way the whole time? Or did you notice something before?" And then they start thinking and they're like, "Well, there was a few months ago where maybe he seemed like he slept wrong on his leg for a few days and then it went away. We didn't think anything of it." So that's a huge important thing, especially when it comes to cruciate ligament disease.
Or I'll say, "Well, are there certain times of the day where you notice the issue more?" I don't want to say, "Are they stiff when they get up in the morning?" I just want to say, "Are there certain times of the day where you see it? Or are there certain activities that you notice the issue more more than others?" And if they've been on any sort of medications, say, "Well, did it help?" And they're like, "Well, no. He's still limping." I'm like, "Well, did you notice any change at all for the better or just zero change?" And they're like, "Well, maybe it helped a little bit," because I think some of those things are very, very important.
And many a times they'll say, "Well, I've got a video. Do you want to see it?" And I'm always like, "Yes. Absolutely." And more times than not, it's probably not even really focused on the dog and helpful, but I do think it's important because sometimes you can see some things that the owner's trying to describe, and I'm sitting there thinking, "What are they talking about?" They'll say, "Well, he's dragging his nails." And we all think, "Oh, it's got to be neurologic." And I'm looking, and they'll say, "We've got video." And I'm watching the video, and it's like, "Well, the dog doesn't have a neurologic gait. The dog's just too painful, so it can't actually flex the knee or the hip enough to clear the paw and the nails are catching. And so it's not neurologic. It's actually orthopedic."
So many a times, my technician will come in and she'll be like, "Well, the owner says he's dragging his feet." And I'm like, "Oh. Well, this might not be orthopedic." And so we have to be careful about the terms that we perceive in our brain that we hear without actually seeing. So I think the history is critical and then videos if they have them, and then before you even touch the animal, you have to watch them move.
Dr. Andy Roark:
Okay. Hold on. So I'm going to unpack this a little bit. Okay. Because like I said, I've just had a pile of these recently and, pat myself on the back, I have done a good job of saying, "Hey. Why don't you get a video of it before you come in?" And that has been really helpful. However, David, I get it and they bring the video in and oftentimes, they're holding the leash and they're filming from behind or, as you said, there's a variation in quality of the video and things like that.
Are there certain types of videos, are there shots that you're looking for? Can I give them a little bit more coaching to get a better video? Because a lot of times, they love the idea of filming it, you know what I mean, and bring it with us so we can see what it looks like. And especially if I say, "Oh, often they'll hide it when they come into the vet, so I really want you to get this video," they feel like they're hands-on, they're part of what we're doing, they're on the diagnostic team. Do you give them any sort of guidance in how to get a good orthopedic video that's going to help us look at lameness?
Dr. David Dycus:
Yeah. We try to. And for me, it's actually, if I get the opportunity to tell them to get video before they come in, then my wishlist of videos would be someone else is walking the dog and someone is filming, so it's not the same person walking and filming. The first thing I would like to see is the dog lying down and getting up to a walk and see what happens. That's video one. Video two would be the dog just standing before walking. And then the next set of videos would be one video of the dog walking away from the camera, a video of the dog walking towards the camera and a video on both the left and the right side of the dog walking. And ultimately, if I can get even more videos, I would want those same series, but with the dog trotting, so the trotting towards me or the camera, trotting away from the camera, trotting a view on the left side and a view on the right side.
That would be my ultimate wishlist if I could have those videos because I think that would certainly help pinpoint a number of things. You're able to see how does the dog look when it rises and then starts walking, how does the dog look when it's standing. Some dogs will offload a limb at a stance, but then the minute they start walking, they're engaging and using it, and that tells me things versus if the dog is offloading and then takes off walking and is limping. And then for some animals when they have a more mild issue, it's easier to detect at the trot than it is the walk, because it's a lot harder for them to hide things at the trot than it is the walk.
Dr. Andy Roark:
Hey, guys. I just want to jump in real quick and let you know about some great continuing education I have coming your way. Guys, I've partnered with Nationwide to put together a series of webinars that are 100% free to you. They have [inaudible 00:11:18]. They are good to go. And they are going to be, first of all, just genuinely entertaining and fascinating. The first thing I got coming for you is on October the 31st, that is on Halloween, with me. I am doing a webinar that is on a topic that I love and I care about. It's keeping care accessible in veterinary hospitals, strategies for affordability and sustainability. This is me talking about exam room communication. It's talking to people about money. It's working with clients who have financial limitations. You get to hear me do my thing. I'm super excited about it. It's at 3:00 PM Eastern, noon Pacific on October the 31st. Registration is open. I'll put links to all of these down in the show notes.
The second one is coming up on November the 14th with my good friend, Dr. Emily Tincher. She's been on the podcast a number of times. I love having her here. She's such a fun, interesting person who's a deep thinker. And so anyway, she is doing a webinar called Clinical Empathy: The Exam Room Skill that Can Transform Your Team. I've had Emily on the podcast before talking about clinical empathy. This is a really good skill building webinar. This is great for your support staff, as well as your doctors, but your team leads especially, but your technicians, your assistants, your CSRs, all of this, it's such a great communication content. I think you're going to really like it. So anyway, that is on November the 14th. It is at 3:00 PM Eastern, noon Pacific.
And then the last one in the series is on December 13th. It is with Dr. Simon Platt. It is called Head Cases: A Spectrum of Care Approach to Neurology in General Practice. So if you're a neurology buff, if you like seizures, not like it, if you like knowing about seizures, if you like neurophysical exam, tips, tricks and hacks, things like that, this is going to be a great webinar. So again, this is on December 13th. It's at 1:00 PM Eastern. That's 10:00 AM Pacific Time. Gang, I would love to see you there. Links to all this stuff in the show notes. Go ahead and grab a spot. I'll see you there. Let's get back into this episode.
Is this the same wishlist that you have for cats? Or do you tailor your instructions? I know. It's really hard, but that's why. It feels to me like the videos of cats are so much more valuable, because they just… It's so limited in what I can kind of get and use in the exam room, and so I want to do this just well. But yeah, do you tailor those? Is your wishlist still the same and you just say, "I know this could be challenging."? How do you advise the cat owners?
Dr. David Dycus:
Yeah. So for the cat, I want the owner filming the cat just walking around, engaging its normal environment. And then if they can encourage the cat to play, so if they have a toy they can toss and the cat will go after, I want to see that. I want them to try to encourage the cat to jump up onto a surface, whether it's a chair or a counter. And then I also want them to encourage the cat to jump off of a surface, an elevated surface, whether it's a chair or a counter. And then even better if it's a home that has stairs, if they can encourage the cat to either go up or down the stairs. Those things I think are very helpful, because the cat's going to be very, very different to detect some things and especially in the hospital.
In most situations the owner has spent all morning trying to get the cat in the carrier to get to you, and then all of a sudden when they're there in the hospital, the cat doesn't want to come out of the carrier. And so we take them out of the carrier and I'll put the carrier at one end of the room and I'll put the cat at the other and I'll watch what happens, and the cat walks with a crouched, light gait, well guess what? Every cat walks with a crouched, light gait in the hospital. So that doesn't really help. But a limping cat's a big deal. If you have a cat that's you watching and that you're like, "That cat looks like it's limping," that's a big issue that needs to be dealt with. But if they can get me videos of just the cat in its normal environment, how it's interacting, especially with stairs and jumping, that's also going to be very helpful.
Dr. Andy Roark:
You just made my day. This is absolutely worth the cost of admission just to go through these videos with you. I freaking love this. Okay. Great. So we've got our videos. Let's move into the exam room. So you said even before the examination, just try to watch the pet. And so we talked a little bit about the cat and separating from the carrier and things like that. How do you try to do this in the vet clinic? I have done everything from go just big and have people, "Let's go outside together and we'll go and leash it up and go," to just trying to maneuver in the exam room or things like that. Yeah. Tell me kind of what you're trying to accomplish before you start your exam with the patient.
Dr. David Dycus:
So I'll start with the cat. As we said earlier, I want to watch the cat first walk and then I want to see how the cat's going to engage in terms of jumping up and jumping down. And so what I'll do is I'll put the carrier on an elevated surface to see if I can encourage the cat to jump up. And then I'll reverse rolls. I'll put the carrier on the ground and the cat on an elevated surface to see if the cat will jump down, because jumping up or having trouble or refusing makes me start to think hind limb issues versus not wanting to jump off or hesitating. That makes me start thinking front limb issues. And for example, cats commonly suffer from elbow osteoarthritis. And so if they do jump down, they're going to try to get their front legs unloaded as quickly as possible, so they'll kind of slam their back legs down, so it won't be a very nice elegant landing.
But for the dog, I really think if the dog's coming in for limping or weakness or a mobility related issue, we really need to watch them walk in more than just the exam room, because the exam rooms usually just aren't big enough to pick these things up. But while I'm talking to the owner, I'm going to watch what the dog's doing. In other words, sometimes I'm staring at the dog while I'm talking to the owner and I'm looking to see if the dog's standing, does the dog revert and start to offload a limb, or does the dog immediately go to sit down and doesn't want to stand up, and how does their sit look or when they go to lie down, how does their lie look? And before I ever put hands on them, we're going to watch them walk.
And so I think watching them walk towards you, watching them walk away from you, if a big enough area, watching them walk on the left and the right and then repeating the process for the trot is very important, but that means you have to have space for this. And so sometimes that can be a hallway. Sometimes it's the outside in the parking lot. Sometimes it's on the sidewalk. Sometimes it might be in a grassy area. I tell people, "If you're going to remodel a hospital or if you're going to build a hospital, architects love to design beautiful, elegant floorings, but many a times they're not practical for our patients." They're slippery. And if we've got a neurologically or orthopedically compromised patient, there's got to be good footing. And so if your hospital has slippery flooring, you got to move it somewhere where there's better traction or get a bunch of yoga mats and line your hallway just for your gait evaluation so they have traction, then they're not sliding because it makes it really challenging if the floors are slippery.
Dr. Andy Roark:
Got you. That totally makes sense. All right. So let's start to move into our physical exam. And I've asked you about this before in the past, but walk through… Primary objectives in our physical examination. How do you start this out?
Dr. David Dycus:
So I think it's dealer's choice, and when we talk about dogs, for example, it's dealer's choice if you want to have them standing or lying down. I do think it creates a bit more stress in some of the animals if we try to force them in lateral recumbency for an exam. And so if I have a dog that's relatively submissive and immediately rolls over to their back and is submitting, then I'll just say, "Okay. Our technician will give them belly rubs and I'll do the exam with them lying down." But usually I want to have them standing up. And this isn't the time where we're going to try to perfect our wrestling skills.
The exam should be done the same way every time. For me, that means I start at the toes and I work my way up and I do the affected leg last. And so let's say for example, it's a right hind limb. Well, I'm going to do the left front leg first, and then I'm going to do the left hind limb, and then I'm going to do the right front leg, and then I'm going to do the right back leg. So that way if I hit an area that's uncomfortable on the affected limb, I need to know how is this dog's body language, because in some situations we're not necessarily looking for pain per se. We're sometimes looking more for tension or resistance or spasm to manipulation. And so I read a lot of body language. And so if I manipulate, say, the shoulder on the left side in a certain way, but then I manipulate the shoulder on the right side and the dog's panting and it stops panting or kind of looks back at me or starts licking its lips, those are signs to me that the dog could be uncomfortable.
And I also rely on the feedback from my team. If my technician, say, holding the dog and she says, "Hey. This dog's kind of pushing into me, kind of trying to get away from you," that tells me that what I hit is likely an area of discomfort. And I'm notorious for palpating one limb that's the affected limb last. And I don't get a whole lot. And so I go back to the contralateral limb and I kind of dig in a little bit deeper and then I go back. And I'm notorious for going back and forth, just sometimes looking for those subtleties, especially if it just doesn't jump out at you, "Hey. The dog's legs dangling because it's got a broken tibia." Sometimes it can be tricky. And where it gets tricky is with a lot of the soft tissue injuries. That's where it gets really challenging and where you have to hone in and look for those body language changes when you're manipulating the animal.
Dr. Andy Roark:
Got you. All right. All that totally makes sense. Where do you see people making mistakes here, David? What sort of pitfalls do I have to look out for?
Dr. David Dycus:
I think people try to rush things. I think they try to quickly run joints through range of motion and then say, "Well, I could do it, didn't bother the dog." I also think sometimes our manipulations aren't as calculated as they should be. Many a times we go just to grab the dog and then the dog tenses up. And I think the prime example there is if we're checking for cranial drawer. What I see notoriously in notes coming in probably in the last five years is, "Well, full orthopedic exam not completed because the animal was too tense without sedation." But unless the dog's actively really trying to eat you, you can usually get instability if your motions are a bit more calculated. We don't go home after work to pet our animals and we grab them in the position where we're going to check cranial drawer. I mean, it's super awkward position for a dog. And so if you go in with a really tight, quick grip, the dog's going to tense down. And once they tense down, then it's a fight of will and the dog's going to win every time.
And so I think if you go very light touches. So for me, what I like to do is just even before I start manipulating them, I'll run my hands down their back kind of lightly, so they're getting that very light touch. And then I'll run my hands down the front legs and run my hands down the back leg, just very light touch so the dog knows I'm there. And then I'll sometimes kind of rub the medial and lateral side of the leg just very lightly before I even pick up the toe. And then if they start kind of pulling or fighting with me, I'll let the leg go down for a minute, so I'll give them a break, and then will re-pick up the process.
So I think if we're focusing strictly on the orthopedic exam for an orthopedic ailment, it makes sense to slow the exam down. Now if you're doing a quick orthopedic check, say, on a wellness exam with no complaints, you can get through it pretty quickly. I mean, probably three minutes, you can cover the entire orthopedic exam. But I do think you need to slow down. I think you need to make very calculated movements. We need to avoid quick grips. And then for example, what I find for… Again, going back to the knee, what a lot of people tend to do is when they try to check cranial drawer, they like to kind of pick the leg up, which means the hips flexed a little bit, and they try to check cranial drawer, which I find is very challenging. So actually what I'll do is I'll pick the leg up, I'll extend the hip back a little bit. And that'll release some of the tension that makes checking both cranial drawer and, for me, tibial thrust much easier.
And then when we talk about hip extension, a lot of people like to try to go to hip extension and then it's tight and they're like, "Oh, well, they're resisting hip extension." Well, if I walked up behind you and I shoved you down to touch your toes and you couldn't bend your knees, you're going to be like, "Ow," and you're going to be like, "Well, you're tight." Well, we kind of have to work into that. So when I go to hip extension, I'm going very slowly and I can feel that tightness and then I'm just going to push through it as we're stretching. I'm basically doing a controlled stretch. And I find that many a times dogs when they come in, they've got hip pain, well, they don't really have hip pain. It's just they were tight and somebody tried to check their hip extension really quickly rather than kind of stretching it out.
And don't get tunnel vision. For example, if the dog is tight with hip extension, it might not be the hip, because a dog with groin pain or a dog with tarsal pain or a dog with lower back pain or a dog with stifle pain, they'll sometimes offload the limb and then they're going to be compensating, which means that their hip's going to be a bit more flexed, so they can centerline the limb a little bit, which means over time their hip's going to get tight. And so it's equivalent if I told you to bend over and walk bent over for weeks at a time and then stand up straight, you're going to be really tight. So it's the same thing. So we have to think about, "Okay. If I'm getting pain at the hock, but they're tight on hip extension and ruling out what's the primary issue versus the secondary issue, and the news flash is many a times in a skeletally mature dog with an acute lameness, it doesn't matter really how bad the hips look. It's usually not the hips that are causing the issue.
Dr. Andy Roark:
No. This is fantastic. I really, really appreciate it. David, where can people… Do you have any favorite resources that you like to refer people to?
Dr. David Dycus:
Yeah. So I'm going to give myself a shameless plug first, and then I'm going to provide other resources.
Dr. Andy Roark:
Do it.
Dr. David Dycus:
So first off would be my own website. It's drdavid dycus.com, and my Instagram is ortho_vet and my Facebook is Dr. David Dycus. Now, resources for clients are a big deal for me, and we see many patients with osteoarthritis. And so there are two resources I'll send clients to to learn more about how we manage osteoarthritis over the long term. One is called CAM. That's Canine Arthritis Management. It's a group based out of the UK. And the other is CARE, Canine Arthritis Resources and Education. And that's based in the US. If you just Google Canine Arthritis Management or Canine Arthritis Resources and Education, you'll probably be able to find both of those websites very easily. And that's sort of my go-to for sending clients for OA management, so that way they can learn, "Here's what things are going to be looking like for the rest of the dog's life," in a very client friendly language so they know what we're going to be doing.
Dr. Andy Roark:
That's fantastic. I'll put links to all that stuff. I'll link to David's stuff and I'll link to his socials and then also to the other resources as well. So I'll put all this stuff in the show notes for you guys. David, thank you so much for being here. I always appreciate your time and insight. Gang, thanks for tuning in and listening. Take care of yourselves.
Dr. David Dycus:
Thank you. Was a pleasure.
Dr. Andy Roark:
And that's it. Guys, that's the episode. That's what I got for you. Thanks to Dr. David Dycus for being here. Thanks to you guys for listening. If you found this podcast helpful, leave me an honest review wherever you get your podcast. It's how people find the show. It means the world to me. I really do appreciate it. Anyway, guys, take care of yourselves. I'll talk to you later on. Bye.