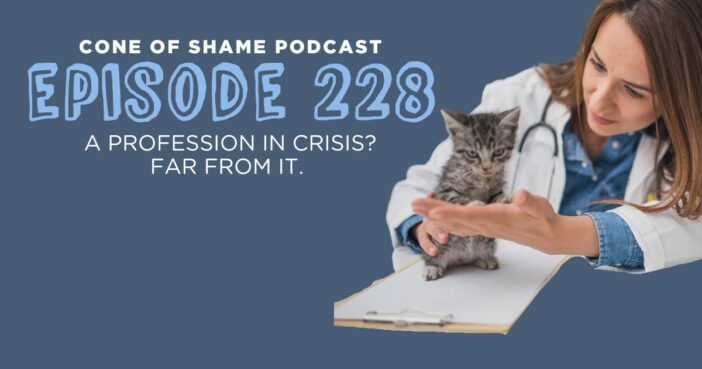 Dr. Eleanor Green, Founding Dean at Lyon College School of Veterinary Medicine, joins the podcast to discuss her recent article on the narrative that veterinary medicine is a profession in crisis.
You can also listen to this episode on Apple Podcasts, Google Podcasts, Amazon Music, Soundcloud, YouTube or wherever you get your podcasts!
LINKS
Article: A profession in Crisis? Far From it
Dr. Andy Roark Exam Room Communication Tool Box Team Training Course
Dr. Andy Roark Charming the Angry Client Team Training Course
ABOUT OUR GUEST
Dr. Eleanor Green holds the Carl B. King deanship of Texas A&M University College of Veterinary Medicine & Biomedical Sciences. She is a Diplomate of ACVIM and ABVP. She received a BS in Animal Science from the University of Florida and a DVM from Auburn University.
She established a veterinary practice in Mississippi as partner/owner. She became a founding faculty member of the College of Veterinary Medicine at Mississippi State University. Her academic appointments have included: equine faculty member at University of Missouri; head of Department of Large Animal Clinical Sciences and director of large animal hospital at the University of Tennessee; chair of Department of Large Animal Clinical Sciences and Chief of Staff of large animal hospital at the University of Florida. She served as president of three national organizations: American Association of Equine Practitioners, American Board of Veterinary Practitioners, American Association of Veterinary Clinicians.
Her awards include: 2004 Award of Distinction from UF College of Agriculture and Life Sciences, 2011 Wilford S. Bailey Distinguished Alumni Award from Auburn, 2012 Women's Progress Award for Administration and 2015 Distinguished Achievement Award for Administration at Texas A&M, and induction into the National Cowgirl Hall of Fame in 2013.
---
EPISODE TRANSCRIPT
Dr. Andy Roark:
Welcome everybody to the Cone of Shame Veterinary Podcast. I am your host, Dr. Andy Roark, as I am here with the one and only Dr. Eleanor Green. Eleanor is someone that I have admired my entire career just because she has done so many things and we get into that right at the very beginning and start to lay down what her bio is. Guys, I am a perpetual optimist. I am. I love vet medicine. I am big on the future of vet medicine. I know it's hard, and you guys have all heard me talk about the challenges of vet medicine. I still love it and I still think it's great, and I still think it's sad that oftentimes I feel like we focus on the downsides and not enough on the upsides of what makes it really good. And if you feel that way, this is a great conversation.
So at first we kind of start off talking at a high level, but then Eleanor just starts to kind of unpack her ideas and we get kind of down the rabbit hole a little bit. And she's so inspiring. We were talking after the podcast was over, and I wish this was on the podcast. So when she was the dean at Texas A&M's College of Vet Medicine, she asked her incoming students or her students, it was like a sample of 500 vet students. She said, "Raise your hand if you were discouraged from becoming a veterinarian." And 495 of the 500 students raised their hands. And she asked, "Who discouraged you?" And they said, "Other veterinarians." And I get it. Again, this should not be a path that you undertake lightly, but in another way, as someone who just loves our profession and what we do, I go, man, I want to spread the positivity. I want to spread the light. I want to change the story a little bit and be more honest about the balance of good and bad, and how darn rewarding this profession can be. So anyway, that's what we get into in this conversation, guys. I hope you will enjoy it. Let's get into this episode.
Kelsey Beth Carpenter:
(singing) This is your show. We're glad you're here. We want to help you in your veterinary career. Welcome to The Cone of Shame with Dr. Andy Roark.
Dr. Andy Roark:
Welcome to the podcast Dr. Eleanor Green. Thank you for being here.
Dr. Eleanor Green:
Yeah, thank you for having me. This will be fun today.
Dr. Andy Roark:
Oh man, what a treat for me. I have always admired you. You are on the faculty at the University of Florida when I was a vet student there. I have seen your career from afar. You're a veterinarian, you have been in private practice, you've been in academia. You were the dean at Texas A&M's College of Veterinarian Medicine. You've had a consulting career. You are now the founding dean at Lyon College School of Veterinary Medicine, and I got the opportunity to talk with you. What I want to talk to you about was you're also writing articles, and I saw one of your pieces that just spoke to me immediately and it was titled A Profession in Crisis, I think Not. And I, as a fan of optimism and positivity and a lover of vet medicine, I wanted to talk to you kind of about where your head was in that regard and what inspired you to write the article.
Dr. Eleanor Green:
Well, thank you, Andy. Again, it must be mutual admiration, because I'm so pleased with everything that you're doing in the profession. It's always great to see a good University of Florida graduate get out there and affect the practice of veterinary medicine and the whole profession just like you are. So the article, we have all looked around and seen headlines, and these headlines are dominated by descriptions of challenges. In fact, veterinary medicine has been called a profession in crisis. And I am not saying that we shouldn't look at our challenges, try to make our profession better and tackle each one individually and appropriately. But I think there's so much sensationalism about the negativity of this profession that I think it's having an adverse effect on the profession. And that worries me, because I think this is one of the most fulfilling professions that's out there.
It's still highly ranked. Veterinarians are looked at more favorably than medical doctors and they're seen to be more compassionate and understanding and approachable and so many of the things, and they're seen as contributing to society. And so I think that we really need to take a hard look at that as veterinarians because I think we're hurting the profession by being so focused in sensationalizing the negativity.
Dr. Andy Roark:
Yeah, one of my favorite pieces of advice that I've gotten in my life is your life is what you focus on. And so if you walk around looking at the negativity and you just focus on it, that's what your life is going to be. And again, you can say that without discounting real problems and real struggles that people have, but I think that that's really important. When you think about education, so you come out of being the dean at Texas A&M, you're the founding dean at a new school. Talk to me about with the mindset that you hope to instill in vet students, what does that look like and how do you go about trying to set a mentality that says, "Yes, this is challenging, you're about to do a hard job, but it's a great job." How do you put that together?
Dr. Eleanor Green:
Well, I think we certainly need to get to vet students early on, and maybe day one, and I don't know if you remember this, but at University of Florida, the first day of the freshman year at the University of Florida College of Veterinary Medicine, we had a session that was co-sponsored with the Florida Veterinary Medical Association that brought in some veterinarians from different walks of professional life. And we certainly handpicked them to be the ones who are the very enthusiastic lovers of this profession. And we had them talk to the students. And so there was a purpose of that, and one is welcoming them to a wonderful profession, showing them and showcasing some veterinarians who have had unbelievable careers and throughout their profession, they're still enormously fulfilled in all walks of life. And the other thing was to open their eyes to the many opportunities in veterinary medicine are out there, because so many of us think of veterinary medicine as just taking care of pets.
And that's enormously important. I don't want to minimize that at all, but veterinarians can do almost anything. And so I think that we need to make sure that students know that. I think the other thing that we need to let them know is that the education can be taxing because of so much volume, and that we're here to help them. We've got support for them, we've got peer support, we've got counselors, we've got all kinds of ways that if they're having any struggles, we are there for them. And there are actually a lot of programs that are going on now beyond veterinary school that can provide a lot of support for veterinarians who are struggling.
Dr. Andy Roark:
What do you see as the main pitfalls as trying to drag our mentality out of the profession and crisis and start to look at things as, I don't know, to look at things in a more balanced way? What sort of holds people back?
Dr. Eleanor Green:
Well, let me just tell you what veterinarians have been telling me. I polled a bunch of veterinarians and have been doing this for quite some time. This is not official. I haven't sent out a form. I've just talked to people and I've asked them several questions. I've said, what do you like most about this profession? What do you like the least? And if you could change one thing, what would it be? And I also asked them if they would encourage or discourage others from becoming veterinarians. And there were common themes across the first three questions. One is they were committed to the human-animal bond and they were very fulfilled by being part of a happiness that animals bring to people. They love that. They love taking care of animals and taking care of their clients as well. We talk about some people have criticized the profession that all they care about is animals, but their people with every animal.
That's not what I found. They love taking care of the clients and their needs also. And really what they love is the experiencing the happy outcomes. They love it when things go well. They also enjoyed variety in the practice. Never a dull moment. It's just not going and doing the same thing every day. And here's another one that really keeps you stimulated, they love the intrigue of the mystery of unraveling the cases. Isn't that neat? And they also, this is going to be surprising for some who are critical of perhaps the new graduates, but the veterinarians of all ages appreciated the work ethic within the profession.
Dr. Andy Roark:
Yeah, I think that that's true. That resonates with me.
Dr. Eleanor Green:
Yeah, it does with me too. And then here's one that I really, really love. A striking component was that the empathy was plentiful within the veterinary medicine, in a world where many have lost empathy. I think we ought to say that one again. Empathy is plentiful in our profession in a world where many have lost empathy. Now if that's not a reason to join this profession, I don't know what is.
Dr. Andy Roark:
Yeah, I love it. One of the big pieces of advice that I offer to vet students these days, and it's sort of come to me in just in the last year or two, is I think you have to enjoy the mundane. And what I mean is it's just going into the room and doing the wellness appointment and you got to enjoy that path and you have to enjoy that person and just genuinely take pleasure in helping them and sort of being there and being present. But I really do think if you focus down on those things, it's a really good job. It's a hard job. I am not one of the people who enjoys the mystery. I one who I enjoy fixing the problem. I will tell you just for me, the ability to put hands on a pet and fix the problem to make this animal comfortable, send this person away with one less problem than they had when they came in. That's it for me. I guess probably I was just never the sharpest clinicians, but I was always, I very much prefer to know what the answer is and be able to do it as opposed to trying to figure it out. But that's [inaudible 00:10:10].
Dr. Eleanor Green:
You sound like a surgeon.
Dr. Andy Roark:
I do.
Dr. Eleanor Green:
[inaudible 00:10:13] move on.
Dr. Andy Roark:
I had this thought. It's funny, I was telling someone recently, there's two kinds of doctors, the doctor that looks at the vomiting cat and says, "Boy, I need to know why that cat's vomiting." And there's the other kind that looks at the vomiting cat and says, "I need to know how to make that cat stop vomiting." And I'm definitely the latter of the two, which is how do I make it stop vomiting?
Dr. Eleanor Green:
Yeah. Interestingly, I started out in surgery. Everybody in my family's a human surgeon and I thought that's what I wanted to do. And I did. I love surgery, and this is a number of years ago, I was very frustrated by not knowing what was going on in the whole animal. I ended up in internal medicine and music play because I'm one of those ones that loves the mystery and loves the unraveling and loves the critical care and the adjusting this and that happens, but it's a different mentality. But back to why veterinary medicine's so intriguing and appealing is that there's something for everyone regardless of your way of thinking.
Dr. Andy Roark:
Yeah. I love one of the questions you asked, you said, "If you could change one thing in medicine, what would it be?" Let me ask you that question, Eleanor, if you could change one thing in that medicine, what would you change?
Dr. Eleanor Green:
If I could change one thing about this profession or the veterinarians within it, I would never want to give up the traditionalism and the dedication, but I would want to add a lot more interest in the future and receptivity to the innovations in a changing world that's actually changing at an exponential rate. And somehow we seem reluctant not only organizationally, but sometimes individually to be receptive to the new things that are possible in our profession. That's the one thing I would love to change.
Dr. Andy Roark:
That's a great answer.
Hey guys, I have some huge news for my technicians out there, guys. I am speaking at the NAVC Vet Nurse+Tech HiVE event in Austin, Texas. This is October 16th through the 18th. It is live in person in Austin, Texas. It is 25 bucks to register, but I got you hooked up. There's a promo code, it's just Andy, promo code, Andy, and you get in for $15, $15 registration for the event. I'm going to be there. I have my friend Meg Pearson who's an improv comedian, an actress. You will recognize her from some of my funny videos. She is hilarious. She's going to be role-playing with me. I've got four sessions. We are going to do what to say and how to say it when talking to difficult clients, when talking up to management, when talking to doctors and when talking to colleagues.
And so all of those challenging conversations, we are going to be not just talking through how to do it, but I'm going to try to do it for you and show you what it looks like. And I promise we are going to laugh and have a lot of fun, but it's going to be a great time. I'd love to see you there. Remember promo code, Andy, get 10 bucks off. Come out and see me. Also, if you are a technician, team lead. If you're any type of team lead, come and see me at the Uncharted Team Lead Summit. This is a one-day virtual summit. It's only for team leads. Guys, we put team leads up there and we want them to lead and motivate and manage and take care of problems and take care of patients. And also we hold them accountable to management, but then also they're accountable to the people that they're leading.
And we don't give them any leadership training or support. Guys, it's time for that to be over. Unchartered is dedicated to making team leads successful. It's a new world, it's a team game. We need to be investing into our leads and that's what we want to do. So if you are a team lead, come and check out our virtual summit. It's November the 8th. I'll put a link in the show notes over to Uncharted. One day virtual, check it out, work with other team leads. I promise you're going to get a ton out of it. Let's get back into this episode.
I've heard you speak passionately about Lyons and what you sort of envisioned there and how it's ideally going to be a different sort of education model and things like that. Can you talk a little bit as you talk about innovation and openness to change and things, can you tell me a little bit about how you envision education and vet school and kind where it's going?
Dr. Eleanor Green:
Yeah, I will. I want to talk about Lyon, but even before I do that, I want to throw out one thing. Adaptability. When we were on the Veterinary Futures Commission, we were looking at core competencies and what should they be for the future. And the one new core competency we added was adaptability. And that's something else I've gotten intrigued with. I actually lecture on this, but there's a thing called adaptability quotient, which actually has been shown now to Trump EQ and IQ. And it is the success of businesses, it's the success of individuals of the future. And so I think one thing that we need to do at Lyon is make sure that we're recruiting for adaptability, but in addition to that, adaptability is trainable. So we are training for adaptability, and then within practices I would say not only recruit and retain for, but also evaluate for.
And I think that's going to change this big stumbling block for our professionals as we enter the future. Now back to Lyon. One thing that I'm pretty excited about and the reason that I'm the dean at Lyon is that they have given me pretty much a blank slate within reason to create a veterinary education model of the future. What's that going to look like? I'm going to get a lot of people together to add to some opinions that I have because I'm always very open to the opinions of others. So we haven't shaped it finally. But in essence, what I want to do conceptually is I want to create a community of collaborators, not a community of competitors. I want to make learning fun and create lifelong learners who are curious and who love the process rather than who are struggling and taken down by memorizing a thousand things for anatomy. Medical information doubles every 73 days with a half life of 18 to 24 months. We are not going to have them memorize everything they need to know. We can't. So what we need to do is we need to expose them, teach them how to access information and how to use it and how interpret it and how to apply it. That's the future. And then the other piece of that, and pardon me for going on, I could do this for three [inaudible 00:16:31].
Dr. Andy Roark:
No, I love it.
Dr. Eleanor Green:
Is that I've seen some struggles in higher education about what do we do about AI and ChatGPT, because there's certainly some detrimental parts and potential for cheating. And there are some that were trying to fence students away from that. I want to block down all those fences and I want us to teach students how to use AI and how to use ChatGPT and how to use it ethically and what are some of the pitfalls. That's their life. We can't keep it from them. We have to teach them how to use it. So things like that. There's more, I mean, simulation, I think we've got to minimize the use of live animals in teaching until they get to patients. So I think they need to get really good. We've got wonderful simulations today, and so I'd love to have an experiential and simulation-based learning center in a collaborative way. I think we need to share, I don't think we need to recreate all the wheels we need to share with other schools, and not just schools, but industry. And there are a lot of people out there doing wonderful things that we ought to bring in to our educational process. So like I said, I could go on and on. I'll stop there and I can crank back up anytime you want.
Dr. Andy Roark:
No, I love it. I love where your head's at. I love the collaborative approach. All of this just resonates with me so much, as far as ChatGPT and artificial intelligence. We're not putting the genie back in the bottle. The best thing we can do is train practitioners to utilize the tools that they have. And as you said, in an ethical and helpful way, I love where your head's at. I want to ask you to back up for a second a little bit. I'm going to go back to adaptability, because I think that's really interesting about adaptability quotient, and kind of how this is such an important strength. Can you give me an example of what adaptability looks like in the clinic? Help me understand what that looks like in a doctor or in a technician that I see on the floor.
Dr. Eleanor Green:
Well, adaptability or curious, they use the challenge of change as opportunity and they use that for excitement to move forward and do something good. They're risk-takers. They want to try the new things. They don't say no. They say, "Let me think about it." So they consider new things, or they say yes to new things, and say, "Yes, let's try it." And then if it doesn't work, that's great. All you've done is made yourself better by finding something that didn't work. And I think they're team players, they tend to collaborate more with others. They're inspirational for others. So that's what an adaptable person looks like, and that's what an adaptable business looks like as well.
Dr. Andy Roark:
No, that absolutely makes sense. So when you kind of look into your crystal ball and you sort of see the profession and where it's going, what are you most excited about outside of the vet schools? Are there things, when you look five years into the future, how do you see our profession functioning differently than it does today?
Dr. Eleanor Green:
Well, this is another dream. I don't know if this is a dream I'll fulfill. Maybe I will. I hope I will. I would love to create a hospital the future, as a functioning hospital, but also a demonstration hospital, because there are so many great things available to us today that in your end, busy life and you're trying to look at the bottom line and what's the return on investment and how can any patients that I see, it's hard to raise your head up and look at what's possible and what could be implemented new. Telemedicine's one great example of that, that's just one tiny example. A digital health is another. How do we integrate and provide connected care? But wouldn't it be fun to create one hospital that has the technologies that are available to us today to provide connected care, integrated care, and again, I'd love to do that where you get veterinarians who are operating in that sphere, but we also have companies and other people with new things, who can bring those new things to this hospital and sort of demonstrate what they have out there.
And that is going to accelerate growth of some of our startup companies, or quite frankly, struggling with adoption. They've got a great product and it's just hard to get people to adopt it. And yet we don't have time in practice to try everything that comes along. And so if we can find a place where we can be the ones who are trying some of these things and then saying, "You're going to love this." We'll work on this one a little more, but wouldn't that be fun? And wouldn't that be a great facility to have in association with a vet school?
Dr. Andy Roark:
Yeah. Oh, I love this vision, like I said, I'm sort of a Chinese junkie. And so all of this gets me super excited. Do you think we're coming to a place of a bit of reset? So what I mean when I say that is there's a traditional vet practice, which is what pops into your mind when you think of a vet practice. And I think that people have done a good job, really. They've tried to upgrade different pieces, but it's almost kind of patchwork. We had the traditional model and we've kind of slapped a patch on it. At some point in my career, I've looked at different projects. I've run our programs or businesses, and I keep upgrading. And at some point I finally stop and just reset. I go, look, this is all built on an old operating system. I'm going to shut it all down for a moment and then start absolutely brand new, fresh. Do you see something like that coming in our profession as technology continues to advance?
Dr. Eleanor Green:
I do. And I think it is going to be technology driven. And just one tiny example, and this is an asset, not a criticism in any way, but PIM systems. Early on, they were very competitive and they still are somewhat, and they wanted to fence in again their system. But they've got, I think the PIM system that will win the future is the one that's integratable and interoperative, and that's in the end, that's going to win. And right now, the ones that are winning or have been winning is the ones that feel like they hoard, you have to use me. And that's not the last. So that's going to be a big change, I think.
Dr. Andy Roark:
Well, I think you're right too. And I also think as there's these other companies that come up with new technologies that are really good and that people want to use, I think that the PIM system that wins is the one that allows that kind of integration and lets you pull these new things in and use them. Because you can see in practices where they say, "Well, I've got this classic system and it doesn't use the interesting thing that my friends are using in their practice. And we're not able to do that." And I think you're probably spot on. It goes back to your point about adaptability, doesn't it?
Dr. Eleanor Green:
It really does. And there are some examples of that already with cloud, those that didn't have the cloud, now they do have the cloud. There's a lot of migration towards the cloud. Just one tiny example of that. People are going to go where it's better. And I want to tell you one example, and this was a number of years ago, the principle applies, but this is a time ago. I know there were some concerns about we couldn't get anybody to buy my practice. So this is again, a number of years ago, and I was at this meeting and it was the AVMA and the AAVMC, and they had student reps there. And this was a very loudly expressed concern. Nobody will buy my practice, et cetera.
So I went and sat with the students and I said, "Say, tell me about that." And they said, "Oh, yeah. Well, here's the thing. We don't mind buying a practice, but it's antiquated. The equipment's outdated. It just doesn't even have digital records. It's still all paper, medical record system. What is there to buy?" I know that's outdated. Most people don't do that anymore, but when are the ones today going to be outdated and not going to be sold because they're so much more, and I think we need to be mindful of that.
Dr. Andy Roark:
Yeah. No, I think that's a great point. I love where your head's at. I love your positivity about the future. I love your optimism about technology. It's so refreshing, and you and I are so in alignment in that regard. Dr. Green, where can people find you online? Where can they learn more? I love that you're writing. But yeah, where can people who want to see more about your adventures kind of find you?
Dr. Eleanor Green:
Well, I'm on LinkedIn, so you can find me there. And I'd love to link up. I link up with several every day. My email address is dreleanorgreen@gmail.com. That's all lowercase, no dots. And it's D-R-E-L-E-A-N-O-R-G-R-E-E-N@gmail.com.
Dr. Andy Roark:
Perfect.
Dr. Eleanor Green:
Yeah, that's the main two. I'm on Facebook, but I would say go to LinkedIn rather than Facebook.
Dr. Andy Roark:
It's amazing how often guests are on LinkedIn and not the other social media, so it definitely seems to be a common place where we can find people today. Anyway, thank you so much for being here. Gang, thanks a lot for tuning in. I hope you enjoyed it. Take care of yourselves, everybody.
And that's what I got for you. That's it. I hope you guys enjoyed it. Thanks to Dr. Eleanor Green for being here. I can't wait to see how her new deanship goes and the start of her new vet school. I am absolutely rooting for her and the vision that she sort of has for education in the future. Anyway, guys, thanks for being here. If you enjoyed the podcast, leave us an honest review wherever you get your podcast. It means the world to me. It's how people find us, and I hope to talk to you again in the future. Take care of yourselves, everybody. I will talk to you soon. Bye.