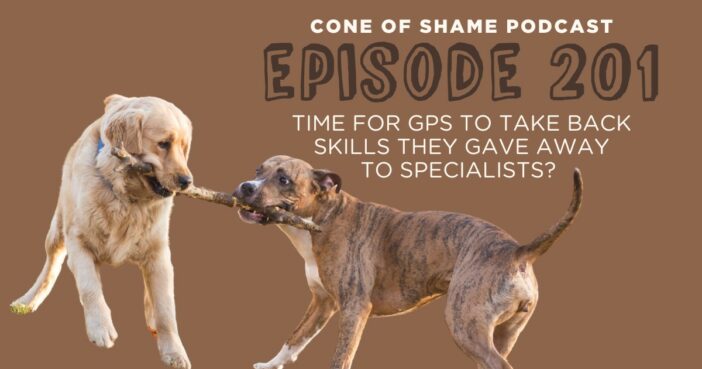 Neurologist Dr. Sean Sanders joins the podcast to talk about what a re-division of labor among general practice veterinarians, specialists and support staff might look like. Is it possible for us to improve affordability and access to care by giving more wellness care to technicians and supporting general practice veterinarians in taking back a variety of skills that they have given away to specialists over the last few decades? Let's get into it!
You can also listen to this episode on Apple Podcasts, Google Podcasts, Amazon Music, Soundcloud, YouTube or wherever you get your podcasts!
LINKS
Dr. Andy Roark Exam Room Communication Tool Box Team Training Course: https://drandyroark.com/on-demand-staff-training/
Dr. Andy Roark Charming the Angry Client Team Training Course: https://drandyroark.com/charming-the-angry-client/
Dr. Andy Roark Swag: drandyroark.com/shop
All Links: linktr.ee/DrAndyRoark
ABOUT OUR GUEST
Dr. Sean Sanders is a Veterinary Neurologist and Neurosurgeon in Seattle, Washington, USA. Dr. Sanders is also involved with development, recruitment and operations of BoosterPet in the Greater Seattle area. He received his DVM degree from Washington State University and completed a residency in Neurology and Neurosurgery along with a PhD in Neuroscience relating to the study of Parkinson's Disease. Dr. Sanders was a founding partner of Seattle Veterinary Specialists and author of "Seizures in Dogs and Cats" published by Wiley Blackwell. Dr. Sanders lectures nationally and internationally on topics related to Veterinary Neurology and Neurosurgery. In his spare time, he spends time with his wife and their pets, builds wooden boats and classical guitars, restores classic cars and enjoys, sailing, mountain biking, hiking and snowboarding.
---
EPISODE TRANSCRIPT
Dr. Andy Roark:
Welcome, everybody, to The Cone of Shame Veterinary Podcast. I am your host, Dr. Andy Roark. Guys, I am here today with my friend, Dr. Sean Sanders. You might recognize Dr. Sanders. He was on earlier in the year. He is a neurologist in Seattle, and we started talking last time he was here about changing roles for general practitioners and technicians in modern medicine. And he's a big advocate for accessibility to care, and I wanted to get him back and unpack some of these things and say, "What does this look like? What does it mean when we talk about expanding the role of the general practitioners?" Because I know a lot of people think about general practitioners getting squeezed. They think about technicians doing more and more, and specialists doing more and more, and what's left for the old general practitioner? I think Sean's got a really good answer for that.
And the answer is that maybe specialists shouldn't be doing more and more. Maybe as we push to keep access to care front and center and be able to get people the services they need, maybe it's time for general practitioners to start picking back up some of the stuff that we used to do. And what are the barriers to that? We talk about that a little bit. What are the benefits to that? We talk about it. We talk about it from a financial standpoint, we talk about it from a career enjoyment standpoint, we talk about it from a pet healthcare standpoint. It is a really fun, really good conversation. This fits right into my recent thing of trying to get my head around what that medicine's going to look like in the next 5 to 10 years. Man, I like Sean's vision. I think it's pretty good. I think we should really think about going in that direction. So anyway, guys, I hope you'll enjoy this. This is a big make-you-think episode. Let's get into it.
Kelsey Beth Carpenter:
(Singing) This is your show. We're glad you're here. We want to help you in your veterinary career. Welcome to the Cone of Shame with Dr. Andy Roark.
Dr. Andy Roark:
Welcome to the podcast, Dr. Sean Sanders. How are you?
Dr. Sean Sanders:
I'm good. How are you doing today?
Dr. Andy Roark:
Man, I'm doing great. I am really happy to have you back on the podcast. I really enjoyed the first time that we got to talk. I left with a lot of ideas and a lot of questions, and we just flat ran out of time last time you were here, and so I was like, "Well, I'm going to Sean back. We're going to talk some more." So yeah, thanks for making time.
Dr. Sean Sanders:
Well, I'm glad you asked me to come back, yeah.
Dr. Andy Roark:
Oh, my pleasure. So for those who don't know, you are a veterinary neurologist in Seattle, and you do a number of things. You have a PhD in neuroscience and you're a teacher, and you're traveling to Germany in a couple of days to do some lecturing there as well. You also work in some telemedicine stuff. You have a lot of really interesting things going on is what I would say.
Well, getting back into the conversation I wanted to pick back up with you, it was really kind of about the future, the next 5 to 10 years of vet medicine for practitioners in the trenches and what it looks like. And the reason I wanted to talk to you about that, I've just been thinking a lot about this, and I just had an article that came out at the time that we're recording this, and I wrote about standing back and looking at the profession. And I really see this tectonic shift going on, where we have a customer-driven world in a way that we haven't in the past.
And so I'm looking around that I'm seeing things like Chewy coming into the space, and they dominate in customer service. And pet owners like their home delivery and they like working with them. And we're having telemedicine come up, and pet owners are getting used to these services. And we're having a problem with a shortage of veterinarians and getting people in to get the care that they want, and I don't think pet owners are handling that very well.
My take on this really is if you have demand from pet owners and you have people who want to provide the services, our culture, our society, America in general, [inaudible 00:04:09] specific, I guess, is really set up to facilitate capitalism, which is, if somebody wants it and somebody else wants to provide it, for the most part, our society is set up to make those things happen. And I look at our profession, and we're feeling a lot of change being thrust upon us. Like I said, telemedicine is really changing things. We've got talk about mid-level practitioners, things like that, utilizing technicians in a new and interesting way. All of these sorts of things that are meant to just make care more accessible, more convenient, and pet owners are kind of clamoring for them.
So I'm looking at that. I call that tectonic, because I think that the ground is changing, and I don't know that we are going to be able to hold these sort of changes back. I think that ultimately pet owners know what they want, and they're being offered a lot of things, and they're going to push our profession in a way that is convenient for them. And I think our two options are trying to dig in our heels, and I think we're going to get crushed, or to look at the landscape, say, "This is where things are going. Let's reposition ourselves so that we can prosper in the new world that's coming."
So let me just stop there. As I say, I sort of just threw a lot at you. What do you think when I say that? Does that kind of match up with the general industry trends that you are seeing and the way you see our profession being affected?
Dr. Sean Sanders:
Yeah, I completely agree. I think looking back at veterinary medicine, or we could say medicine in general, it's always been a bit of that kind of a patriarchal type of system, where the doctor tells you what to do, and you do it. Gone are the days of James Herriot, where he would tell you it's time to put furballs back to sleep, because I've got a broken tooth. And so you would be like, "What? I don't have any say in this." And we're getting into a time where veterinarians and clients have more of a symbiotic relationship, it's more of a shared communication.
So as you mentioned, we've got this market-driven economy, where the clients are starting to shop around, and not only are they shopping around for products, but they're shopping around for accessibility and cost. We know that there are inflection points with everything, and we see it in technology, and we are seeing it, I believe, in veterinary medicine right now. I think we're at a kind of revolution right now, where the practice of veterinary medicine is changing. I went through one back in the late '90s, when specialty medicine kind of came on the field, so to speak, where it moved from primarily focused in the universities to focused into the large urban areas, and now it's just spread out and grown and grown and grown.
So I agree with you completely that we need to look at the profession, we need to stand back and look at the profession, and we need to decide what is this going to look like in 5 or 10 years, and we can be the drivers of that innovation. Always when you talk about change, that scares people. It's natural for us to be scared about change. But if we look back and we look at things that have changed in our lives, just the digital camera, the personal computer, the taxi cab, all of these things have changed in a way that we can't imagine going back to the way it used to be.
Dr. Andy Roark:
I agree with that. Let's pick up on this. You mentioned the spread of specialty medicine. The last time that you were on, we were talking a bit about this, and we were talking about accessibility, and we were talking about a shortage of specialists and people not being able to get in for specialty care or limited funds and resources to get into specialty care and things like that. And your position, as you explained it then, was general practitioners have given away a lot of their, I don't know, a lot of their utility in some ways to the specialists. They have stepped back and said, "Oh, this is going to be a specialist thing. We're going to let the specialists do that."
And now that it's hard to get people in for specialty care or things like that, or they're not willing to go, it may be time for general practitioners to really think critically about re-expanding their lane, if you will, and taking back on some of these. So let me put that back to you and say do you still feel that way? And if so, sort of start to set up for me what you think that system could look like.
Dr. Sean Sanders:
I think the root of it is with the general practice, but I also think it extends to specialists as well. When I started specialty practice in 2002, finished my residency, there wasn't a lot in Seattle, there was no specialty center. And over the years, we developed this, specialists came together, we formed these large multi-specialty gigantic clinics, and we were there, ready to take the cases. And so we kind of trained everybody that you need to send the cases to us, because that's where you're going to get the best care.
And unfortunately, looking back at that, you may have been a veterinarian at that time that had 35 years of experience in doing splenectomies and doing enterotomies and GDVs, and all of a sudden, you're kind of being told that, "Well, maybe you're not the best person to do that anymore." But I look back, and I say, "Well, who was a better person?" A recent resident who's done maybe two on their own compared to a GP, who's been out there doing them for years.
So I think to some degree, specialists, we had the effect of convincing people that they needed to send us the cases, and maybe that was the best thing for the patient, especially if you're talking about the high intense cases, brain surgery, back surgery, adrenalectomies, the things that require a lot of capital intensive infrastructure to get going, like overnight management or endoscopy towers, things of that nature. But in doing that, I think what we did was we were so welcoming to all of these cases, and I won't speak for every specialist, because I'll get hammered if I do that, but I think I can speak for neurologists.
One thing that I commonly saw in practice, a big time suck for mem was just chronic management of seizure cases, and there is no reason why these can't be managed in general practice. It just requires a patient and some basic drugs and knowledge. But what we found was that when I started my practice of specialty medicine, I kind of opened the doors, and I continually said, "Yes, yes, yes, yes, send me every case," And so that's what people got used to.
And so by doing that, I think that one of the things that happened was general practitioners probably got the impression, and it was a real one, that you shouldn't be doing these cases. You need to send those seizure cases to the neurologist, because they're the one best equipped to handle that patient. And there might have been some general practitioners out there, I'd like to hear from them that actually enjoyed treating seizures chronically. I know it's not a fun thing for everyone, but I think in doing that, we kind of took away that self-reliance that people naturally develop on themselves or that problem-solving ability that they have to take care of their patients.
And over the years, that worked great. As our specialty clinics expanded, we started to take away cases from the general practitioner, we started to take cases away from universities. And so as that university caseload went down, you saw the training opportunities for residents and people who were going to go into general practice kind of got lower and lower. And it was almost like those cases were being sequestered in the specialty hospitals.
So I think over time what happened was people just got in the natural mode of, "Well, that's how human medicine went. You sent the case to the specialist, and it got taken care of, and if something went south, then it wasn't your problem, and so that's kind of great." Unfortunately, what's happened now is that we're at a point where specialty hospitals, large clinics are starting to shut down, because they don't have enough staff. Costs are still going up in order to maintain a margin that the owners of the practices need, and so that's creating barriers to care. And those barriers of care might be accessibility from time. I can't get that patient in for six weeks, or it might be a barrier to entry due to cost, because it's just not affordable for people to do things anymore.
And so I believe that general practitioners and specialists need to start looking at what they actually do in practice and focus their energies on the things that drive their passion and that they are truly equipped to do. So for me, personally, I really enjoy surgery so my time is best spent in the surgery suite, doing a two or three-hour surgery as opposed to in an exam room explaining to somebody why we monitor drugs for seizure management. We do it, but there might be others who enjoy that more, and they don't like surgery. So I can use that as an example to say, "Well, how can I focus my practice on what drives me?"
And in general practice, I see, and I look at this, so I'm a veterinarian, first and foremost, and I'm a general practitioner, because I have pets, and I take care of all my own pets as much as I can. But when I run into a case where I need to get my pet in to see a specialist, and I can't, and it's happened to mem and I'm waiting six to eight weeks to see an oncologist or an internist, and I'm watching my patient, my pet decline, how do I solve that problem? Well, I reach above me and I grab a book. I start looking at the color pictures first, and then I start reading second, and I figure it out on my own. There is no reason we can't do that for all of our own patients.
Of course, there are things that you can and can't do, right? I'm not going to be buying a scope tower in my house and doing my own scopes, but I could certainly do if I need an aspirate and look at a slide of my own dog, or for that matter, I could probably do a splenectomy if I needed to. So I feel like if you're a specialist or a general practitioner that if there's something that's a time suck in your day that's taking you away from what you really want to do, then you should try to figure out what that is and take it off your plate, so you can focus on what you really enjoy doing.
I feel if you're finding that your patients are not able to get the care they need, because one, they can't afford it, or they can't get in to see that specialist, maybe there are some things that you can do that used to be within the general purview of a practitioner, like those elective type of surgeries. By doing that, you will get better care or better access to care for the patient, probably more affordably, and then it will also allow the specialist, if they want to focus on the things that drive their practice. Keep the neurologist in doing brain surgery, if that's what they enjoy, allow the surgeons to do adrenalectomies, if that's what they enjoy, allow the interest internists to do the scopes, et cetera. That's the perspective I'm coming from.
Dr. Andy Roark:
Yeah, no, I really like that. I really particularly like your self-driven approach to this, because you're right. I always say, "Well, you know what? What should we do about education and these things?" And the truth is if I wanted to, it's been a while since I've done an enterotomy, I just don't have a … I practice regularly, but not enough to be doing surgical rechecks and things like that, and I sort of stepped away from surgery a couple of years ago.
But I do think about it sometimes, what if I wanted to pick this back up? What if this is where I wanted to go? Would I need to go back to some sort of hands-on education course, or is this a thing where I can line up my own mentorship opportunities, jump in, watch a couple of these things, get somebody to maybe shadow me doing one or two, because I've done them before, and just sort of pick that back up.
And the truth is there's a lot of resources and opportunities for me to get these skills in my own way if I just decide that I want to do them. So I do really like that idea of just put in the work, pull the books, get the insight, and there's never been more resources and support asa there are now.
If you dream of doing team training with your team, getting your people together, getting them on the same page, talking about how you guys work together in your practice, I'd love to help you. You can check out drandyroark.com and check out the store. I have two different team training courses. These are courses for teams to do together to get on the same page and to talk about how you do things. I have my Angry Clients course and I have my Exam Room Toolkit course, and they are both available and there, so come out. All right, guys. Let's get back into this episode.
Can you expand this idea out to support staff for me? Because I know this is something you and I have talked about before as well. So I love this idea, I love the general concept of where you're going, and to me, it's just the obvious ripples out from this is that the thesis, the idea of you should figure out where your time is best spent and spend your time there. Well, why wouldn't that ripple out to the front desk and to my technicians and things like that? So can you sort of color in those lines a little bit for me? How do you see this? If we lean into the idea that you're putting forward, which I really like a lot, how does that ripple out to the support staff? What does their path look like?
Dr. Sean Sanders:
Well, I think from a very selfish perspective, if the veterinarian looks at what they enjoy doing, and then they try to focus their career on that path, something's got to give, because chances are, you're in five different lanes of your practice. You're going to be on the wellness lane, you're going to be in the non-well, the chronic care, the procedures, the elective surgeries. If you're covering all of those lanes, but you only want to be in one or two, then you have to figure how are we going to cover those other lanes?
So if wellness is your thing, if you like the preventative medicine talks, if you like looking at blood work for yearly checks, if you like taking care of healthy pets, then you have to figure out a way to not do those other things, and that might be giving it up to a colleague. If your thing is dentistry, if you just want to line them all up on the table all day long and do dentistry after dentistry, somehow you're going to have to get out of that wellness lane so that you can have time to do that.
And one of the things we can do, we've talked about this before, is we can utilize our support staff, especially our veterinary technicians, to the highest degree possible within the practice act that your state allows. So allow them to do the things that the state gives them the opportunity to do. I go into practices every once in a while, and I see veterinarians cleaning the ears of pets, and I see the technicians holding the pets, and that's great if that's what you enjoy doing. But then when I talk to the veterinarian and they say, "Boy, if I could have more time to look at the cytology, I would love that, because I love looking at cytology, or I want to do more procedures, and I hate cleaning ears." Well, you have a perfectly capable staff member that's able to clean ears within the scope of their practice act.
And so I think we need to open up the fact that by allowing our staff to utilize the skillset that they're trained to do, we're going to give them greater opportunities to grow with the profession, they're going to be more of a revenue generating part of our practice as opposed to just a support piece, and it's going to allow us to focus our career where we want to go, because they're going to be scraping off those low-hanging fruit things that allows them to expand into more of that mid-level practitioner role.
Dr. Andy Roark:
That totally makes sense, and I think that's been the aspiration for a while, as far as leveraging our technicians. Talk to me a little bit. I think when most veterinarians look at where they spend their time and they think about things that they would like to maybe get out of, there's a lot of client communication that falls into that, that takes a significant amount of time in things. You've had sort of an interesting career in working with technicians in different ways with BoosterPet and things like that. Talk to me a little bit about how you can see support staff moving into the client-facing and client communication space. Do you feel like there are significant opportunities there for us to change up how we're practicing and engaging? And if so, what do those opportunities look like?
Dr. Sean Sanders:
Anyone, whether it's a veterinarian or a staff or an LBT or a VA, we all have inherent strengths and weaknesses, and some of those might be communications, some of those might not be. So first of all, you have to define do you enjoy being that communicator? I absolutely loved spending three hours with a client, talking about seizures, drawing on my whiteboard, making them understand it. I love the connection that I got when they understand something, but that's not the best use of my time, and I would get drawn into it. My staff would be tapping me on the shoulder and saying, "Hey, we got to get you over here to do this. Stop talking."
So first of all, it's identifying the people in your practice that love doing that. Second of all, it's just a matter of repetition. So giving the same talk over and over again, albeit there are going to be some nuances, but given the same talk over and over again about seizures is something that pretty much anybody can do, or it could be flea control or parasite prevention. It could be just wellness in general. Those are things that I've seen in our practice work very well at the technician and the VA level.
That allows the veterinarian to get to the next case while that technician is talking to the owner and educating them about, "This is why we're testing for this disease," or "This is why we're using this preventative, and this is what you need to know. And this is when your pet needs to be vaccinated." These are topics that are happening so routinely on a day-to-day basis that people get excited about them. Staff love to talk about wellness, they love to have that client interaction. And I think it allows them to expand their opportunities of growth within the veterinary space to be more than just a "Go get me this" type of person or a "Hold this" or a "Clean that" type of person. It allows them to be our colleagues basically in healthcare.
I utilize my nurses to the maximum ability that I could in my practice. It wasn't me talking to the client about what to do with the next level of seizure medication increase. It was my nurses talking to the client, and then they would come to me and say, "Hey, so-and-so is doing this. It's already on phenobarbital. What do you want to do?" And I would say, "What do you want to do?" And they'd say, "Well, we are going to just increase it by 25%, check levels in two weeks." I'd say, "Yep, let's do that." You still have to be responsible for the case, but I 100% believe that we can support our coworkers, to give them learning opportunities within veterinary medicine, so that they can grow and, more importantly, so they can stay in the practice of veterinary medicine and not leave for something or some other industry where they may feel more valued.
Dr. Andy Roark:
That totally makes sense. I love that approach to the old, "What do you want to do?" I had a case earlier today, we had a possible parvo dog coming in, and my technician was like, "Well, what do you want to do with it?" And I said, "Oh, what are you going to do with it?" And they're like, "Oh, I was going to have him stay in the car, and I was going to go to a fecal sample, and we'll do a parvo test." And I was like, "You know what? That sounds like a great plan, man. Let's do that." It's one less decision I have to make, and the other thing is just it's coaching, and you're just growing better and better people.
So when you start to think about this and where it's all going, are there things, what are you most excited about? When you look ahead and you go, "Oh, man. I would love to see this happen in the next 5 to 10 years. If we as a vet profession could get our ducks in a row, this is where I would like to see us go." Is there anything like that inspires you?
Dr. Sean Sanders:
I think the thing that gives me the most hope is just the idea of access to care. And by that, I mean timely access to care, and I also mean affordability of care. What I've seen in the last several years is just the costs of veterinary medicine go up at the specialty level, where it's basically become that type of advanced care is really for the rich. Every pet is a luxury, essentially. We don't really need them to survive, but they're family members. I'll just share a little story, and I'll try to keep it very vague, but a couple … Did I talk about my neighbor last time?
Dr. Andy Roark:
I don't think so.
Dr. Sean Sanders:
Okay. Well, in between our last talk, my neighbor calls me up, and she says, "Sean, I don't think Sadie's doing very well. She seems to be having a hard time breathing." So I go over to her house, and it looks like her dog's abdomen's bloated. It feels mushy. She's got no pulses. Her limbs are cold. I think she's probably got a splenic rupture or something like that, a splenic mass. We spent about an hour-and-a-half just trying to get a specialty hospital within the area. I think we called six or seven different specialty hospitals to get her in that night. It was a Saturday night, about 7:30. Couldn't find a single surgeon that was working that night or on call.
So I called my old hospital that I used to own, and I said to one of the ER doctors, and I was using the doctor card on every one of these I called, and I said, "Hey, I'm coming in. I got my neighbor's dog. I think she's going to need an evaluation, probably a hemo abdomen." And he was like, "Well, we don't have a surgeon on call tonight." And I said, "Well, I did one in vet school, so she's either going to die on my hands, or she's going to die in the ER."
So we ended up taking her there, and thankfully, the criticalist at the practice was just finishing up on a foreign body and a cat. So the criticalist was doing surgery, because the surgeon was out. And they did a fast scan on the dog, and they decided, "Yeah, she's got a splenic mass, and she's bleeding into the mass." So they decided we're going to give her a transfusion, keep her overnight.
So the first thing I learned that night was that what if that criticalist had not been there? Was I prepared to do a splenectomy in that dog? I probably would've done it. I'm pretty sure she would've been okay, but yeah, it had been 25 years since I did one of those. It was a junior surgery, so it was a while ago, and that dog wasn't recovered. So I don't know if it would've gone so well, but it would've been better than the dog just kind of crumping out on use.
Dr. Andy Roark:
Sure. Wasting away, yeah.
Dr. Sean Sanders:
Right, right. The second thing that shocked me was, and I won't give any specifics, but it was the estimate for the surgery. It blew me away, and it's hard to shock me, but it was probably five or six times more expensive than a surgeon friend of mine down in Orange County would've charged. And so there was this insanely huge disparity between what a person could afford to pay and what it actually cost to do. And I'm not talking about slightly off, I'm talking orders of magnitude higher. And these people, they were able to do the surgery and the dog did have the surgery the next day with the criticalist.
But I think about how many animals don't get that access to care just because of the cost. And if we can take some of those really high cost procedures and put them back into the hands of the general practitioners, and I'm talking guardrails here, I'm not talking adrenalectomies or anything, I'm talking like elective surgeries, enucleations, GDVs, things like that. Things that when I was preparing to go into vet school, the vets I worked with were doing all of these things in their practice, and they were doing them because they had no choice. They liked doing it, plus there were no specialty centers at that time where I lived. So they either got sent to the university or they got handled in-house.
So I think what gives me the most excitement is that if a veterinarian can expand their practice by doing things that they're passionate about and be able to do those at a cost point that's going to save the client a ton of money, but still make the veterinarian a ton of money, then I think that that supports the industry as a whole. It will raise up our standing back in the communities as the person who can solve problems for people. That idea of self-reliancy and problem solving, I love the idea that we can learn to do that again.
Dr. Andy Roark:
Dude, that's awesome. I love that vision. Sean, thanks so much for being here. Where can people find you online?
Dr. Sean Sanders:
I'm somewhat dark. I'm only on LinkedIn. And as I mentioned before, I think at that time I had 34 connections. I might have 39 now.
Dr. Andy Roark:
Oh, that's good. Well, I'm glad to see the first appearance on the podcast really move the needle for you.
Dr. Sean Sanders:
Yeah, yeah. Get in line.
Dr. Andy Roark:
Yeah, exactly right. Awesome. Thanks so much for being here. Guys, thanks for tuning in. Take care of yourselves.
Dr. Sean Sanders:
Thanks a lot.
Dr. Andy Roark:
And that's it, guys. That's what I got for you. I hope you enjoyed it. I hope you got something out of it. Thanks to Sean for being on. As I said, I really left this conversation just fired up about, "Oh, this makes some sense." I like this. I like the idea of being a problem solver. I like the idea of GPs picking back up to their scalpel or picking up the tools that they might have referred away and let other people use in the past. I think that it allows technicians to grow in their roles and to take a lot of stuff off of our plates and to earn a living wage for themselves and provide pet owners with quicker access to care, and it still keeps us with full schedules, doing work that matters. I really love what Sean was saying about it puts us back as being seen as people who step in and fix things. And that's what I've always wanted to be. So anyway, guys, I hope you enjoyed this as much as I did. Take care of yourselves, everybody. Be well. I'll talk to you later on.