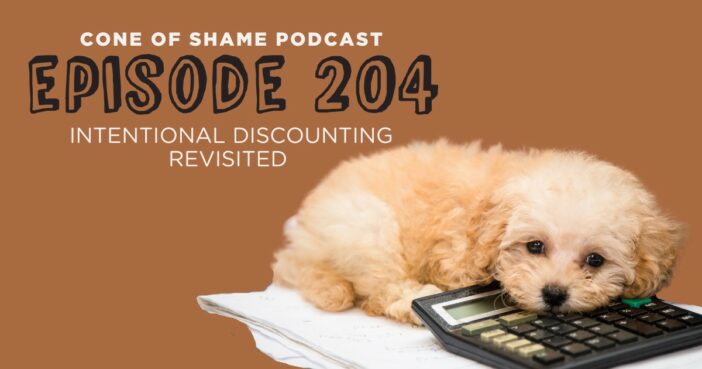 Dr. Tannetje' Crocker joins the podcast to expand on a previous episode where she and Dr. Roark discussed the ethics and implementation of intentional discounting. In this episode, Drs. Crocker and Roark talk about the feedback from that episode, what they see as valid criticism and what they disagree with.
The conversation then turns to a larger perspective on supporting pet owners who struggle to avoid finance, and the realities of working in a corporate emergency practice vs owning an independent clinic.
You can also listen to this episode on Apple Podcasts, Google Podcasts, Amazon Music, Soundcloud, YouTube or wherever you get your podcasts!
LINKS
Follow Dr. Crocker's veterinary journey @dr.tannetje.crocker or www.drcrockerpetvet.com
Dr. Andy Roark Exam Room Communication Tool Box Team Training Course: https://drandyroark.com/on-demand-staff-training/
Dr. Andy Roark Charming the Angry Client Team Training Course: https://drandyroark.com/charming-the-angry-client/
Dr. Andy Roark Swag: drandyroark.com/shop
All Links: linktr.ee/DrAndyRoark
ABOUT OUR GUEST
Dr. Tannetje' Crocker is a 2009 graduate from the Texas A&M University College of Veterinary Medicine. She is passionate about mentorship and empowering veterinary professionals to embrace the profession and find joy and success. Growing up Dr. Crocker competed on horses and was inspired to become a veterinarian. Since graduation she has worked as an equine ambulatory vet, small animal general practitioner, and emergency veterinarian. She currently lives in Texas with her spirited 10 year old daughter, funny 6 year old son, and supportive husband of 16 years.
She works as an ER Veterinarian for Veterinary Emergency Group in Dallas, TX. Recently she was excited to purchase Alta Vista Animal Hospital in Fort Worth, TX. She plans to continue her support of fellow veterinary professionals, both virtually and in person through her various endeavors.
---
EPISODE TRANSCRIPT
Dr. Andy Roark:
Welcome, everybody, to the Cone of Shame Veterinary podcast. I am your host, Dr. Andy Roark. Guys, I got a great one here, Dr. Tannetje Crocker's back on the podcast. The last time she was on, we talked about intentional discounting, and we got feedback on the episode and we get into it. Yeah, there was some pushback on jumping in in sort of the conversation we had about discounting services and things like that, and it stuck with me and I felt like I didn't do that episode necessarily justice and the way we set it up, and there were some disagreements I have with some of the criticism it got. I talk about that in this episode.
Anyway, yeah, I put it out up front and say some of the criticism, I didn't agree with, and I'll talk about why. Some of the criticism, I think it's totally valid, and that's sort of on me and the way I sort of set our conversation up. We talk about that. Guys, ultimately, this becomes a life and philosophy conversation. I really love this episode. I talk to Tannetje a lot about the differences she sees in working for a corporate emergency hospital, and also running her own hospital. She's an independent practice owner. We talk about what her aspirations are and why she went into practice ownership, and how she does both of those things, and just philosophically what she's trying to accomplish.
Guys, I think it's a beautiful conversation about spectrum of care. It's a beautiful conversation about what do you want your career to be? What's important to you as an individual? Just, man, I love where this conversation goes. I hope you guys will really enjoy it. Let's get into this episode.
Kelsey Beth Carpenter:
(Singing) This is your show. We're glad you're here. We want to help you in your veterinary career. Welcome to The Cone of Shame, with Dr. Andy Roark.
Dr. Andy Roark:
Welcome to the podcast, Dr. Tannetje' Crocker. How are you?
Dr. Tannetje' Crocker:
I am good. I'm here. I'm excited I made it this time, so thank you for the grace.
Dr. Andy Roark:
Oh, gosh. No, you are amazing. Okay, so first of all, you say thank you for the grace, and you shouldn't have to say that. For those who don't know you, first of all, you're a social media personality. You do a lot of stuff online, and you are an emergency veterinarian at a big corporate emergency practice that most people know. You are a new practice owner as well. You have how old, you have one child in kindergarten?
Dr. Tannetje' Crocker:
I have two. I have the kindergartner, and then a fifth grade daughter who is 11 going on 25.
Dr. Andy Roark:
Yes.
Dr. Tannetje' Crocker:
She's great, independent.
Dr. Andy Roark:
Yeah.
Dr. Tannetje' Crocker:
Good to go.
Dr. Andy Roark:
I remember my daughter hit 11 and became a 22-year-old. I think that for me, that was definitely the age where the switch flipped. There was eye rolling at Dad. I was much less cool, but it was fake. It was like, "I'm going to pretend like Dad's not cool, but I know he still is." We're tight, but I have to be cool about it when her friends are around.
Dr. Tannetje' Crocker:
Yeah, when they don't want you to come eat lunch with them anymore at school, that's like, that one hurts little, but she's like, "But I have my table with my friends and we need to hang out. That's our hangout time." I'm like, "What?"
Dr. Andy Roark:
Yeah. You're like, "Oh, pardon me. Let's see if I can get on your schedule sometime in the future."
Dr. Tannetje' Crocker:
Yeah, your social calendar.
Dr. Andy Roark:
Oh, man. Yeah. Well, so that's what I mean. You have so many things going on. I appreciate you making time. I always love talking with you. You and I have talked many times. We've had many adventures together.
Dr. Tannetje' Crocker:
Yes.
Dr. Andy Roark:
I think the world of you. I always love your perspective. We did a podcast a while back on intentional discounting in emergency medicine, and it got some feedback. We got in trouble. We got in trouble.
Dr. Tannetje' Crocker:
We did.
Dr. Andy Roark:
We did. We got in trouble. I wanted to, but I, as someone who just can't leave things alone, as I sat with this, so okay, so we put up this podcast, you and I did. It was on intentional discount, and we talked about doing discounts to make things accessible when people come in in an emergency. I think there was one thing that I, as the host, did not set us up for success. I jumped right into discounting. I was like, "All right, let's just talk about discounting." Whenever you talk about discounting, you have to talk about the larger framework of helping people get access to care.
I drove us straight into, "Let's jump right into this thing." I just didn't set it up very well or very clearly. People are like, "Oh, Andy's saying and Tannetje's saying that the first thing we should do is cut our prices when people walk in." I go, "Well, I did not mean to imply that, but by going straight into that conversation, I can see how I led people to believe that." I wanted to walk back out and sort of lay some of this groundwork that I should have laid the first time, sort of make this into a larger conversation. The other thing was I got a significant vocal pushback on one point that I just don't buy into.
There were some people who just took issue with the concept of discounting. They were like, "How dare you talk about discounting when we are not paying our staff what they should be making?" I wrestled with that a little bit for a while, but I don't buy into that criticism. I just want to sort of address that up front before we start to lay down the groundwork. I do think this is really important whenever we start talking about access to care. It's my perspective that yes, two things can be true at the same time. We can have a situation where support staff don't get paid what they should get paid, and at the same time, refusing to help people get access to care, I believe, will burn people out faster than not making 10 cents a day more if that was converted into wages.
I'm not trying to blow it off or anything, but I think that that was an interesting criticism in that it was very much looking at how we provide care as a zero-sum game, which means if I discount things, if I drop the price, if I change how we deliver care, then that's a loss for the staff. If I want to win for the staff, I have to be inflexible to the pet owners. I go, "I don't think those things are true. I don't think anybody wants either of those scenarios. I think we all want to find the balance between them." I don't know. You were there. You saw the conversation.
Dr. Tannetje' Crocker:
I saw it.
Dr. Andy Roark:
Do you agree with that?
Dr. Tannetje' Crocker:
No, I agree. One, I would say, I was surprised by the criticism. I never even had that thought in my head that people would automatically jump to, "Well, you obviously don't pay people enough if you discount."
Dr. Andy Roark:
Yeah.
Dr. Tannetje' Crocker:
I think that for me, reading through the comments, it stemmed through personal experience. It seemed like a lot of these people did work at practices, where veterinarians, a lot of times, to avoid conflict or not to upset pet owners, just gave a lot of stuff away for free, with no intention behind it, and no real understanding of why they were doing it. They weren't being paid enough. In their mind, if things were charged appropriately, they would get paid more. I can see where that would be the perception.
Now, I work for a very large corporation that has 40 plus locations, where, as a culture and a team, we have decided that this is something that we want to do. It does help us overall, working in the ER especially, to want to go to work and to help pet owners that we think really deserve the help in pets that we can truly save, if we can find a way to work with them.
Dr. Andy Roark:
Yeah.
Dr. Tannetje' Crocker:
I have given this talk a couple times at conferences since, and I think you're right about, I really have to lay the groundwork of, we already discount, we're just saying, let's bring it into the light what we're doing.
Dr. Andy Roark:
Yeah.
Dr. Tannetje' Crocker:
Let's have intention behind what we're doing, and as a team, this is not the doctor deciding, this is as a team, we have decided that we want to help as many pets as possible. Sometimes, that means we give something away, or we reduce the price on something, or we do plan B or C because they can't afford plan A. I sleep better at night knowing that, and I know that my team does too. I agree. We had a very short podcast to talk about something that is really a huge issue and there is a lot of gray areas to it.
I'm glad we're getting a chance to clarify a little bit. I work for a corporation that pays extremely well, and we also discount. You can't say that discounting alone is the reason why people are not paid a livable wage in our profession.
Dr. Andy Roark:
Yeah. Well, I think you put your finger on something really important there too is you say, "Well, I feel good about, it and my team feels good about it." I think that's a really important part when we start talking about things like spectrum of care, and how we're going to get people access if they just can't walk in and stroke a check for gold standard of care. I think one of the things that I didn't realize earlier in my career is how important it is to have the open conversation with the team. I don't think that's modeled very well.
I think that the idea of bringing the team together and saying, "Guys, can we all agree that getting care for people is important, yes or no?" Even starting wider than that and saying, "What do you guys enjoy about your job?" I think that people saying, "Oh, being the hero, really, it means a lot. I want to help people." I think if you start out wide and say, "Okay. We all agree that we want to try to be able to make care happen, and that you guys getting paid a good salary is also important." I think you can end up doing what a lot of practices already do, which is try to find a healthy balance. Everybody feels like they feel included, they feel heard, they feel like they were there when the decision was made.
I think you really put your finger on it when you were like, "Oh man, imagine being at a practice, and you are not getting paid what you should get paid, and you see the doctors just giving stuff away, and you're not involved in this transaction at all." You're there trying to do the gold standard of care to take the history you're supposed to take, to help support, provide the best standard of care possible. With no input, not even a, "Hey, is this okay with you," sort of head nod. You are seeing things go out the door and you're going, "Man, I'm struggling financially here, and I'm having a hard time with this."
I didn't realize that as a leader, how important it was to take the time sometimes just to make sure everybody's on board, and how much smoother everything goes if you take the time just to talk it through with the staff.
Dr. Tannetje' Crocker:
I do think that you can go too far to the extreme and be the practice that gives everything away, and that sets you up for failure, or you can be the practice that never works with people, and you make your team say no all the time, and they just get completely raked across the coals because of it. To me, there's a happy medium, but it is the conversation and these are businesses.
To me, it's also following up, looking at what are we discounting? We have these conversations within our business where we say, "What are all the doctors discounting? There's kind of an average we expect, some are a little higher, some are a little lower, but as a hospital, we know this is about what we're going to discount on a monthly basis. Are we still paying the bills? Are we still making it work?" "Yes, we are." "Okay, we're good." If someone is excessive in it, then it's a conversation of, "Why are you giving away so much? Yeah. Are you avoiding conflict?" That's why I see it a lot of times with young vets.
They don't want to figure out a way to find a plan B or C. They don't want to have the hard money conversations. It's easier to just say, "I'll just discount that." That's really not the purpose in what I was talking about. I'm talking about doing it with intention to either buy a pet time for people to get financial resources, or to get an answer so someone can make a decision. It's a little different when you look at it as just give it away to avoid conflict, versus there's a purpose behind it. That's why it's called intentional discounting.
Dr. Andy Roark:
I do like that. I think that that's a good distinction. I really like how you summed that up into the two rules of buying time, so that we can get the resources that we need to do to do the work, and then getting an answer so that we can then, again, make a plan that would lead to the ability for the pet owner to actually reengage, and know how to expend their resources.
Talk to me a little bit about your practice that you own. I'd like to hear a little bit about the different experiences there. We talked last time exclusively about emergency medicine. Do your thoughts feel different? Do they look different between the two practices? Tell me about that.
Dr. Tannetje' Crocker:
It is extremely different, and it is mainly because I work for a 24/7 high volume emergency hospital where we provide this amazing level of care, and we charge for that care. We charge large numbers. On the other hand, I bought a practice that had been in the community for 35 years, and I am intentionally keeping my prices as low as I can to still pay the bills and pay myself. We are definitely not the highest in the area, because I want to allow people to come there, and feel comfortable with the pricing, and do what they need to do for their pet.
I always told myself if I owned a hospital one day, I wanted to make sure that the people that worked there could actually, if they were a client, afford to bring their pets there. I didn't want it to be that we were so high-priced that doesn't make sense that they couldn't bring their pets there. I have really looked at pricing, looked at margins, looked at inventory. I have been able to give all my staff members raises since I bought it. We've been able to provide some additional benefits that they didn't have before. I'm really trying hard to find the balance between making your team feel supported financially, emotionally, but also really serving the community. That is where my heart is, is really serving, educating, and helping as many pets as possible.
As we get further into what some are calling a recession or seeing the economy changes that are coming up, we need to be thinking about this more and more is, how are we going to make it work, and how are we going to balance it all? It is extreme the difference in the estimates that I give at the ER versus my general practice, but I like seeing the different sides of it and also thinking through what makes sense in each setting. Also, it gives me a good perspective that when we talk about something, you can't make blanket statements in veterinary medicine.
You have such extremes of where people work and what they deal with. That's why, again, I'm glad we're able to talk a little more in depth about something that is not a simple, easy topic in any way, shape, or form.
Dr. Andy Roark:
If you dream of doing team training with your team, getting your people together, getting them on the same page, talking about how you guys work together in your practice, I'd love to help you. You can check out DrAndyRoark.com and check out the store. I have two different team training courses. These are courses for teams to do together to get on the same page, and to talk about how you do things. I have my angry clients course, and I have my exam room toolkit course, and they are both available and there to come out.
All right, guys, let's get back into this episode. How do you talk to your staff about that? Are they aware that your emphasis on the community is something that's intentional? How do you introduce that idea to them and say, "Hey," because this is clearly something you care a lot about in how you're sort of setting your practice up?
Dr. Tannetje' Crocker:
Yeah. We have had a lot of discussions about our culture in general. I am big on, I know it sounds silly, but having fun while helping pets. I want us to enjoy what we do. I want us to feel like we're making a difference, but I want us to help as many people as possible. I'm really big on the client experience, and that includes how we have financial discussions, what options we give people for paying, and how we work through those moments.
We have had quite a few meetings and discussions about that, and about the things that we feel like are kind of the foundation of our culture, because I think it starts there. Then since it is a hospital I bought, it's been an experience trying to see who's on board with that and who isn't. Some people have been, and some people haven't, and that's okay, but we've had some new team members come in. The people that are there I think have really bought in. Overall, I think we have word of mouth already spreading that we are really trying hard to make a difference in the community and for the pets, but also make sure that we take care of each other.
It's checking in. It's checking in frequently, it's making sure it's not just at a team review. You're asking people, "Have you bought in? How are you feeling about things?" It is as frequently as I'm up there, it is really talking to people, getting to know them, and making sure we're on the same page, and making sure the team is comfortable with the culture and the expectations that I've set.
Dr. Andy Roark:
I like that a lot. I also agree. It's funny, one of my big takes when people ask me to predict the future is to say, "Well, the future of vet medicine is fragmentation," which means there's going to be a lot of different practices doing things in very different ways. I think it's a good thing. I think it's going to be the fact that some people are really focused on access to care, that doesn't take away someone else's dream of having a beautiful Mayo Clinic of that medicine one day.
There's space for both of those things, and they'll serve different needs. I love that you have found the niche and kind of moved intentionally into it. Is that what you had in mind when you bought a practice? Were you like, "I want to buy a practice and really approach this accessibility?"
Dr. Tannetje' Crocker:
I did. I've worked at practices that were the more expensive practice, and definitely offered the quality and the client experience that you would expect for the prices. What I hate is when people charge a ton, but then don't actually provide what they should be providing for that price. I really wanted to make sure that I could take care of the team financially, I could take care of the hospital, and that I could set up an experience that worked for the client and the pets. Less so is it about right now, me trying to take a ton of money out of this business and trying to make money right now. It's a long game.
It is building something I'm proud of, building something that I think will help the younger generations of vets. I see young vets coming in, externs being there, just really helping, I think, the profession as a whole, along with pet owners. I've always seen it that way. I've always seen it as a place that my kids could run around, and they do. The holidays are coming up, and they're going to be up there a lot. There was a certain feel I wanted. I wear boots and jeans to work half the time.
There's just a certain feel that I needed to go there and to feel proud of it. I feel like so far, I'm accomplishing it. I still have so much to do, but that was definitely my goal. I never wanted to be the fanciest, shiniest thing on the block.
Dr. Andy Roark:
Well, that makes me so happy. I always have this dream of I just want, whether you're a vet or a vet tech, I want you to have autonomy in your career. I want people to be able to decide how do they want to make a difference in the world, and then to be able to do that. I just love that you had a clear vision for how you wanted to make a difference, and just went after it. Are there challenges that came up that you didn't anticipate as you started to go this way?
You already mentioned, I thought it was really interesting, some of the team, we bought the practice, and some people got on board, and some people did not get on board.
Dr. Tannetje' Crocker:
Yes.
Dr. Andy Roark:
That was okay. I would assume that they're not there anymore. I always say that to people who are at practice that gets bought as well, like, "See what it is. If it's not your jam, then you should go find a place where you fit in." I think that that's a thing that everybody should be comfortable with. Are there sort of other challenges that you didn't anticipate?
Dr. Tannetje' Crocker:
I think that was probably the biggest challenge initially, because in my head, my idea of what a practice would be was so great that anyone would want to work there. The idea that someone would say, "I don't really like change, or I'm not comfortable with that," or just not be comfortable with the expectations I had for them, that was surprising to me. I've had to have a lot of heart to hearts with my husband, who he helps me in the practice, he has a finance background, so he does a lot of things on that side of it, and conversations about not everyone has to be on board with your vision. You need to think five years down the road, who is going to help you accomplish what you're looking to do, and be okay with that shift a little bit into the owner mentality.
I think that's been the biggest surprise is as an associate vet, I thought I had it all figured out. I knew exactly what you needed to do to make a practice perfect, so no one ever wanted to leave, so the clients were always happy, so the pets had a great experience. Actually, doing that as an owner, you learn how much you actually don't know, and how difficult it is to achieve all those things at once, with so many personalities. That has been the biggest lesson. I have the idea, but doing it is harder than I thought it would be.
Dr. Andy Roark:
You're speaking to my soul. I had the exact same thoughts earlier on this. I have these things that I'm excited about. I know what's going to be great. I'm so passionate about this. Other people are going to see that this is the best thing and they're going to get on board. It absolutely rocked me when some people were like, "Nope, that's not what I want," and just did not. For a long time, I carried that as a personal failing. I suspect there's a lot of people out there who do that as well, of, "If I was a good leader, if I was a good boss, then the staff would a hundred percent be on board with what I'm trying to do." It's like, "No, that's not true."
You can be incredible and have values that are contradictory to someone else's, or just have things you that you want that the other person does not want. That has been a thing that I have also sort of worked through in my career. Yeah, I love that you called that out. I love the idea of having the long view of where are we trying to go, and having the patience to say, "Some people are going to leave, and that's okay." I think that that can feel catastrophic. Did you feel that way when the first people were sort of like, "Look, we're really not on board?" Was that a dark day?
Dr. Tannetje' Crocker:
No, I'll leave it at that.
Dr. Andy Roark:
Nope. Okay. Yeah.
Dr. Tannetje' Crocker:
Nope, not at all.
Dr. Andy Roark:
Gotcha. No, I've seen it. I've seen it.
Dr. Tannetje' Crocker:
I don't know if that makes…
Dr. Andy Roark:
Yeah. Totally makes sense to me. I, 100%, it depends on how they communicate their unhappiness about the direction. Yeah, I have 100% seen that. I tell you, for me, there has been times when people are like, "You know what? This is not where I'm really excited to go, and I'm going to go somewhere else." I think it's about a 72 hour swing for me. About 72 hours, I'm like, "That's it. This is the first straw to fall. All of them feel this way."
Dr. Tannetje' Crocker:
Yeah, it's over.
Dr. Andy Roark:
The whole place is going to empty out. It's over. It'll be me by myself in this building in a week and a half. I think maybe, I don't know, maybe I got smarter as I got older. Maybe it's just the fact that I've had that thought many times and it never actually happens. Now, I'm like, "Ah, I guess I'm probably going to be okay." Boy, first couple of times, I was like, "That's it. Good thing I borrowed all this money so I can go live in the forest by myself."
Dr. Tannetje' Crocker:
I think my husband knows me, and he always says, "I will not have a hypothetical discussion. We are not going to talk about what could maybe possibly happen." That is my brain all the time.
Dr. Andy Roark:
That's a good piece of advice. Yeah.
Dr. Tannetje' Crocker:
He told me in the beginning, he said, "What's the worst thing that'll happen?" We kind of played it out, and he said, "The worst thing is we fail and we sell the practice, and we're still going to make money because the real estate is worth so much." He was like, "Failing is not the worst thing. We're not going to lose our house. We have our health. You're going to enjoy it while you're doing it," but that helped me. Now, my worst case scenario is still not the worst. He knows me well and knows how to help me, pump me up, but yes.
Dr. Andy Roark:
I'm going to call your husband when I have existential crises.
Dr. Tannetje' Crocker:
Yeah, he's good.
Dr. Andy Roark:
Yeah, because that's exactly what I need to hear. We're not going to have hypothetical conversations. I need to have that conversation with myself, because I have hypothetical conversations with myself in the shower, and I'm like, "This is not good."
Dr. Tannetje' Crocker:
Same.
Dr. Andy Roark:
"We got to stop." That's awesome. I love that perspective. Yeah. The other thing that you just said that I really love and have gravitated to in the last couple of years is the idea that I'm going to enjoy what I'm doing as I'm doing it. Then if, in the future, the world doesn't go the way that I think, I have already extracted my joy, as opposed to this idea of, "I'm going to work so hard, and in X number of years, I'm going to be happy, or I'm going to be successful, or I will get my payout then."
That really took a lot of stress off my shoulders, as well as just going, "You know what? The longer I can go having this job and doing the thing that I love doing, the better off I am. The worst case is I don't get to do this thing I'm excited about forever. The best case is I just enjoy each day, and I keep having those days." That was a mental shift it took me a long time to get to.
I think a lot of us put our head down and we're thinking that we're going to be happy in the future, as opposed to going, "Every year I get to do the job that I want to do the way I want to do it is a huge success, and I should just take that win and go on, and not worry about, am I going to get to do this forever?"
Dr. Tannetje' Crocker:
Yeah. No, there's always more, right? There's always like a next thing or a next step if you're always thinking that you don't look at what you have in the moment. I think that I've definitely trained my brain a little bit to be like, "What do I have in front of me? It is what it is. What do I enjoy?" I lean into that pretty heavy, and it has served me well as a veterinarian. We're not talking about discounting at all, but I love this segment.
Dr. Andy Roark:
No. Well, again, I think, like I said at the very beginning, I think discounting is a piece of it.
Dr. Tannetje' Crocker:
Right.
Dr. Andy Roark:
It really is about, I don't know, I always love these conversations about what are we trying to build? I think that discounting fits in for some people into the model that they want to build. What do you want to be? I've gotten to work with literally hundreds of practices in just the last three years. They're all different in what they want and where they want to go, and big corporate groups as well. They have different cultures, and they have different aims they want to achieve. I think that that's really important. I don't know that people stop and really think about that. I don't know. I think that whole, "Where are we going? What do we want to be? What is the impact we want to have on the world?"
I think that that's still a real part of medicine. I think it's always going to be a part of medicine, because I think that that's why most of us do the job. Anyway, I love talking about these things because I love to see when people have an intentional direction they lean and say, "This is what I want to be. I want to go right over to this little piece of the world, and I want to-"
Dr. Tannetje' Crocker:
Make a difference.
Dr. Andy Roark:
Yeah, this little thing. Yeah, exactly. I just think that that's awesome.
Dr. Tannetje' Crocker:
It's fun, because I'm in the social media world, and I think that I still have to tell people all the time, "That's not my real life. My real life is what I'm doing day to day and what I do in the hospital and what I do with my family." I share glimpses of that on social media, and I try to share good, and bad, and things that I've learned, but it's amazing how much is not on there, and how much happens in the moment. I hope people get the joy that I have and the things that I'm doing. It's become a lot more to me about just really speaking to the things that I think are important, and the things I think could make our profession better as a whole, versus gaining followers and gaining likes.
I think that's also been a good shift for me a little bit. Early on, I was like, "I got to do this, I got to do this, I got to do this." Real life is so much more important, and you get great connections through social media. I love the networking, and the support, and the community that I built, but real life is still where it's at. Your day-to-day is still where it's at.
Dr. Andy Roark:
Well, I think that's one of the things I always really loved about you, specifically in what you do. I think that there's danger in social media of it all being performative. I've seen that. I started in social media doing in 2008. It's been great for me. It's where my career came from and how people got to know me originally. That's been wonderful. There's sort of two types of people, I think, that are out doing things in social. There's the people who are waving their hands and living online, and then there's the people who are actually impacting the world and talking about it on social.
I think that you're definitely in the second category, which is, you have thoughts and feelings, and you're doing the work in the world, which then you can sort of talk about and you give glimpses to. Anyway, I think that there's a depth to that, that's really important. I don't know. That's why I always love our conversations is that we can talk about communications, and media, and social media, and things like that. At the same time, you're also working in not one, but two practices that are very different.
You're clearly working towards an objective. I think that's really refreshing. I love what you're doing, Tannetje, and I'm cheering for you.
Dr. Tannetje' Crocker:
I appreciate that. You don't think I'm Crocker controversy today?
Dr. Andy Roark:
We'll wait and see.
Dr. Tannetje' Crocker:
We'll see.
Dr. Andy Roark:
We'll wait and see.
Dr. Tannetje' Crocker:
You never know.
Dr. Andy Roark:
You never know, but no. Tannetje Crocker, where can people find you online? Tell me about your socials.
Dr. Tannetje' Crocker:
You can follow me on Instagram, TikTok, or Facebook. Basically just look up Dr. Tannetje Crocker. My name is very distinct, so it's easy to find.
Dr. Andy Roark:
You can see it in the show notes.
Dr. Tannetje' Crocker:
You can see it there.
Dr. Andy Roark:
Yeah. I'll link up to everything on that. Thanks so much for being here. Guys, thanks for tuning in. I hope you have a wonderful day.
Dr. Tannetje' Crocker:
Thanks for having me. Bye.
Dr. Andy Roark:
That's it, guys. That's what I got. I hope you enjoyed it. I hope you got a lot out of it. As always, if you liked it, the best thing, nicest thing you can do is leave me an honest review where you get your podcast, tell your friends, things like that. Anyway, guys, that's all I got. Take care of yourselves. Be well. Talk to you later. Bye.