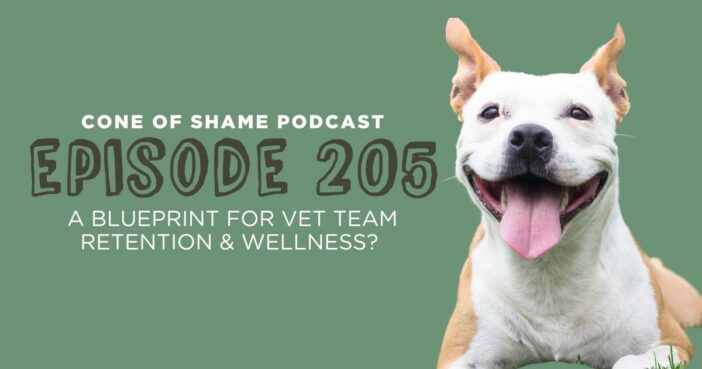 Dr. Brian Bourquin joins the podcast to discuss the new NOMV C.L.E.A.R. Blueprint. This is a hospital wellness certification program that was recently introduced to veterinary clinics.
Dr. Bourquin talks about the certification, the experience of implementing it in his own Boston veterinary practices, and lessons learned along the way.
You can also listen to this episode on Apple Podcasts, Google Podcasts, Amazon Music, Soundcloud, YouTube or wherever you get your podcasts!
LINKS
CLEAR Blueprint: https://www.nomv.org/clearblueprint/
NOMV Homepage: https://www.nomv.org/
Dr. Andy Roark Exam Room Communication Tool Box Team Training Course: https://drandyroark.com/on-demand-staff-training/
Dr. Andy Roark Charming the Angry Client Team Training Course: https://drandyroark.com/charming-the-angry-client/
Dr. Andy Roark Swag: drandyroark.com/shop
All Links: linktr.ee/DrAndyRoark
ABOUT OUR GUEST
Fueled by childhood dreams of being a keeper at his own zoo, Dr. Brian Bourquin realized from a young age his path – a career in veterinary work. His journey began with graduation from Cornell University, the No. 1 school in the U.S. for veterinary medicine. After 13 years as a Boston veterinarian, he founded Boston Veterinary Clinic in 2012, placing an emphasis on trust, compassion, and top-level patient care. Embraced by the pet-loving community and with the aid of like-minded veterinary professionals, the practice has grown to 5 locations, each focusing on the best medicine possible with accreditations from AAHA, Fear Free, and Cat-Friendly Practices.
---
EPISODE TRANSCRIPT
Dr. Andy Roark:
Welcome everybody to the Cone Of Shame Veterinary Podcast. I am your host, Dr. Andy Roark. Guys, I'm here with my good friend, Dr. Brian Bourquin today. Brian is here to talk with me about the Not One More Vet CLEAR Blueprint. This is a certification that has been rolled out for veterinary hospitals around workplace wellness. I think it's really interesting. They have put these modules and trainings together with the help of people from a lot of different industries with a lot of different expertise.
I am a big fan of getting wellness into our practices. I want to keep our people healthy and happy. I want to keep them enjoying medicine. As Brian says, one of the biggest values of something like this is the retention benefit. The chances of keeping our staff are increased when we take care of our people. Anyway, Brian is an awesome guest. I am just such a big fan of his. He is super transparent and vulnerable in this interview, which I love.
He talks about the experience of doing the certification with his practices, what people are on board with, what they were not on board with, areas that his practice soared, they found out what needed to change their game, and he talks about what that looked like and what they did. Honestly, it's a great conversation. I really think you guys are going to enjoy it. Let's get into this episode.
Kelsey Beth Carpenter:
(Singing) This is your show. We're glad you're here. We want to help you in your veterinary career. Welcome to The Cone Of Shame with Dr. Andy Roark.
Dr. Andy Roark:
Welcome to the podcast, Dr. Brian Bourquin. How are you, my friend?
Dr. Brian Bourquin:
I am great. Yourself? So good to see you, Andy.
Dr. Andy Roark:
It's good to see you as well. You and I have known each other for years now. I think I met you back in 2017, 2018. It was the first time you and your partner Paul came to Uncharted, the vet conference that I run. We got to meet and we've been friends ever since. You are doing fascinating things right now. You are doing some work with… Actually, let me just pause here. For those who don't know, Dr. Brian Bourquin, you are the co-founder and chief Vision officer at Boston Veterinary Clinic.
You are on the board at Not One More Vet or NOMV as it's known in the profession. You're also on the board for the Massachusetts Veterinary Medical Association. You are doing a lot of things, and you and Paul were really instrumental in a new program that Not One More Vet has put out called the CLEAR Blueprint. It's a type of certification for practices. I wanted you to come on. I just wanted to talk with you about it. I'm really interested in what you're doing. Let's just start there. Can you lay out at a high level the CLEAR Blueprint? What is it? Who's it for? How did it get started?
Dr. Brian Bourquin:
Sure, sure. Thank you for that great, great intro. We basically think of it as a workplace wellness certification program. This came out from a brainstorming session of where did we want NOMV to go. NOMV had a very grassroots beginning as a Facebook support group and then more from there. One thing we thought is this is great that we're making change from the inside. We're not just surviving anymore, we want to thrive. What if we gave some tools or gave ability for clinics to empower themselves, and through that they can actually, one, use it as a recruitment tool.
It could be a resource for other clinics who want to say that they prioritize wellness in their clinics. That's where the idea was born. And then we came up with the five, the letters of CLEAR, compassion, listening, energy, action, and resources. Because one of the things that we found is that this is not a brand new idea as far as well-being, but the network or the blueprint, if you will, to actually put that into action is what's been missing. You can tell people, "Hey, yeah, you should take your lunch breaks and use the bathroom and be nice to each other."
But if you're not giving them the tools or resources to do that, then it can actually just become another stressor, like, "Oh, now someone else is telling me what to do."
Dr. Andy Roark:
Oh man. Well, let me stop and I just want to gush at you for a second. I love this so much. One of the concerns always with something like NOMV that comes from social media is you say, this is good and I appreciate the spirit here. Does this translator or how does this translate into actual implementation on the ground in practice, getting people where they really need to be in their work life? I love that you actually taken this and started making these tools. The other part is I really try to beat the drum for mental health and mental health awareness in our profession.
It's a big deal. I often roll around with that question of, how do we go from noise in the air down to the actual inside the practice? What nuts and bolts tangible change? Brian, you guys are building something that actually does that. You've got some real metrics. You've got some real programming. You've got some check boxes. And also I think you're spot on with the idea that there is danger about raising awareness, awareness, awareness, awareness without rolling over into actual implementation.
I do agree, it feels like take your lunch breaks, things like self-care, and at some point you go, "Guys, it's more stuff I'm supposed to be doing." I don't know, it's another thing that I feel like I'm failing at every day because it's too nebulous and it doesn't get onto my calendar and I don't know I what done looks like. All of those things are reasons I just got really excited when I was learning about CLEAR Blueprint. Start to unpack it. I love it. I love the fact you have the acronym, you have these resources.
Can you start to paint a picture for me of what these resources look like in the practice? If I was going to go to a practice owner or practice manager and be like, "Hey, I'm really interested in this CLEAR Blueprint," they would look at me and say, "But what does this really mean? What does this look like in our practice?" Can you start to lay down what that structure looks like and what people could anticipate if they were to get involved with this?
Dr. Brian Bourquin:
I'm going to come from two different angles, as a practice and myself. If someone were to come to me with this, there's two paths. There's the financial path, if you will, and then there's the more wellness, well-being. The two we know actually often very tightly well, but those are the two paths. One, this is about retention, retention, retention. We know that there is a mass exodus from the veterinary profession on all levels. We got to slow that flood from leaving. We all talk about what our bonus packages are and our moving packages and all the things we do to get an employee.
But sadly, and I include myself in this in the past, we didn't do as much to retain them. If some were going to come to me, the first thing I'd be saying to a practice owner or practice manager is this is about retention. This is about keeping the people that we want, the people who fit our culture, the people who if we could mold someone, this is what we look like, let's keep that person, because we're not doing a good job of that. We're losing to other careers and just completely out of the veterinary professional altogether.
And then the other, of course, is more well-being. We know that happy, not depressed, sleeping, eating, using the bathroom are going to be better employees. They're going to be nicer. What are they going to do? They're going to do a better job at their life goal often is helping animals. That's why always going to remember, why are we here? What are we doing? We're here to help animals and help the pet parents. They're going to do that better if they're feeling…
And then lastly, this is slipping the other way, I would say it doesn't have to be the practice manager or the practice owner that is being brought this. I would talk to my other practice owners and say, "Bring this to your staff." What better way to say, "Hey, I'm going to put my money where my mouth is." And we did this. We were one of the betas. I'm glad we passed. That wouldn't look good. But we say we're going to put our money where our mouth is.
If we're going to be board members of NOMV and we're going to take part in the 5K and the race around the world and all these things and make the t-shirts and the shoes and do all the stuff, are we actually doing that within the clinic? It's a little scary. Thankfully, we did pass.
Dr. Andy Roark:
Sure!
Dr. Brian Bourquin:
When you look at the different modules, there were modules that we didn't knock it out of the park. And that was a sobering moment. But that's the good thing about this is that it's just not a big pat on the back. This is an ongoing living program. You're going to look at those areas where maybe you didn't do as well and say, okay, well, what's my 10 step plan, or when am I going to regroup and look back at this again?
Dr. Andy Roark:
Well, I think it's really a positive you didn't knock it out of the park. I mean, as you say, if you go in for a certification and you just breeze through everything, it was probably not actually going to make you any better. It's just funny, in my business in the last couple of years, I've really looked at that and there's areas where we struggle. We've had to pick it up and go, "Oh man, this is not something that we're great at." It's humbling, but then also you go, "Well, wait a second, this is how we continue to grow and get better. We should always be challenged."
Brian, put your practice owner hat. Just keep it on for me for a second, if you don't mind. Walk me through that experience. You go to your team. You're like, "Hey, I've got this thing." How did you explain it to them? What was their reaction? Were they like, "Yes, we want another thing to do," or were they just like, "Well, he's really excited, so we'll just do it?" How did you talk to them about it? What was their reaction to doing something this?
Dr. Brian Bourquin:
I leaned heavily on the clinic managers. For those who don't know, we have multiple clinics. I'm not necessarily as well-known as I was at one point where I knew everyone, so I relied on the clinic managers for help. We basically said, we want to take this assessment. We don't like to say test. No, I swear the word test. We're going to do this assessment of different areas looking at the clinic health, the wellness health. What we're going to do is we're going to take your input, of which you had to have 80% involvement.
You can't just have three people saying, "This is what I think." It isn't Paul, myself and one clinic manager saying, "Oh yeah, we're awesome. We're great." It's anonymous. We only had to do one reminder. The first batch of people who came in, and then we had to do one more like, "Hey guys, we have to get over this threshold to be appropriate for the accreditation." So then it went to the panel of people who look at the assessments and we got our score back. I'm going to just give an example of a place where we had to do better.
One was financial stability. Of course, as a practice owner, I was like, oh my god, they don't think they have a good business. No, that actually wasn't what it was at all. It was their own financial stability at the Boston Veteran Clinic living in Boston. I don't ever think CLEAR Blueprint should be used in a silo. I actually use this alongside a DEI exercise. One thing we found is especially people of color living in Boston, they were struggling. They were paycheck to paycheck and really worried about what would happen if kind of thing.
One of the things that's led to my long-winded story here was we actually gave a $2 raise across the board that went just to them. I'm sorry, let me back up. We raised exam fees $2. Instead of that being like a dollar for me, a dollar for this, it all went to the staff. We were actually able to take this thing that they could be honest with us through this anonymous platform and actually make a real change. I now have 100 employees. It wasn't for salary, but now these people are feeling a little bit better.
And that shows. I mean, what else can show that your practice cares about you than a raise that goes just to them that came out of something that they brought to your attention?
Dr. Andy Roark:
There's a number of things I want to grab onto here because this is such a great story. I love how you put this tool into that practice and how you rolled out the staff and how you got involvement, and then how you made changes based on the experience of the staff and with the information that came back to you. I think that's just how it's done. I think it's a beautiful story. If you dream of doing team training with your team, getting your people together, getting them on the same page, talking about how you guys work together in your practice, I'd love to help you.
You can check out drandyroark.com and check out the store. I have two different team training courses. These are courses for teams to do together to get on the same page and to talk about how you do things. I have my angry clients course and I have my exam room toolkit course. They are both available there to come out. All right, guys, let's get back into this episode. What was your experience? You do this, you see the financial stability, and you say, "Oh, we're in Boston. A percentage of our staff is really feeling this way. This all makes sense. We're going to raise our exam price and then put that into staff wages."
Did you feel like you got exceptional buy in to that from the team? Were they like, "Yes, this is what we want?" Usually whenever we adjust prices, there's people who push back. What's your feeling on that as far as being on board with the changes?
Dr. Brian Bourquin:
We definitely made it known that this was for them solely. We were not raising prices. We sent it out to our clients out. We said, "Hey, these prices are going up and this is the reason why, because we just came out of COVID and we got our butt kicked twice." We shared that with the clientele, which was interesting because as we often know, our clients don't really know. They used to be suffering in silence. They don't know what's happening to the vendor. Oh, don't you just play with puppies and kittens all night? Well, no, there's more to it than that. That's a whole other separate story, but basically that's where NOMV came from was the suicide crisis in veterinary medicine.
It changed the tune of the clientele a little bit, right? I mean, it felt like they were a little softer with our staff, that they were just a little bit more realizing the struggle that they were going through. But we already know. From the same thing, we know that our employees say that without their discounts, they couldn't afford our services. That's the other area that we're looking at, which if you ever looked at pet insurance for a big company, that's a headache in itself. One thing I do have to say, because I'm going to get in lots of trouble if I don't, is that this program is sponsored by Merck.
Merck actually underwritten the whole program and I would get in big, big trouble if I did not recognize that they'd been a great partner from the start. This program morphed initially, which was going to be kind of this one-time accreditation to now ongoing resources, staff members. This was originally going to be a free program, and we realized quickly, oh, you can't do that if you're going to have staff and stuff. Merck has just been an amazing partner and my hat goes off to them for their help.
Dr. Andy Roark:
This episode is not brought to you by Merck.
Dr. Brian Bourquin:
No, it sounds right.
Dr. Andy Roark:
But I just have to say, I saw Merck as the founder and supporter. This is CLEAR Blueprint powered by Merck as I saw it. They also have been a huge force behind initiatives like mentorship. I'm a big fan of Addie Reinhardt and her mentorship program. It's like, man, Merck has done some exceptional things fairly quietly for our profession. I think just stopping for a second and giving them a big shout is absolutely warranted.
What does the actual implementation look like in your practice, Brian? Are these team trainings? Are they on demand, asynchronous learnings where people do it as they're able to? What does that look like when you started bringing this?
Dr. Brian Bourquin:
Exactly, exactly. What we've done is tried to not have just a one size fits all. To our earlier talk about telling people you have to take breaks and you have to take lunch in a day that you don't have time, one of the things that we did not want to do with CLEAR Blueprint, which is throw something at someone to add another thing. Currently, we've had 24 clinics that are accredited, including mine. We have 28 that are enrolled that are slowly going at different stages, because it is a self-taught program.
The resources go anything from just your initial let's talk about financial stability to you can dig deep with research. We actually even brought in financial planners as part of something that, heck, I didn't know, as part of our retirement benefits thing. You get to use financial planners. Now, a lot of my staff weren't necessarily ready to start investing in the stock market, but they could actually have some conversations about, hey, can I afford a car? What would this look like if I actually put down money for a home?
When did you ever have that earlier in life? I mean, I didn't. That was not something that anyone ever did to me. And then there's 23 other clinics waiting to be onboarded. The ones that have already got their accreditation, our goal is now that that starts to be a network. Say someone takes it and maybe they don't pass the first one because they've got three clinics. One of the hardships when you've got multiple clinics is maintaining that culture across what happens when you're not there?
What's happening when I'm not in Brookline and I'm at the Bay Village Clinic? One of the things that we can now do is the people on CLEAR Blueprint can say, "Well, you know what? I think they're struggling from a similar problem that Dr. B, he and the Boston boys, handled in Boston. Let's put them together and help them work together." It's same thing, some of the hardships of more rural vets are not going to be the same hardships I have. I would not necessarily be a good peer partner for them, but maybe we take someone else who is in a rural background.
There's modules. Some examples of the training modules that we have are building trusting teams, emotional balance. I talked about financial stability. Community relations, this is one that Paul and I worked really big on. One thing I have failed in all my talking here to say is this wasn't just vets, which is really important to say. This was a multidiscipline professionals. We had business owners. We had veterinarians. We had vet techs. We had mental health professionals. We had social workers.
This wasn't just a bunch of practice owners who were saying, "This is the way the clinic has got to be." The same thing for the workshops. We were taught different ways of teaching. The traditional teach at you type of thing doesn't necessarily work. They actually built some of the modules out that way too to work for different types of people. There's videos. There's reading. There can be discussion. As long as you're accredited and you're up-to-date on your dues, you actually can use any of the NOMV resources, which is a pretty big organization.
There was a lot of blah, blah, blah there, but I think I hit all the different points of how you can utilize this. But this definitely is not just a one touch point thing. It's like you take your test, you're accredited. And then there's re-accreditation, which we're brand new, so we're not to that point yet, but we want to make sure. Because just like we've noticed with… I'll use AHA or Fear Free. As their sciences and they continue to evolve and there's better ways, I'm sure the same thing's going to happen with CLEAR Blueprint.
We're going to find things that, oh, well, maybe that isn't the best way to handle financial stability. I'm going to make up something, but bringing in Investor Bro to your own staff. Shame on you. Know your audience. Instead, you could have done this. These will be living modules that will continue to grow. For example, I've already been asked to produce a webinar series on community engagement because that's something that we… Any event we have always has got a give back to the community component to it. I will do a living breathing module about how I do that here.
Dr. Andy Roark:
If you had to look at the course curriculum, Brian, and put your finger and say, "I think this module, this topic, this subject is going to have an outsized impact on most veterinary practices," what module would you pick? Are there things that you feel like that are really weak spots for a lot of practices or real opportunities to jump forward that practices aren't aware of?
Dr. Brian Bourquin:
Yeah. I mean, I would say building a trusting team. I mean, this is one of the places where I shame myself. When we first started the company, Paul wanted to spend all his time on culture and mission statements, just all this stuff, and I just wanted to be a vet. It showed because we didn't have a cohesive team. Uncharted can speak to this, but it's really doing your homework and seeing… Something else we're going to do is we're actually going to revisit our mission statement because it's what Paul and I came up with when there was five of us in one clinic.
Well now that we've got five clinics and 100 employees, maybe we should ask them what their mission statement is, what they like to see our culture and values look at. I think that's key. Because if you don't have that, that's what everything else is wrapped around. If you can't get your hands around that, then you're going to struggle, and I don't know how you could get to any of these more advanced platforms.
Dr. Andy Roark:
Yeah, no, that makes a ton of sense. I totally hear the old, do we really need to spend this much time on culture and mission statements and things? I get it. As a pragmatic problem oriented person, I get it. Are there pitfalls that you see for practices who are like, yeah, we want to pick this up? Are there ways that you could see people or have seen people stumble rolling this out to the team, communicating about it? How do I shoot myself in the foot if I had the best of intentions and want to get my practice on board?
Dr. Brian Bourquin:
What places that we're seeing some struggling is with, and I'm not going to pick on the corporates, but corporates is a little hard because you've got a network. You may have one practice manager at this clinic who really is behind wellness and someone else who maybe is just struggling to get through each day and they don't feel they can worry about wellness. That's one area. There's a time commitment to this. We're giving this to teams of overworked people who are trying to be the best them, but they got to sleep sometime and they got to go home and walk their dog.
We've seen some of the how long the program was going start to get a little long in the tooth. That's where we just regrouped. And then also the idea that this is going to be an ongoing program, that this is not a one-time thing. If you get some staff turnover, which may be a good thing, I mean, some of this is if you don't get enough buy-in, you maybe need to look at your team. Is it a lack of a mission statement, or it's just are you not all on the same mission? But that can also make it harder.
I mean, we've all dealt with "the toxic employee" and you do that, well, at least they're human, at least they can hold a dog. Maybe they're not good at it, but at least they can do it. Those kind of things. When you do lose some of the people from this, you could almost look at this and be, "Well, I liked it better before we accredited. Now, I'm working twice as hard." You just got to weigh that like, no, guys, the long term goal here is we're going to retain you because this is going to be a good place to work. Hang in there with us.
But we found that the team buy-in just because we brought this to them that we were already ahead. We already went to the plus column with the team buy-in because we're being so proactive with this.
Dr. Andy Roark:
Well, I really like that point about expectations. Programs this fall into the important, but not urgent of the Eisenhower Matrix. I think most of the most valuable things in practice are important, but not necessarily urgent. They're not on fire. No one's like, "Oh my God, we have to have that certificate now!" But those are the things that make the practice. It's always a battle to keep people engaged and say, "This is important. I know it doesn't have a deadline that's tangible sitting on top of us, but we've got to keep working." I think motivating people that way has got to be top of mind.
And then the idea that this is not a, hey guys, we're going to get workplace culture sorted out in the next six weeks and then we'll be done with it. People, they don't really want to hear that. They want to believe, yeah, we'll be done. I think setting that expectation up front sounds like a pretty smart move. Brian, where can people learn more? I'll put a link down to the CLEAR Blueprint information page in the show notes. Other places that they should go to get information? Any resources you would recommend?
Dr. Brian Bourquin:
NOMV.org. That's our major parent site. CLEAR Blueprint has its own own area. You can actually go right to the /CLEARBlueprint. There's a site there that you can apply right then and there, and then you'll start filling out your information. Having an advocate is key for this. I should have mentioned this before. I was not the advocate because I was going in too many different directions. You've got someone who's on the ground, who's going to actually be taking care of this. You would get your clinic advocate to apply, and then they'll get you lined up to get the process started.
There is a fee, which I want to say that just to be completely transparent because of the need for staff. It's 499 to 899, depending on the size of your clinic, because there's more work when there's more people. But there are scholarships available. If you're finding that your clinic that's struggling because your team is not cohesive and everyone's quitting, or maybe you don't have an extra grand laying around to pay for programs, we do have scholarships available for that.
Dr. Andy Roark:
That's outstanding. Thank you so much, Brian Bourquin, for being here. You are amazing. Thanks for the work you're doing with NOMV. Thanks for telling me about CLEAR. I'm looking forward to it. Guys, take care of yourselves, everybody. Be well. And that's it, guys. That's what I got for you. I hope you enjoyed it. I hope you get something out of it. As always, if you enjoyed the episode, one of the kindest things you can do is share it with your friends or leave me an honest review wherever you get your podcasts. Guys, take care of yourselves. Be well. I'll talk to you later on. Bye.