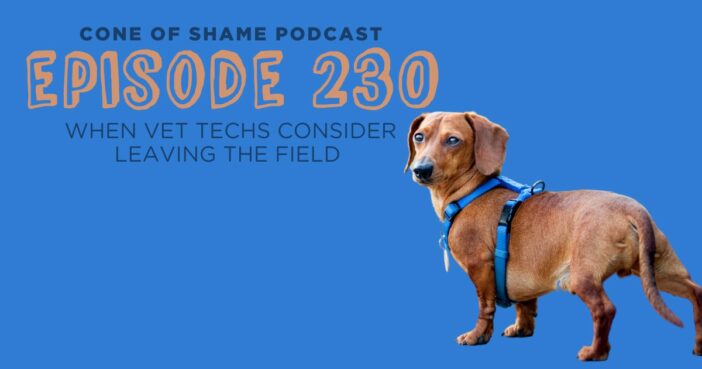 Dave Cowan and Jeff Backus, Emergency & Critical Care Veterinary Technician Specialists and the hosts of the Vet Tech Cafe podcast, join Dr. Andy Roark to talk about when veterinary technicians consider leaving vet medicine.
Both Dave and Jeff were considering walking away from vet medicine when they met and decided to start their own podcast. Since then, they've learned lessons and gained insight on how to keep technicians engaged with vet medicine (and also when it's just better to go ahead and leave).
Let's get into it!
You can also listen to this episode on Apple Podcasts, Google Podcasts, Amazon Music, Soundcloud, YouTube or wherever you get your podcasts!
LINKS

Vet Tech Cafe Podcast Homepage
Dr. Andy Roark on Vet Tech Cafe
Dr. Andy Roark Exam Room Communication Tool Box Team Training Course: https://drandyroark.com/on-demand-staff-training/
Dr. Andy Roark Charming the Angry Client Team Training Course: https://drandyroark.com/charming-the-angry-client/
Dr. Andy Roark Swag: drandyroark.com/shop
All Links: linktr.ee/DrAndyRoark
ABOUT OUR GUESTS
Dave Cowan BA, CVT, VTS(ECC) has been in the veterinary field for over 25 years. He has worked for an educational farm, the Animal Rescue League, general practice and emergency/specialty practices In 2013, Dave passed the Academy of Veterinary Emergency and Critical Care Technician (AVECCT) exam and became a Veterinary Technician Specialist (VTS) in Emergency and Critical Care. He moved to North Carolina in 2016 and has spent time as a technician supervisor, an education and training coordinator, and was lead instructor for a Veterinary Technician Program. In 2019, Dave co-founded the Vet Tech Cafe Podcast with Jeff Backus. The podcast tackles difficult issues that veterinary technicians face as well as highlighting some of the many career opportunities available to technicians. Dave joined Action Vet Tech Services in 2020 and now works relief shifts at various practices both ER/referral and GP while also providing CE and training opportunities
Dave has served on the New Hampshire Veterinary Technician board as the head of the credentials committee. He has been the chairperson of the AVECCTN credentials committee and is now one of the Members at Large on the AVECCTN Board. Dave lives in Hillsborough NC on a farm with his partner Robyn and her daughter Ruby. They have many animals to care for including goats, horses, chickens, and a donkey to go along with 2 dogs, and 2 cats., I have a one year old daughter.
Jeff Backus started as a veterinary assistant in general practice in 1995 and began working in ECC in 2004. He became an RVT in 2009 and VTS(ECC) in 2013. Jeff also taught veterinary technician education for 7 years. He has been on the Board of Directors for the California RVT Association for 8 years, serving as President position from 2020-2022, and is now past President. After 4 years in academia at Tufts University, he relocated back to Southern California with his wife and began working for the ASPCA Animal Poison Control Center. He is also a frequent lecturer and speaker with a focus on toxicology. He co-founded the Vet Tech Café podcast with Dave Cowan in 2019, talking about issues that face the veterinary technician profession with leaders in the field, and all of the amazing opportunities of the veterinary technician profession.
---
EPISODE TRANSCRIPT
Dr. Andy Roark:
Welcome everybody to the Cone of Shame Veterinary Podcast, I am your host, Dr. Andy Roark. Guys, I got two friends in today, Dave Cowan and Jeff Backus, they are the host of the Vet Tech Cafe Podcast, we talk about that a little bit getting started. And we come in and I started to talk to them, I want to talk to them about lessons learned from their years of interviewing mostly veterinary technicians and we immediately found the path that I was really interested in, which was when they talked about when they met each other and were both basically burned out and thinking about leaving that medicine. And I said, "man, is that common, do I hear that from technicians, including boarded technicians like they are, I just hear this a lot of, I reached this point and I was thinking about leaving the profession, I was ready to get out."
And so we stopped there and just started to unpack the lessons they have learned about when we reached the point of thinking about leaving the profession. And so we get into that, we talk about headspace, we talk about all the people that they've interviewed, and what lessons they've learned, and what keeps them engaged and things like that. But it is really an interesting conversation, it's a lot about technicians specifically, but it's also a lot just about burnout, it's about the stresses of our profession, and it's about the idea that just because you have done something, it doesn't mean that you have to do it forever. Just because you've been in that medicine for 10 years, that doesn't necessarily mean that you have to continue practicing as you did for the rest of your career. I think a lot of times we put that weight on ourself, but it's not real, we make it in our own minds. So anyway, that's the episode, that's what we're here talking about, so guys, let's get into this.
Kelsey Beth Carpenter:
(singing) This is your show. We're glad you're here. We want to help you in your veterinary career. Welcome to The Cone of Shame with Dr. Andy Roark!
Dr. Andy Roark:
Welcome to the podcast, Dave Cowan and Jeff Backus, how are you guys?
Dave Cowan:
We're doing great, how are you doing?
Jeff Backus:
Yeah, doing well.
Dr. Andy Roark:
I'm doing really well, I'm glad that we could sit down and talk. For those who do not know you, you are both veterinary technicians, you both have veterinary technician specialties in emergency and critical care. And I met you as you two are the host of a podcast called Vet Tech Cafe, and you invited me to be on a year ago and I just had the most lovely time.
Dave Cowan:
Yeah, it was great, we enjoyed talking to you.
Dr. Andy Roark:
It was really good. I felt very honored because it is very rare to have a veterinarian on the podcast-
Dave Cowan:
That's true.
Dr. Andy Roark:
… As you guys-
Jeff Backus:
That's true.
Dr. Andy Roark:
… Tend to talk to technicians, so that was quite an honor for me. But I enjoyed the conversation so much, I thought it's been a year since I came and met with you guys. And so I wanted to talk a little bit about your podcast, I want to talk mostly about the veterinary technician space and culture and things like that.
And I want to talk about that because it was funny when we were here doing the soundcheck, getting ready for the podcast, our producer said, "so you guys you are techs, you work with techs, you also do the podcast, it's like you guys are putting on the cape and going and doing the thing." And I thought that was funny, but let me go ahead and just start this out, let's talk a little bit about Vet Tech Cafe and what it is before we start to get into what it means for technicians. So what was the vision for your podcast when you got started?
Jeff Backus:
Honestly, Dave and I met when we were doing our specialty certification several years ago and we were at Ivex in-
Dave Cowan:
2019.
Jeff Backus:
… Twenty eight-
Dave Cowan:
2019.
Jeff Backus:
… 2019 in DC, we were sharing an Airbnb and we were just hanging out one night after lectures and we were both in the same like, do we want to keep doing this or do we want to get out of med headspace? We were both not in a great spot in veterinary medicine and then we started talking about this podcast, somehow the conversation shifted to that and got us really thinking about all the cool things and cool people we knew that were doing these cool things and that reinvigorated us. And we talked for a couple of hours and then the next day we were like, "so are we doing this?" And now almost four years later, here we are.
Dave Cowan:
And it was more about the fact that we were frustrated, we're like, "is there something we could do that's different?" Because all we knew was clinic work, because we worked on the floor for 20 some odd years and we were both frustrated in our jobs and frustrated with where our career was stuck and we said, "there's got to be something else out there." And it shifted to a talk about a podcast, I don't exactly remember how we shifted to that, but we said, "there's nothing really in the podcast space for technicians, there's a lot for the field, there's a lot for veterinarians, but nothing really specifically for us," and we're like, "we should probably do that."
Dr. Andy Roark:
I love that you did it. I think there's a lot of people out there doing really good stuff at this, specifically the thing I liked about the way you set it up, it's what I started trying to do with here with the Cone of Shame, was there were people out there I wanted to talk to and give a platform to. And so it wasn't that you guys set out, or at least not since I became aware of you, it wasn't that you were like, "we want people to hear us," it was more like, "we'd like to talk to these other people and learn from them." And I just think that it's almost like a service position in that way of trying to shine the light on what others are doing. I think you do that really well, I encourage people to take a look at your podcast and look at the episodes you have.
It's fascinating to hear you talk about that, about how you met. And so now I get to talk to some of the most successful people in the world in either in our industry and the proportion of highly successful technicians that tell me, "I don't want to do this anymore," or that they went through that period, it's enormous. It is usually after we turn the microphone off or whatever, they'll be like, "God, I was so burned out two years ago, I was trying to get… Or they'll be like, "I'm thinking about doing something different," and it seems to be such a widespread problem of people just getting tired of the technician role and burning out.
I've also had people who have come to me and asked the same questions that you were asking each other, which is, "what else is there?" Or say, "I'm in my forties, I'm into my fifties, my body's not holding up like it used to. I have this background, I have this experience, I may have this advanced training, but I don't know if I can keep doing that." Talk to me a little bit, so when I say that, do you think that your position of, do we want to get out of the industry, do you think that that's common?
Dave Cowan:
Very common.
Jeff Backus:
Yeah, very common. When we started, I was living in New England, my wife had just graduated vet school, was doing a couple of internships in Rhode Island and I was working at Tufts University. And working in academia darn near broke me and I was ready to get out, I was ready to go pour beer to brewery, that was going to be my next step. And we were coming back home to California and we had started this podcast, which frankly for me, I have found so reinvigorating for this career, hearing from people that found their niche and found what they love to do and they've carved out a path and a career for themselves.
Because like Dave was just saying, we're ECC techs, that's what we're boarded in and sure you can move around to other ERs or ICUs or maybe even move into different departments in the hospital, but you're still in the hospital. It was a little bit of a narrow focus, but with all of these guests that we've talked to, and we have learned so much about so many things that we didn't even know existed after 20 some years in the field. So it's been really, really reinvigorating for my career especially.
Dr. Andy Roark:
Yeah.
Dave Cowan:
You don't know this, but Jeff and I are both extreme introverts and when we said we're going to start a podcast, my partner, she's like, "the guy who doesn't want to talk to anyone's going to have a podcast?" I'm like, "yeah, this is different." And the fact that we can do that and talk to these people and bring their stories to our listeners, that's amazing because we've gotten feedback from a lot of people saying, "I want to try that, I want to do that," and going down that path of saying, "I'm tired of doing this too, so what else can I do?" So I think a lot of our listeners listen to us because they want to figure out something different to do, which was the whole point of starting the thing, right?
Jeff Backus:
Yeah. And there really is a lot you can do as a veterinary technician, under the umbrella of veterinary medicine, there are a lot of roles and careers inside and outside of the clinic that are out there. I think now in 2023 with remote jobs, there's more than there's ever been, but a lot of us just don't know how to find it or don't know what those jobs are. And so talking to some of these people that figured it out and are doing it, it's awesome to listen to, from my perspective.
Dr. Andy Roark:
Taking a step back from the path, which is looking at alternate ways to practice, if someone came to you now in the position that you were in when you started and they were like, "man, I'm thinking about getting out of the profession, just leaving vet med in general, I'm not sure if I want to, but really, that's where I am." Based on your experience and then also the hundreds of people that you've talked to, what kind of roadmap would you build for somebody like that? Give me a quick action step, give me a treatment plan for someone who's there.
And again, you don't exactly know what's going to work and what's going to be different, but if they came to you and said, "I need a treatment plan, what are the steps, things like that." And so let's start with headspace, is what I like to talk about, it's just before we get into what would you do, just philosophically, what have you come to believe about when you're ready to leave? Where would you try to get them in their head to look at the profession or look at the options? Would you be optimistic? Would you tell them, "no, this may be unavoidable?" What would you try to get them to visualize for themselves?
Dave Cowan:
Well, first thing is, do you want to be in this field? That's my first question, figure out why did you get into this field in the beginning and then find out is that still true? And I'm going to refer back to something you told us when you were on the show, find out what you love to do and find ways to do more of it. If working on the floor is not what you want to do, figure out where you can go from there and figure out what it is that you like doing in this field and figure out ways to do more of it. And the other part is that, is this field isn't for everyone, so if you're two, three years in it and you're burnt out already, maybe this isn't the field for you. For Jeff and I-
Jeff Backus:
And that's okay.
Dave Cowan:
… Yeah, that's perfectly fine. Don't stay in it if you're going to be miserable because we've got plenty of miserable people in this field that we don't-
Dr. Andy Roark:
We've got enough miserable people.
Dave Cowan:
… Yeah, we've got enough miserable people, we don't need to add to it, and just figure out what you like to do and find ways to do that.
Dr. Andy Roark:
It's fascinating to me that you just own it like, "this might not be the place for you." I think that's true, I love the candor in just saying that, why do you want to be here, I think that's good.
Jeff Backus:
And I think on our side of the spectrum too, our schooling, if you go the traditional AVMA route, it's only two years, yes, there's some student debt associated with that, but there are so many assistants that come into the field that haven't gone through the educational path. So I don't feel like they have the burden of the undergrad and the four years of vet school and the level of debt associated with that. So it's a little bit easier to exit if so desired.
But I think to Dave's point is, you work in a clinic for a little while, maybe that becomes stagnant, maybe it doesn't interest you any longer. Or sometimes people just get promoted to supervisory or managerial roles that they're not thriving in that they don't love just because they were the most senior person there and that's taking away from their love of the job. And so it's like Dave said, getting back to what drew you to it in the first place, it's like if you want to be on the floor, just be on the floor and take yourself out of those other roles. Or if you don't want to be on the floor anymore, then what about being on the floor that you like, and what kind of things can you do with that that are just no longer on the floor anymore?
Dr. Andy Roark:
There's this narrative that the career path, especially for paraprofessionals, but even for doctors, but definitely for paraprofessionals, the career path is upward into management. And you're like, "why would that be true necessarily?" The thing that makes you a great practitioner on the floor, that doesn't prepare you to manage other people in my experience, and you said that this is what you wanted to do.
I think one of the biggest challenges for technicians, and it is also true for doctors, I think both are opening up now, but it used to be, it was a hard development ceiling at the clinic level of, well, you're a new tech and now you're an experienced tech, and-
Dave Cowan:
And that's it.
Dr. Andy Roark:
… That's the end of … yeah, that's it, and next step, management.
Dave Cowan:
Congratulations, you made it.
Dr. Andy Roark:
You made it, exactly right. So first of all, actually let me pause here and just so say, because you're both in emergency critical care, do you think emergency critical care is worse as far as people burning out or over a certain period of time they go, "I don't want to do this?" I've always wondered if the lifestyle that's usually associated with it, if that puts more stresses on people or if you disagree?
Jeff Backus:
I would say I agree, I think each individual facet, each specialty deals with its own things that make it more difficult than others in certain areas. But I will say for emergency and ICU, the off hours, I will say I did overnights exclusively for 15 years and the toll it takes is not worth the $2 an hour shift differential.
But also, I think the level of the cases and the frequent interaction with futile care and just cases that we know are not going to end well and still pouring everything that we've got and such a high volume of those cases, I think it takes a little bit more toll. That being said, for internal medicine techs, I imagine the chronicity of some of those cases and just the slow linear progression takes the same kind of toll in a different way on them. And same thing too with general practice, I think it's much the same, it's just in a little bit different way.
Dave Cowan:
Yeah, I've worked in general practice and I've worked in emergency, and when I made that switch to emergency, I looked back at some of my colleagues that were still in general practice and the things that they were complaining about, for a lack of a better term, I'm like, "I don't even care about that stuff anymore, it's just a different mindset in emergency." So like Jeff said, there's stresses on every department of this field that I think sometimes people go to ER because they like the chaos, they like constantly having stuff to do and constantly be moving and the critical nature of it.
But other people like the, I don't want to say relaxed, that's probably not the right term, but the more steady pace or scheduled thing of working in general practice, where Jeff and I enjoy the ones where we have to think about things and use our brains and be active in the treatment of these cases. But I think every department in this field has its own stressors that are pushing people out of the field really.
Dr. Andy Roark:
Coming up on November the 14th with my good friend Dr. Emily Tincher, she's been on the podcast a number of times, I love having her here, she is such a fun, interesting person who's a deep thinker. And so anyway, she is doing a webinar called Clinical Empathy: The Exam Room Skill That Can Transform Your Team. I've had Emily on the podcast before talking about Clinical Empathy, this is a really good skill building webinar, this is great for your support staff as well as your doctors, but your team leads especially, but your technicians, your assistants, your CSRs, all of this is just is such a great communication content, I think you're going to really like it. So anyway, that is on November the 14th, it is at 3:00 PM eastern noon Pacific.
And then the last one in the series is on December 13th, it is with Dr. Simon Platt, it is called, Head Cases: A Spectrum of Care Approach to Neurology in General Practice. So if you're a neurology buff, if you like seizures, not like seizures, if you like knowing about seizures, if you like neurophysical exam tips, tricks and hacks, things like that, this is going to be a great webinar. So again, this is on December 13th, it's at 1:00 PM Eastern, that's 10:00 AM Pacific Time. Gang, I would love to see there, the links to all this stuff are in the show notes, go ahead and grab a spot, I'll see you there. Let's get back into this episode.
Well, going back to our treatment plan for I'm not sure I want to do this anymore, so we talked a bit about headspace, recognize why you want to be here, I think that's great remembering your why point. Let's move into other action steps, so once you come to that place and you are sure you do the reflection, and I talk to a lot of people who say, "I do really love it, I'm just unhappy, Verizon Wireless is not calling out to me, I'm not purpose driven to be a cell phone salesperson, but the benefits are not bad and it's close to my house and I'm honestly thinking about going there." So help me start to walk towards understanding what my options are.
Dave Cowan:
Well, as the three of us know, this is a very small field, everybody knows somebody. If there's something that you want to do, there's probably somebody you know or somebody that you are in direct contact with that has experience in that department or the field, you just have to talk to people, you have to network. And we talk about this on the podcast a lot, is that when we first started out, social media was not a thing, and now social media is very wide and it's got its pros and cons. But one of the pros is that we can network with people that we would never have contact with years ago, there's ways to find those career opportunities just by scrolling through social media.
Dr. Andy Roark:
Yeah, I think that's a great point.
Jeff Backus:
And I think too, in some ways in this field, a lot of times we have almost an adversarial relationship with our management team and depending on what that structure is. But I think if you are seriously contemplating leaving your clinic or changing jobs or whatever it is, I think an honest conversation with management and actually involving them is really important because just don't look at it as just their manager and you're going to get fired or whatever, but they might actually be a resource to help network like Dave's talked.
I would hope that that person actually wants to see you succeed, and maybe that's not always the case, but they might have suggestions for you or this conversation of, "what do you like specifically about being here and your job here? Can we help do more of that and take away some of what you don't like so that you feel more valued here or you start to enjoy your job more?" And again, I realize maybe that's just rose colored glasses, but I think at some point, you have to have those conversations with the people that are responsible for the work that you do in your clinic because otherwise, it's just going to be the same old thing.
Dr. Andy Roark:
I love these points, I think this is excellent. So I started thinking about thinking about this, so I want to start with David's point, but, boy, 20 years ago, the idea of technicians networking was just dumb. And I would say that to people and they would just look at me like, what are you talking about? I think Jeff's point of social media coming up is a huge one, it's been particularly huge for technicians because there are so many groups of technicians online, things like that. None of that stuff used to exist, all the practices were very siloed and the practices would even try to keep the techs away from other techs because you didn't want them to jump ship and-
Jeff Backus:
You didn't want them to compare notes.
Dr. Andy Roark:
… You didn't want them to compare notes, you didn't want them to jump ship and go to the place down the road. And so you're like, "you know what, I keep my people here and their people can be over there." That's an old school mentality that has nicely gone away, but I think social media opened up a lot for that. And there's been so many technicians like yourself who have said things like, "you should go to CE." And again, that's another massive opportunity that just wasn't there that long ago, there just wasn't a lot of tech CE and now there's so many more options, so I really do love that.
To Jeff's point about talking to management, there's two pieces to it, the first is, I'm a big believer in Brene Brown's saying that, "clear as kind." Which is, if you're seriously thinking about bailing, if you seriously think, I can't keep doing this, is it kind to the place that you work to not say anything until you're totally toast and then just to give them your two weeks notice and be gone? Is it kind to go get another job and being like, "all right, well, I give my two weeks because I'm already set up there." That's not kind, kind is saying, "I just want you to know where I'm at and this is what I'm starting to feel and I'm looking for some opportunities to do some different things, try to maybe get to do more of the things that I'm really excited about, or I'm wondering if you guys have ideas for advancement for me or what my career development might look like."
And savvy leaders, they'll make something, I've done that with my people a number of times as they come and they're like, "look, this is what I'm looking for," and I go, "well, I don't want this person to leave, let's figure out how to create some opportunities for them to see if we can keep them here." And then going originally back to the candor of like maybe this isn't the right place for you, I wrote an article, it's probably been over a year ago, but it was called Fare Thee Truly Well, and this is from the other side, is from the management leadership side.
But I don't think a lot of people can do this, but I have met more and more people who said, "I hire these people and I want to train them and I want to grow them, and I do that in the full knowledge that they might outgrow my practice. They might come along and get skills and knowledge and grow until there's really not much else here for them to do and they're going to go somewhere else. And rather than resent that, rather than try to not let that happen, I'm just going to accept that that is going to happen, I'm going to continue to grow and develop people because it's morally right and teaching is what I love to do and I'm going to believe that karma is out there and that good things will come back to me from growing people and even facilitating them going on to the next adventure."
But I've met enough of those people over the years and people who have worked for those people and then gone on that really, when you start thinking about what's important in life and the type of employer you want to be, I think that there's a lot to that. But it's not a mindset that comes naturally to people, people, they generally want to, if they have talented people that work for them, they want to keep those people and of course they do.
Jeff Backus:
And it's very easy from that managerial perspective to become defensive and take it personally that this person is not happy in their role and they're not being fulfilled. And so you have to lay down that armor a little bit and just be like, "look, we can do this, but let's just have a couple of conversations and involve some other people here about this," because probably that's not the only person in the clinic that feels that way and it's not going to be the only person down the road that feels that way and so got to find solutions.
Dr. Andy Roark:
I heard some terminology recently, someone told to me, I can't remember where it comes from, but basically they were like, "there's a couple of different types of really high-flyers in a business, there's your superstars and there's your rock stars. And your rock stars are people who are good at what they do and they like coming out and playing the song. And your superstars are the ones who, they are going somewhere, meaning that they're doing new things, they are trying new things and they are soaring. And the superstars are great, they are self-driven, they know where they want to be, they want to grow. But the downside to superstars is they're probably going to leave, they're probably going to come and they're going to leave."
And I just thought it was really interesting the idea of just owning that to say and there are some people who are not interested in going on, they want to be very good at what they do and they want to remain challenged. And as long as they feel like they are good and they are challenged in their work and they do good jobs, they're totally fine to punch the clock for 25 years and do it. And it's not a bad thing, it's not a knock, but for those people who are superstars and feel like, "I'm really internally driven, I want to keep trying new things, I get bored easily," that can just be a different environment.
And so it was funny because the point of the article was, you want to have a mixture of rock stars and superstars, is you really don't want everybody who's gunning and trying to be a high-flyer like a couple of those people because they push everything forward. But it's also really good to have people who are happy to be challenged in the way they were, so anyway, I thought that was really interesting.
What are your favorite resources for technicians? So obviously you guys have a podcast, it's called Vet Tech Cafe, it's an excellent podcast, as I said, I really like it, I really enjoy it, it is a lot of technician guests and talking to them about their careers and lessons that they learned and things like that. Are there other resources that you like for technicians?
Dave Cowan:
In terms of podcasting or-
Dr. Andy Roark:
No-
Dave Cowan:
… Just in general?
Dr. Andy Roark:
… I was more thinking, well, in terms of our action plan of trying to figure out where you want to go, what you want your career to be like. Just in general, if somebody said, "God, I'm feeling stagnant, not necessarily that I'm looking to go somewhere different or do something different, but I want something that's going to make me not feel stagnant."
Dave Cowan:
I would advocate for CE and it used to be a very commonplace thing where everyone had this CE allowance where they could go to conferences, they could go to different CE. And many years ago, one of the stipulations that I had with some of my CE was that if you're going to go learn something, come back and teach it. And I really enjoyed that and I think that's probably what got me on my path to enjoying teaching and enjoying doing CE and things like that.
But just going out and networking with other people and getting some continuing education, a lot of times you'll go there and you may not learn anything new, but the experience of being there, like we have this post-conference invigoration always when we come back we're like, "I learned this thing, we're going to do this on our practice," and we get back and a lot of times the people that we work with are like, "we're not going to do that." But if you come back invigorated and you can bring that to management and say, "we learned how to do this one little thing with these types of cases, can we try and incorporate that?" And I feel like people that get stuck and stagnant and burned out and leave is because they're doing the same thing over and over and over again.
And back to Jeff's point about finding other things to do in your practice, it's a little bit more relevant to an ER referral practice because there are different departments. I feel like for me, the reason that I've stayed in this field so long is that I've done different things, I haven't been doing the one thing for 25 years, I've been doing different things. And I feel like if you go to CE, you'll learn about something and maybe that inspires you to try a different way or even move to a different department in your hospital to entertain your mind and make you more useful and get you thinking instead of just doing the same thing over and over again.
I feel like that's one of the things that I would recommend for people, is to educate yourself, there's a vast amount of knowledge and we are never going to learn all of it in this field and I think sometimes people don't realize that, that there's no limit to what we can learn here. And I found that the more that I educated myself, the more that I went to CE, the more invigorated I was to stay in the field.
Dr. Andy Roark:
I love it. Guys, I'm going to put links to the Vet Tech Cafe in the show notes, I'll put a link to the episode that I did with you guys a year ago, if you want to hear us, flip it around and go the other way, they can check that out. Thank you both so much for being here, guys, thanks for tuning in and listening, take care of yourselves everybody.

And that is the episode, that's what I got for you guys, I hope you enjoyed it. Thanks again to Dave and Jeff for coming on, gang, check out their podcast about Tech Cafe, I said I'll put links into it down in the show notes. If you are enjoying this podcast, one of the nice things you can do is leave me an honest review wherever you get your podcast, it always means the world to me, it's how people find the show, it's super important, so like and share the episodes if you enjoy them. Guys, take care of yourselves out there, be well everybody, talk to you soon, bye.