I have been practicing veterinary medicine for nearly 17 years. I graduated from the University of Tennessee College of Veterinary Medicine in 2003, a starry-eyed 24-year-old ready to start the career I'd been dreaming of since childhood. I was one of those 6-year-olds that knew she wanted to be a vet in 1st grade, and doggedly stuck with it. Honestly, after all this time, I can't think of anything I'd rather do as a career (and it's a good thing since there was never a Plan B). I have encountered plenty of reasons to become burned out on and disillusioned by the profession. I've had my bad days (heck, I've had my bad years). But what keeps me coming back for more is the relationships: the people, their animals, and my coworkers.
As an animal-lover, veterinary medicine seemed like a no-brainer. But I did not imagine, as I was planning my future career, how much I'd enjoy interacting with the pet owners as much as their furry companions. I've met my share of difficult people over the years, but the vast majority are kind, interesting, unique, and genuine. As an introvert, being in big groups of people and social situations can be difficult for me, but that exam room with the client and their pet? That's my wheelhouse. I'm a good listener, and sometimes people just need to talk. Getting to know people, watching their kids grow up, laughing and crying together, protecting that human-animal bond – it's a big part of why I love this job.
I still get excited about the animals (and the medicine). Obviously, the puppies and kittens. But also the old, grey faces. The grizzled tomcats with their thick jowls and battle scars. The timid and scared ones, when you have to work to gain their trust. Removing the huge bleeding splenic tumor, and getting a blood sample from the tiny medial saphenous vein in the dehydrated old cat with kidney disease. Catching that Addison's disease diagnosis. Delicately easing a Cuterebra larva out of the nose of a kitten. Using acupuncture and Western medicine to help a dog with a ruptured disc walk again. Finding the tick on a tick paralysis case. The mysteries and the puzzles and the challenging cases. And, yes, even the euthanasia appointments – it can feel like an honor to help a beloved pet say goodbye, especially those we have known since they were a few weeks old. That "cradle-to-grave" relationship is something our MD counterparts usually don't get the privilege to have, and it's a very special thing.
Lastly, I have been lucky to work with veterinary technicians and veterinarian colleagues over the years that I count as friends-for-life. These people are my tribe. My work family. We just "get" each other. They've been my only friends in a new city, they've introduced me to my husband, they've danced at my wedding, they've coached me through childbirth. We hug and pass the tissues on hard days, and we laugh and crack each other up on the better days. We can go from eating cupcakes in the break room to performing CPR on a hit by car patient within seconds. The work environment is so important to quality of life for a veterinarian, and I feel that the teams I've worked with have made me a better vet and a better person.
So, that's it, in a nutshell. I was talking to a retirement advisor recently that asked, "So, when do you want to retire?" I paused, then answered, "65? Well, maybe 70? But maybe I'll still work part-time…" It's hard to say and difficult to imagine. It's part of who I am. Even with the difficulties and challenges in the veterinary profession, now in the present and those we face in the future, I'll always be grateful that little 6-year-old me chose this path and clung to it stubbornly. I can't imagine doing anything else.
The views and opinions expressed in this article are those of the author and do not necessarily reflect the position of the DrAndyRoark.com editorial team.
---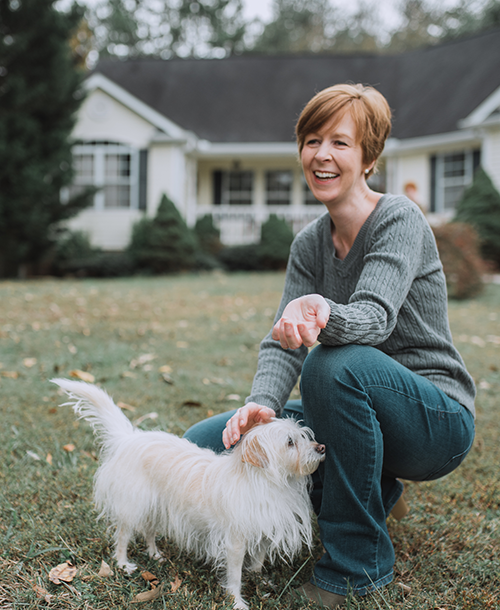 ABOUT THE AUTHOR
Dr. Katie Smithson grew up in Chattanooga and graduated from the University of Tennessee College of Veterinary Medicine in 2003. She spent the following 11 years working in a holistic small animal veterinary hospital in Charlotte, NC. She and her family moved back to the Chattanooga area in 2014. Dr. Smithson is a certified small animal/equine acupuncturist, and especially loves soft tissue surgery, geriatric medicine, and working with pet owners to create a wellness plan for their animal companions. Her favorite thing about veterinary medicine is getting to know pets and their owners over the course of their lives, and working to protect the human-animal bond. When she's not at work, Dr. Katie enjoys spending time with her husband and three kids. Her family also includes furry members: Mayzie the dog, cats Nelson and Cash, and usually a rescued opossum (Dr. Smithson is also a certified wildlife rehabilitator for the state of TN). Dr. Katie loves to experiment in the kitchen and usually has her nose in a book during her downtime.